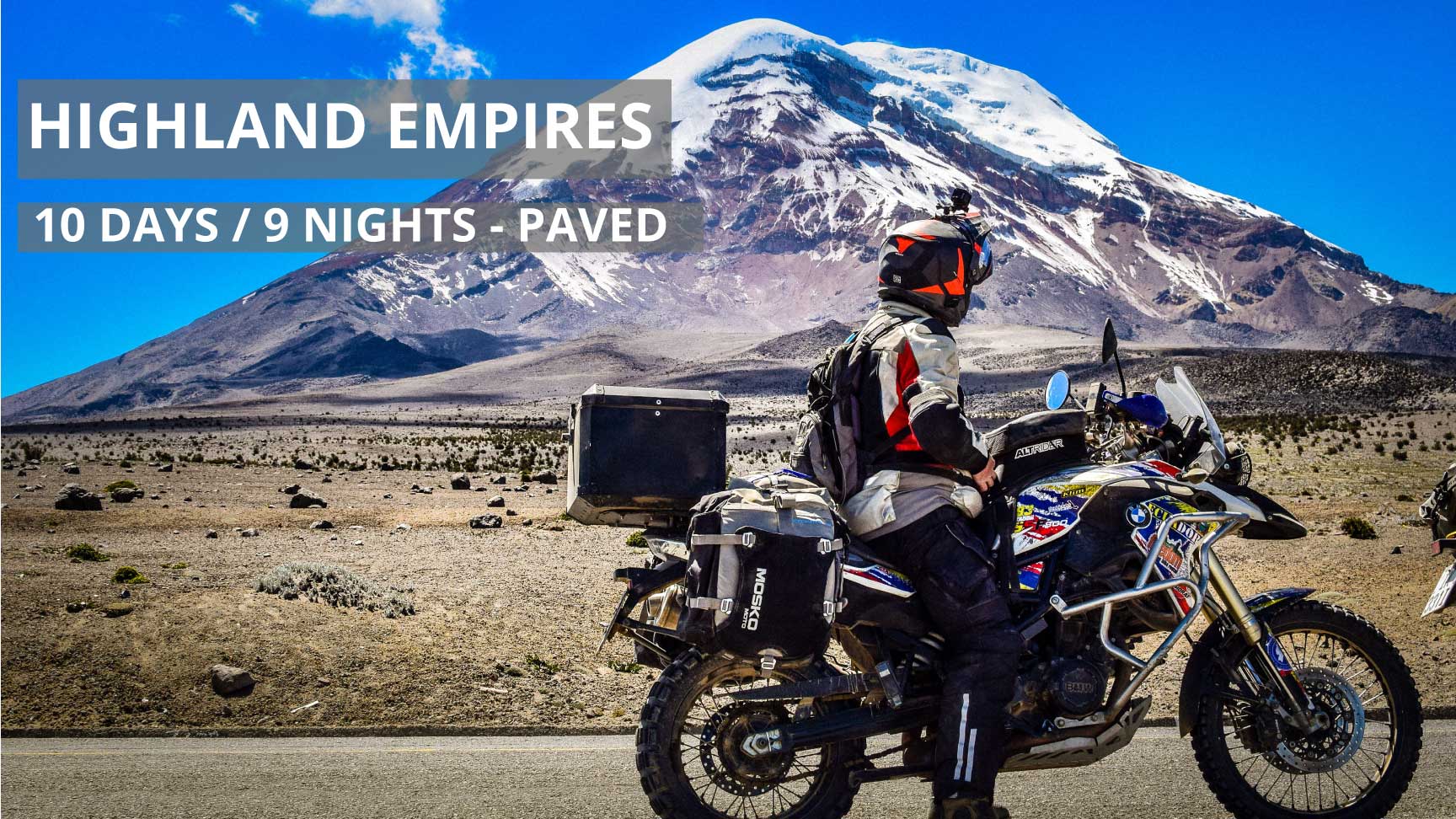 Highland Empires Self-Guided Tour
Availability
Available All Year
Select Any Departure Date
Accommodations
Primarily Premium Exclusive
Hotels and Lodges
Tour Overview
The ten-day Highland Empires self-guided motorcycle tour will take you across the most spectacular scenery of the Andes of Ecuador and Northern Peru. It is a one-way trip that you can choose to ride in either direction: starting in either Cajamarca, Peru or Quito, Ecuador. Either way, you will ride the high mountain passes and travel mind-blowing twisties, high altitude lakes, active volcanoes, and towns that are brimming with a deep and complex history. You'll discover the mysteries of cultures that once lived here and visit several UNESCO world heritage sites.
You will be provided a set of daily maps and a GPS navigation system with pre-programmed routes for each day, a comfortable hotel to aim for each night and plenty of time to experience different cultural, archeological and gastronomical stops along the way. South America Freedom provides a fully-equipped adventure motorcycle plus a "Road Book" with thorough, day-to-day information including descriptions of local highlights, history, and "hidden gems" that aren't common knowledge. Participants will use this information to tailor their days' rides, including as much or as little as they like, all the while having seamless, 24-hour support through our two offices in Peru and Ecuador.
At a glance
10

days / 9 nights (day 1 is a riding day)

2 Rest Days

Tour Starts: South America Freedom Office in Cajamarca, Peru or South America Freedom Office in Quito, Ecuador
Tour Ends: South America Freedom Office in Cajamarca, Peru

or South America Freedom Office in Quito, Ecuador

The best motorcycling roads in the Andes of Peru and Ecuador

Fascinating archeological and cultural sites throughout the tour

HIgh-End Accommodations included (single occupancy is standard at no extra charge)

Adventure-ready motorcycles with accessories for comfort and safety

Seamless 24-hour Support in Peru and Ecuador from our two offices

Total Distance Covered: approximately 2,227 km / 1,384 miles

Total Elevation gain/loss 32,669 meters / 107,181 feet

Highest Elevation: 4402meters / 14,445 feet

Lowest Elevation: 66 meters / 217 feet

98% paved road / 2% dirt (approximate)
Click for Timeline Overview
Arrival in Cajamarca, Peru or Quito, Ecuador
Travel day to Cajamarca, Peru or Quito, Ecuador
You will need to select where you would like to start this tour: either Quito, Ecuador or Cajamarca, Peru.
Accommodations in Cajamarca or Quito: Not included. We will provide you with a list of recommended hotels in Cajamarca or Quito near our shop in the selected city. You will need to arrive on a non-holiday weekday in order to prepare the paperwork and to have it notarized in person with a representative of our company. You will need to bring your original passport and driver's license with you. We will meet you at our shop and then proceed to the notary offices together.
1 or 2 days prior to the tour start date
Pre-Tour Registration
You will need to arrive in Cajamarca or Quito on a working weekday in advance of your departure date in order to prepare and notarize the legal documents which will permit you to take the rental vehicle across the border. This needs to be done in person and you must have your original passport and driver's license with you.
Tigua - Macas
Distance: 376 km | 234 miles
Included Meals: Breakfast & Dinner
Activities: Chimborazo Wildlife Refuge
Accommodations: Arrayane y Piedra Lodge
Macas - Cuenca
Distance: 296 km | 184 miles
Included Meals: Breakfast
Activities: Guitar Makers
Accommodations: Hotel Victoria
Cuenca - Macará
Distance: 379 km | 236 miles
Included Meals: Breakfast & Dinner
Activities: Bird Watching, Saraguro Market
Accommodations: Urraca Lodge

Rest Day at Gocta / Chachapoyas
Distance: You are free to use the motorcycle to explore on your own
Included Meals: Breakfast
Activities: Gocta Waterfall, Chachapoyas
Accommodations: Gocta Andes Lodge
Leymebamba - Cajamarca
Distance: 238 Km /148 miles
Included Meals: Breakfast
Activities: Hat Market, Hot Springs


Return home
After returning to our office soak in our private hot spring-fed pool or jacuzzi and relax in "Freedom Riders' Lounge" - complete with a hot shower, library and honor bar before your flight home. We can assist you in getting to your next destination.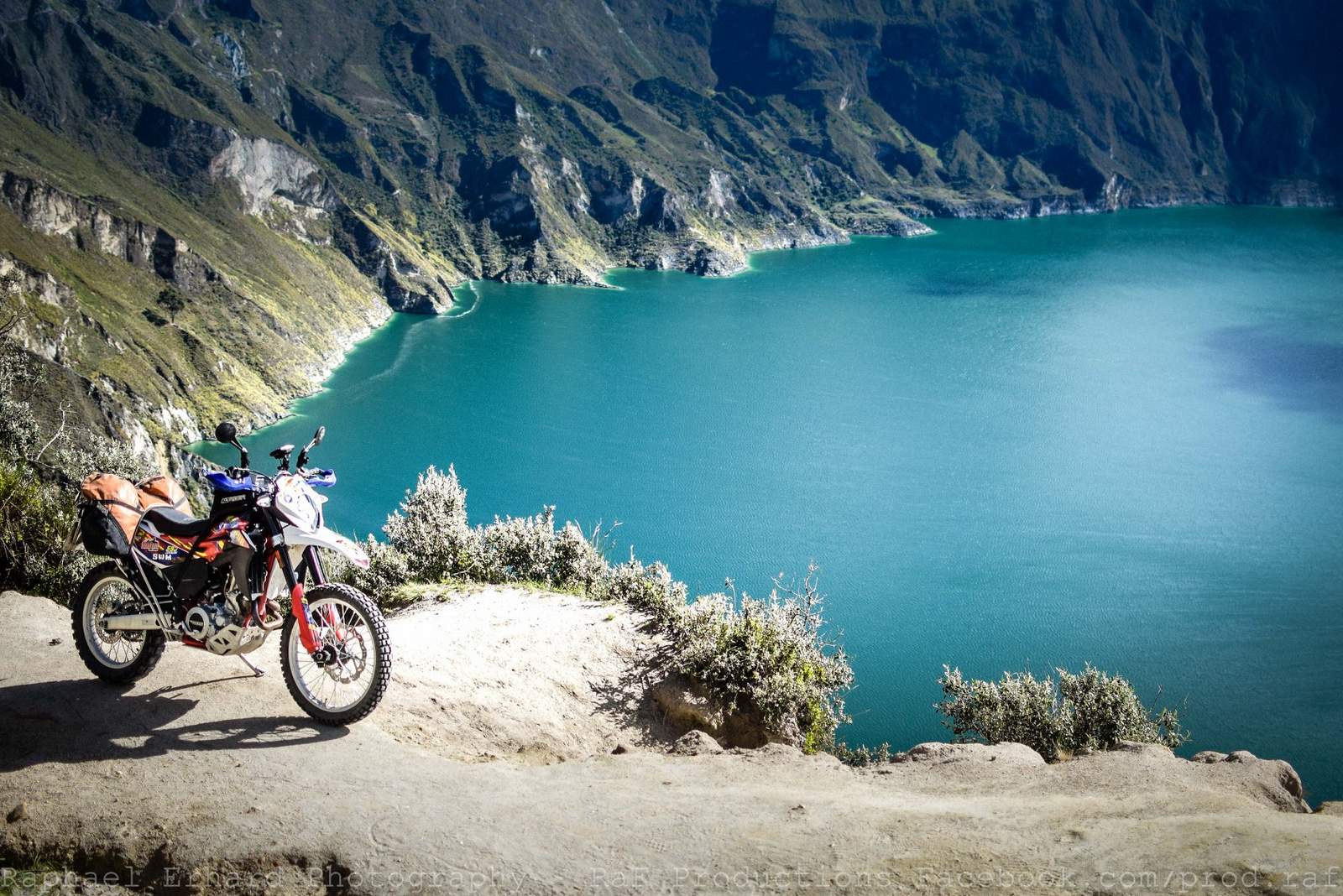 Elevation Profile - Day 1
+

Day 1
Quito-Sigchos-Chugchilan-Quilotoa Crater Lake-Tigua
Distance Covered: 127 miles / 204 km


After a briefing and orientation to acquaint you with the customs and rules of the road in Ecuador and Peru, you will head out on the motorcycle of your choice that has a GPS navigation system that has been pre-programmed with each day's route. We will show you how to operate the GPS and give you a "Road Book" with daily paper maps listing points of interest, gas stations, lunch suggestions, etc. Your hotel for each night has been reserved and paid for in advance. All you need to do now is hop on the bike - and enjoy the ride - safe in the knowledge that you will see some of the best sights and the best roads in both Ecuador and Peru!
You will roll out of Quito on the Panamerican highway, passing incredibly green high-altitude pasturelands and then after a few miles, you will find yourself in a valley surrounded on both sides by two massive mountain ranges. This astounding stretch of road is the beginning of the famous "Avenue of Volcanoes." You will feel tiny as you roll through this valley with snow-covered volcanoes at either side. On the left, you will get an increasingly closer and closer view of the majestic Cotopaxi Volcano, which rises to almost 4 miles in height and is the world's tallest active volcano.
The GPS unit will indicate where you will take a right, onto a stretch of road known as the "Quilotoa Loop." This road will take you through many traditional Andean villages with friendly and helpful indigenous people and eventually to the Quilotoa Crater Lake. For now, you will be treated to challenging (but fun) hairpin turns and majestic views.
You will pass through the town of Sigchos, a colonial town founded in the 1500s by the Spanish but has a long history as a trading center for indigenous peoples for centuries. The center of town has a colorful market, and there are plenty of restaurants serving up hearty local soups and savory meats.
The road weaves along dramatic cliffs with views of the deep canyon below and natural terraces and winds through more Quechua-speaking villages and their centuries-old ways of life. You will pass through the friendly town of Chugchilan and then you'll start climbing to an altitude of over 12,000 feet - arriving at the Quilotoa Crater Lake.
This fantastic lake is a water-filled caldera and is the westernmost volcano in the Ecuadorian Andes. It was created about 800 years ago in a catastrophic eruption that sent pyroclastic flows all the way to the Pacific Ocean. Today it is a calm, peaceful place that will inspire meditation and awe.
After gazing in awe at the lake, you will head south through a fertile valley and more picturesque traditional indigenous villages such as Zumbahua, a farming town known for its artisan market of foods, textiles, wool, and handmade knives. If it is Saturday, it is market day in Zumbahua, and even more worthwhile to stop to see the market.
From Zumbahua, you'll climb again in elevation and will give you views of a golden patchwork of the Andean countryside. You'll enter the community of Tigua, known for its artists who paint bright paintings of village life and bright colored wooden masks used in traditional celebrations and rituals. The community of Tigua has about 20 different art studios, and you can visit the galleries there that display and sell their spectacular work.
Tonight's carefully selected accommodations are at the Posada del Tigua - a family-run farmhouse and dairy farm converted into a cozy bed-and-breakfast inn. The farmhouse dates back to the 1890s and has walls that are three feet thick to help you keep warm at night. The family that runs this inn will show you to your private room and then invite you to join them for a healthy, organic dinner (included) created from the produce of their farm.
Day 4 - Rest Day in Cuenca
Day 8 - Rest Day in Gocta / Chachapoyas
What to Expect
This self-guided ten-day motorcycle adventure tour can be done in either direction. You can select to start the tour in either Cajamarca Peru and finish in Quito, Ecuador or to start in Quito, Ecuador and finish in Cajamarca, Peru. In either case, you will need to arrive at our office on a weekday prior to the tour in order to prepare and notarize in person the documents required to cross the border with the rental motorcycle. Our offices in Cajamarca, Peru, and Quito, Ecuador are located in very safe, pleasant neighborhoods near the best hotels in town with plenty of restaurants, shops and things to see and do nearby.
Before your departure (on the day prior or the morning of departure), you will be provided a detailed and thoughtful presentation on Peruvian and Ecuadorian rules of the road, customs and courtesies. We will instruct you on the requirements for the border crossing and verify that all the necessary paperwork is in order. You'll be instructed on how to operate your pre-programmed GPS unit and given a packet that includes your prepaid hotel vouchers and daily map sheets with points of interest, descriptions of local highlights information and "hidden gems" that aren't common knowledge. You can use this information to tailor your day - including as much or as little as you like. The route will be reviewed with you in detail to provide you with additional useful information about the timing, suggestions for lunch stops and where to get gas along the way.
On the morning of your departure, you will be provided the adventure motorcycle or 4x4 vehicle of your choice, fitted with a waterproof luggage system, a first aid kit, a tank bag if you want one, spare innertubes (or tire repair kit) and a set of tools. Besides, you will have a prepaid cell phone to call us for support at any time during your trip. We will carefully review the bike (or 4x4) with you using our multi-point checklist to be sure that everything is in perfect working order before your departure and that you know what to do in case of an emergency or breakdown.
You will need to carry all of your belongings on the motorcycle. It is not possible for us to send your suitcase from one country to another due to customs regulations. We suggest you bring a foldable, soft and compact duffel bag so that when you arrive in the destination in the other country that you will have it to return home with.
The route you will follow over the next ten days is based on several years' of experience and riding these routes many times. The journey is made of mostly paved roads with very little traffic. There are several stops available which are marked on the GPS unit and the daily route sheets. It is up to you to decide if you want to check them out.
You will have many opportunities for amazing photos and stops in remote villages where visitors are infrequent. Locals are friendly and the areas visited are very safe with meager crime rates.
During your ride, South America Freedom staff in our Ecuador and Peruvian operations center will monitor your daily progress using an onboard GPS satellite tracking systems and can assist you by telephone if you need to change your route, need roadside assistance or help in any way.
Upon returning, you will have access to our honor bar, jacuzzi or private hot spring-fed pool, hot shower and staff that can assist you with getting to your next destination.
Weather and Temperatures
Weather and temperature ranges in Northern Peru and Ecuador are generally the same year-round. In the highlands, you can expect the chance of passing showers but rarely a full day of rain. This ride will be in elevations between around 500 feet (where temperatures can be around 85-100 degrees Fahrenheit) to 14,500 feet (where temperatures are in the 30-40's Fahrenheit). Dressing in layers is recommended.

Accommodations
Throughout the tour, we will stay in mid to high end, unique, carefully selected hotels, lodges, and inns. We provide single occupancy accommodations as standard, so you have the privacy and comfort at the end of the day without having to pay an extra charge. South America Freedom has the right to substitute accommodations of equal quality due to availability and will notify you of these changes.

Packing List and Preparation
South America Freedom will provide you with detailed information to prepare for the ride, including a packing list. No knowledge of Spanish is required - your Guide can speak English and Spanish fluently. We recommend that you familiarize yourself with the archeological sites prior to departure and will provide a reading and video list prior to departure.
Accommodations on this Tour
Accommodations on this tour
Our accommodations are selected for their exceptional quality, location, and unique character. Below are the accommodations featured on this tour.
Video - How We Select Accommodations
Dates and Pricing
Highland Empires
Self-Guided Tour

Motorcycle

1 Rider + 1 Pillion (or passenger) Sharing Room with Rider - Price for Passenger

Discounted Price for 2nd Bike
Double Occupancy
Yamaha XT250

$3,500
n/a
$2,900
BMW G310GS

$3,700
$950

$3,200
BMW G310GS (LOWERED)

$3,700
$950

$3,200
SWM Gran Milano 440

$3,400
$950

$2,800
Suzuki DR650

$3,900
n/a
$3,400
Suzuki DR650 (LOWERED)

$3,900
n/a
$3,400
SWM RS 650R

$3,900
n/a
$3,400
Suzuki V-Strom DL650XT

$4,300
$950

$3,800
Suzuki V-Strom DL650XT (LOW)

$4,300
$950

$3,800
Yamaha Ténéré XT660

$4,300
$950

$3,800
Husqvarna 701 Enduro

$4,400
n/a
$3,900
BMW F700 GS

$4,300
$950

$3,800
BMW F750 GS

$4,400
$950

$3,900
Triumph Tiger 800XCx

$4,500
$950

$4,000
BMW F800GS

$4,500
$950

$4,000
BMW F850GS

$4,600
$950

$4,100
Suzuki V-Strom 1000 ABS

$4,500
$950

$4,000
Honda Africa Twin CRF1000

$4,600
$950

$4,100
Honda Africa Twin CRF1000 DCT

$4,600
$950

$4,100
4x4

Jeep Wrangler

$4,600
$950

$4,300
Volkswagen Amarok

$5,000
$950

$4,550
Ford Ranger Diesel


$5,000
$950

$4,550
All prices are in United States Dollars (USD)
Booking and Cancellation Policy