Dirt Deluxe Self-Guided Tour
70% Dirt
30% Paved (Approximately)
Availability
All Year
Except April 1 - May 15
Accommodations
Premium Exclusive
Hotels and Lodges
Tour Overview
This 6-day self-guided luxury motorcycle tour / self-drive luxury 4x4 tour crisscrosses the northern Ecuadorian Andes, a part of the country that still feels enigmatic, subtly inaccessible and not saturated with tourists. It's an area known for its pristine wildlife refuges, coffee plantations, timeworn colonial buildings, and therapeutic hot springs.
The route will bring you to a vast variety of climates, cultures, and elevations. You'll visit the beautiful cloud forests on the Western Slopes of the Andes, soak in five different unique volcanic hot springs, haggle at the indigenous markets in Otavalo, savor freshly grown coffee from the some of the world's top growers, and revel in the outstanding vistas all along the way.
Each night's accommodations are in carefully selected exclusive, luxury haciendas and wilderness lodges that are as diverse as the terrains you will traverse. The hospitality of each venue has its particular regional character which is evident in every gesture.
At a glance
6 days / 5 nights

Mostly unimproved dirt roads in rural Ecuador - offering a glimpse into ways of life that have largely disappeared

Dinner and Breakfast Included - featuring gourmet cuisine that combines tradition with innovation

High End, Exclusive, Award-Winning Luxury Accommodations

Adventure-ready motorcycles with accessories for comfort and safety

Total Distance Covered: approximately 900 km / 560 miles

Total Elevation gain/loss 19,658 meters / 64,595 feet

Highest Altitude: 4063 meters / 13,300 feet

Lowest Altitude: 935 meters / 3068 feet

Steepest grade 29.9% (uphill)

30% asphalt road / 70% dirt or cobblestone roads (approximately)

Entrance permits to the Coca-Cayamber National Reserve included

Includes 24-hour telephone support and roadside assistance
Quito
The tour starts and ends in the beautiful city of Quito. Included is a tour of Quito by bus or self-guided on one of our scooters.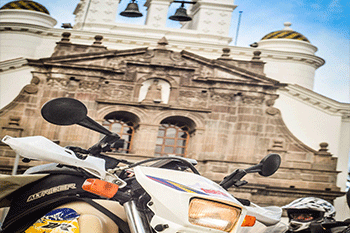 Pre-Tour Briefing
You'll be provided with a thoughtful presentation on Ecuadorian driving courtesies, customs and unwritten rules of the road as well as a complete overview of the route prior to your departure.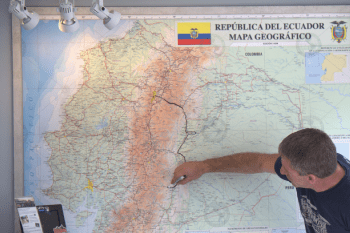 The Equator
We'll stop at the center of the world at Sitio Intiñan to see the Coriolis effect in action and learn how the ancients came to know this was the equator long before modern GPS were invented.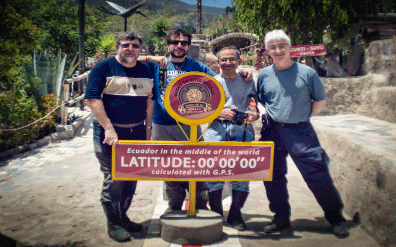 Pack for a Purpose
Save some room in your luggage to bring school supplies and deliver them personally to our Pack for a Purpose schools in remore areas of the country. Just a little bit of space can make a huge impact on the lives of school children!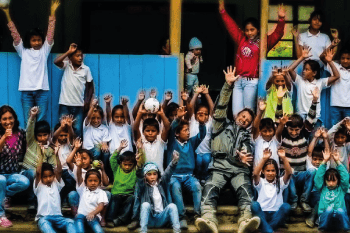 Termas de Papallacta
We'll have private access to the hot springs at Papallacta - just outside our cabin door!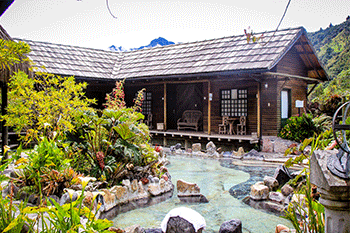 Otavalo Animal Market
When the sun comes up on Saturday mornings, the Otavalo animal market is already well on its way. People come from all around the countryside to buy and sell animals, large and small.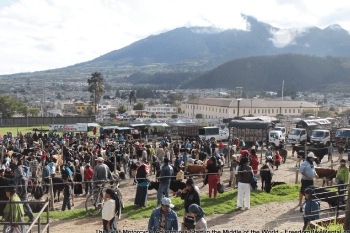 Otavalo Textile Market
We'll visit the Plaza de los Ponchos - the site of the expansive textile market that Otavalo is famous for. In addition to textiles the market offers clothing, herbal remedies, food, handicrafts and, of course, ponchos.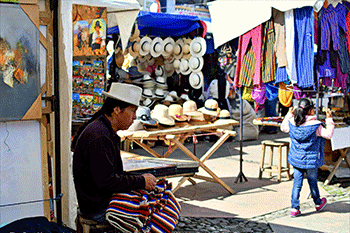 Cotacachi Leather Market and Artisans
The town of Cotacachi is a beautiful town known for its exceptional leather artisans. We'll visit with Luis who shows us how he uses his traditional , chemical-free process to tan hides.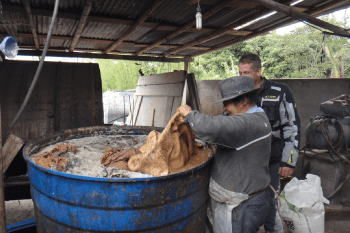 Oyacachi Hot Springs
Non-touristy hot springs located in the small town of Oyacachi on the eastern slopes of the Andes. Reachable only by dirt road.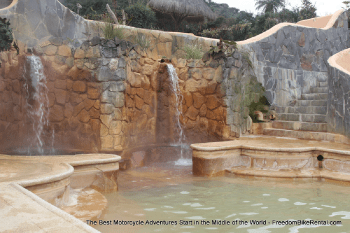 Bellavista Bird Lodge
This world-famous bird lodge is located in the thick of the Nono Biological Reserve, regarded as one of the world's most bio-diverse forests. It frequently wins the Audobon Society's prize each year for the number of bird species sighted.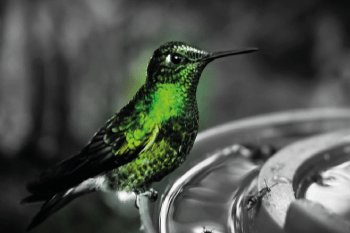 Chocolate Farm
You'll visit a cacao farm to learn how it is grown, harvested and turned into delicious chocolate!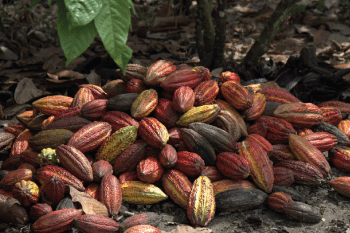 Cobblestone Roads
You'll ride on a few miles of one of Ecuador's national treasures - its network of ancient cobblestone roads that are maintained by hand in a traditional way. They are absolutely beautiful!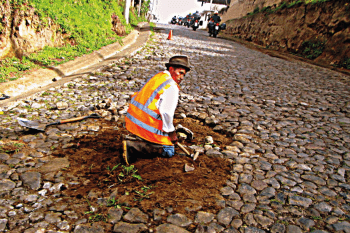 Brick Maker
See how Ecuadorians use traditional method to bake bricks for construction using clay and huge furnaces fired by wood.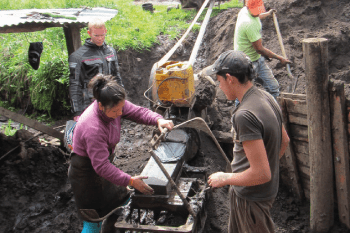 Traditional Farming
You'll visit communities where the way of life has not changed in centuries, where farming is still done with the assistance of animals and the results are pure and delicious food!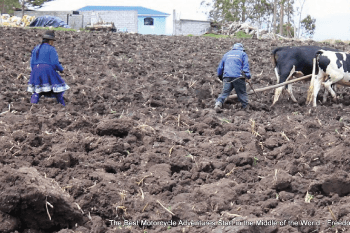 Small Towns
Experience a different pace of life as you ride through small villages and towns in remote areas of the country. Life is a bit more "tranquilo" here and people have time to be helpful and very friendly.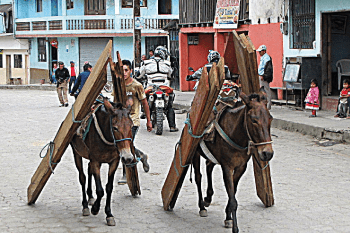 Water Crossings
On this tour you will have a few river and stream crossings.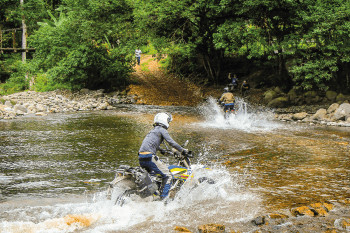 Lagunas Verdes
High altitude sulfuric lakes in the El Angel Park.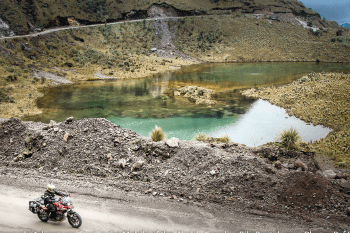 Tufiño Hot Springs
The crooked ancient cobblestone road will bring you to this magnificent location. The Aguas Hediondas (stinky waters) will have you feeling remarkably refreshed with a lowered blood pressure and smelling like chicken soup.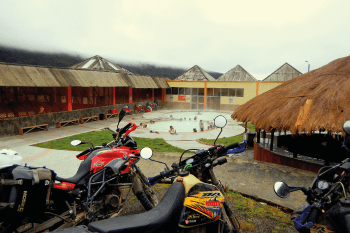 Coffee Plantation
Tour a working coffee plantation and see how the beans are grown, cultivated, sorted and roasted to perfection to make some of the best coffee in the world.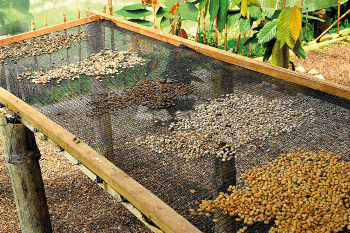 Butterfly Sanctuary
Visit a butterfly sanctuary with hundreds of species of butterflies in various stages of life from egg to caterpillar to chrysalis. Fascinating.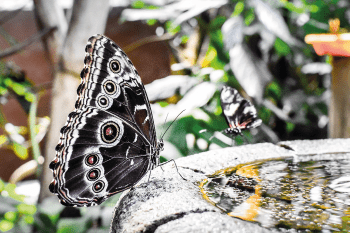 Coca-Cayambe National Park
The Cayambe-Coca National Park is one of the country's best protected natural areas. Special permits are required for entrance.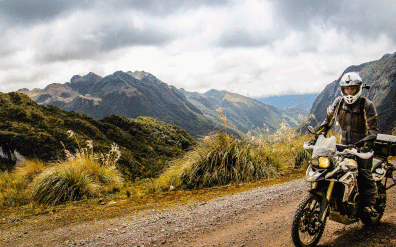 Cuicocha Lake
Cuicocha is a lake with an island in the shape of a guinea pig that also is home to wild guinea pigs.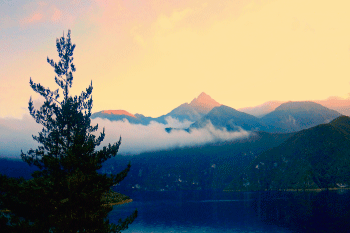 El Angel National Park
The El Angel National Park is home to the frailejon plant and fantastic off-road riding.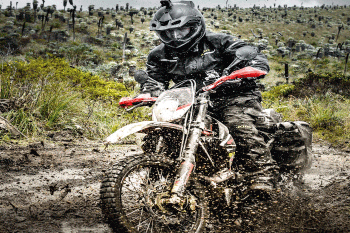 Topiary Cementary
The cementary in Tulcan is world-famous for its amazing topiaries.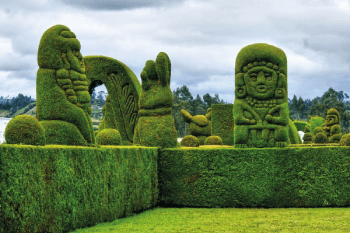 Nangulvi Hot Springs
The Nangulvi hot springs, alongside the roaring Rio Intag, provide you with several pools of varying temperatures. The location is stunning.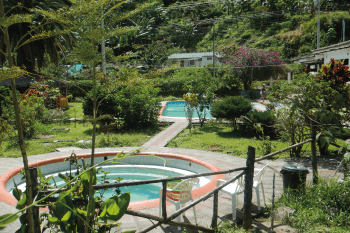 Jerusalem Dry Forest Reserve
This dry Andean forest is a testament to the extreme biodiversity of Ecuador.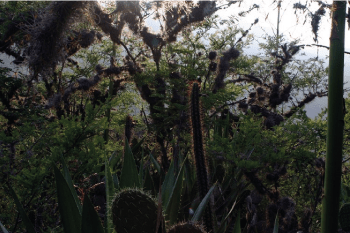 Elevation Profile - Day 1
+

Day 1
Quito- Nono Cloudforest Reserve - Mindo
Distance Covered: 78 km / 49 miles
You'll begin this 6-day "Dirt Deluxe" self-guided tour from our shop in Quito, Ecuador. In 1978, Quito became the first place on the planet to be designated as a UNESCO World Heritage Site for having the best-preserved historic center in all of Latin America. Quito is high on the Altiplano Plateau (the highest capital city in the world) in the Andes at 9,350 feet. We suggest that you arrive a day or two early to experience our magnificent capital city while getting acclimated to high altitude before beginning the tour.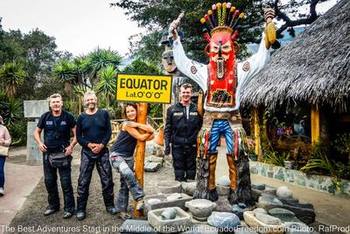 During the first morning of the tour you'll be outfitted with the motorcycle of your choice and given a thorough orientation answering all questions concerning local customs, rules of the road, riding signals, Ecuadorian driver courtesies, and more. We will show you how to operate your pre-programmed GPS unit with daily routes and be given a "Road Book" with details and points of interest for each day. You will also be provided an "emergency kit" containing a pre-paid cell phone, first aid kit, tools, and other items to ensure your ride goes smoothly
You will
head out of Quito, rising in elevation as you climb the foothold of the Pichincha volcano, getting spectacular views of the city below. Your surroundings will go from "urban" to "country" in a surprising instant. Green pastures now surround you, and
the sounds of rolling brooks, mooing cows and chirping birds replace
the sounds of the city. You will enter the small village of Nono.- a quaint, friendly little place that feels a world away from Quito. There are a few good restaurants in the center of this small town.

After a stop in Nono, you'll be on the "Route of the Hummingbird." This route is famous for its incredible natural beauty. It has won several awards from the Audubon Society for the large number of bird species that can be seen. Although the area is relatively small in size, it is one of the most bio-diverse on the planet, counting thousands of species of butterflies, plus hundreds of different reptilian, amphibian and bird species - including several types of toucans and hummingbirds.


While the vast majority of old dirt roads in Ecuador are succumbing to ambitious paving programs, the narrow Nono-to-Tandayapa stretch keeps modern pretensions behind, remaining - as much as possible - as it was when Pedro Vicente Maldonado first cleared its way towards the sea over 250 years ago. With its ironic feeling of remoteness just minutes outside the city, it is one of Quito's most unusual attractions.
You might want to stop for a swim in the beautiful Guagrapamba Waterfall, which is just along the route and can be reached after a short hike.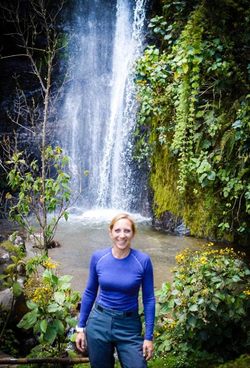 The ride will continue along this country road with virtually no traffic bring you high into the elevations and bring you to the "Virgen de Camino Mirador" overlook. You can have a stop here to take in the magnificent views of the valleys below. Then you'll descend along a rolling river of cold, clear water and into the rainforests for a completely new biological habitat. You may catch a glimpse of wild toucans or brightly colored frogs.
Back on the road, the aromas and sounds of the cloud forest you will experience will be something that stays with you long after this ride is over.
You should stop for lunch in the Bellavista Cloudforest Bird Lodge. This lodge has a beautiful restaurant and a staff that is very happy to share its knowledge of the wildlife in this reserve.
From Bellavista, you'll roll onto the Western Slopes of the Andes and through the hamlet of Santa Rosa - a farming community. You'll enjoy the scents of the wild orchids and other flowers that line the road here.


Then rejoin the paved road and turn onto the road that takes you to even lower elevations and into the warm microclimate of the town of Mindo. This funky, eclectic town offers excellent restaurants, bars, and activities such as zip-wire canopy tours and innertube rides down white water river. Other attractions include a butterfly sanctuary, a tarabita (hand powered cable car over a waterfall) and an orchid garden.
A visit to Yumbo Chocolates for a chocolate tour will educate and entertain you. Yumbo Chocolates is an organic chocolate factory and will show you how cacao is grown, harvested, fermented and turned into chocolate. The tour includes a chocolate bar and tasting of different chocolates. If you want to learn more about coffee growing, harvesting, processing, roasting and proper preparation of coffee, please ask your tour guide for more information.
You will check into your room at the Septimo Paraiso Cloudforest Lodge, winner of the 2017 "Cloudforest Hotel of the Year" Award from Luxury Travel Guide. The lodge features a heated pool, sizeable unheated pool, and jacuzzi plus a billiards room and fully stocked bar. We'll enjoy a gourmet, all you can eat Ecuadorian dinner including fresh juices, soups, and desserts. You'll want to get the recipes from Ana Lucia - owner and gracious hostess at the Lodge.
This

private protected area was created in 2001 to save and preserve the forest and the diverse ecosystems that are contained within it. It is managed by the Green Mindo Foundation, which is in charge of the conservation and the study of its 420 hectares of pre-montane and montane cloud forest.
The Reserve has one of the largest bird counts of the north-western area of Pichincha, with 328 species of birds. Several species of mammal have been found; such as puma, spectacled bear, black howler monkey, capuchin monkey, Andean coati, armadillos, white-tailed and brocket deer, two-toed sloth to name just a few.
Also, an incredible number of reptile and amphibian species had been spotted, plus an overwhelming amount of plant species. The altitude within the reserve drastically changes from 950 meters to 1650 meters above sea level. Besides, the isolation of the region has created one of the most delicate, but rich and complex ecosystems known in the Mindo region. a private protected area, established in 2001, to save and preserve the forest and the diverse ecosystems that are contained within it. It is managed by the Green Mindo Foundation, which is in charge of the conservation and the study of its 420 hectares of pre-montane and montane cloud forest.
Day 3 - Hacienda la Primavera
Click for Timeline Overview
Arrival in Quito
Travel day to Quito
Accommodations in Quito: Not included. We will provide you with a list of recommended hotels in Quito near our shop in the heart of the fashionable La Carolina neighborhood so that you can relax and explore the nearby galleries, museums, and cafés.
1 or 2 days prior to the tour start date
Pre-Tour Registration and Tour of Quito
Arrive a day or two prior to departure to enjoy Quito and we'll provide you with tickets on the Hop-on / Hop - Off bus to enjoy a stress-free day in the capital. For those who want a little more fun, we can provide you with a selfd-guided tour of Quito on one of our 150cc motorscooters. When you stop in, we will process the paperwork so that you'll have an easier departure on Day 1.
Quito - Mindo
Distance: 97 km | 60 miles
Included Meals: Dinner
Activities: EcoRuta del Quinde, Guapambra Waterfall, Bellavista Cloudforest Bird Lodge, Organic Chocolate Factory
Accommodations: Septimo Paraiso Cloudforest Lodge
Mindo - Otavalo
Distance: 188 km |117 miles
Included Meals: Breakfast & Dinner
Activities: Cascada de la Piragua, Nangulvi Hot Springs, Coffee Growers, Plaza de los Ponchos
Accommodations: Hacienda Cusin
Otavalo - Hacienda La Primavera
Distance: 155 Km / 96 miles
Included Meals: Breakfast and Dinner
Activities: Traditional Leather Maker, Chachimbiro Hot Springs
Accommodations: Hacienda Primavera Wilderness Lodge

Hacienda La Primavera - Aloburo
Distance: 253 km / 157 miles
Included Meals: Breakfast and Dinner
Activities: Coffee Growers, El Angel National Park, Tufiño Hot Springs
Accommodations: Tunas and Cabras Lodge
Aloburo - Papallacta
Distance: 170km | 106 miles
Meals: Breakfast, Lunch & Dinner
Activities: Laguna Yaguarcocha, Paila Ice Cream Maker, Cheese Maker, Quitsato Equator monument, Oyacachi Hot Spring, Coca-Cayambe National Park
Accommodations: Termas Papallacta Hot Springs Spa & Resort
Papallacta - Quito
Distance: 150 km | 93 miles
Included Meals: Breakfast
Activities: Enjoy a relaxed morning at Termas De Papallacta Spa Resort, Lago Muerto Pungo
Return home
Many international flights leave around midnight from Quito. If you are catching a flight the same evening as the last day of the tour, you may enjoy VIP access to our "Freedom Riders' Lounge" - complete with a hot shower, jacuzzi, gym, and honor bar before your flight home.
What to Expect
This self-guided adventure will start in our offices located in the Carolina neighborhood of Quito. Prior to your departure, you will be provided a detailed and thoughtful presentation on Ecuadorian rules of the road, customs and courtesies. You'll be instructed on how to operate your pre-programmed GPS navigation unit and be handed packet that includes your prepaid hotel vouchers, daily map sheets with points of interest, descriptions of local highlights, and "hidden gems" that aren't common knowledge. You can use this information to tailor your days - including as much or as little as you like. The route will be reviewed with you in detail to provide you with additional useful information about the timing, suggestions for lunch stops and where to get gas along the way.
On the morning of your departure, you will be provided the offroad-capable motorcycle (or 4x4) of your choice which is fitted with waterproof luggage system, a first aid kit, a tankbag (if you want one), spare innertubes (or tire repair kit) and a set of tools. In addition, you will have a prepaid cell phone to call us for support at any time during your trip. We will carefully review the bike with you using our multi-point checklist to be sure that everything is in perfect working order before your departure and that you know what to do in case of an emergency or breakdown.
You may use our lockers and storage area to store your luggage and belongings that you will not take with you on the ride.
The route you will follow over the next six days is based on several years' of experience and riding these routes many times on our guided version of the tour. The route is not highly technical and is a dual sport tour, meaning there is a mix of paved backroads and dirt natural, unimproved dirt roads without gravel. There are several stops available which are marked on the GPS unit and the daily route sheets. You should be aware that there is one long riding day and that you will be traveling in areas where access to medical care may be several hours away.
You will have many opportunities for amazing photos and stops in remote villages where visitors are very rare. Locals are friendly and the areas visited are very safe with very low crime rates.
During your ride, Ecuador Freedom staff will monitor your daily progress using an onboard GPS satellite tracking system and can assist you by telephone if you need to change your route, need roadside assistance or help in any way.
Upon returning, you will have access to our honor bar, jacuzzi, hot shower and staff that can assist you with your next destination.
Weather and Temperatures
Weather and temperature ranges in Ecuador are generally the same year round. In the highlands, you can expect the chance of passing showers but rarely a full day of rain. Chances for a full day of rain are more likely on the western slopes of the Andes in March, April and early May, which is why we do not recommend this tour during April and early May. This ride will be in elevations of about 3,000 feet/ 900 meters (where temperatures can be around 80 degrees Fahrenheit) to about 13,500 feet (where temperatures can be in the 30's Fahrenheit). Dressing in layers is recommended. Please see this article for more information about the weather in Ecuador.

Accommodations
Throughout the tour, you will stay in carefully selected, high-end accommodations with many amenities and in upgraded, superior rooms or suites. See this page for details, photos and links to the accommodations provided. Dinner and breakfast are included for each accommodation. Ecuador Freedom has the right to substitute accommodations of equal quality due to availability and will notify you of these changes.

Packing List and Preparation
Ecuador Freedom will provide you with detailed information to prepare for the ride, including a packing list. You should know how to make general motorcycle repairs and maintenance and to be able to change an innertube (click for a video tutorial). Before you travel, we recommend that you familiarize yourself in advance with these recommended guidebooks and maps.

Accommodations on this Tour
Accommodations on this tour
Our accommodations are selected for their exceptional quality, location, and unique character. Below are the accommodations featured on this tour.
The Septimo Paraiso Cloudforest Lodge is Mindo's best hotel and winner of Luxury Travel Guide's award for best birding lodge. It features a heated pool, regular pool, jacuzzi and billiards room. Each room is individually decorated and its restaurant serves hearty country fare with their signature onion bread.
Hacienda Cusin is a restored, 17th-century estate and very personal hotel with its 38 attentive staff and famous gardens. Furnished with antiques and select Andean craft, most with log-burning fireplaces & beamed-ceilings, overlook several acres of landscaped perennial gardens, ancient trees, and often snow-capped mountains.
This hacienda is located in the Choco Rainforest, kind of in the middle of nowhere. It is very luxurious with a spring-fed pool, private coffee plantation and horse farm. It feels like a drug-kingpin hideaway in the middle of the forest, just over the border from Colombia. Its a fantastic place and you'll be treated like a king in this very special place.
The Tunas y Cabras Lodge is located in a unique, desert landscape. It offers luxurious rooms, fantastic dining, horse stable, pool, jacuzzi and an educative medicinal herb garden. Try their homemade jam made from the cactus fruit that grows on the grounds.
This is Ecuadorian Luxury at a new level. With a private hot spring pool outside your cabin door, its an amazing place to relax and soak your body to relieve the stress from riding. With a full-service spa offering beauty treatments and massage plus fine dining, it is a paradise!
Video - How We Select Accommodations
Dates and Pricing
Dirt Deluxe Self-Guided Tour

Standard Pricing
1 Room 1 Rider
Single Occupancy
1 Pillion or Passenger Sharing Room with Rider
Double Occupancy
2 People 2 Bikes Sharing Room - Discounted Price as 2nd Bike
Double Occupancy
Yamaha XT250
$2,035
n/a
$1,365
BMW G310GS
$2,155
$795
$1,485
BMW G310GS (LOWERED)
$2,155
$795
$1,485
Suzuki DR650
$2,275
n/a
$1,605
Suzuki DR650 (LOWERED)

$2,275
n/a
$1,605
SWM RS 650R
$2,275
n/a
$1,605
Husqvarna 701 Enduro
$2,615
n/a
$1,905
BMW F700 GS
$2,555
$795
$1,845
BMW F750 GS

$2,615
$795
$1,905
Triumph Tiger 800XC
$2,675
$795
$1,965
BMW F800GS
$2,675
$795
$1,965
BMW F850GS
$2,735
$795
$2,025
Honda Africa Twin CRF1000
$2,735
$795
$2,025
Honda Africa Twin CRF1000 DCT
$2,735
$795
$2,025


4x4

Jeep Wrangler
$2,855
$795
$2,145
Volkswagen Amarok
$2,975
$795
$2,295
Ford Ranger Diesel

$2,975
$795
$2,295
Booking and Cancellation Policy
Available Extensions
Add additional rest days to your trip to relax and explore the area on your own. Simple, flat fees include extra lodging, breakfast and vehicle rental fees.
Septimo Paraiso Cloudforest Reserve Lodge
Add an extra rest day in Mindo. Flat Fee: $300
Termas de Papallacta
Add an additional day, staying in a private cabin with hot springs at the Termas de Papallacta Lodge. Flat Fee: $400
Galapagos Cruise
We work with the the longest-running cruise operator in the Galapagos and offer our tour customers special reduced pricing on permium tours in the Galapagos of 4,5 and 8 day cruises.
Please let us know if you would like more info