World of Wonder: Northern Peru
Group Size
1-6 Motorcycles
Guaranteed Departure
Accommodations
Primarily Premium Exclusive
Hotels and Lodges
Tour Overview
The ten-day World of Wonders motorcycle tour in Northern Peru will take you across some of the most spectacular scenery of the Andes, the cloud forests, and the Pacific Coast. You'll ride the high mountain passes and travel mind-blowing twisties cutting across the yet undiscovered regions of Peru brimming with deep and complex history, uncovered mysteries of cultures that once lived here, and stunning UNESCO world heritage sites that can contend with the ancient cities of Egyptian kings.
At a glance
1

0 days / 9 nights (day 1 is a riding day)

2 Rest Days

Tour Starts: South America Freedom Office in Cajamarca, Peru
Tour Ends:

South America Freedom Office in Cajamarca, Peru

The best motorcycling roads in Northern Peru
HIgh-End Accommodations included (single occupancy is standard at no extra charge)

All meals included (except lunch and dinner on rest days)

Entrances to museums, activities and archaeological sites included

Adventure-ready motorcycles with accessories for comfort and safety

Total Distance Covered: approximately 2,119 km / 1,317 miles

Total Elevation gain/loss 18,619 meters / 61,087 feet

Highest Altitude: 3700 meters / 12,142 feet

Lowest Altitude: 0 meters / 0 feet

95% asphalt road / 5% dirt (approximate)
Click for Timeline Overview
Arrival in Cajamarca
Travel day to Cajamarca

Accommodations in Cajamarca: Not included. We will provide you with a list of recommended hotels in Cajamarca near our shop in the Baños del Inca neighborhood near Cajamarca. There are several flights every day to Cajamarca from Lima, the capital of Peru. Many people like to have a day or two in Lima prior to the tour to visit the city on their own.
1 or 2 days prior to the tour start date
Pre-Tour Registration
Ideally, you should arrive a day prior to departure to enjoy Cajamarca. Same day departures are also possible. When you stop into our shop, we will process the paperwork so that you'll have an easier departure on Day 1.
Celendin - Leymebamba
Distance: 146 km 90 miles
Included Meals: Breakfast, Lunch & Dinner
Activities: Leymebamba Museum
Accommodations: Kentitambo Inn
Leymebamba - Gocta
Distance: 191 km | 118 miles
Included Meals: Breakfast, Lunch & Dinner
Activities: Kuelap Ruins
Accommodations: Gocta Andes Lodge
Rest Day in Gocta
Distance: ?
Included Meals: Breakfast
Activities: Hike to Gocta Waterfall, Visit to Chachapoyas, Museums
Accommodations: Gocta Amazon Lodge
Gocta - Canchaque
Distance: 419 km | 260 miles
Included Meals: Breakfast, Lunch & Dinner
Activities: Witch Doctor Market, Swimming
Accommodations: El Cafetal Lodge

Canchaque - Mancora
Distance: 330 km | 200 miles
Included Meals: Breakfast, Lunch & Dinner
Activities: Ceramics Maker, Swimming, Surfing
Accommodations: Suites del Mar
Rest Day in Mancora
Distance: ? km | ? miles (you may use the bike to explore on your own)
Included Meals: Breakfast
Available Activities: Surfing, Paragliding, Kite Surfing, Swimming with the Tortoises, Deep Sea Fishing, Nightlife
Accommodations: Suites del Mar
Mancora - Tucume
Distance: 386 km | 240 miles
Included Meals: Breakfast, Lunch & Dinner
Activities: Tucume Pyramids
Accommodations: Los Horcones de Tucume Lodge
Tucume - Trujillo
Distance: 270 km | 168 miles
Included Meals: Breakfast, Lunch & Dinner
Activities: Lambayeque, Museo Tumbas Real de Sipan, Chan Chan Ruins, Moche Pyramids
Accommodations: Moche Sanctuary Lodgeoche Sanctuary Lodge

Trujillo - Cajamarca
Distance: 301 Km /187 miles
Included Meals: Breakfast and Lunch
Activities: Pacasmayo Visit, Kunturwasi Ruins


Return home
After returning to our office we will soak in our private hot spring-fed pool and relax in "Freedom Riders' Lounge" - complete with a hot shower, library and honor bar before your flight home.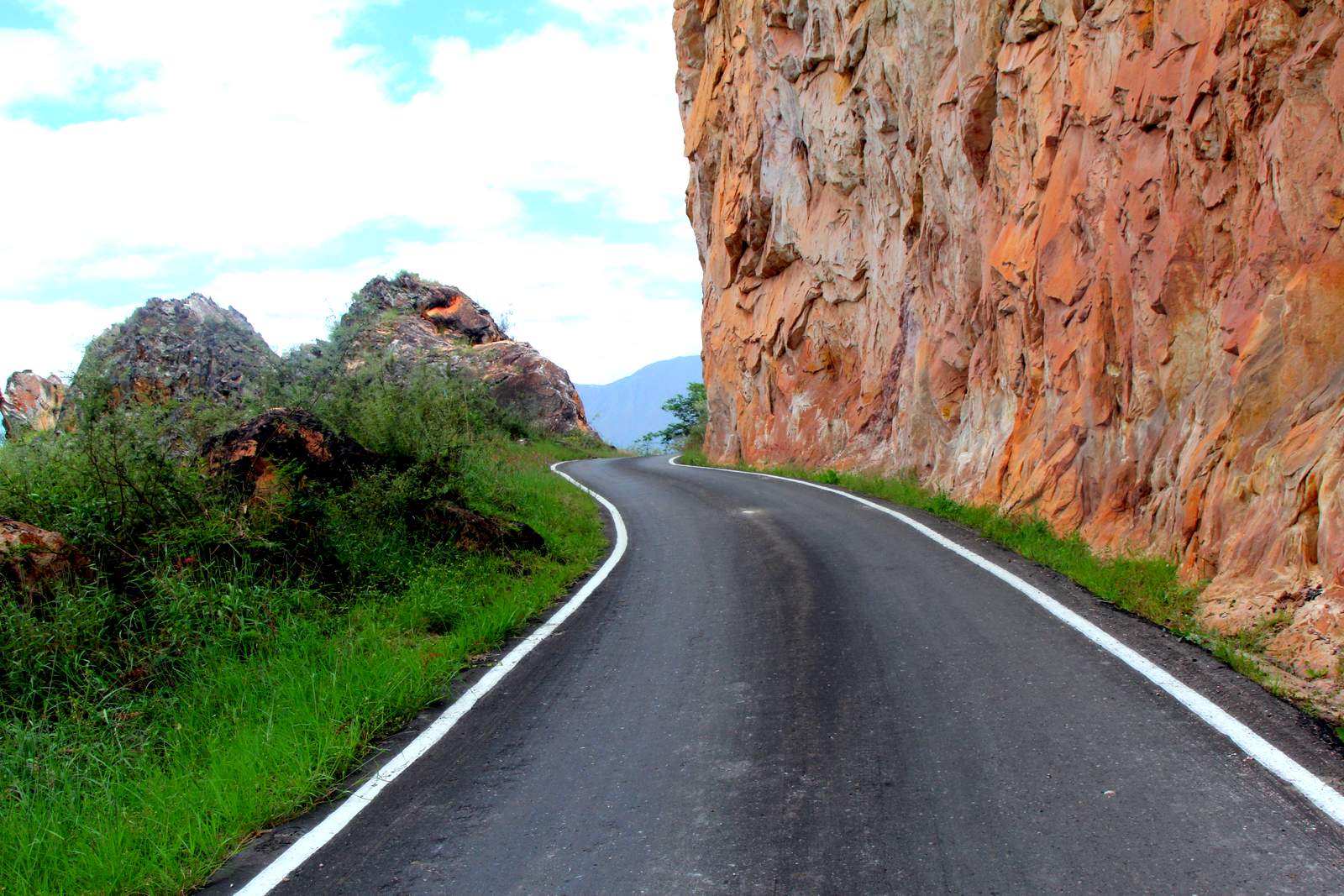 Elevation Profile - Day 1
+

Day 1
Cajamarca - Otuzco -Celendin
Distance covered: 120 km / 74 miles on 97% paved roads
You'll begin the Northern Peru: World of Wonders motorcycle tour at our headquarters in Cajamarca, Peru. Cajamarca was once an ancient Inca city where Atahualpa, the last emperor of the Incas, made his stand against the Spanish conquest led by Francisco Pizarro in 1532. Known as the Peruvian capital of carnivals, Cajamarca hosts a colorful carnival in February, and the local people here are avid theatre and cinema-goers. The colonial Old Town of Cajamarca boasts lofty Baroque mansions, churches, and squares, and the local cuisine is nothing short of exceptional.
Cajamarca enjoys dry and sunny weather all year round, but the high elevation - 9,022 feet (2,750 meters) above sea level – means the nights can get chilly. We suggest that you arrive a day or two early to experience our magnificent city while getting acclimated to high elevation before beginning the tour.
During the first morning of the tour, you'll be outfitted with the motorcycle of your choice and given a thorough orientation answering all questions concerning local customs, rules of the road, riding signals, Peruvian driver courtesies, and more.
We'll leave Cajamarca in the morning, heading for a small nearby village of Otuzco. Here, we'll explore the Ventanillas of Otuzco – a network of ancient pre-Inca graves carved into a giant rock. This otherworldly complex resembles a large-scale hive and is an echo of a bygone era before the mighty Incas.
Past Otuzco, we will ride North-East towards Celendin, following a stunning mountain road taking us higher and deeper into the Andes. This scenic route will get you accustomed to the Peruvian roads and reveal breath-taking highland vistas along the way.
We will stop in Celendin for the night, enjoying a hearty dinner and a good night's rest at the Villa Madrid Hotel right in the center of town. Celendin is an iconic Andean town known for its beautiful surroundings and its talented hat makers.
Day 4 - Rest Day in Gocta
Day 7 - Rest Day in Mancora
What to Expect
This guided ten-day motorcycle adventure tour will start in our offices located in Cajamarca, Peru. We suggest arriving in Cajamarca a day or two early to enjoy the city and to get the paperwork out of the way so we can have a smooth start on Day 1. Cajamarca is a one hour flight from the capital, Lima where many international flights arrive.
On the morning of our departure, you will receive a detailed and thoughtful presentation on Peruvian rules of the road, customs, courtesies, and group riding protocols. We will provide the adventure motorcycle of your choice, fitted with a waterproof luggage system and a tankbag if you want one. If there are more than five riders on the tour, a support truck will be available to carry your luggage. The support truck is able to respond in an emergency and to make your ride more comfortable by carrying your luggage. If there are fewer than five riders on the tour, we may not provide a support truck. We will provide ample saddlebags or luggage system supplied with your bike to carry your personal items.
The route you will follow over the next ten days is based on our personal experience and riding these routes many times. Your guide knows the route thoroughly, having ridden it before. The route is almost entirely paved, with some unpaved backroads, driveways, and construction areas. We chose these roads for their lack of traffic and outstanding scenery. The Guide will make many stops throughout the day to introduce you to the locals, explain the local history, and show you the "hidden gems" that are not common knowledge.
Upon returning, you will have access to our honor bar, pool, hot shower, private hot spring pool, and our office staff can assist you with your next destination.
Weather and Temperatures
Weather and temperature ranges in Northern Peru are generally the same year-round. In the highlands, you can expect the chance of passing showers but rarely a full day of rain. This ride will be in elevations between sea level (where temperatures can be around 90 degrees Fahrenheit) to 12,500 feet (where temperatures are in the 40-50's Fahrenheit). Dressing in layers is recommended.

Accommodations
Throughout the tour, we will stay in mid to high end, unique, carefully selected hotels, lodges, and inns. We provide single occupancy accommodations as standard, so you have the privacy and comfort at the end of the day without having to pay an extra charge. South America Freedom has the right to substitute accommodations of equal quality due to availability and will notify you of these changes.

Packing List and Preparation
South America Freedom will provide you with detailed information to prepare for the ride, including a packing list. No knowledge of Spanish is required - your Guide can speak English and Spanish fluently. We recommend that you familiarize yourself with the archeological sites prior to departure and will provide a reading and video list prior to departure.
Accommodations on this Tour
Accommodations on this tour
Our accommodations are selected for their exceptional quality, location, and unique character. Below are the accommodations featured on this tour.
Video - How We Select Accommodations
Dates and Pricing
Motorcycle
Single Occupancy
1 Room 1 Rider

1 Pillion Sharing Room with Rider

2 People 2 Bikes Sharing Room - Discounted Price for 2nd Bike

Yamaha XT250

$ 4,300
n/a
$ 3.550
BMW G310GS

$4,700
$1,800

$3,750
BMW G310GS (LOWERED)

$4,700
$1,800

$3,750
SWM Gran Milano 440

$4,200
$1,800

$ 3.400
Suzuki DR650

$ 4,900
n/a
$ 3.950
Suzuki DR650 (LOWERED)

$ 4,900
n/a
$ 3.950
SWM RS 650R

$ 4,900
n/a
$ 3.950
Suzuki V-Strom DL650XT (LOW)

$ 5,300
$1,800

$ 4.250
Suzuki V-Strom DL650XT

$ 5,300
$1,800

$ 4.250
Yamaha Ténéré XT660

$ 5,400
$1,800

$ 4.350
Husqvarna 701 Enduro

$ 5,500
n/a
$ 4.450
BMW F700 GS

$ 5,400
$1,800

$ 4.350
BMW F750 GS

$5,500
$1,800

$4,450
Triumph Tiger 800XCx

$ 5,600
$1,800

$ 4.550
BMW F800GS

$ 5,600
$1,800

$ 4.550
BMW F850GS

$5,690
$1,800

$ 4.650
Suzuki V-Strom 1000 ABS

$ 5.600
$1,800

$ 4.550
Honda Africa Twin CRF1000

$ 5,690
$1,800

$ 4.650
Honda Africa Twin CRF1000 DCT

$ 5,690
$1,800

$ 4.650

$1,800

Booking and Cancellation Policy