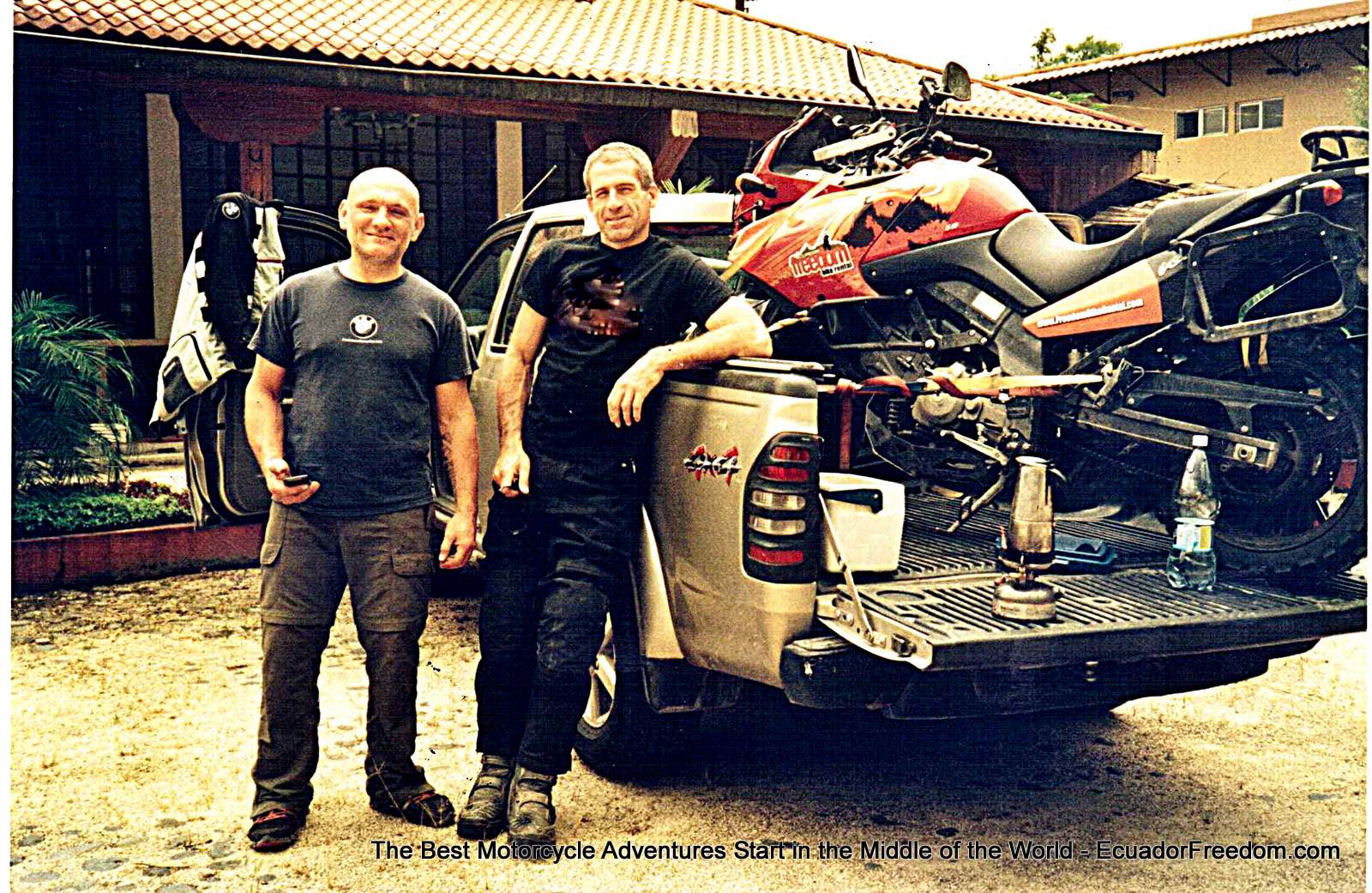 Know More About Ecuador Freedom Bike Rental
Court Rand and Sylvain Gallea know a thing or two about adventure. Having met in 1990 while Court was working as a motorcycle courier in Paris, the two later hit the road in 2008 on a protracted motorcycle tour of the Americas. Departing New York City, where Court worked as the director of a software company and Sylvain as an electrician, their southbound route took them through Mexico, Belize, Guatemala, El Salvador, Honduras, Nicaragua, Costa Rica, Panama, Colombia, Ecuador, Bolivia, Chile, and terminated in Buenos Aires, Argentina. More than just a crazy adventure, it was an affirmation of what motorcycles and open roads represent - a sense of liberation. They found themselves with a new sense of purpose that revolved around providing people the opportunity to experience life in full.

In 2009 Court and Sylvain, ex-pats from the United States and France launched Ecuador Freedom Bike Rental. Starting with one humble shop, it didn't take long before Ecuador Freedom Bike Rental became Ecuador's foremost adventure motorcycle touring company. They've increased their fleet of bikes since opening and employed more members staff-wise - all dedicated to giving riders an unforgettable experience tailored specifically to them. It helped that Sylvain had been a bartender prior while Court was an Outward Bound Instructor working mainly with children struggling through school or family life, but what truly sets them apart is how deeply they care about those who have come to love the land on which they live so dearly. Since opening its doors, Ecuador Freedom Bike Rental has become the preeminent adventure motorcycle touring company in Ecuador and South America. They have added more motorcycles, and additional employees, and built a headquarters that handles motorcycle maintenance. Their continued success results from their unwavering commitment to their guests and adopted community.

Central to their company mission is a dedication to the people of Ecuador by giving back whenever they can. They've come a long way since first hitting the road on their big adventure over a fourteen years ago. Perhaps their most impressive accomplishment is proving everyone is deserving of the trip of a lifetime. Everyone needs––Freedom.
The True Ecuador Freedom Bike Rental: Don't Be Fooled by Pretenders and False Advertising
Ecuador Freedom Bike Rental is an award-winning motorcycle and 4x4 rental and tour company focused on bespoke guided and self-guided tours and extraordinary travel experiences in Ecuador. We have a robust fleet of well-equipped adventure motorcycles and 4x4s, extensive knowledge of Ecuador's most spectacular routes and wonders of nature, and deep connections with local communities. We carefully design our tours to showcase Ecuador's hidden treasures and places off the beaten path. Our experienced staff are excellent in providing guidance and support for travelers, and our Quito headquarters are a hub of adventure. We have millions of Ecuadorian tarmac and dirt miles under our belts, and hundreds of returning customers each year confirm we must be doing something right.
But it took us more than a decade to get here.
Back in 2009, we started out as a small bicycle and scooter rental shop in Cuenca with just a few bikes and a big idea. It took us years to truly get to know Ecuador, understand the needs of travelers, establish meaningful connections with the locals, and appreciate the unique and beautiful diversity of this little South American gem. It took trial and error, vision, and determination; as we moved to Quito and slowly expanded and perfected our motorcycle fleet, our routes, and our tour options, we faced more than our fair share of challenges along the way.
As we went along, we didn't just focus on the business; we focused on the rider community, because at the core of things, that's what matters most. We continuously sponsor content on ADV Rider and other adventure motorcycle magazines, support events like the BMW MOA and Adventure Bike Rider Festival, and our doors are always open to independent world travelers passing through Ecuador. Equally, appreciating the Ecuadorian hospitality we've experienced from day one, we want to give back to the locals; this is why we've created our Pack for a Purpose program supporting Ecuadorian schools and remote communities in need.
In other words, building Ecuador Freedom Bike Rental took years, hard work, and consistent focus on quality, meaningful connections, and a vision for truly extraordinary adventures.
But we're not sharing this story with you for bragging rights or marketing purposes: we're sharing it because recently, we've noticed another tour operator mimicking our brand and using our name to cash in on the reputation we've built, and we'd like to ask for your support.
Healthy Competition vs False Advertising
Don't get us wrong, here at Ecuador Freedom, we welcome healthy competition: after all, that's what keeps everyone growing and improving. In addition, we strongly believe in collaboration – that way, everyone wins, especially the riders choosing Ecuador for their next adventure.
What we're not OK with, however, is other tour operators blatantly copying our brand name and purposely confusing people. An relatively inexperienced motorcycle rental and tour company Sleipner is doing exactly this: calling themselves "Ecuador Bike Rental," using similar imagery and color schemes on their website, and going as far as running Google ads with "Ecuador Freedom Bike Rental" keywords in them, the owners of Sleipner are clearly trying to confuse adventure travelers into believing they are us. Imagine our disappointment when, after years of investing and supporting the ADV community globally, riders know us and trust us from meeting us at events or rallies but, thanks to false advertising by Sleipner, book tours with them believing they're us. Just like that, all our hard work, our reputation, and our efforts are undone by an impostor.
We have reached out to Sleipner asking to stop the false advertising and purposeful misdirection. Unfortunately, they continue to do so and profit from the confusion.
Now, we're not claiming Sleipner isn't a competent tour operator, and we certainly don't take it upon ourselves to tell others how to run their business. Everyone is different (or should be), and we all have our unique place under the sun.
We are, however, asking people to double-check before booking. If you choose to rent a bike or go on a tour with our competitors, that's absolutely your right and your prerogative, but often, we notice people booking with Sleipner solely because they believe Sleipner is Ecuador Freedom Bike Rental. We ask you to verify before booking, and we encourage you not to be fooled by pretenders and false advertising – it benefits no one, and it hurts both Ecuador Freedom Bike Rental and riders expecting to have an Ecuador Freedom experience.
It's a little like if a generic soda drink company called themselves Cola-Cola, used similar brand colors and fonts, and actively advertised as Coca-Cola. If people wanted to have that particular Cola-Cola soda drink and bought it as such, there's absolutely no problem: everyone has a different taste. But if people were purposefully misled and bought the generic soda thinking they were getting original Coca-Cola, surely, that would be wrong.
And that's exactly our issue with Sleipner. We wish them all the best in their business and we welcome the competition. However, we're asking them to stop the false advertising campaign – and we're asking you, adventure riders and travelers, to be mindful of the confusion caused by it.
Thank you, and see you in Quito - where adventure begins.
Focused on Ecuador.
We've been designing and organizing tours in Ecuador since 2009, meeting people and building our wealth of knowledge of the country. When you travel with us, you will meet incredible people and visit places you never would have seen on your own. You'll be surrounded by people who are rich in knowledge and insights about the places we go. You're enriched by the knowledge of our staff, resources, guides, and by the local people you will meet along the way. From the guides and riders who lead our trips to the local guides and artisans we meet in the field, you'll be surrounded by people who are steeped in knowledge and insights about the places we go. And they're passionate about sharing that knowledge with you.
Safety: Our Priority
Safety and security are about being aware of your surroundings, clear communication, and being prepared. Our equipment is provided by leading international manufacturers, purchased new and maintained that way by a team of professionals. We don't cut corners on tires, brakes or any equipment and we inspect and secure everything with North American and European standards. We follow MSF guidelines with regards to group riding, and our tours are equipped with satellite communication systems in case of an emergency. Our entire staff has been trained in emergency scene management, first aid and CPR as well as motorcycle mechanics and maintenance. We learned after the 2016 7.8 earthquake that things can go terribly wrong when you least expect it. No matter all the preparation and safe riding, things can happen, and if so, you want to know what to do. We want to make sure that in case of an emergency, we can react and know what to do. A crisis is not a time to freeze up. Knowing first aid and CPR takes away the doubts of and saves precious seconds in an emergency.
Giving Back
When you travel with us, you help make a difference. We are active in many community and non-profit organizations that are working to make Ecuador and the world a better place. Our activity is not passive; we encourage our clients to connect directly with the communities they visit through programs like
Pack for a Purpose.
With this program, we communicate directly with remote, isolated schools to determine what they need for their children and ask our customers to bring the supplies in their luggage and saddlebags so we can deliver them personally. The project has improved the lives of thousands of students and brought meaningful and lasting connections for our riders.
You create the unique experience.
The Extraordinary Team Behind the Handlebars: Ecuador Freedom Bike Rental's Employees
Meet Our Adventurous Team: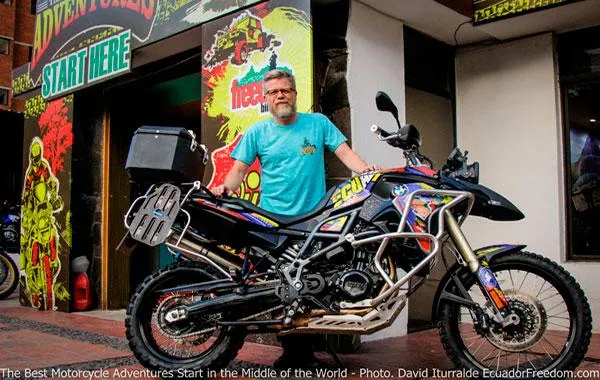 Florian Lasnes
Director of Sales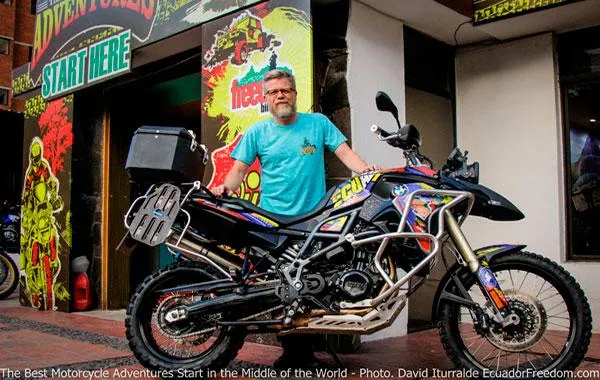 Florian Lasnes
Director of Sales
Florian is the friendly face you'll encounter when booking tours with us. As a part-time team member, he helps make your experience unforgettable. A true renaissance man, Florian's passions are diverse and ever-expanding. Originally from France, he discovered a passion for baking bread and honed his craft into an art form. But he is not just a bread baker! He also loves to explore the great outdoors and indulge in tourism activities. Florian's love of travel and adventure ensures he has fascinating tales to share. When working with Florian, you can expect top-notch customer service with a personal touch.
---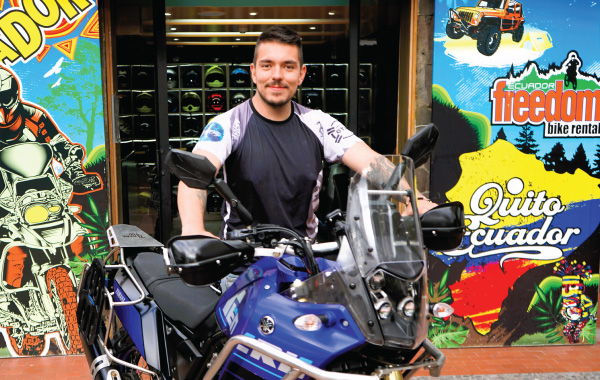 Camilo Baca
Rider Preparation Manager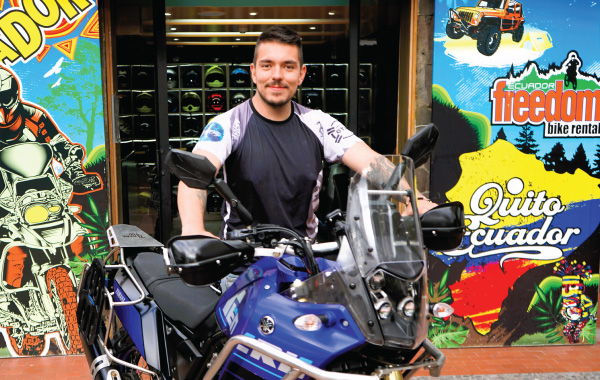 Camilo Baca
Rider Preparation Manager
Camilo is a passionate dual-sport motorcycle rider and enthusiast currently studying automotive engineering at the International University of Ecuador. He discovered his love for riding at a young age and has been an avid rider since he was just ten years old. Camilo started with a Yamaha YZ85XC as his first bike and has never looked back. Nowadays, he is most often seen exploring the beautiful Ecuadorian landscape on his beloved Husqvarna TE630. When he isn't hitting the road on two wheels, Camilo is hard at work pursuing his academic interests in automotive engineering and always looking for ways to incorporate his passion for motorcycles into his studies and future career aspirations.
---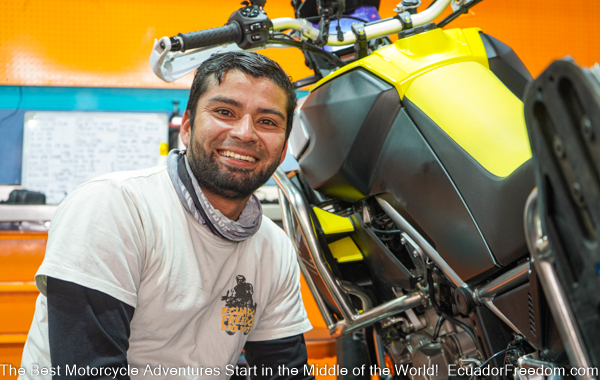 Jefferson Zambrano
Senior Mechanic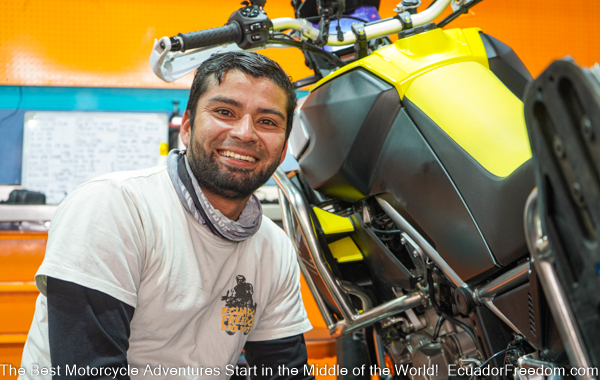 Jefferson Zambrano
Senior Mechanic
With years of experience in the field of motorcycle mechanics, Jefferson is a true expert at fixing up motorcycles and making them run smoothly. His keen eye for detail enables him to spot even the simplest of errors from miles away, which is why he is such a valuable asset to our motorcycle mechanic team. Working alongside his brother Gabriel, Jefferson never misses a beat when working on a bike, using his skills and knowledge to ensure that each one is running at its absolute best. Whether it's a small repair or a major overhaul, Jefferson always brings his A-game and never settles for anything less than perfection. His dedication to his craft is an inspiration to us all, and we feel incredibly lucky to have him on our team.
---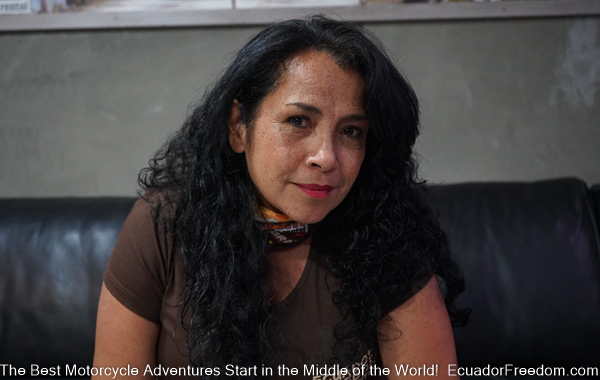 Cristina Zambrano
Accounting and Administrative Specialist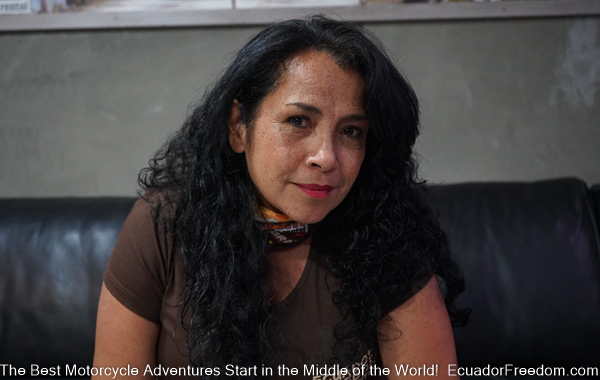 Cristina Zambrano
Accounting and Administrative Specialist
Chris is a vital member of XiXi's team and one-third of our accounting and administrative trio. She keeps the gears of the company turning smoothly and ensures that all financial and administrative functions run like clockwork, leaving us free to focus on our many exciting projects. Chris is a woman of many talents and passions - when she is not balancing the books or tackling spreadsheets, she is donning her motorcycle gear and taking to the roads of Ecuador for a thrilling ride. Her adventurous spirit and love of speed inspire us all to embrace life fully and take risks in pursuit of our dreams. We are grateful for her tireless dedication and contagious enthusiasm, which have helped make our journey a successful and enjoyable one so far.
---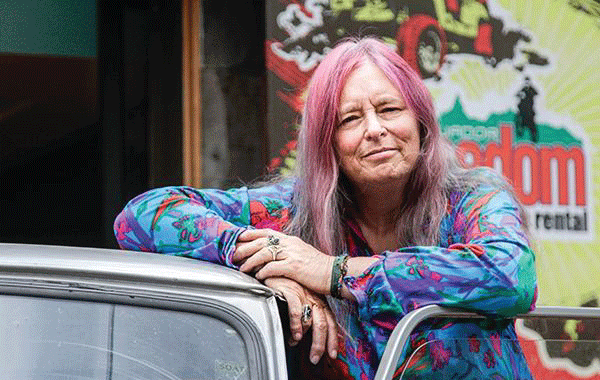 Jean Brown
Hotel and Logistics Manager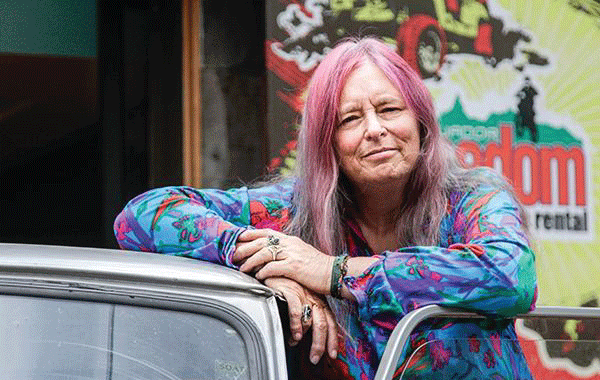 Jean Brown
Hotel and Logistics Manager
Originally from England, Jean has spent over four decades living in Ecuador, a country she knows like the back of her hand. With a photographic memory that can recall every square inch of the country, she has become a walking encyclopedia on all things Ecuador and South America. Jean has made a significant contribution to various Ecuador and South America guidebooks over the years.
---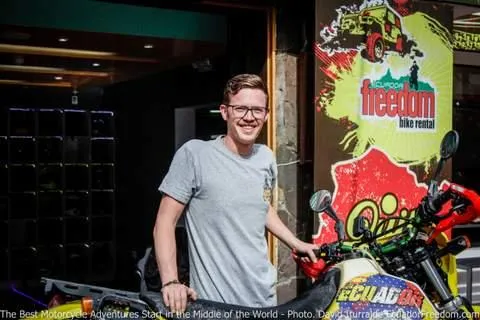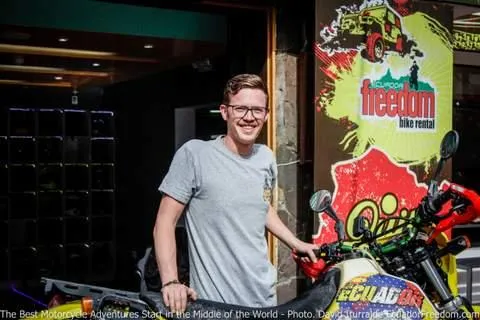 Andrew Walcott, originally from Calgary, Alberta, Canada, is a skilled dual-sport rider fluent in Spanish. We had the pleasure of meeting Andy while he was trekking around South America on his 200cc Honda. From the moment we met him, it was clear that he has a remarkable ability to connect with those around him and truly understand the local culture. Thanks to his expertise and experience in the region, Andy knows all of our routes in Ecuador like the back of his hand and is an invaluable member of our team. With his infectious energy and adventurous spirit, Andy brings a sense of excitement and enthusiasm to everything he does.
---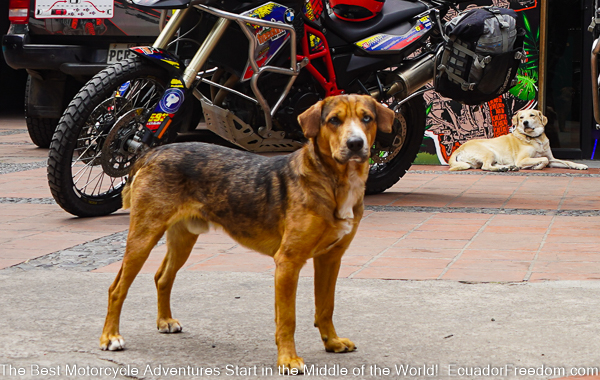 Yacu
Second Security Lieutenant in Command and Lead Bird Chaser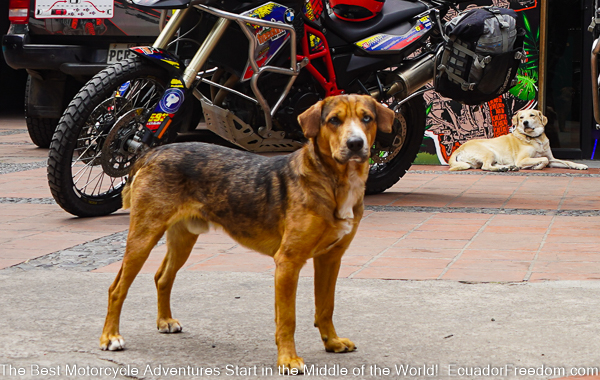 Yacu
Second Security Lieutenant in Command and Lead Bird Chaser
Yacu was adopted from the streets of the mountain town Pucayacu as a little pup and has since been learning the security dog trade from his big brother White. He has proven excellent service in fending off potential intruders, with the occasional slipup. When he is not guarding the property he can be found chasing birds with mediocre success.
---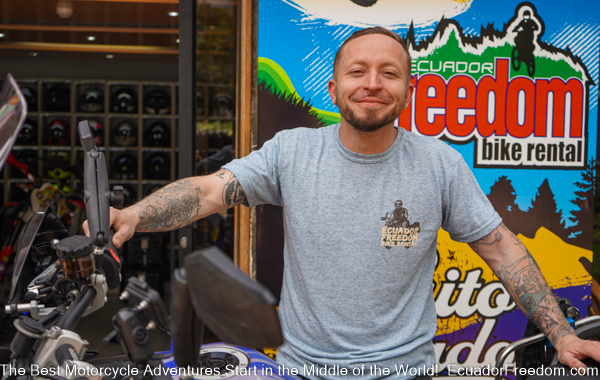 Gabriel Novillo
Guide / Rider Preparation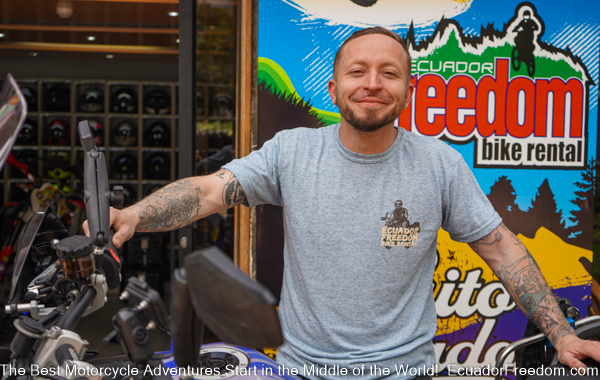 Gabriel Novillo
Guide / Rider Preparation
Gabriel is a globally-minded individual with roots in Ecuador and experience living in Texas, USA and Saskatchewan, Canada. With several years working as part of our team, Gabriel has proven himself to be an invaluable asset in ensuring the safety and satisfaction of our riders. Through his exceptional attention to detail and dedication to exceptional customer service, Gabe has gained a reputation for helping our riders hit the road smoothly and efficiently. Whether working with new or long-time riders, Gabriel's cheerful demeanor and upbeat attitude never fails to put a smile on their faces and inspire confidence in the quality of our services.
---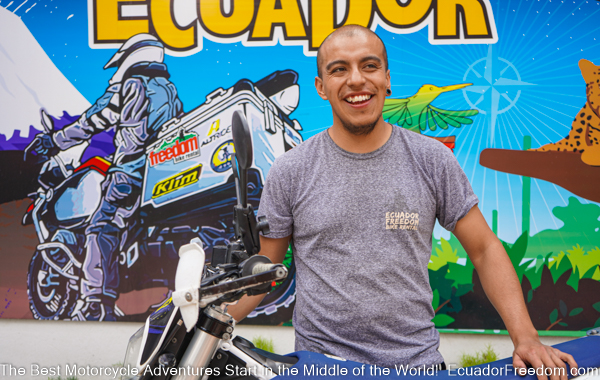 Jhordy Carrillo
Guide / Customer Support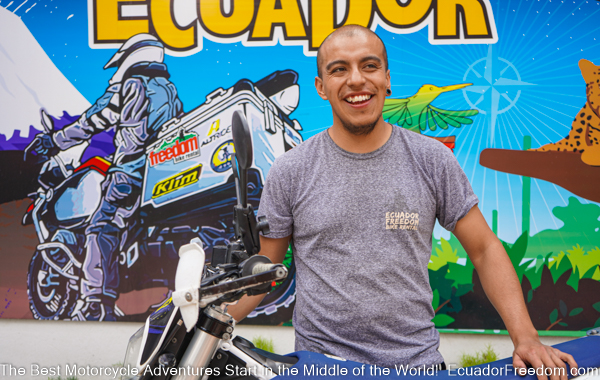 Jhordy Carrillo
Guide / Customer Support
Jhordy is originally from Quito, with an innate skill for handling all kinds of vehicles on both on and off-road terrain. He has gained a reputation as one of our most skilled riders and is a true adventurer at heart. In his free time, Jhordy can be found exploring the breathtaking backroads that Ecuador has to offer. Whether he's speeding through the Amazon jungle or cruising along the picturesque coastline, Jhordy has an unmatched enthusiasm for exploration and an unwavering passion for adventure. With his knowledge of Ecuador's rugged landscape, Jhordy has become an invaluable asset to our team, helping our guests navigate some of the most stunning scenery that Ecuador has to offer.
---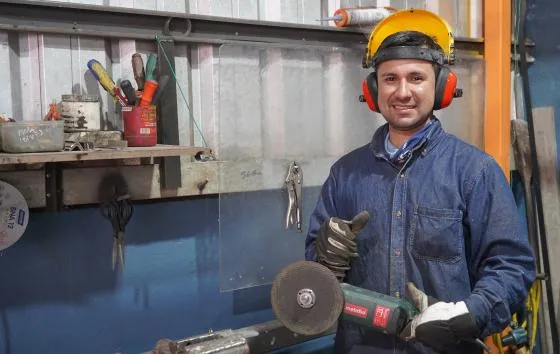 Gabriel Zambrano
Welder and Mechanic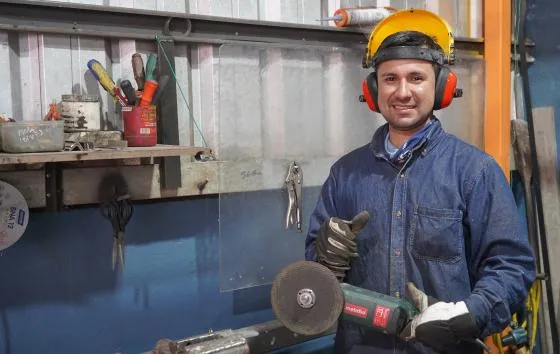 Gabriel Zambrano
Welder and Mechanic
Gabriel is a highly skilled and experienced certified motorcycle mechanic who takes pride in keeping our fleet of vehicles running in perfect condition. With years of experience in his field, he possesses the technical knowledge and expertise required to handle any challenge that comes his way. Not only does he keep our bikes running smoothly, but he also possesses exceptional welding skills, enabling him to design and build custom accessories such as crash bars, luggage racks, and skid plates. Gabriel's attention to detail ensures that all modifications are built to the highest standards and are perfectly suited for the rigors of the road. His unwavering commitment to excellence and unparalleled skills have made him an indispensable member of our team.
---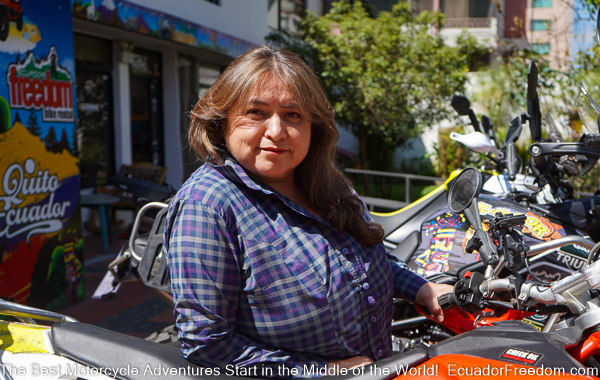 Ximena Zambrano
Head of Accounting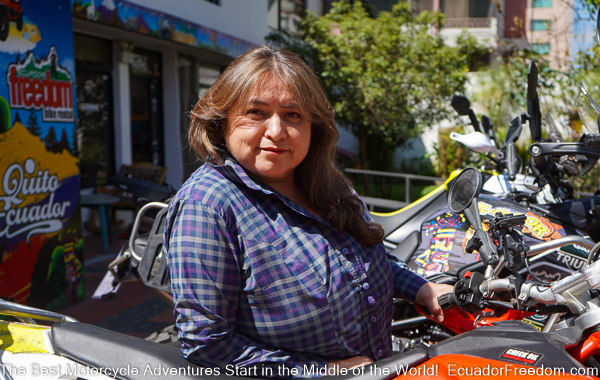 Ximena Zambrano
Head of Accounting
Ximena, affectionately known as XiXi (pronounced zhee-zhee), has been a vital member of our team since 2011, playing an essential role in our company's growth and success. She tackles the challenging job of navigating Ecuadorian bureaucracy, managing tax payments, and handling all accounting matters with a level of patience and attention to detail that leaves us incredibly grateful for her contributions. Despite the difficulties that come with her position, Ximena takes it all in stride, always displaying a positive attitude and a willingness to go the extra mile to ensure our business runs smoothly. Her dedication and hard work have undoubtedly made a significant impact on our company's overall success.
---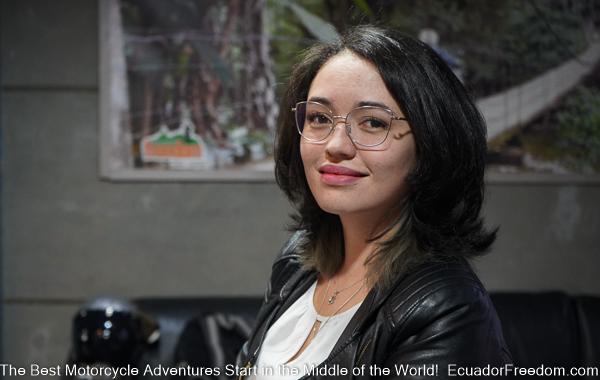 Alejandra Gudiño
Accounting and Administrative Specialist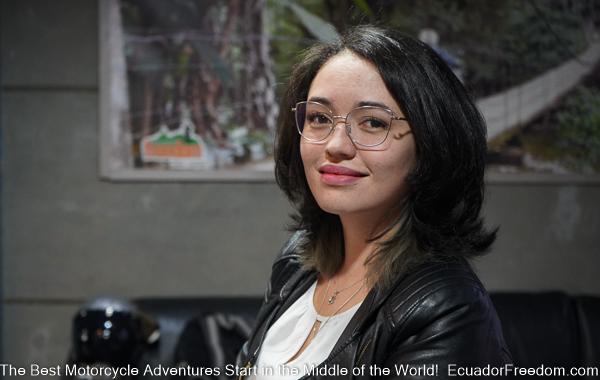 Alejandra Gudiño
Accounting and Administrative Specialist
Alejandra is more than just an accountant and administrator – she brings a bright ray of sunshine to everything she does. She carefully manages the company's financial records and bookkeeping, while juggling a variety of administrative duties. Beyond her work responsibilities, Alejandra is also a passionate adventurer. Together with her husband Fabian, they share a love for motorcycling and enjoy exploring the open road throughout Ecuador and Colombia. With two children to raise in Quito, the family prioritizes family time together as much as their thrilling excursions on two wheels. Alejandra's energetic spirit and dedication to both work and play make her an invaluable part of any team she joins.
---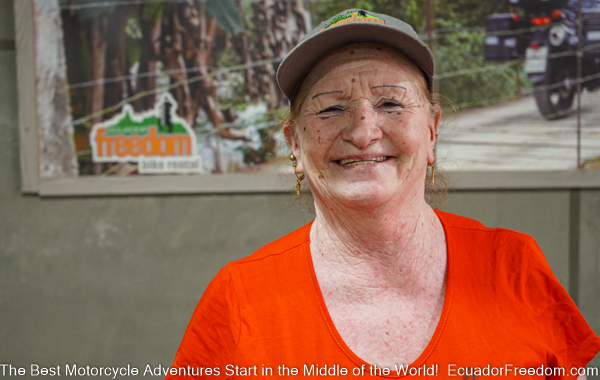 Marianita Garzón
Facilities Management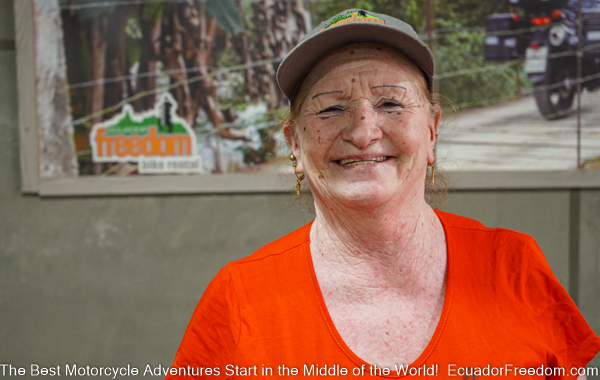 Marianita Garzón
Facilities Management
Marianita has worked with us since 2010 and manages our facilities - making sure our shop is tidy and smells good, which is not an easy job, given all of the adventure motorcyclists who return from dusty dirt roads day by day. It is why we call her "Santa Marianita." She is a caring, trustworthy, and invaluable part of our team.
---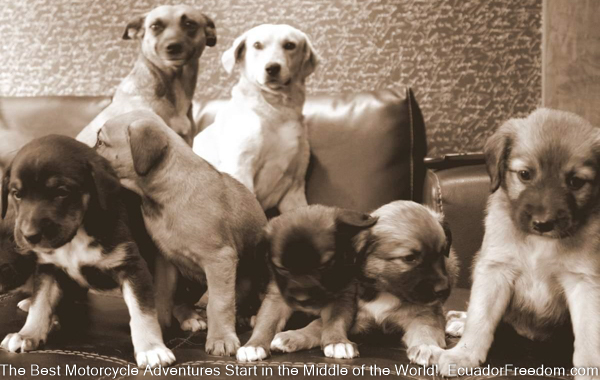 Salina and White
Sr. Executive Vice President in Charge of Security and Head of Strategic Thinking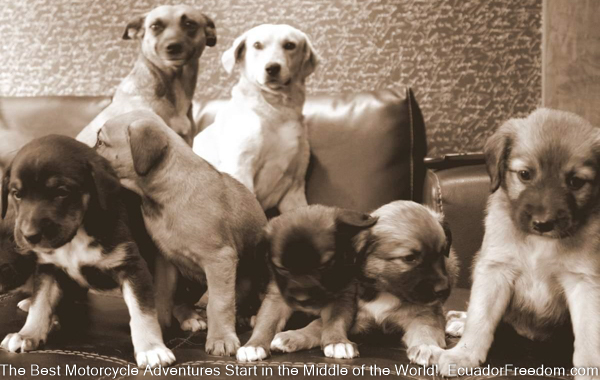 Salina and White
Sr. Executive Vice President in Charge of Security and Head of Strategic Thinking
Salina has been with us since we first came to Ecuador in 2009. She grew up ion a motorcycle, in a top box of a Buell XB12X as we rode to Argentina and back to Ecuador. In 2013, she met the love of her life, White, who was a sovereign Quito street dog. White learned how to ride on a motorcycle to be able to join Salina on rides and in 2016, they created a family of seven puppies, who now live in various parts of the country and enjoy visits from time to time.
---

+593 (02) 600-4459

This email address is being protected from spambots. You need JavaScript enabled to view it.

GPS: -0.180944,-78.480907