Adventure Motorcycle Tours & Rentals in Ecuador
Don't be fooled by pretenders! Ecuador Freedom Bike Rental gets real adventure seekers like you off the beaten track and deep into Ecuador's dramatic and varied scenery as well as its unique culture. Since 2009, we've helped travelers of all price points live their dreams and explore the hidden gems of South America.
Thousands of riders and travelers have trusted us for our award-winning customer service, authentic tours, and knowledgeable and friendly staff. Choose from mountain bikes, dual-sport / adventure motorcycle rental and 4x4 rentals, self-guided adventures, all-inclusive guided motorcycle adventure tours or create your own getaway and Ecuador Freedom will help make it happen.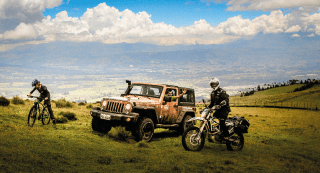 Bike & 4x4 Rentals
Rent motorcycles, mountain bikes, and 4x4's to explore on your own.  We have the largest selection of adventure-ready motorcycles in South America, outfitted with quality gear and maintained by an in-house staff of professional mechanics.  You'll get more than just a rental vehicle - you'll have the most experienced outfitter to help you plan the perfect trip.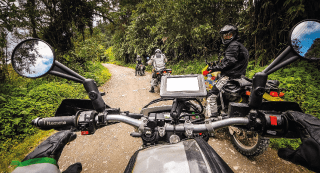 Self-Guided Tours
Channel your free spirit (and our local knowledge) on your own self-guided tour - alone or with a group of friends.  Our self-drive tours include an adventure motorcycle or 4X4 vehicle, motorcycle luggage, pre-programmed GPS, detailed road book with daily maps, prepaid lodging, select meals and a cell phone for 24-hour customer support in Ecuador.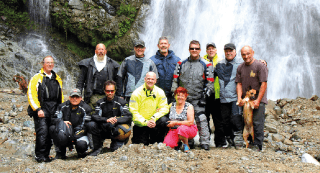 All-Inclusive Guided Tours
Our guided tours are designed so that you experience Ecuador on an intimate level through conversations with locals and by experiencing what life is like in this land of diverse topography and peoples. We move people away from the common and into the more remote and obscure areas of Ecuador, giving a glimpse into ways of life that have largely disappeared​ .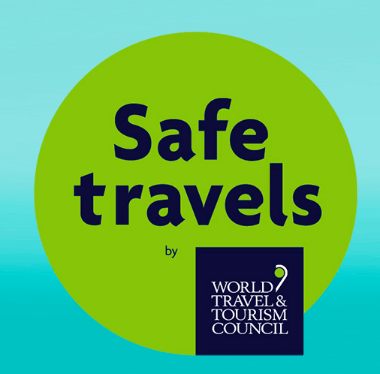 Ecuador is Open for Tourism!
Ecuador is now open to tourism and has received the #SafeTravels Certification from the World Travel and Tourism Council.
The #SafeTravels certification is given to destinations that have put in place biosafety protocols and education for their tourist establishments and businesses.
You may now travel to Ecuador and no quarantines are required. You will just need to have a negative Covid-19 PCR test in hand when you arrive. The PCR test must be taken within 10 days of your arrival in Ecuador.
Once your ride or tour is over, we will arrange to have a PCR taken in our offices and the results will be available to you within 24 hours so that you can return to your home country with the necessary paperwork.
In Ecuador, social distancing and face coverings are required for most public places. You may be screened when entering buildings. Restaurants, hotels, and most businesses are operating again.
With these biosafety measures in place, you will receive a warm welcome in Ecuador.
If you have booked a tour with us in 2020 and need to change your dates, you may change your dates to any date in the future and we will transfer your deposit to the future tour. There will be no rebooking fee and the payments already made will be valid indefinitely.
If you are looking to book a tour with us, we know that there is uncertainty. We have changed the terms and conditions for our reservations so that you have the flexibility to change your reservation. If your plans change and you are not able to travel for a Covid-19 related reason, you may change the dates of your reservation to any date through December 31, 2021.
The safety and well-being of our guests is, as always, our top priority. Please let us know if you have any questions or concerns. Our goal is to be as flexible as possible during these challenging times.
Rental Fleet
Ecuador Freedom offers South America's widest selection of dual-sport / adventure motorcycles, 4x4's and bicycles for rent at daily and weekly rates. Our vehicles are purchased new and maintained that way by an in-house crew of professional mechanics using the highest North American and European standards. All vehicles are equipped with high-quality accessories from the world's leading manufacturers to make them safe and ready for everything Ecuador and Peru have to offer.

Self-Guided Tours
We put thousands of miles on the road each year, sourcing and testing the best for our self-guided travelers. Self-guided adventurers will see the must-sees but also see the incredible natural landscapes, archaeological ruins, wildlife, foods, and cultures that evoke a sense of awe. Our self-guided tours include an adventure-ready dual-sport motorcycle or 4X4 off-road capable vehicle, motorcycle saddlebags or luggage, pre-programmed GPS, detailed road book with daily maps, prepaid lodging, select meals, and a local prepaid cell phone for 24-hour customer support.

An Ecuador Freedom self-guided motorcycle tour (or self-drive 4x4 tour) booking can now be completed entirely online in just a few easy steps! Our new system will let you know what bikes are available for the tour date selected and you can book the tour for yourself - alone, or with a travel companion.
If you face any trouble booking your tour online or if you need any additional information in order to complete the booking, please do not hesitate to let us know.
All-Inclusive Guided Motorcycle Tours
We design motorcycling itineraries that go well beyond surface-level experiences aimed at people who want to genuinely immerse themselves in the world around them. Our customers experience Ecuador and Peru on an intimate level through conversations with locals and by experiencing what life is like in these lands of diverse topography and peoples.
An Ecuador Freedom guided motorcycle tour booking can now be completed entirely online in just a few easy steps! Our new system will let you know what bikes are available for the tour date selected and you can book the tour for yourself - alone, or with a travel companion.
If you face any trouble booking your tour online or if you need any additional information in order to complete the booking, please do not hesitate to let us know.
Ecuador Freedom in the Press
Magazines that have featured articles about Ecuador Freedom Bike Rental:



AWARD-WINNING SERVICECUSTOMER ACCOLADESRECOMMENDED BY ADVENTURERS
Challenging, Fun and Exhilirating
"It's clear these guys have spent hundreds of hours finding the best roads and a bunch of unique places to stay. The riding was challenging, fun, and exhilarating. Some of the hotels were so cool I wished I could spend a few days at each. This trip will want to make you come back for more. Note, you should have some off-road skills or take an off-road course unless you are planning a 100% asphalt trip. Dirt switchback roads in the rain are fun but intense - not for the inexperienced rider."
Dan L., Ontario Canada
Once in a Lifetime Trip
"We booked this Guided tour many months ago and looked forward to our arrival in Quito to see the folks at Ecuador Freedom! I have read so many 5-Star reviews for this place and truly thought that it had to be too good to be true! Not so!! All of the reviews and comments about how great the service is, how detailed the trips are planned, bike maintenance, etc are spot on. This was a once in a lifetime trip and we were not disappointed at all!

We took this tour from June 29-July 8th and we were able to experience so many different aspects of Ecuador. One of the things that really sticks out is just how knowledgeable these guys are about the country. It is not just the roads and the places that they take you to visit, it is more about the depth of knowledge that they have about the history of Ecuador and the villages/people that we encountered. Not a question went unanswered and they always offered much more detail to explanations to our questions. That being said, the miles produced a lifetime of smiles as the scenery and area is breathtaking.

All items that are mentioned in the ads for the tours are exactly what you get. All-Inclusive (except for alcohol/souvenirs) and that goes down to the fuel, bike, support vehicle, etc. Nothing is left undone and no detail has been missed.

If you are into Adventure Riding of any kind and are at all on the fence about either going to Ecuador or using Ecuador Freedom.......get off the fence! Do it and get it booked right now. You will NOT be disappointed in any way!"
Brian H., Indiana USA
TripAdvisor Hall of Fame Award
Our customers are extremely satisfied: We have been awarded a 5-star rating and the coveted "Certificate of Excellence" by TripAdvisor.com for being in their top 10% of best performing businesses, worldwide five years in a row! This has earned us the coveted "Certificate of Excellence - Hall of Fame Award" that very few tour operators in the world have achieved.
The accolade, which honors hospitality excellence, is given only to establishments that consistently achieve outstanding traveller reviews on TripAdvisor, and is extended to qualifying businesses worldwide. Establishments awarded the
Certificate of Excellence
are located all over the world and represent the upper echelon of businesses listed on the website.
Motorcycle Tour Operator of the Year - Luxury Travel Guide
Ecuador Freedom Bike Rental & Motorcycle Tours has won the Luxury Travel Guide Award for "Motorcycle Tour Operator of the Year."

The Luxury Travel Guide Awards recognize and celebrate excellence across all sectors of the affluent travel and tourism industry in Europe, The Americas, Asia, Australasia, Africa and the Middle East.

To help readers cut through all the clutter and to find the best hotels, restaurants and tour offerings around the world, the awards program selects winners based on their achievements and strengths in the travel industry. Ecuador Freedom Bike Rental was selected after passing through a rigorous assessment carried out by experienced in-house professionals, as well as a number of celebrity guest judges.
Honeymooners from London
We were looking to go on a bit of an adventure for our honeymoon, but also wanted a little bit of luxury along the way. Freedom bike provides exactly that. We did 1000 miles in total across some of the most incredible and at times challenging terrain.

Freedom Bike provided us with a BMW F800GS which never missed a beat on the entire trip. The locations and hotels were fantastic, to the point that it is impossible to pick our favourite point in the whole journey. Lagoons, waterfalls, ziplines, cloud forests, beaches, jungle trekking, canoeing and even floating down a river in the Amazon on a rubber ring; you'll struggle to find anything better than this.

My wife is a vegetarian and she never once had any issues finding a good meal on the whole trip. Food for both of us was top notch.

Our lowest point was knowing it had to end! We almost had tears in our eyes when we had to hand 'Archer' (we named the bike) back.

If you want an exciting honeymoon, or holiday in general, this is exactly what you should be doing.

The whole team at Freedom Bike are incredible. So welcoming and friendly. Constantine makes a killer G&T too. Exactly what we wanted on return!

Top tip: if you can get down to the shop the day before to complete all the paperwork and attend the briefing it makes your start day a bit more relaxed.

- Nic, London England
We Will Be Back!
I am not gonna dwell on the tour we did instead I shall talk about the experience I had with the company. The reason is because this is such a professional outfit I cant believe your customer satisfaction will be any different than mine regardless of the tour. The owners name is Court and although I had limited experience with him I can tell you one thing for sure, he knows the right people to hire. Andy our tour guide was not only a great rider, but a great guy. He made me feel not only welcome but as though I had made a new friend almost immediately. He seemed to have a sense that allowed him to choose a pace that was fast enough for faster riders, but worked for the slower ones as well. Bravo Andy this is a tough trick to pull off and you did it with seeming ease. As an aside his grasp of customer service was so superb It seemed hard to believe he was not born to perform it. We had a group of five so a chase truck was included. The guys in the truck were Raphael and Dave. Raphael was the support guy and once again the qualities he showed were the ability to make strangers friends in an instant excellent customer service skills and compassion for the riders when they were inevitably tired, hot, cold etc. Dave was the video guy and when he wasn't taking outstanding pictures and videos was (you guessed it) the most helpful friendly guy you can imagine. Can you see a theme here? Ecuador freedom gave me and my group a terrific ride. That I am sure was the easy part. This difficult part was to make us feel as though we we were the only reason the company existed. The sad part was not that the ride was over, but that I was leaving a group of friends behind. I would like to tell you this was the ride of a lifetime, and it was. But I am sure I will be back not only for another amazing ride, but to revisit the friends I left behind in Ecuador.

-Steve, Covington Kentucky USA
These Guys Rock!
These guys rock !!
I was traveling solo in Quito and got the urge to rent a bike and do a bit of riding in the mountains around Quito . Ran some research on the net and made my way to EFBR.

I could not have made a better choice. These guys are super professional and friendly and really know what they are doing. The setup is fab and fully equipped.

I did a 2 day rental without the tour and they went above and beyond in service even mapping out a few routes on the GPS ( which was not supposed to be included ), and guided me on some great roads to ride.

Andy & Sylvain went out of their way to make me comfortable and get me equipped ( it was my first time renting and riding solo like this )

I had a great time , the machine was in great condition and ran faultlessly in all weather conditions and I had an amazing 2 days thanks to these guys.

I hope to be able to return with some friends some days and do a longer tour.
Rajef, Mumbai India
4 Military Guys' Trip
Four military guys from North Dakota made the decision to fly to Ecuador and rent bikes on a guided tour from Ecuador Freedom Bike Rental in Quito. This was the best decision we made when it comes to riding in South America. The bikes were awesome and were inspected every morning. Raphael and Andy were our guides and they absolutely know the country and the unique places to eat and stay. "Pack For A Purpose" was amazing as we brought school supplies and musical recorders along to distribute to Ecuador elementary schools. Our hearts were blessed to see the schools and how we were helping the children. If you are looking at your first motorcycle destination ride, then seriously explore Ecuador Freedom Bike Rental. You will not go wrong.

Rob K, North Dakota, USA
Simply the Best!
What is it you want to do or see in Ecuador ? How do you like your motorcycle to handle ? Just ask !
This team of passionate people will do everything to help you out and make your trip memorable. In fact, they are so good, we just had our third trip with them, all in less then 18 months. We were so well pampered that we immediately felt in love with Ecuador and we are still planning to go back soon.
Please note that my "budget friendly" appreciation refers to the fact that there is no surprises or admin fees. The advertised price is what you pay and almost everything is included (bikes, hotels, most meals). So when you plan, you can stick to that plan as prices in Ecuador are relatively on the low side.
-Patrick P. Québec, Canada
An incredible organization
The front desk staff was fun and cheerful as they took us through our paperwork. The entire Freedom Bike Rental compound, in fact, is a whistle-while-you-work, wisecracking crew of folks who clearly enjoy one another's company and take pleasure in the work they do. Over two days, two guides gave us more than FOUR HOURS of unbelievably thoughtful briefings—on Ecuadorian road rules, relevant cultural mores, and the daily routes on the self-guided tour we were going to take. They've pretty much thought of everything, and that's not easy to do when you're sending people out on a motorcycle adventure this rigorous in a strange country. And when they welcome you back, it's with free beers, and open ears, to hear about your trip. Hard to imagine an operation of this nature could be any better. In fact, it's hard to believe it's this good.
The Best Experience!
This is my 1st experience with an adventure bike outfitting company, but I cant imagine it could get any better. A fun, easy going but very professional group at Freedom. Excellent support and information - from the website, pre trip communications, briefing and contact during the trip. I had never been to South America, yet felt comfortable with a self guided tour due to the preparation provided. Great equipment. Excellent knowledge of the routes. These guys have thought of everything.
Mind-Blowing Magical Adventure
I had no idea what to expect from this four day three night self-guided Avenue of the Volcanoes. The four days felt like a three week vacation due to the variety of the landscape, breadth of the country we experienced, and overall packed experiences. The first night at the farm house B&B, hosted by a sixth generation farm owner, sparked a magic that lasted throughout the entire trip. The team at Freedom Bike rental curated the perfect experience, unique, local, safe, and full of as much adventure as we could handle. Traveling with my boyfriend (I was riding pillion), the trip was romantic and awe-inspiring, as well as challenging and fun. I would follow the Freedom Bike Rental tours anywhere in the world they wanted to take me. Thank you to the team for thoughtfully sharing their passion for Ecuador and adventuring. You are the best!
Ecuador Freedom
Calle Finlandia N35-06 y Suecia
Quito, Ecuador 170135

Tel: +593 (0)2-600-4459
USA: +1 (603) 617-2499