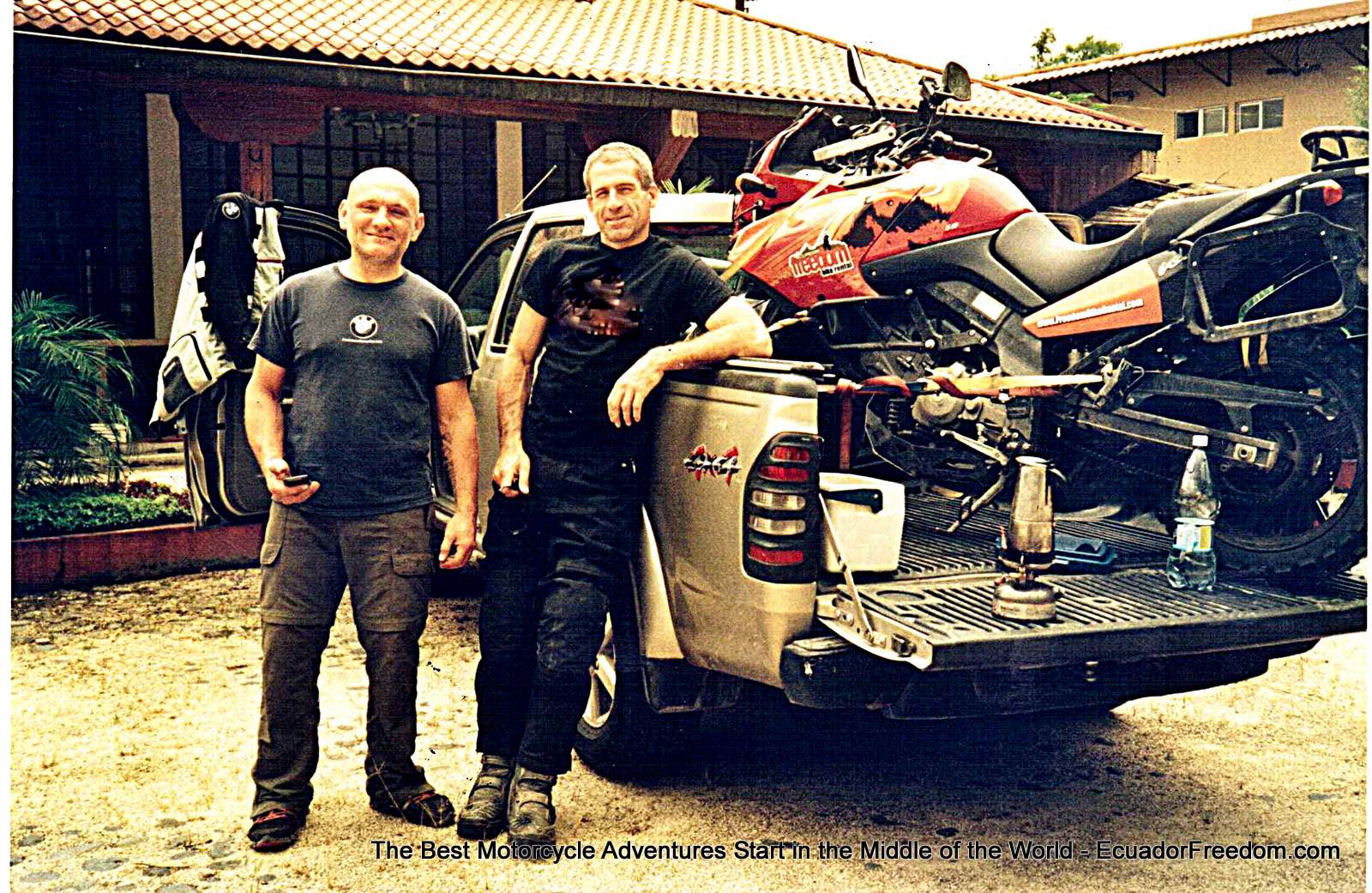 Know More About Ecuador Freedom Bike Rental
Court Rand and Sylvain Gallea know a thing or two about adventure. Having met in 1990 while Court was working as a motorcycle courier in Paris, the two later hit the road in 2008 on a protracted motorcycle tour of the Americas. Departing New York City where Court worked as the director of a software company and Sylvain as an electrician, their southbound route took them through Mexico, Belize, Guatemala, El Salvador, Honduras, Nicaragua, Costa Rica, Panama, Colombia, Ecuador, Bolivia, Chile, and terminated in Buenos Aires, Argentina. More than just a trip of a lifetime, it was an affirmation of what motorcycles and open roads represent - a sense of liberation.

In 2009 Court and Sylvain, expats from the United States and France respectively decided to make their passion their vocation and launched Ecuador Freedom Bike Rental. Starting out with a small shop in Quito, the two have now created the preeminent touring company in Ecuador. It's not just the trips that are incredible, they're all handcrafted to deliver the ultimate Ecuadorean experience. They're continually developing new routes, finding undiscovered hotels, and designing trips that showcase the best of Ecuador. To get their fledgling company off the ground, they leveraged their eclectic experiences gained over the years. Sylvain's previous titles included bartender, shop owner, and electrician. In addition to his tenure in the software industry, Court worked as a hotel manager, night auditor, and Outward Bound instructor for learning disabled kids. Since opening its doors, Ecuador Freedom Bike Rental has evolved into the preeminent adventure motorcycle touring company in Ecuador and South America. They have added more motorcycles, additional employees, and built headquarters that handles motorcycle maintenance and comfortably hosts guests from around the world. Their continued success is the result of their unwavering commitment to their guests and their adopted community.

Central to their company mission is a dedication to the people of Ecuador by giving back whenever they can. They've come a long way since first hitting the road on their big adventure over a decade ago. Perhaps their most impressive accomplishment is proving everyone is deserving of the trip of a lifetime. Everyone needs––Freedom.
Focused on Ecuador.
We've been designing and organizing tours in Ecuador since 2009, meeting people and building our wealth of knowledge of the country. When you travel with us, you will meet incredible people and visit places you never would have seen on your own. You'll be surrounded by people who are rich in knowledge and insights about the places we go. You're enriched by the knowledge of our staff, resources, guides, and by the local people you will meet along the way. From the guides and riders who lead our trips to the local guides and artisans we meet in the field, you'll be surrounded by people who are steeped in knowledge and insights about the places we go. And they're passionate about sharing that knowledge with you.
Safety: Our Priority
Safety and security are about being aware of your surroundings, clear communication, and being prepared. Our equipment is provided by leading international manufacturers, purchased new and maintained that way by a team of professionals. We don't cut corners on tires, brakes or any equipment and we inspect and secure everything with North American and European standards. We follow MSF guidelines with regards to group riding, and our tours are equipped with satellite communication systems in case of an emergency. Our entire staff has been trained in emergency scene management, first aid and CPR as well as motorcycle mechanics and maintenance. We learned after the 2016 7.8 earthquake that things can go terribly wrong when you least expect it. No matter all the preparation and safe riding, things can happen, and if so, you want to know what to do. We want to make sure that in case of an emergency, we can react and know what to do. A crisis is not a time to freeze up. Knowing first aid and CPR takes away the doubts of and saves precious seconds in an emergency.
Giving Back
When you travel with us, you help make a difference. We are active in many community and non-profit organizations that are working to make Ecuador and the world a better place. Our activity is not passive; we encourage our clients to connect directly with the communities they visit through programs like
Pack for a Purpose.
With this program, we communicate directly with remote, isolated schools to determine what they need for their children and ask our customers to bring the supplies in their luggage and saddlebags so we can deliver them personally. The project has improved the lives of thousands of students and brought meaningful and lasting connections for our riders.
You create the unique experience.
Meet the Rest of the Team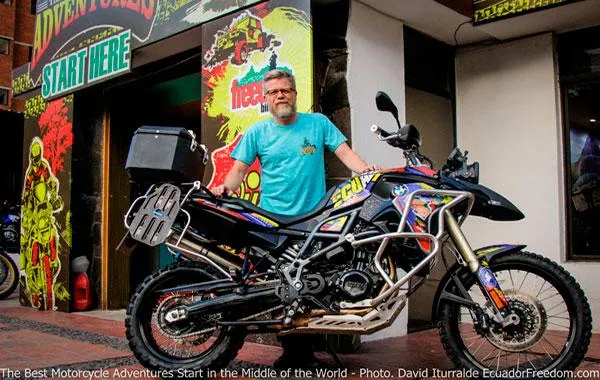 Florian Lasnes
Director of Sales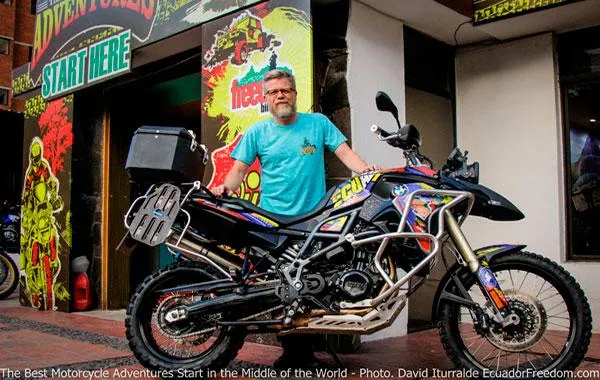 Florian Lasnes
Director of Sales
Florian is the guy you'll be conversing with when booking tours with us. He works with us part-time and has many other activities to keep him busy. Originally from France, Florian is an artisan bread baker and lover of tourism and the outdoors.
---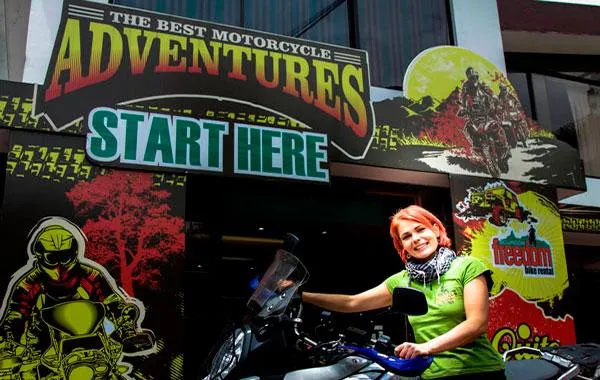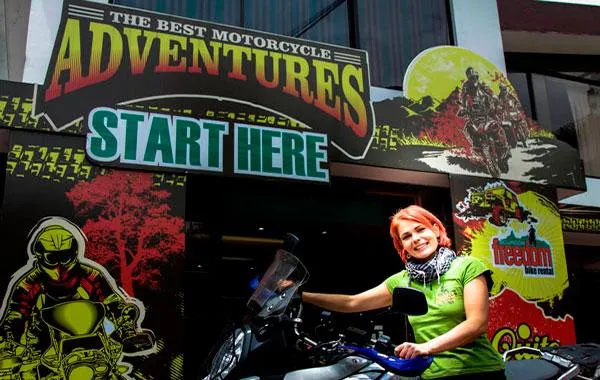 Hanna is an avid motorcyclist and sociologist from Germany. She is interested in culture, languages and teaching. She joined our team in July 2018 and is training to be one of our Guides. She currently works in the shop to help riders prepare for their trips. She is fluent in English, German and Spanish.
---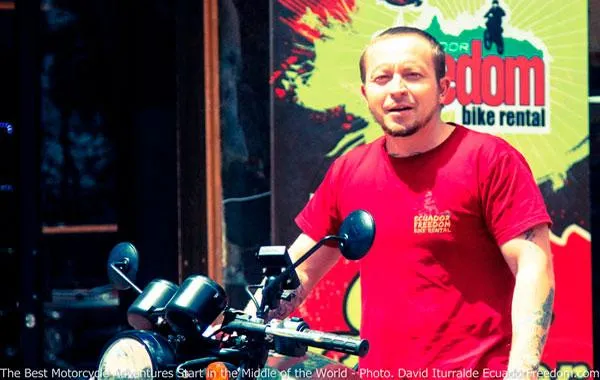 Gabriel Novillo
Rider Preparation Manager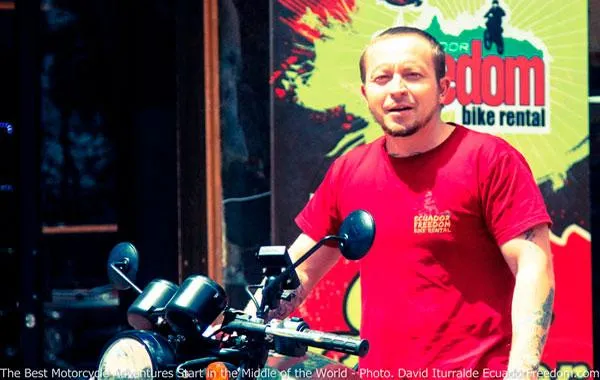 Gabriel Novillo
Rider Preparation Manager
Gabriel is a native Ecuadorian who lived in Texas, USA and Saskatchewan, Canada. He was a longtime follower and fan of our facebook page, and when we posted a job opportunity to work with us, he jumped on it. We're so happy to have a great and organized person to help our riders get out on the road efficiently and with safety in mind. Gabe is also an avid motorcyclist.
---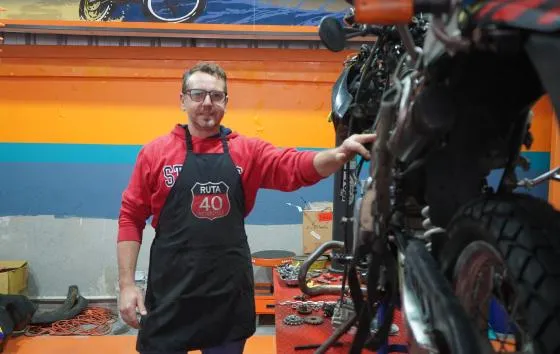 Martin Janiot
Director of Motorcycle Maintenance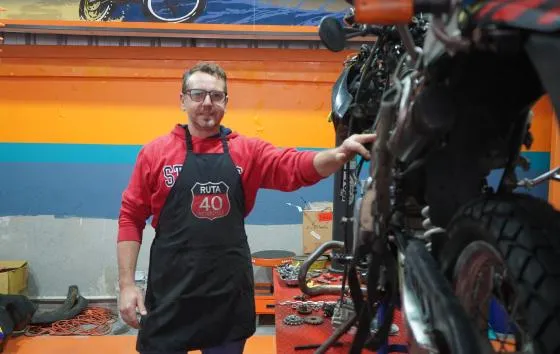 Martin Janiot
Director of Motorcycle Maintenance
Martin has a degree in mechanical engineering from his home country of Argentina and has lived in Ecuador for the past 17 years. Previously he was in charge of the government of Quito's vehicle inspection procedures, then Director of Maintenance for Honda Ecuador, and then opened his own workshop under the name of "Ruta 40" which is how we know him. Ruta 40 has prestigious clients including the maintenance of the BMW motorcycles in the Presidential motorcade. Martin is now working to oversee our proactive, in-house maintenance and we are thrilled to have him on board!
---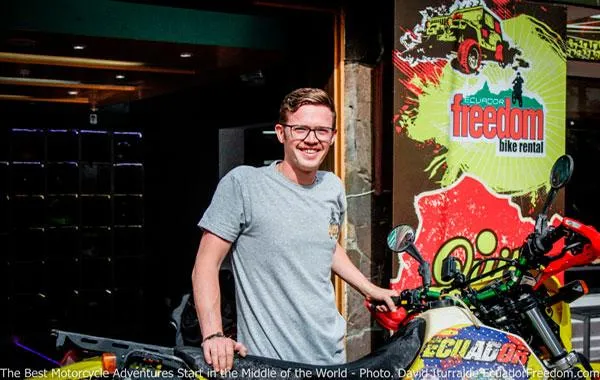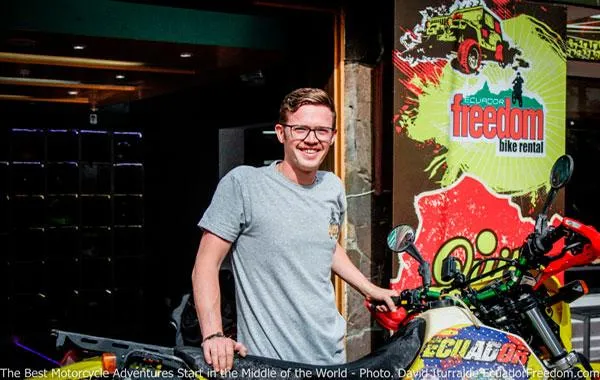 Andy has been guiding tours with us since 2017. Before that, he was wandering around Latin America without a plan on his Honda 250. We met him at a bakery and found out immediately that Andy is a skilled conversationalist and a genuine person. He is a charismatic, excellent tour guide with interests in culture, languages, music and rock climbing.
---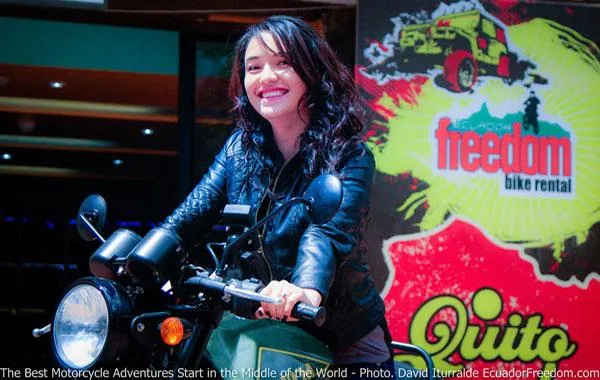 Alejandra Gudiño
Accounting and Administrative Specialist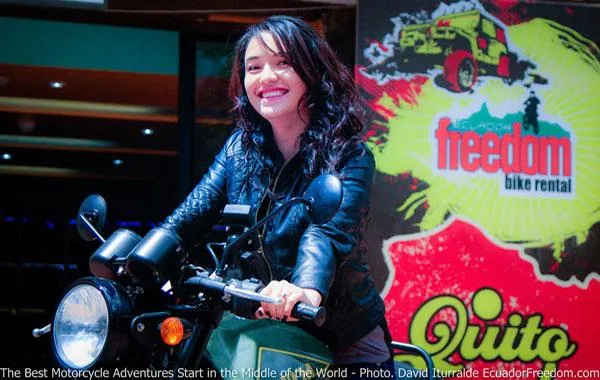 Alejandra Gudiño
Accounting and Administrative Specialist
Alejandra is a ray of sunshine and carefully takes care of the accounting, bookkeeping, and various administrative functions of the company. She and her husband, Fabian, are passionate about adventure motorcycling and take off on numerous trips around Ecuador and Colombia throughout the year. They have one son and are native Quiteños.
---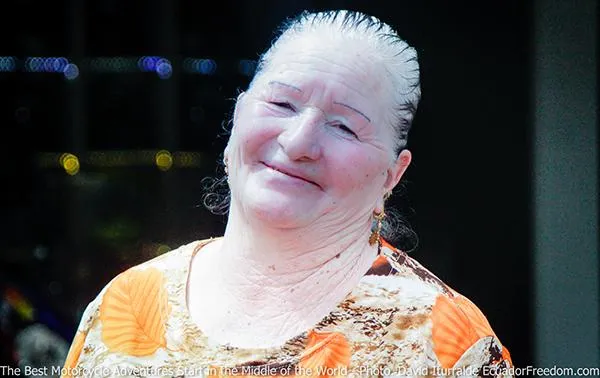 Marianita Garzón
Facilities Management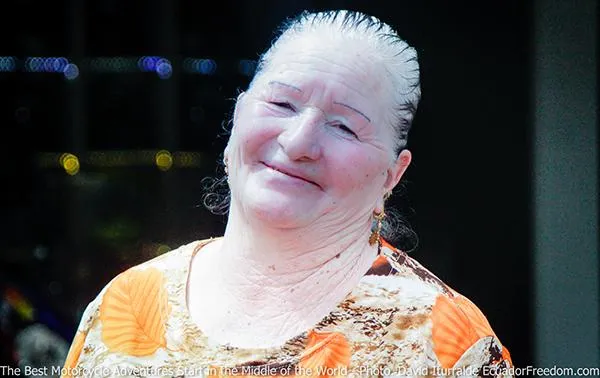 Marianita Garzón
Facilities Management
Marianita has worked with us since 2010, in cleaning up the shop and making sure everything is tidy and smells good. Its a tough job cleaning up after thousands of adventure motorcyclists who return from dusty dirt roads. It is why we call her "Santa Marianita." She is a caring, trustworthy, and invaluable part of our team.
---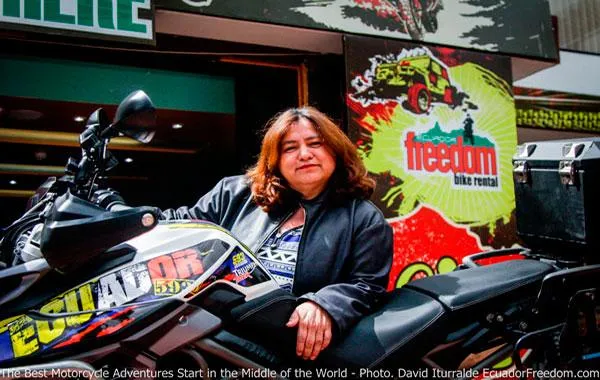 Ximena Zambrano
Head of Accounting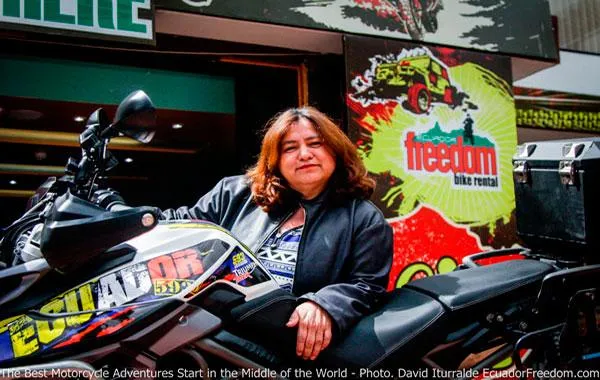 Ximena Zambrano
Head of Accounting
Ximena, aka XiXi (zhee-zhee) - has worked with us to help us grow the business since 2011. Her job is tough - dealing with getting through all the red tape of Ecuadorian bureaucracy, tax payments, and accounting. She is an avid scooter rider and rides every day, rain or shine.
---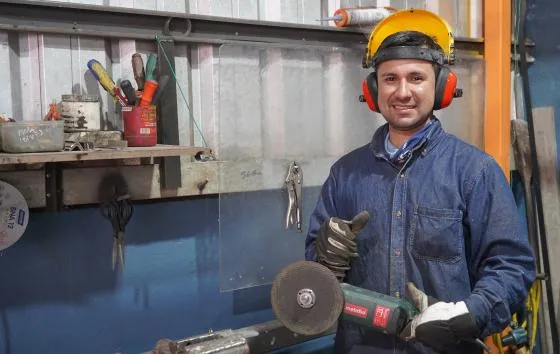 Gabriel Zambrano
Welder and Mechanic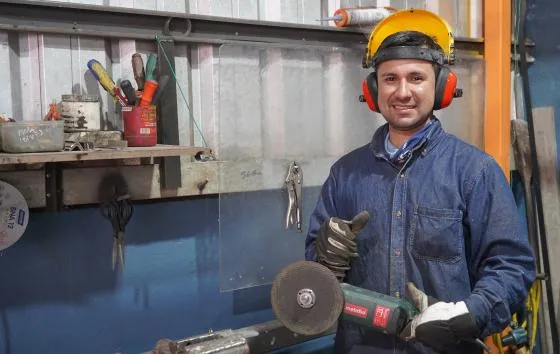 Gabriel Zambrano
Welder and Mechanic
Gabriel is married with a son and is from La Concordia in the coastal area of Ecuador. He is a very experienced certified motorcycle mechanic and skilled welder. He designs and creates the crash bars, luggage racks, skid plates and other accessories on our motorcycles.
---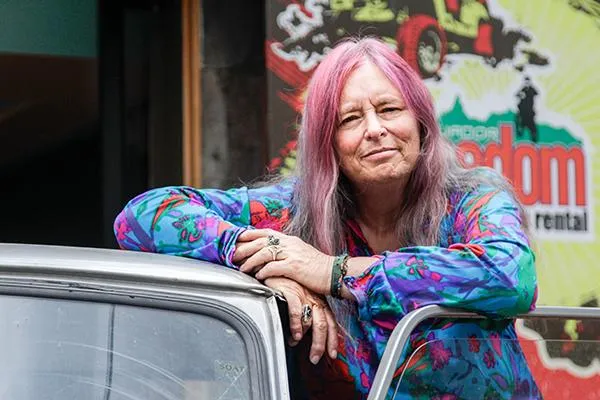 Jean Brown
Hotel and Logistics Manager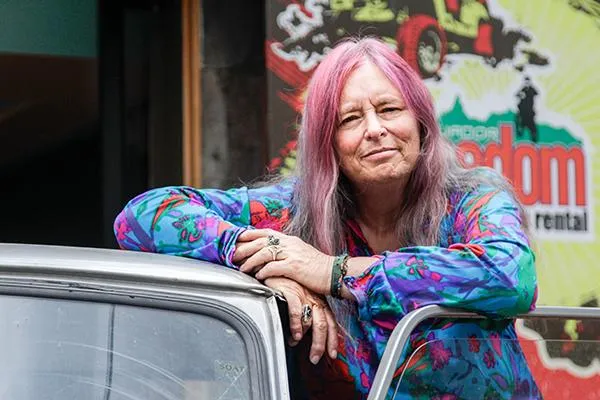 Jean Brown
Hotel and Logistics Manager
Jean Brown is known as the walking encyclopedia of Ecuador. She has the uncanny ability to recall every square inch of the country with her photographic memory. Originally from England, she has lived in Ecuador for over 40 years and has written and contributed to several guidebooks to Ecuador and South America. She is a teacher of Permaculture and conservation and teaches classes and provides educational tours throughout the year. She is in charge of our relationships with our hotel and activity partners throughout the country and is a crucial asset for us when we design new and custom routes for our customers.
---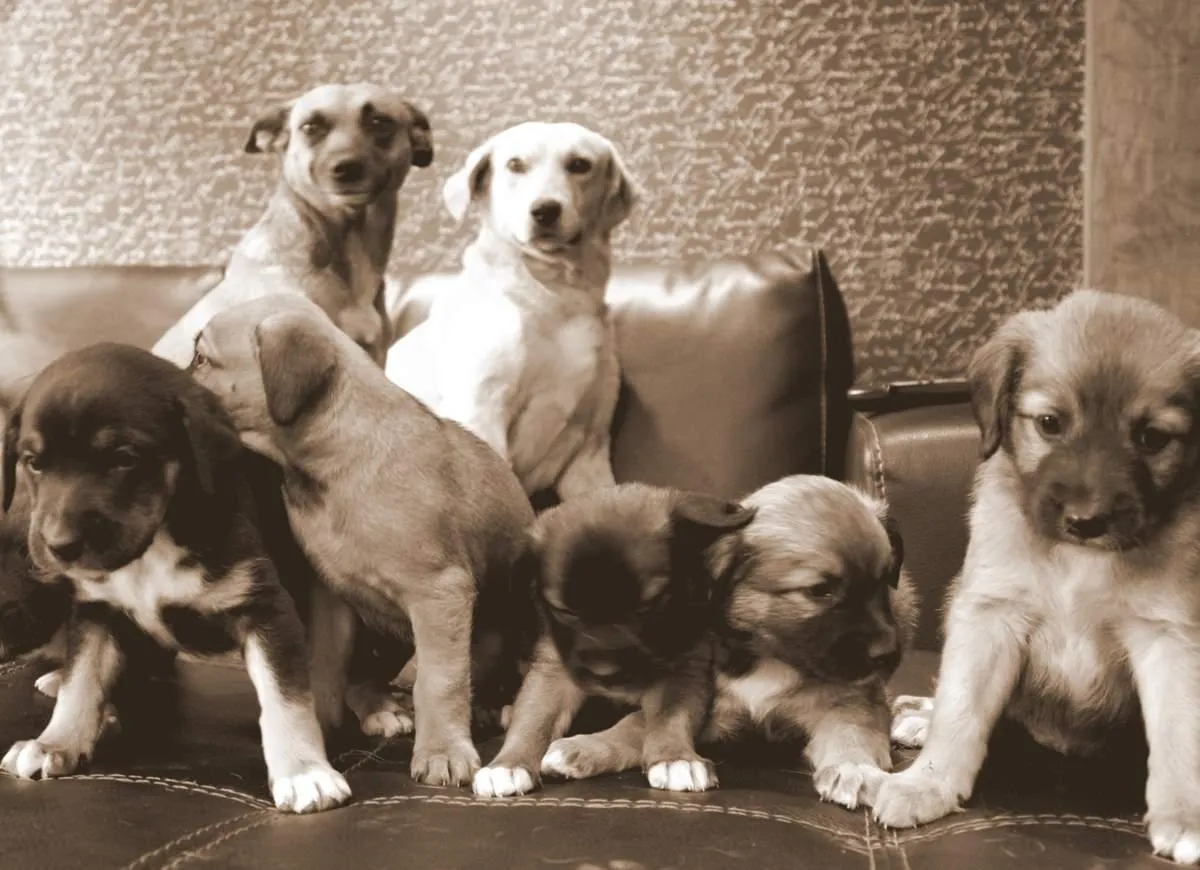 Salina and White
Sr. Executive Vice President in Charge of Security and Head of Strategic Thinking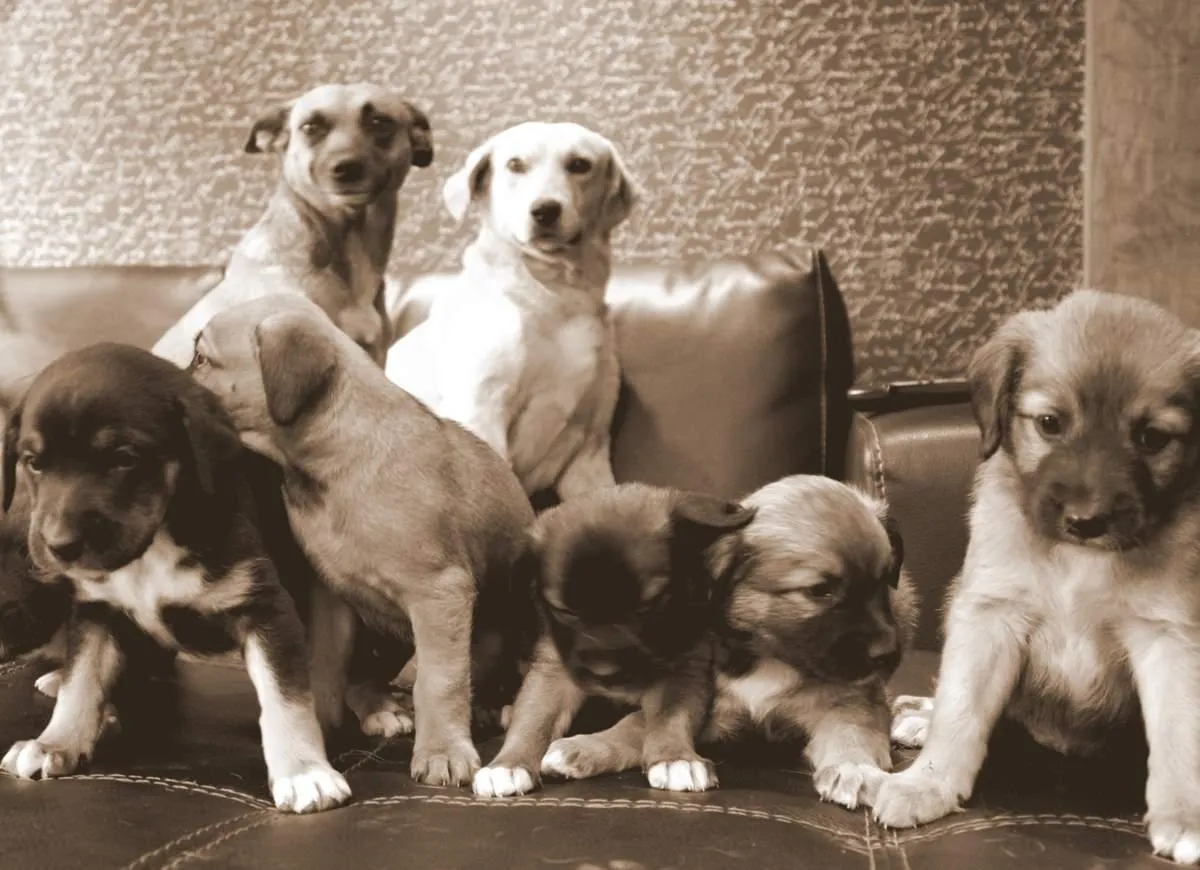 Salina and White
Sr. Executive Vice President in Charge of Security and Head of Strategic Thinking
Salina has been with us since we first came to Ecuador in 2009. She grew up ion a motorcycle, in a top box of a Buell XB12X as we rode to Argentina and back to Ecuador. In 2013, she met the love of her life, White, who was a sovereign Quito street dog. White learned how to ride on a motorcycle to be able to join Salina on rides and in 2016, they created a family of seven puppies, who now live in various parts of the country and enjoy visits from time to time.
---

+593 (02) 600-4459

info@FreedomBikeRental.com

GPS: -0.180944,-78.480907