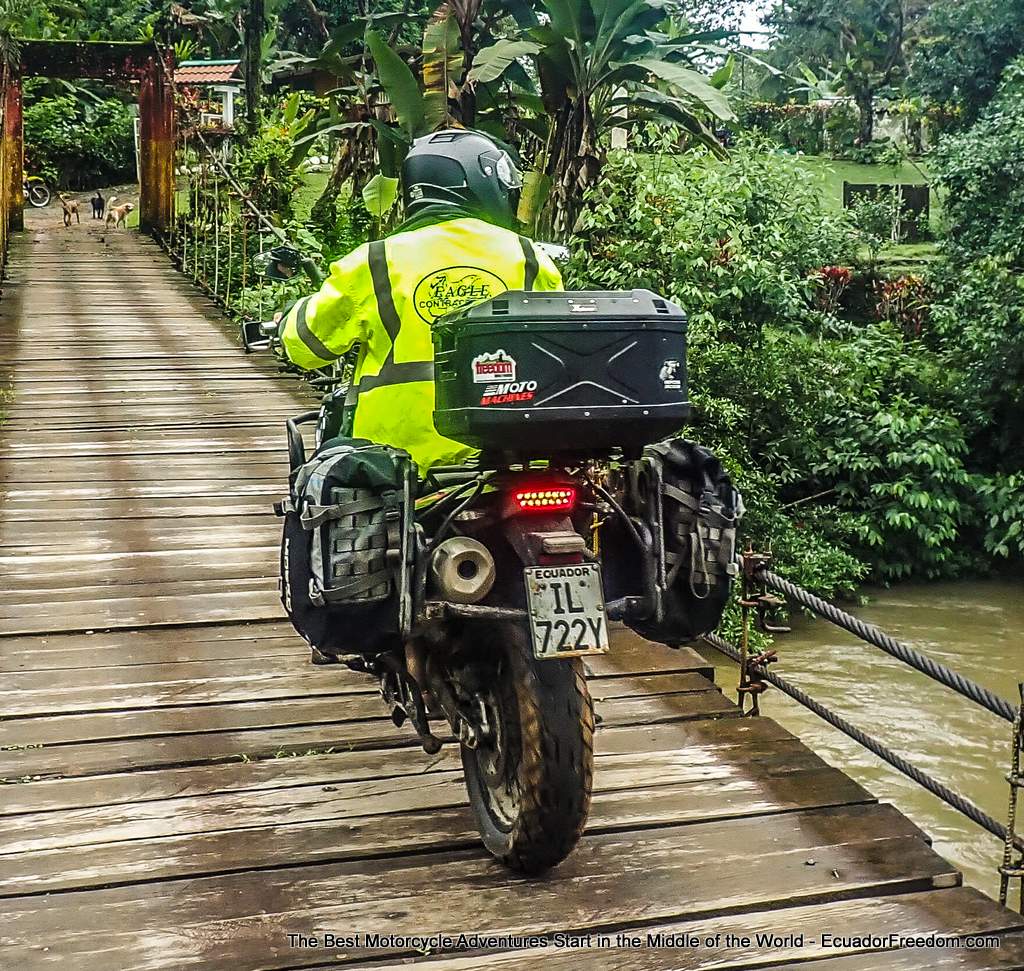 Ecuador Freedom and Moto Machines Team Up
It is often the small details that make a big difference when it comes to a motorcycle adventure. This is especially true with motorcycle accessories. The right piece of equipment can make the difference between a fantastic trip and a total headache. Having organized thousands of motorcycle adventures for our guests over the last 10+ years, we are always on the lookout for accessories to help make their trips go as smoothly as possible. With a broad spectrum of customers with varying needs and varying experience levels, we need to have equipment that is flexible, durable, and easy to use. Selecting the right material has been key to our success.
Ecuador Freedom has partnered with Moto Machines, a family-run business based in Sterling, Virginia, USA. Moto Machines is an importer, distributor, and retailer for motorcycle accessories from high-quality manufactures such as Hepco & Becker, Ermax, and Pyramid Plastics. They are well-known for their excellent customer service, responsiveness, and carefully-selected products. They've got cool accessories for over 700 makes and models of motorcycles in their warehouse that they ship worldwide. Ecuador Freedom equips many of its motorcycles with Hepco & Becker Xplorer top cases provided by Moto Machines.
The Xplorer cases are the most popular line of luggage offered by the well-known German manufacturer, Hepco & Becker. The popularity in these cases has risen alongside the popularity of adventure motorcycles. The Xplorer top case is a rugged yet elegant solution designed to handle our self-guided and guided tours in Ecuador.
These top cases are easy to use because they come on and off with the turn of a key, so our customers can easily remove them and take them into their hotel each night using the robust grab handles. The cases are manufactured with 1.5mm of thick anodized aluminum and ABS plastic to stand up to our customers' challenging environment in Ecuador. The weather in Ecuador is great for riding year-round (however unpredictable), and the rubber seal and precise closure ensure that stuff will stay safely mounted and dry. Inside storage is a generous 45 liters, which is enough to securely store a helmet among other belongings, allowing our customers to safely leave things behind when they go for a swim, get a bite to eat, or explore a town. The lid of the Xplorer opens 90 degrees for easy access. The same lid even has tie-down points to strap down more luggage on top. The finish is offered in a natural anodized aluminum or black anodized aluminum.
We choose accessories so that our customers can relax and enjoy their ride without having to worry about damaging our bikes or accessories. We install robust lateral stainless steel crash bars, skid plates, automatic chain oilers, unbreakable mirrors, headlight protection, radiator protectors, and thick, motocross-grade decaling on all of our bikes. These accessories not only look good, but they also protect our customers from having to pay for stupid repairs. It is the same for the Xplorer top case - it has a low profile width, so if our customers drop their bike, the top case will not hit the ground, and this prevents costly damage and headaches.
While there are plenty of top cases and distributors out there, we chose to work with Moto Machines for their excellent support. Over the years, they have been great about getting us spare parts, replacement keys and providing us with technical support whenever we need it. We are happy to have such great partners!