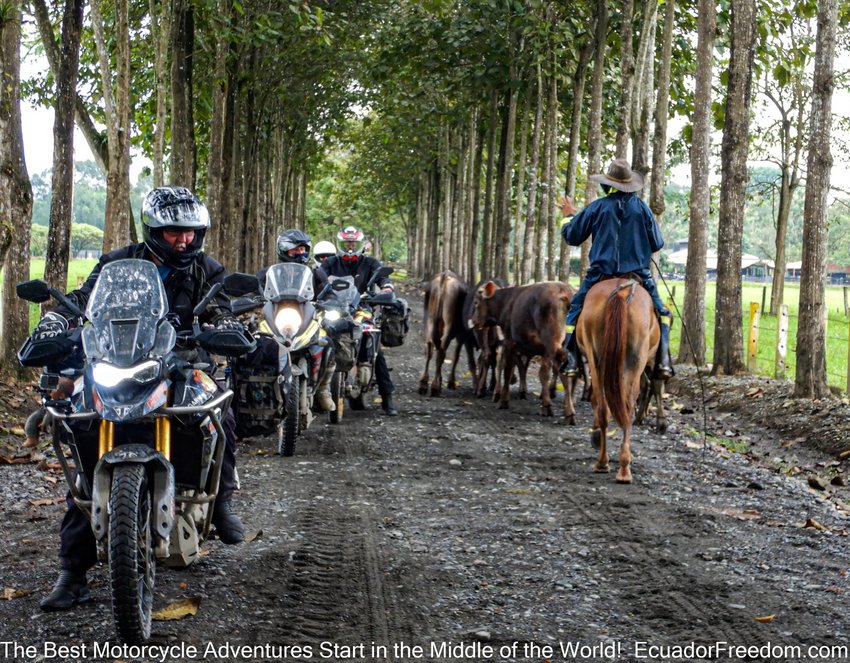 Riding High: The Epic Journey of Ecuador Freedom Bike Rental and Their Fight Against Misleading Brand Copycats
Ecuador Freedom Bike Rental is an award-winning motorcycle, bicycle, and 4x4 rental and tour company focused on bespoke guided and self-guided tours and extraordinary travel experiences in Ecuador. We have a robust fleet of well-equipped adventure motorcycles and 4x4s, extensive knowledge of Ecuador's most spectacular routes and wonders of nature, and deep connections with local communities. We carefully design our tours to showcase Ecuador's hidden treasures and places off the beaten path, our experienced staff are excellent in providing guidance and support for travelers, and our Quito headquarters are a hub of adventure. We have millions of Ecuadorian tarmac and dirt miles under our belts, and hundreds of returning customers each year confirm we are doing something right.
But it took us more than a decade to get here.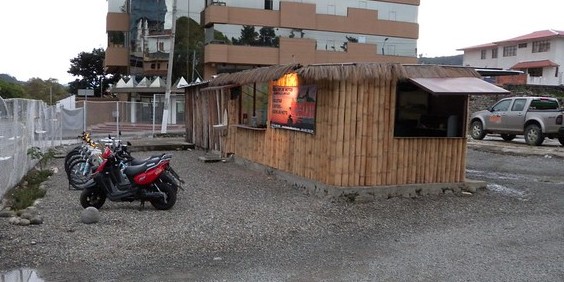 Back in 2009, we started out as a small bicycle and scooter rental shop in Cuenca with just a few bikes and a big idea. It took us years to truly get to know Ecuador, understand the needs of travelers, establish meaningful connections with the locals, and appreciate the unique and beautiful diversity of this little South American gem. It took trial and error, vision, and determination; as we moved to Quito and slowly expanded and perfected our motorcycle fleet, our routes, and our tour options, we faced more than our fair share of challenges along the way.
Today, we've got over 60 motorcycles in our fleet and are recognized worldwide as a leading operator.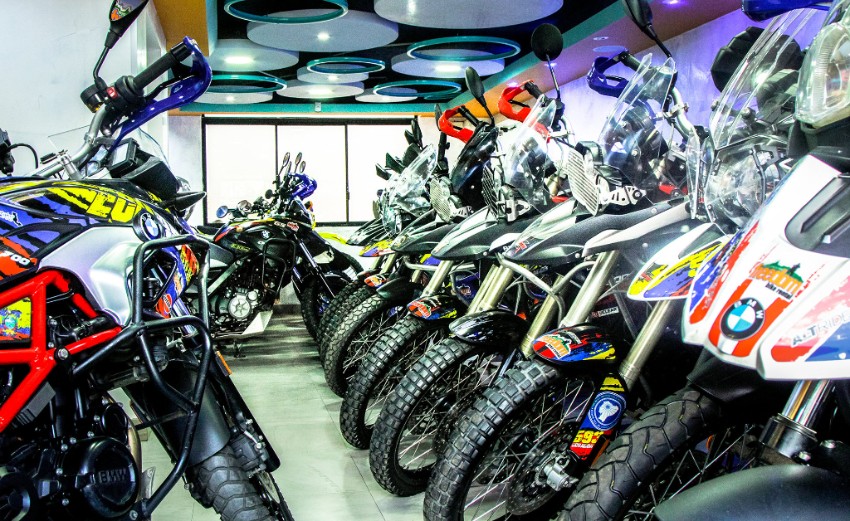 As we went along, we didn't just focus on the business; we focused on the rider community because at the core of things, that's what matters most. We continuously sponsor content on ADV Rider and other adventure motorcycle magazines, support events like the BMW MOA and Adventure Bike Rider Festival, and organizations such as the Motorcycle Relief Project. Our doors are always open to hundreds of independent world travelers passing through Ecuador. Equally, appreciating the Ecuadorian hospitality we've experienced from day one, we want to give back to the locals; this is why we've created our Ride for a Purpose program supporting Ecuadorian schools and remote communities in need.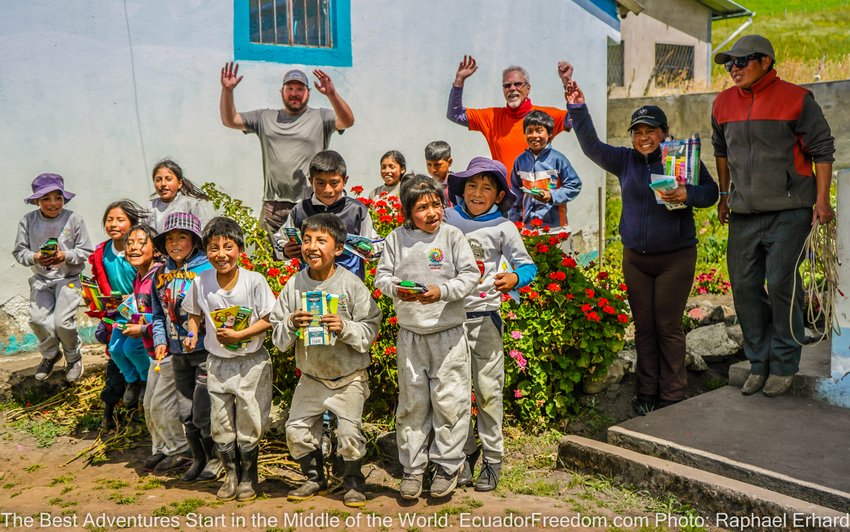 In other words, building Ecuador Freedom Bike Rental took years, hard work, and consistent focus on quality, meaningful connections, and a vision for truly extraordinary adventures.
But we're not sharing this story with you for bragging rights or marketing purposes: we're sharing it because recently, we've noticed another tour operator mimicking our brand and using our name to cash in on the reputation we've built, and we'd like to ask for your support.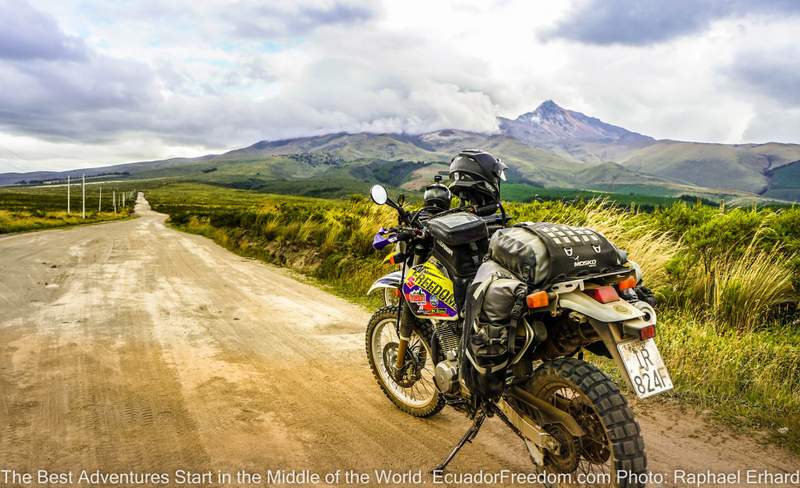 Healthy Competition vs False Advertising
Don't get us wrong, here at Ecuador Freedom, we welcome healthy competition: after all, that's what keeps everyone growing and improving. In addition, we strongly believe in collaboration – that way, everyone wins, especially the riders choosing the country of Ecuador for their next adventure.
What we're not OK with, however, is other tour operators blatantly copying our brand name and purposely confusing people. A relatively inexperienced tour company, Sleipner, is doing exactly this: calling themselves "Ecuador Bike Rental", using similar imagery and color schemes on their website, and going as far as running Google ads with "Ecuador Freedom Bike Rental" keywords in them, the owners of Sleipner are clearly trying to confuse adventure travelers into believing they are us.
Imagine our disappointment when, after years of investing and supporting the ADV community globally, riders know us and trust us from meeting us at events or rallies but, thanks to false advertising by Sleipner, book tours with them believing they're us. Just like that, all our hard work, our reputation, and our efforts are undone by an impostor.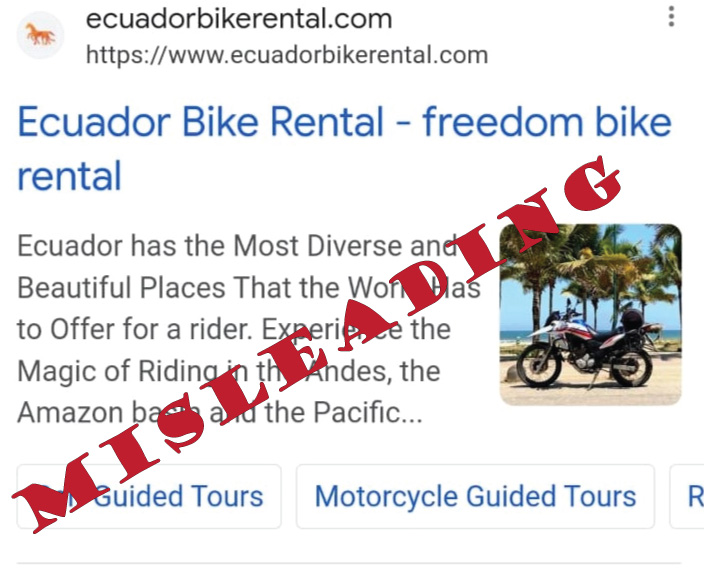 We have reached out to Sleipner, asking to stop the false advertising and purposeful misdirection. Unfortunately, they continue to do so and profit from the confusion.
We're not claiming Sleipner isn't a competent tour operator, and we certainly don't take it upon ourselves to tell others how to run their business. Everyone is different, and we all have our unique place under the sun.
We are, however, asking people to double-check before booking. If you choose to rent a bike or go on a tour with our competitors, that's absolutely your right and your prerogative, but often, we notice people booking with Sleipner solely because they believe Sleipner or "Ecuador Bike Rental" is Ecuador Freedom Bike Rental. We ask you to verify before booking, and we encourage you not to be fooled by pretenders and false advertising – it benefits no one, and it hurts both Ecuador Freedom Bike Rental and riders expecting to have an Ecuador Freedom experience.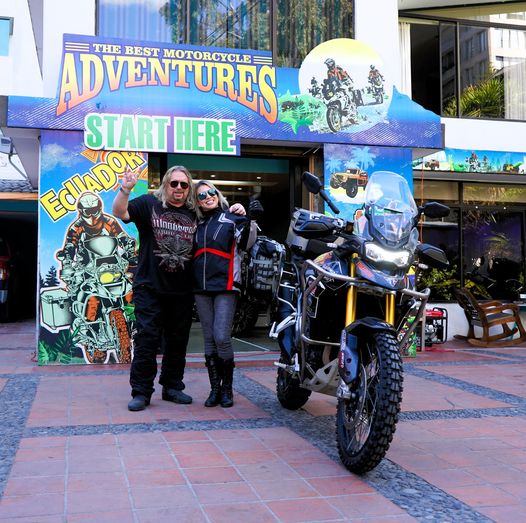 It's a little like if a knock-off soft luggage company started building saddlebags and called themselves "Moscow Motos" or "Turateck", used similar brand colors and fonts, and actively advertised as Mosko Moto or Touratech. If people wanted to have that particular brand of luggage, it wouldn't be a problem. But if they were led to believe they were the same company that supported their communities, advertised and contributed to the publications they read and sponsored the events they enjoyed, well that would be dishonest.
And that's exactly our issue with Sleipner.
We wish them all the best in their business and we welcome the competition.
However, we're asking them to stop the false advertising campaign – and we're asking you, adventure riders and travelers, to be mindful of the confusion caused by it.
Thank you, and see you in Quito - where adventure begins.