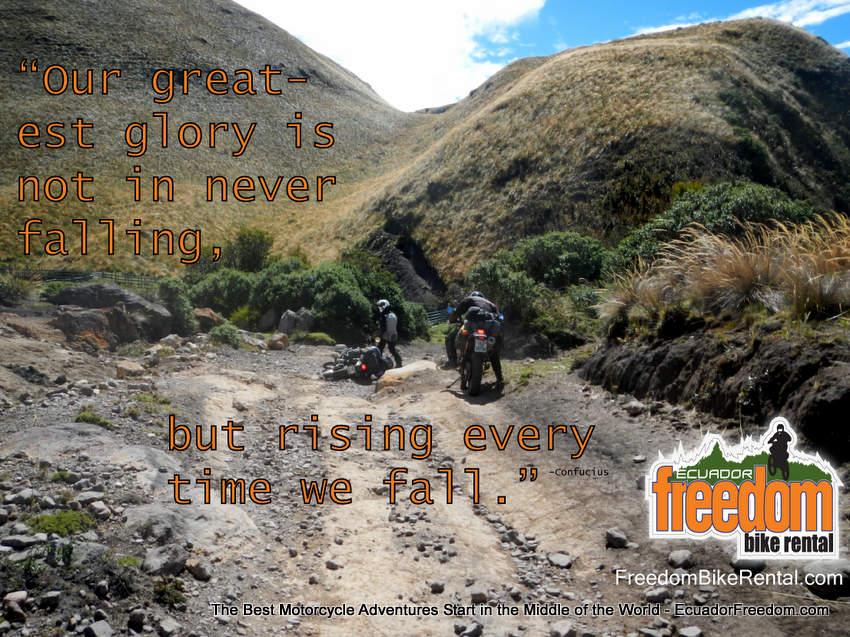 Building Our Motorcycle Tour Company in South America: Mistakes We've Made – And Learned From
Ecuador Freedom was born as a small scooter and bicycle rental shop in Cuenca, Ecuador, more than a decade ago. Since then, we've grown into an award-winning motorcycle tour and rental company in Quito with a fleet of over fifty adventure motorcycles, hundreds of unique tours, and thousands of happy customers on our dossier. But while we now enjoy a steady, ever-growing business with a loyal team and returning riders asking for more two-wheeled experiences in Ecuador, the road to get here was as twisty as the Andean routes often, as bumpy as the local trails. We've made some mistakes as we tried to work out the best way to design motorcycle tours here in Ecuador, and we've learned a lot from them as we progressed.
By letting you in on our bloopers, we hope to share our lessons, too and get you inspired. If you're thinking about motorcycle tours in South America, here's what not to do – or do differently:
Using KTMs in Our Motorcycle Rental Fleet
Ecuador offers virtually unlimited off-road riding, so in the beginning, we figured we'd add some KTM motorcycles to our fleet. Ready to race, right? Maybe – but certainly not travel. Off-road capable KTM motorcycles are amazing machines, but when it comes to touring, we've learned that our bikes need to be able to take a severe beating and keep going. We needed sturdy, reliable machines that could take on any terrain, any length of a tour, and a variety of riders with different weights, skills, and abilities. For motorcycle tours in Ecuador, our most reliable motorcycles turned out to be Suzuki DR 650's, Triumph Tigers, and Hondas rather than the highly-strung KTM's. Our experience with KTM was that we had broken chassis due to poor welding, gas tanks that would spray our customers with boiling gasoline, and many other dangerous situations. Unfortunately, the support from our local KTM representative was lacking for a better term. We're committed to providing the most reliable service we can to our customers, and not using KTM helps us achieve that goal.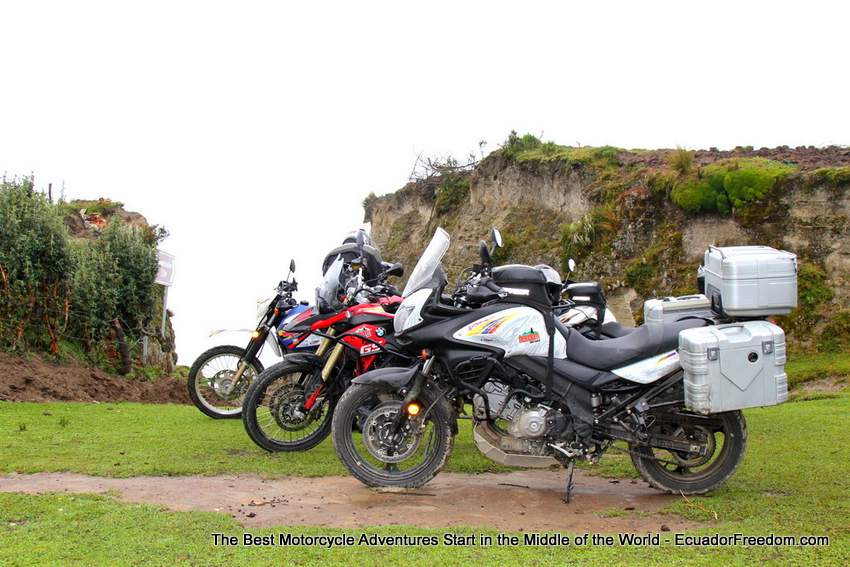 Hard Motorcycle Luggage Systems
In the beginning, we equipped our motorcycles with hard luggage systems hoping to provide our riders with more comfort and hassle-free packing. However, we soon realized that hard luggage created more problems than it solved: aluminum panniers and top boxes add extra weight and can impair the handling of a motorcycle, especially if the riders are less experienced; it can even be a potential injury hazard if the rider's leg gets stuck underneath. Getting them repaired after minor falls or replacing them was very costly, and our customers were not happy about having to spend $700-$800 to replace them. We switched to Mosko Moto soft luggage systems. We never looked back because their bags and panniers are durable and waterproof yet remain lightweight, easy to take off the bike, and easy to clean, repair, and prep for the next customer. If a fall occurs, because they have a tough fabric exterior and not a "ballistic" plastic, they can be repaired inexpensively, saving our customers expensive repairs should they fall.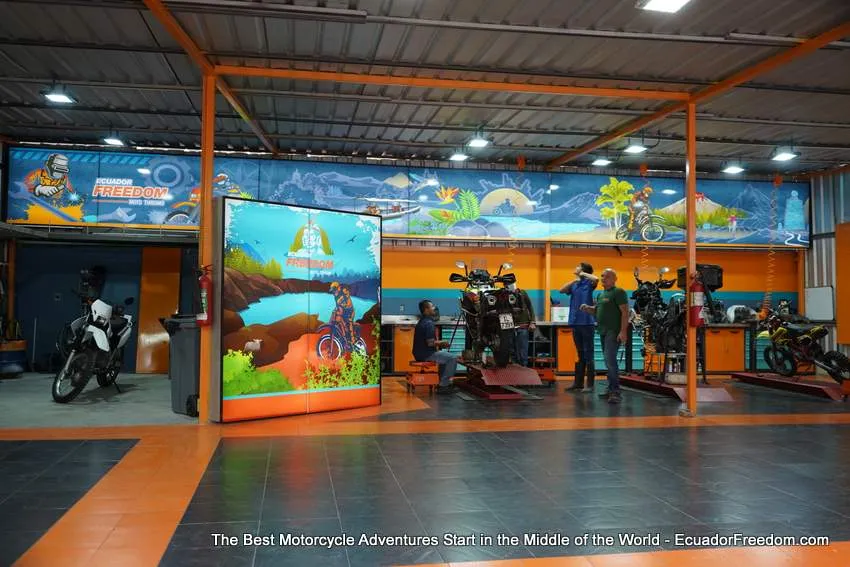 Not Having Our Motorcycle Maintenance Center 100% Under Our Control.
When you run a motorcycle tour and rental company, there are many inner workings that most people never see. One of those is the maintenance of our fleet, and having our support staff entirely in-house has solved a lot of our problems and costs when it came to looking after the bikes and the equipment. Now, with a fully equipped and functioning Maintenance Center right here at our headquarters, we are able to maintain our fleet, troubleshoot, and fix issues much faster and more effectively than ever before. We are currently building a computerized information system that will manage our fleet and maintenance even better with features that are not available on the market today, giving us a proactive maintenance program that carefully monitors every key component on all of our motorcycles. While we do use the local dealerships to maintain our new bikes under warranty and to periodically check on those bikes, our internal staff - not an outsider - takes responsibility for keeping our maintenance programs 100% under our control. The end result is the most reliable motorcycle fleet we can offer our customers.
Hiring Motorcycle Racing Champions as Guides
This one was a quick lesson to learn: great riders do not necessarily make great tour guides. When we started, we hired motocross champions thinking their riding ability was the most important part. It wasn't: our customers came back injured, our bikes smashed up, and the riders did not get to see much. We soon realized that our tour guides needed to be good riders, yes, but they also needed to have solid leadership skills, have extensive local knowledge, be great with people, and have empathy. Once we started working with tour guides who cared about providing the best experiences, connecting with the riders, and having a deep understanding of Ecuador and the local ways of life, we knew we were on the right track.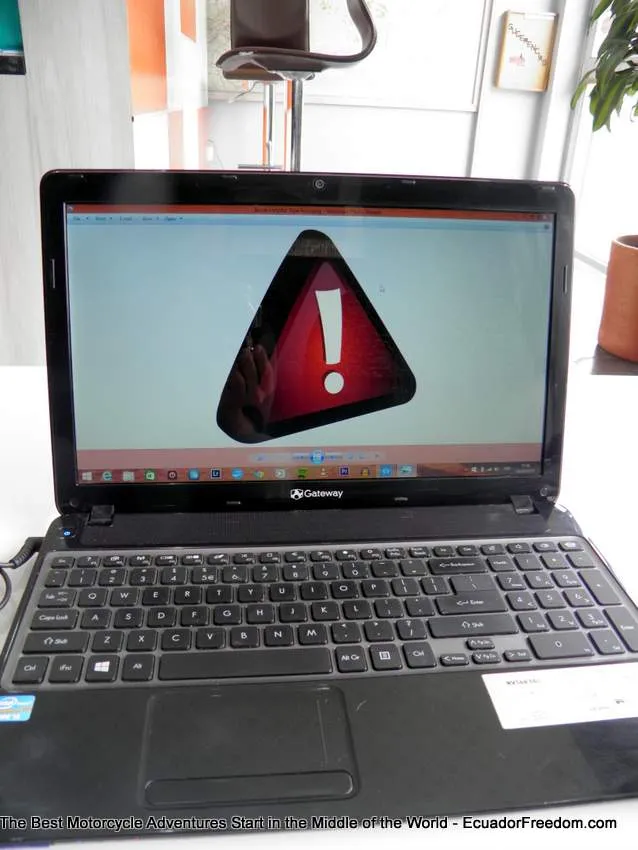 IT Glitches
There is nothing more annoying than filling out a "Contact Us" form and never hearing back – and we realized our webpage has been doing just that for about two years. Our "Contact Us" tab simply tossed away many entries, so we never heard from a lot of our customers. If you tried to contact us this way and never got a reply, we are truly sorry, and we have now (hopefully) fixed the problem, so please contact away!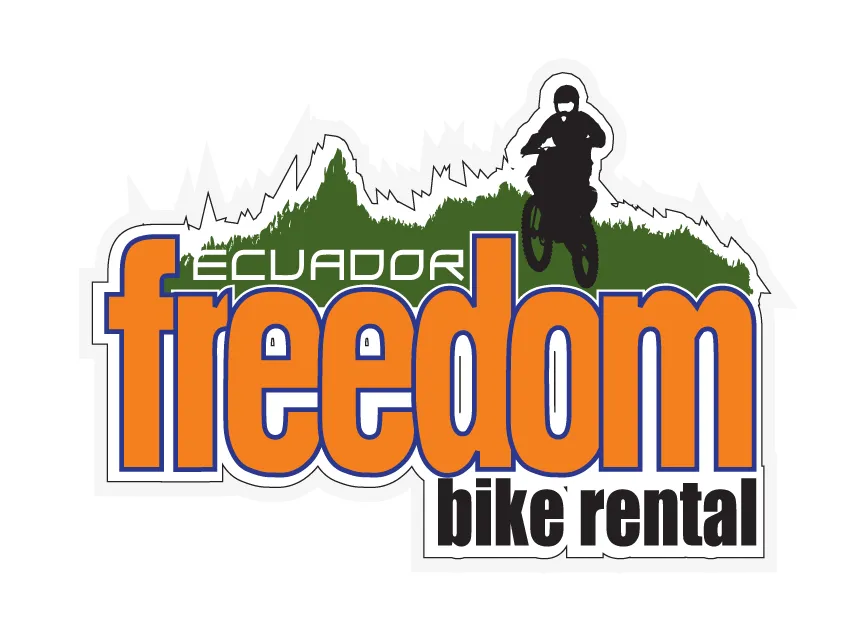 Choosing Our Name and Trusting Competition Will Be Fair
We believe in both strong cooperation and even stronger, heartier competition. We named the company "Ecuador Freedom Bike Rental" because, frankly, in the beginning, we didn't know whether we were going to rent more bicycles or motorcycles. More importantly, it is a name that reflects our core values: we founded the company because we loved riding South America, and we wanted to share that feeling of absolute freedom with other riders.
We were one of the first rental companies in the world to offer unlimited mileage on motorcycle rentals. It seems normal now, but back then, even Eagle Rider had a mileage charge. We wanted to offer freedom. We built our name up over many years, inviting journalists here, attending and sponsoring rallies and motorcycle shows abroad, promoting and establishing Ecuador as a top motorcycle riding destination in South America. It's been a decade of relentless hard work and determination. We saw other motorcycle tours and rentals companies crop up. We have always offered to cooperate with local mechanics, tour guides, and other partners because we know that working together is always more beneficial than trying to compete – especially in bad faith.
However, another company has unscrupulously copied three-fourths of our name, our color scheme, our communications/video style, and even some of our tours' names to confuse people into thinking they were us. It was frustrating to see repeat customers getting fooled, the confusion being created, and the theft of our goodwill by someone basically pretending to be us. It's not something we can fix or solve, but it's something to keep in mind: your competition may not always be fair and operate in good faith, and you'll need to work even harder to stand out! Choose a unique name that can't be copied, and be sure to register and monitor it carefully. Lesson learned and hopefully shared!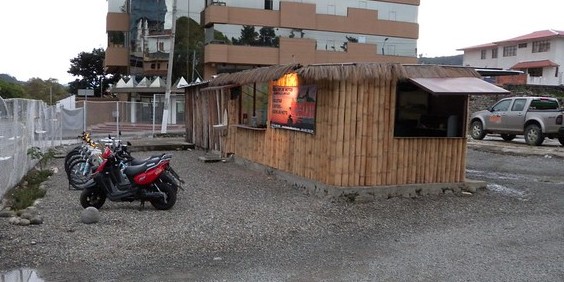 Choosing Our HQ
When we set our sights on Ecuador as the country we wanted to base our tours in, we picked Cuenca, a lovely colonial town in the very heart of the Ecuadorian Andes, and set up shop there. Don't get us wrong, Cuenca is a great place, and a lot of our tours still bring riders to Cuenca for a rest day. However, we quickly realized there was one big problem: Cuenca does not have an international airport, so people would have to fly into Quito or Guayaquil and transfer to Cuenca. Soon, we packed up and settled in the capital Quito with excellent infrastructure and a large international airport just forty minutes away.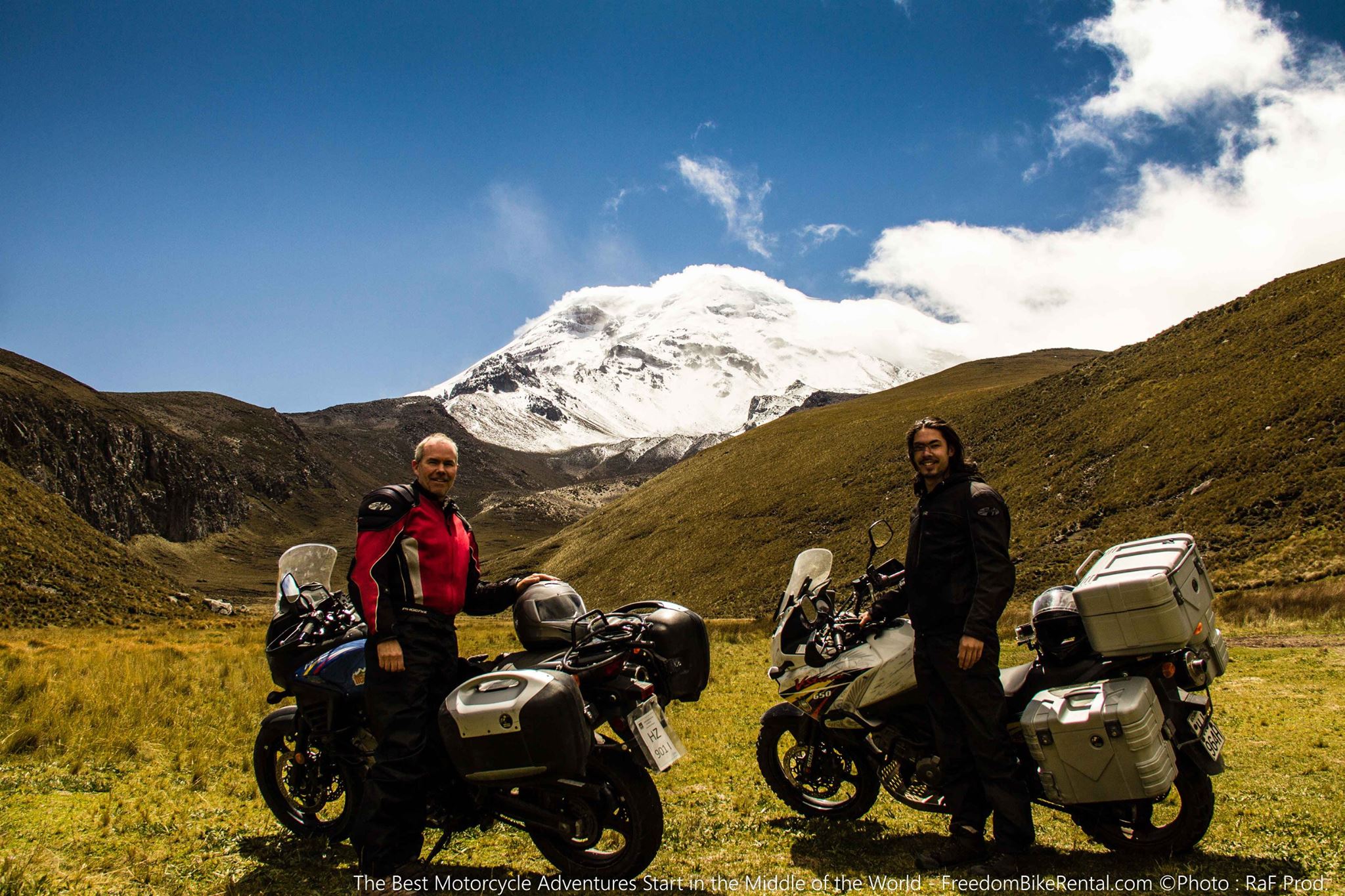 Buying Used Motorcycles
When we were starting out, we bought some second-hand motorcycles hoping that if we maintained them well, they should serve well. Unfortunately, that just wasn't the case: with pre-owned bikes, you never know what issues might crop up, and we realized we simply couldn't risk breakdowns and problems when we were renting them out to our customers. Now, we only buy motorcycles brand new and scrupulously maintain the fleet in our in-house maintenance center staffed with full-time, professional motorcycle mechanics. That way, we know each motorcycle's history and can keep an eye on each component right from the start. With millions of kilometers behind us, we know when we should change out things like bearings, rings, and filters before they become a problem!
Conclusion:
These are the eight biggest mistakes we made when building Ecuador Freedom, but we are now stronger and more experienced because of them. There's no such thing as "you win, or you lose": we believe it's "you win, or you learn," and we're stoked we took our lessons in stride and grew because of them.
Comments...
Loading comment...
The comment will be refreshed after

00:00

.
Other Blog Posts You May Like