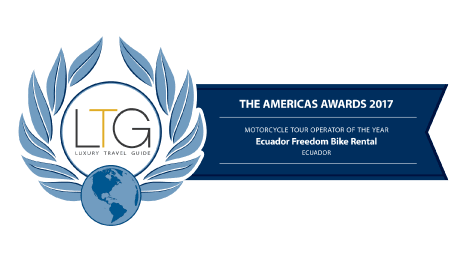 Luxury Travel Guide Names Ecuador Freedom Bike Rental as "Motorcycle Tour Operator of the Year"
Quito, Ecuador – April 4, 2017 Ecuador Freedom Bike Rental & Motorcycle Tours proudly announced today that it has won the Luxury Travel Guide Award for "Motorcycle Tour Operator of the Year 2017." The Luxury Travel Guide Awards recognize and celebrate excellence across all affluent travel and tourism industry sectors in Europe, The Americas, Asia, Australasia, Africa, and the Middle East.

To help readers cut through all the clutter and find the best hotels, restaurants, and tour offerings worldwide, the awards program selects winners based on their achievements and strengths in the travel industry. After passing through a rigorous assessment carried out by experienced in-house professionals and several celebrity guest judges, Ecuador Freedom Bike Rental was selected.

This latest recognition of excellence comes shortly after the Quito-based motorcycle tour company launched its new luxury off-road excursion called "Dirt Deluxe" and following five consecutive years of winning the "Certificate of Excellence" award from TripAdvisor.

"Our team's work has not gone unnoticed for combining their mechanical skills and unparalleled local knowledge with respectful, community-involvement programs such as Pack for a Purpose to create overwhelmingly positive experiences for our clients," stated Court Rand, Co-Founder of the Motorcycle Tour Operator. "The flourishing growth of Ecuador's road and tourism infrastructure is making it one of the top riding destinations in the world – on par with New Zealand and Europe - and it is our honor to bring this award here this year."


About Luxury Travel Guide

The Luxury Travel Guide is an exclusive resource for Corporate LiveWire users and subscribers. LTG aims to be the leading provider of travel and lifestyle-related news, reviews, and features to the global business community. The Luxury Travel Guide provides readers with an objective look over holiday destinations, hotels, spas, entertainment, technology, and much more. LTG regularly considers the best of the best of what is available to today's corporate professional. Visitors will get daily, updated online content and can enter their free competitions. LTG celebrate growth in the travel industry by presenting Luxury Hotel Awards, Luxury Awards, and well-known Global Luxury Travel Awards, and Luxury Hotel Awards.


About Ecuador Freedom Bike Rental

Located in the historic capital city of Quito, Ecuador Freedom Bike Rental is the country's first motorcycle tour operator founded in 2009. Working with local, professional guides, they design and outfit tours for adventure enthusiasts who wish to explore Ecuador on two wheels. They are open 7 days a week and provide full-service rentals of mountain bikes, motor scooters, and motorcycles at reasonable daily and weekly rates.