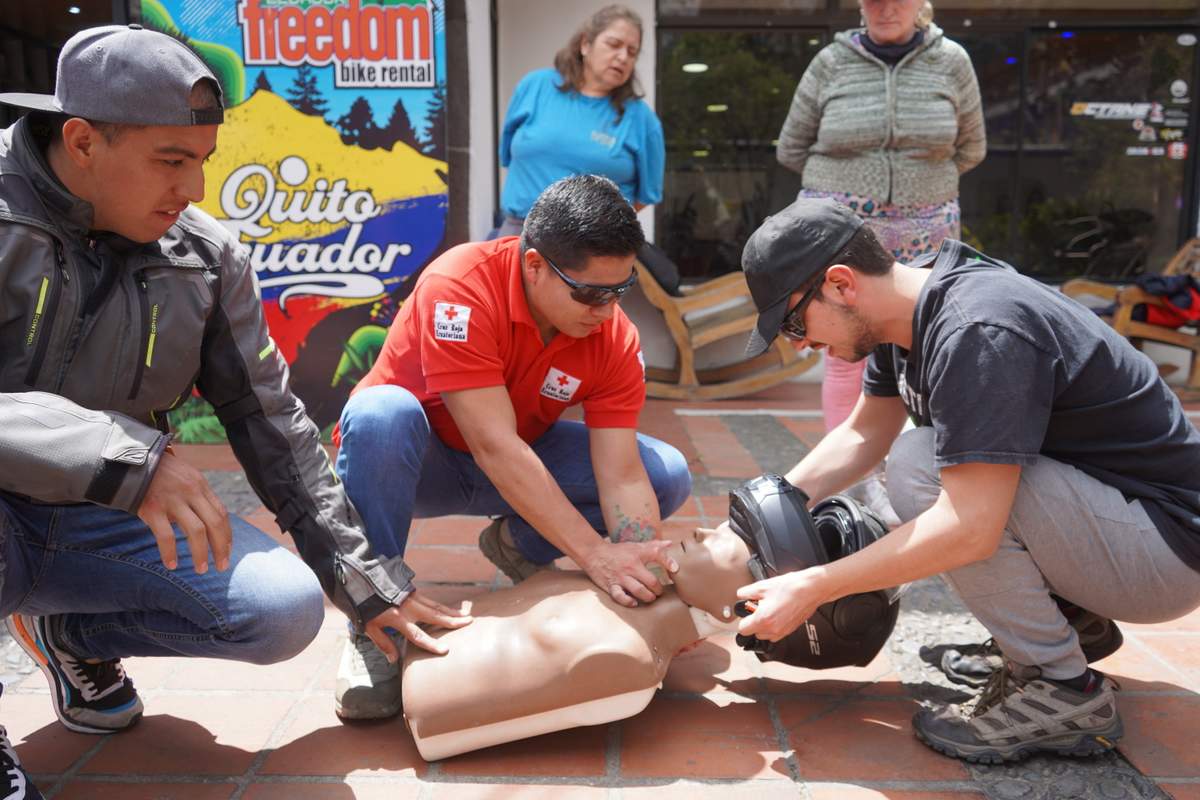 Making Sure We are Prepared for Emergencies: The Annual Red Cross First Aid and Motorcycle Accident Scene Management Training
Quito, Ecuador. 13 April 2023 Every year, the Ecuador Freedom Bike Rental staff undergo extensive training in First Aid and Motorcycle Accident Scene Management provided by the Ecuador Red Cross (Cruz Roja Ecuatoriana). We understand the importance of staying up-to-date with our knowledge and skills and do so with the belief that having the correct information and resources available can be the difference between saving and losing a life.


Although not a requirement for the motorcycle tour companies in Ecuador, our staff feels a sense of responsibility and accountability to ourselves and the riders we take on our guided motorcycle adventures, and so we proudly go through these classes and make sure our knowledge and resources are at their freshest and most confident state.
We do this training annually to ensure that our employees always have up-to-date skills and knowledge in case of an emergency situation. We've
seen firsthand
how a person's reaction to an accident scene can make a world of difference when lives are at stake. We want our people to know what to do and be able to take charge when needed instead of panicking or staying out of it altogether.
We feel that it's not just important but vital to the safety of those we transport that all of our staff, regardless of if they go out on the road or not, be trained in emergency medical response. Knowing what to do in an emergency is invaluable. We believe it's our duty to ensure that everyone here at our company is adequately prepared for whatever might happen on the road.
This year, our training sessions were run by Gustavo Verdesoto, a member of the Medivac helicopter team in northern Ecuador. Because of him and his team, so many people have been rescued from accidents that could have easily ended differently. It was humbling to see the way he ran his classes and to be able to soak up his years of knowledge. It really hammered home for us just how much responsibility it is to have a professional attitude when handling a critical situation. We were so fortunate to learn from Gustavo's vast experience and knowledge in emergency response. We were all filled with gratitude for being able to benefit from his wisdom and training.

With more knowledge and skills regarding managing an accident scene comes more comfort and less fear of the unknown, enabling us to remain composed and focus on getting help and ensuring that all riders in our motorcycle tours are in the safest of hands.

Our partnership with the Ecuador Red Cross provides us with great security and comfort in our tour company, knowing that if any accident were to occur, we would be able to calmly assess the situation and ensure that any persons involved were in the safest of hands and would receive the necessary care as soon as possible.


We want to thank the Ecuador Red Cross for providing our staff with such invaluable information and training in such an essential area of safety and preparedness. Knowing how to handle a situation before and during an accident can mean the difference between life and death. That is why we will keep doing this every year, with more information and expertise being passed along each time.