Self-Guided Dirt Bike City Tour
Self-Guided Tour Overview
Time Needed: 1 day (approximately 6 hours) 24 hour rental included
Total Distance: 95 miles / 153 kilometers
Approximate Offroad Distance: 25 miles / 40 Kilometers
Elevation gain / loss : +/-17,471 feet / +/- 5325 meters
This is the most complete tour of Quito you can do and you will do it on your own. We provide you with the dual-purpose (dirt/street) bike of your choice equipped with a pre-programmed GPS. You just follow the GPS instructions as it takes you to the most amazing parts of Quito. The tour starts by taking you to the historic colonial centre of Quito, the world's first UNESCO world heritage site. Then you will rise up to 15,000 feet in altitude, climbing a dirt road to the Gua Gua Pichincha Volcano for some mind-blowing views of the city. Then you will ride to the middle of the world and visit the Intinan museum at the equator to play with the effects of gravity. Then you will visit Quito's best art museum and Quito's offbeat artistic neighborhood of Guapulo. The tour takes a minimum of about 5 hours but you can stop and start when you want. You will have a full 24 hours to complete the tour.There is no funner or more complete tour of Quito!
Church of Guapulo
Guapulo Colonial Church and Convent is a historic colonial monastery and pilgrimage site located just outside the city of Quito, Ecuador. This church houses a famous sculpture called Our Lady of Guadalupe in Spain, which was carved by renowned Spanish sculptor Diego de Robles in the second half of the seventeenth century. It is one of the oldest religious sanctuaries in Ecuador.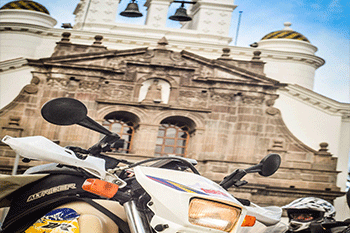 Pre-Tour Briefing
You'll be provided with a thoughtful presentation on Ecuadorian driving courtesies, customs and unwritten rules of the road as well as a complete overview of the route prior to your departure.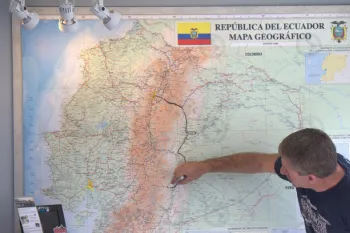 Cobblestone Roads
You'll ride on a few miles of one of Ecuador's national treasures - its network of ancient cobblestone roads that are maintained by hand in a traditional way. They are absolutely beautiful!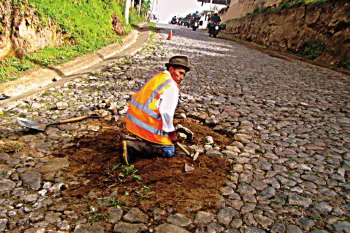 Centro Historico
Quito's historic center is a UNESCO World Heritage Site as it is the best-preserved colonial city in the world.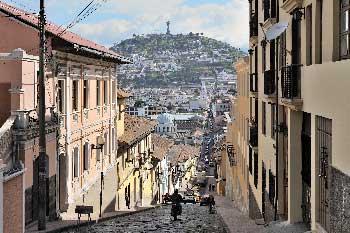 El Panecillo
Topped by a 41m tall aluminum mosaic statue of La Virgen de Quito (Virgin of Quito; completed in 1976), with a crown of stars, angelic wings and a chained dragon, the hill to the south of Old Town called El Panecillo is a major Quito landmark. From the summit there are marvelous views of the sprawling city and the surrounding volcanoes. Climb steps up to the base of the Virgin statue for an even loftier outlook.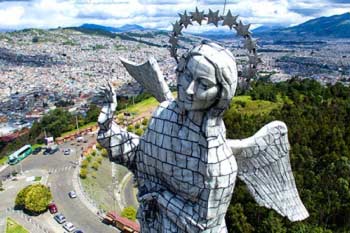 Plaza Grande
Plaza Grande is surrounded by four buildings that represent the elements of Quito society such as: The Presidential Palace, Archbishop's Palace, the Cathedral of Quito and the Municipal Palace.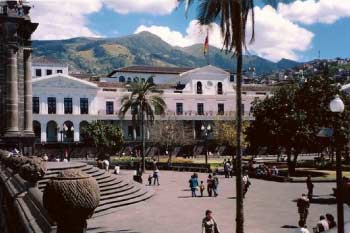 Basilica del Voto Nacional
The Basilica of the National Vow (Spanish: Basílica del Voto Nacional) is a Roman Catholic church located in the historic center of Quito, Ecuador. It is the largest neo-Gothic basilica in the Americas.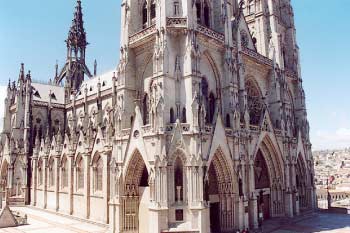 The Equator and Mitad del Mundo
Visit the real Equator line and perform experiments to experience the Coriolis effect.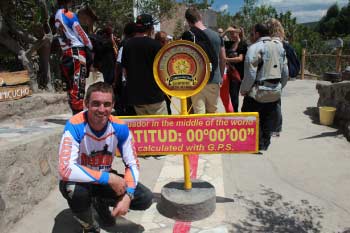 Guayasamin Museum
In the former home of the legendary painter Oswaldo Guayasamín (1919–99), this wonderful museum houses the most complete collection of the artist's work. Guayasamín was also an avid collector, and the museum displays his outstanding collection of pre-Columbian ceramic, bone and metal pieces.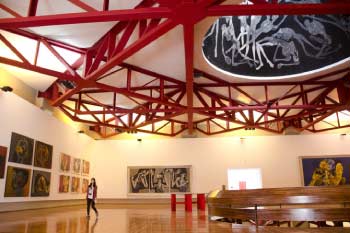 GuaGua Pichincha Volcano
Ride to the top of the GuaGua Pichincha volcano at 15,000 feet to get spectacular views of the city below.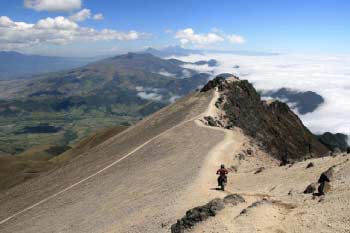 Urauco Hot Springs
Have a relaxing soak in the Urauco Sulfuric Hot Springs. Nearby are paths that lead to four beautiful waterfalls.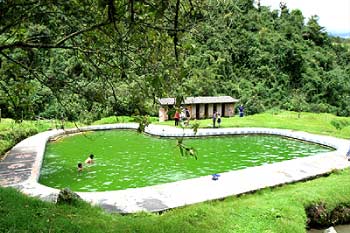 Self-Guided Motorcycle Tour Itinerary

You will start the tour in our offices, conveniently located in the fashionable "La Carolina" neighborhood, near many hotels, cafés,shops. and galleries We will outfit you with the bike of your choice equipped with a Garmin GPS with a pre-programmed route. We will give you a briefing on the driving styles and rules of the road in Quito, both written and unwritten.
The first part of the tour will take you to the colonial center of Quito, which was the world's first UNESCO world heritage site. You will get to ride around the traffic of the old town, able to see much more of the city in less time than any bus or taxi. You will see the Plaza Grande, Presidential Palace, San Francisco Plaza, Church of the Merced and the beautiful Calle Ronda. Then you wil lhead up the cobblestone road to the winged Madonna that overlooks the city called "el Panecillo" and you will get some great views of the colonial city below.
Then you will ride to the "Cerro Unguï" Park - a beautiful park on a steep hill that overlooks the city. Then head out on the road behind the park that takes you through some breathtaking country landscapes - with no suburban sprawl and just pastures and farms, you won't believe you were just in Quito a few minutes ago. You'll continue a few miles on this beautiful back road and then pass through the small town of Lloa and then begin climbing the footholds of the Gua Gua Pichincha volcano. The Gua Gua peak is the highest peak of the Pichincha volcano at 15,696 feet/. Beware! This is an active volcano. It last erupted in 1999, covering Quito with a think layer of ash. It could go off again at any time!
Your ride will take you close to the peak of the volcano, to an elevation of 15,000 feet, giving you incredible vistas of the surrounding country and the city far below. Be sure to bring an extra layer of clothing because it can get chilly, especially if the sun goes behind the clouds.
The next stop will be in the middle of the world. The Inti-ñan museum is situated directly on the Equator. Inti-ñan means "path of the sun" in Quechua, a native language of Ecuador. Take a tour of this magical site, a place that the indigenous peoples have revered for thousands of years. You will learn how the ancient people came to understand that this was the center of the world, centuries before "modern" geography or GPS devices. You can have a chance to play with gravity here and perform some experiments to learn about the Coriolis effect caused by the Earth's rotation. Directly on the red line of the equator you will see water go either clockwise or counter-clockwise down a drain, depending on which side of the equator you are on. You will also get to know how the indigenous populations of Ecuador live and visit some typical indigenous homes. After the visit at the Inti-ñan museum, you will be officially out of the Quito metropolitan region and riding in the Northern Hemisphere. Stop to view the beautiful Pululahua Crater Geobotanical reserve. This crater was formed by a volcano that erupted 2500 years ago.

Then you will head back into the city and stop at the Guayasamin Museum which is one of Quito's best art museums. Take some time to enjoy the exhibits of some of Quito's best contemporary artists. Then y ou will head down a steep cobblestone path on the eastern cliffs of Quito, and into the bohemian village of Guapulo. Here you will see a statue of Francisco de Orellana, who left Quito on foot towards the Amazon in search of the fountain of youth and cinnamon. Guapulo was his first stop on his way out of the city. Guapulo is known for its great restaurants, bars and art galleries and for its magnificent church that overlooks the Cumbaya valley below.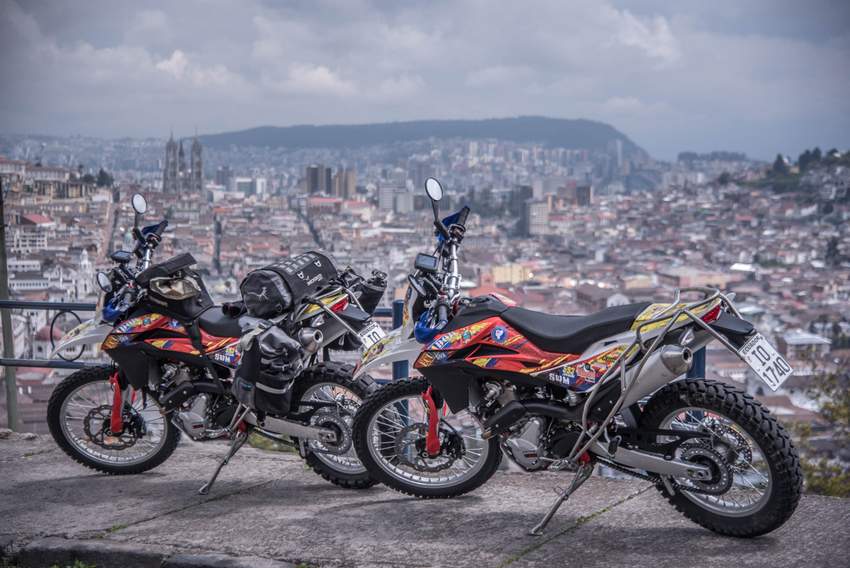 You'll head back up the cobbletone switchbacks and return thebike to our shop, with a complete view of Quito that you can only get on a dirt bike!
What to Expect
This trip has an activity rating of 4/5 and is one of the most demanding tours we offer, meaning this tour will put you to the test physically; travelers should be in good health and comfortable riding for extended periods of time through adverse weather and at times unpredictable road conditions. The unpaved sections are slightly challenging and are reserved for experienced riders. The itinerary suits a wide range of interests and abilities, with options for light and moderate activities .

Weather and Temperatures
Weather and temperature ranges in Quito are generally the same year round. You can expect the chance of passing showers but rarely a full day of rain. Chances for a full day of rain are more likely in April and early May. On this tour, temperatures will be between 40 and 80 degrees fahrenheit (4-27 celsius). The extreme cold temperatures are only experienced at the high elevation points (refer to the elevation profiles on this page). These low temperatures are brief.

Packing List and Preparation
Ecuador Freedom will provide you with detailed information to prepare for the ride, including a packing list and tutorial videos.
Pricing
| | |
| --- | --- |
| Motorcycle / 4x4 | Tour Price |
| Hero Xpulse200* | $110 |
| BMW G310GS LOW | $130 |
| BMW G310GS | $130 |
| Suzuki DR650* | $150 |
| Suzuki DR650 LOW* | $150 |
| Honda XR650L | $160 |
| SWM RS650S* | $150 |
| Aprilia Tuareg 660 | $210 |
| Yamaha Tenere 700 | $200 |
| Husqvarna 701 Enduro* | $200 |
| BMW F750GS | $200 |
| BMW F800GS | $210 |
| Triumph Tiger 800 XC | $210 |
| Moto Guzzi V85 TT | $220 |
| Triumph Tiger 850 Sport | $210 |
| BMW F850GS | $220 |
| Triumph Tiger 900 Rally | $220 |
| Husqvarna Norden 901 | $220 |
| Honda Africa Twin DCT | $240 |
| Suzuki Jimny 4x4 | $210 |
| Jeep Wrangler Sport 4x4 | $220 |
| Volkswagen Amarok 4x4 | $240 |
| Ford Ranger Diesel 4x4 | $240 |
Booking and cancellation policy
To secure your booking you will need to pay 50% at the time of booking your rental or tour. Please contact us and we will send you a payment request from our secure payments provider (currently we use BlueSnap and PayPal)..Using our payments providers, you may pay with any major credit card or with your checking account.
Deposits are refundable minus 10% of the total rental or tour price only if cancelled at least 90 days prior to departure or pick-up date. Cancellations are very costly to us as they impede our planning and ability to sell rentals and tours to other customers. Therefore, cancellations for any reason made less than 90 days before the pickup or departure date are not refundable nor may they be applied to a future rental or tour.
To protect yourself from this loss of your deposit, it is up to you to secure travel insurance that covers cancellations due to health problems, family tragedies or problems with flight departures, etc.
To get a free quote for travel insurance that will reimburse you in case you must cancel your trip (plus provide medical and repatriation coverage in case of an accident), just go to www.allianztravelinsurance.com and enter agency code F203715 which will indicate to them that you are travelling with us.
The balance (second 50%) of your rental or tour is due when you pick up the bike in our office in Quito. The second 50% can be paid in cash or with a credit card. We accept Mastercard, Visa, and American Express.
What's Included
Unlimited Mileage Motorcycle Rental (24 hours)
Saddlebags or hard luggage system
Pre-programmed Garmin zümo GPS
Pre-ride briefing
Luggage Storage and locker usage
VIP access to the Freedom After-Ride Lounge™ with a hot shower and wet bar.
Pre-paid cell phone and 24-hour support
What's Not Included
100% Refundable security deposit to cover any damage to the rental motorcycle
Hotel accommodations before and after the tour in Quito
Gas or Diesel Fuel
Any activity not described in What's Included
Meals not listed
Gratuities