Self-Guided Chocolate & Cloudforest Tour
60% PAVED
<10% unpaved
Alternate 100% paved route available upon request
Self-Guided Tour Overview
If you are looking for a fantastic one-day ride that will astound you and leave you with a genuine appreciation and respect for the incredible biodiversity and richness of culture that surrounds Quito, this tour is for you!

The tour heads out of Quito and immediately into the lush, green Nono Biological Reserve, known as one of the world's most biodiverse forests. The unpaved route to Mindo is magical, with opportunities for swimming in waterfalls, birdwatching, and picnics. Mindo offers many exciting and educational activities such as coffee, chocolate and butterfly tours and outdoor activities such as rafting and zip lines. The return to Quito is on an exciting paved road packed full of twisties as well as stops to visit the Pululahua Crater and the Inti-ñan Museum, right on the Equator. The tour can be done in one day (starting at 10:00 am) or with an overnight (starting anytime 11:00 am - 1:00 pm).
At a glance
Time Needed: 1 day (approximately 6 hours) 24 hour rental included
Total Distance: 114 miles / 183 kilometers
Approximate Offroad Distance: 30 miles / 50 kilometers
Elevation gain and loss : +/-22,355 feet | +/- 6814 meters
Pre-Tour Briefing
You'll be provided with a thoughtful presentation on Ecuadorian driving courtesies, customs and unwritten rules of the road as well as a complete overview of the route prior to your departure.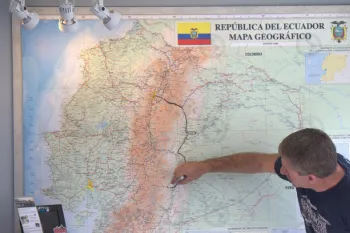 Cobblestone Roads
You'll ride on a few miles of one of Ecuador's national treasures - its network of ancient cobblestone roads that are maintained by hand in a traditional way. They are absolutely beautiful!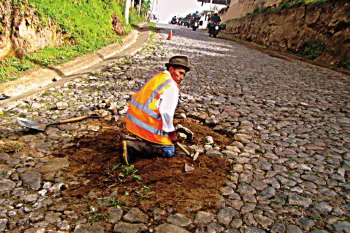 The Equator and Mitad del Mundo
Visit the real Equator line and perform experiments to experience the Coriolis effect.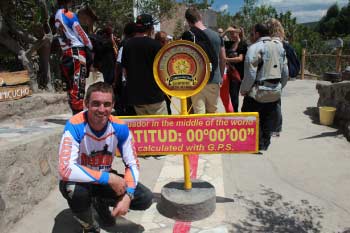 Bellavista Bird Lodge
Surround yourselves with hundreds of colorful birds at the Bellavista Cloudforest Reserve Lodge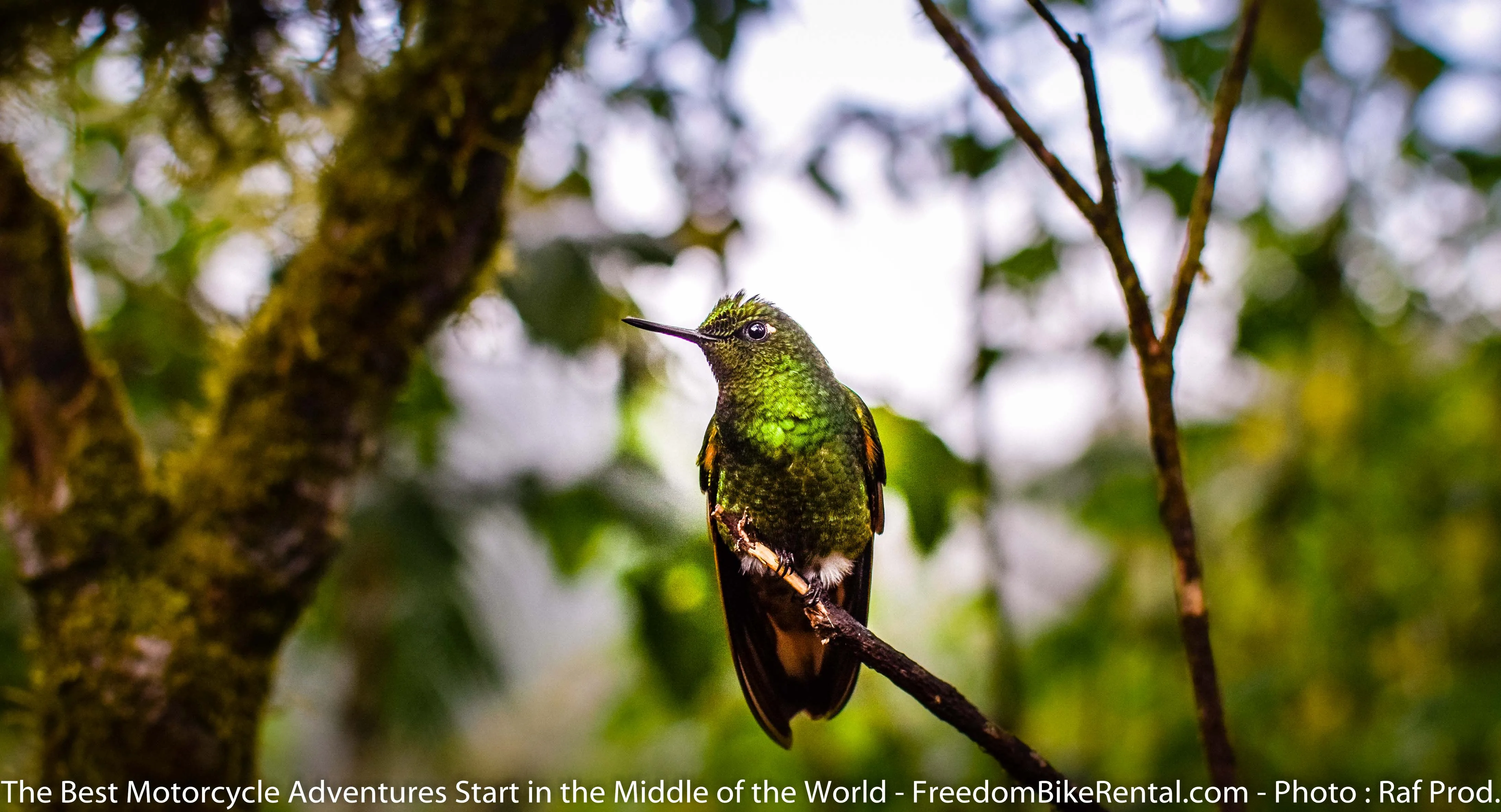 Mindo Coffee Tour
Visit a working coffee plantation and see how coffee is grown, harvested, dried, selected and roasted.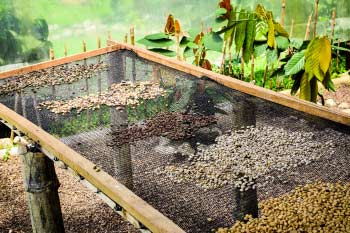 Hummingbird Road
The Route of the Hummingbird is one of the most beautiful unpaved roads that is lined by waterfalls and the Nono Cloudforest Reserve.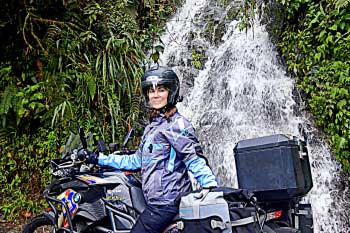 Pululahua Crater
The Pululahua Crater is a caldera formed from the collapsed volcano after it emptied its magma chamber during the eruptions dating back to 500 B.C. or 2500 years ago. This type of formation is typical of very strong eruptions that weaken the internal structure of a volcano. The caldera has three lava domes, Pondoña, El Chivo, and Pan de Azucar, which formed in the years following the eruption, and after the volcano collapsed.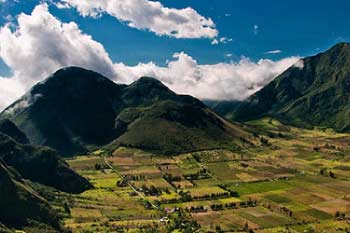 Itinerary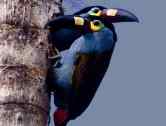 You will head out of Quito, rising in elevation as you climb the Pichincha Volcano's foothold, getting spectacular views of the city below. Once over the pass, your surroundings will go from "urban" to "country" instantly. Green pastures now surround you, and the sounds of the city are replaced with the sounds of rolling brooks and streams and chirping birds. You will descend into the small village of Nono.- a quaint, friendly little place that feels a world away from Quito. There are a few good restaurants in the center of the small town.

After a stop in Nono, you'll be on the "Route of the Hummingbird." This route is famous for its incredible natural beauty. It has won several awards from the Audubon Society for the large number of bird species that can be seen. Although the area is relatively small in size, it is one of the most bio-diverse on the planet, counting thousands of species of butterflies, plus hundreds of different reptilian, amphibian, and bird species - including several types of toucans and hummingbirds.
While the vast majority of old dirt roads in Ecuador are succumbing to the pavement, the narrow Nono-to-Tandayapa stretch keeps modern pretensions behind, remaining - as much as possible - as it was when Pedro Vicente Maldonado first cleared its way towards the sea over 250 years ago. With its ironic feeling of remoteness just minutes outside the city, it is one of Quito's most notable attractions.
Once outside of Nono, you may want to stop for a swim in the beautiful Guagrapamba Waterfall, which is just along the route and can be reached after a short hike.
Your ride will continue along these country roads with virtually no traffic, bring you high into the elevations and bring you to the "Virgen de Camino Mirador" overlook. Stop here and get some great views of the valleys below. Then you will descend along a rolling river of cold, clear water and into the rainforests for a completely new biological habitat. You may catch a glimpse of some wild toucans or brightly colored frogs.
You will pass by the world-renowned Tandayapa Bird Lodge. You can stop here for lunch in their restaurant or sneak a peek at their fantastic balcony and be surrounded by hundreds of hummingbirds in a show that will fascinate you.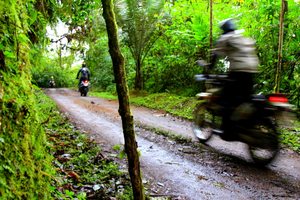 Back on the road, the aromas and sounds of the rainforest you will experience will be something that stays with you long after this ride is over.
If you didn't get a bite to eat at the Tandayapa, you could also stop for lunch in the Bellavista Cloudforest Bird Lodge. They offer incredible over-the- canopy where you can get a great meal while watching hundreds of bird species.
Then you will head from the cloudforests into the warm microclimate of the town of Mindo. This funky, eclectic town offers excellent restaurants, bars, and activities such as zip wire canopy tours and innertube ride down the white water river.
Once in Mindo, you will head to Yumbos Chocolate for a tour that will educate and entertain you. You can taste some freshly roasted local Ecuadorian coffee, some of the best in Ecuador. You will learn about organic cocoa farming and processing. You will learn how cacao is turned into chocolate from the moment it is picked from the tree to the completed chocolate bars. The Chocolate tour starts every day at 4 PM, and there is a charge for your tickets, which are not included with the Ecuador Freedom Chocolate & Cloudforest tour. If you want to learn more about coffee growing, harvesting, processing, roasting, and proper coffee preparation, you can visit the Mindo Coffee Tour. Also, the Butterfly Garden is a fantastic place with hundreds of butterflies in various stages of life. You'll see jewel-like chrysalis, caterpillars, and beautiful colorful butterflies.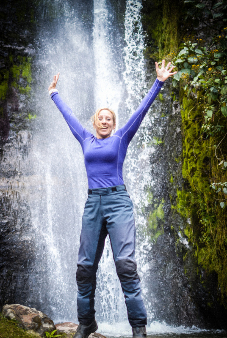 After visiting the sites in Mindo, you will head back onto the asphalt road, passing through the cloudforest town of Nanegalito. Continue on this road, and you can stop to see the huge Volcanic crater, the Pululahua Volcanic Crater.
On the way back to Quito, be sure to stop at the Museo Intinan to learn about the astronomical observatories established at the Equator by ancient indigenous cultures. You can also perform some fun and exciting experiments to show you the strange gravitational effects that can only be observed on the Equatorial line.
Then, head back into Quito - and you will have finished the tour. We hope you will share your photos and experiences with your friends!

The tour can be done in one round-trip if you pick up and return the bike around 10:00 am, or if you want to stay overnight in Mindo (see the extension below for an exclusive hotel offer), then it is best to pick up the bike around 1:00 - 2:00 pm.
What to Expect
This self-guided adventure will start in our offices located in the fashionable Carolina neighborhood of Quito. Prior to your departure, we will give you a detailed and thoughtful presentation on Ecuadorian rules of the road, customs, and courtesies. We will show you how to operate your pre-programmed GPS navigation unit and given a customized map with points of interest, descriptions of local highlights, and "hidden gems" that aren't common knowledge. You can use this information to tailor your day - including as much or as little as you like. The route will be reviewed with you in detail to provide you with additional useful information about the timing, suggestions for lunch stops, and where to get gas along the way.
On your departure, you will be provided the adventure-ready motorcycle (or 4x4) of your choice, which is fitted with a waterproof luggage system, a first aid kit, a tankbag if you want one, spare innertubes (or tire repair kit), and a set of tools. You will also have a prepaid cell phone to call us for support at any time during your trip. We will carefully review the bike using our multi-point checklist to ensure that everything is in perfect working order before your departure and that you know what to do in case of an emergency or breakdown.
The route you will follow is based on several years' of experience and riding these routes many times. There are several stops available, which are marked on the GPS unit and the route sheet.
You will have many opportunities for amazing photos. Locals are friendly and the areas visited are very safe with very low crime rates.
During your ride, Ecuador Freedom staff will monitor your progress using an onboard GPS satellite tracking system and can assist you by telephone if you need to change your route, need roadside assistance, or help in any way.
Upon returning, you will have access to our honor bar, jacuzzi, hot shower, and staff that can assist you with your next destination.
Weather and Temperatures
Weather and temperature ranges in Ecuador are generally the same year-round. You can expect the chance of passing showers in the highlands but rarely a full day of rain. Chances for a full day of rain are more likely on the western slopes of the Andes in March, April, and early May. This ride will be in elevations between 1200 feet in the Amazon basin (where temperatures can be around 80 degrees Fahrenheit) to 14,500 feet (where temperatures can be in the 30's Fahrenheit). Dressing in layers is recommended. Please see this article for more information about the weather in Ecuador.

Preparation
You should know how to make general motorcycle repairs and maintenance and to be able to change an innertube (click for a video tutorial). Before you travel, we recommend that you familiarize yourself in advance with these recommended guidebooks and maps.

Pricing
| | |
| --- | --- |
| Motorcycle / 4x4 | Tour Price |
| Hero Xpulse200* | $110 |
| BMW G310GS LOW | $130 |
| BMW G310GS | $130 |
| Suzuki DR650* | $150 |
| Suzuki DR650 LOW* | $150 |
| Honda XR650L | $160 |
| SWM RS650S* | $150 |
| Aprilia Tuareg 660 | $210 |
| Yamaha Tenere 700 | $200 |
| Husqvarna 701 Enduro* | $200 |
| BMW F750GS | $200 |
| BMW F800GS | $210 |
| Triumph Tiger 800 XC | $210 |
| Moto Guzzi V85 TT | $220 |
| Triumph Tiger 850 Sport | $210 |
| BMW F850GS | $220 |
| Triumph Tiger 900 Rally | $220 |
| Husqvarna Norden 901 | $220 |
| Honda Africa Twin DCT | $240 |
| Suzuki Jimny 4x4 | $210 |
| Jeep Wrangler Sport 4x4 | $220 |
| Volkswagen Amarok 4x4 | $240 |
| Ford Ranger Diesel 4x4 | $240 |
Tour Includes
Unlimited Mileage Motorcycle Rental (24 hours)

Saddlebags or hard luggage system

Pre-programmed Garmin zümo GPS

Pre-ride briefing

Tank bag

Luggage Storage and locker usage

VIP access to the Freedom After-Ride Lounge™ with hot shower, jacuzzi, and wet bar.

Pre-paid cell phone and 24-hour support
Not included
Refundable security deposit to cover any damage to the rental motorcycle

Ecuador IVA (sales) tax ONLY if you are Ecuadorian

NO TAX FOR TOURISTS TO ECUADOR!

Hotel accomodations before and after the tour in Quito
Before booking a self-guided tour with us, please carefully read our Self-Guided Motorcycle Tour Terms and Conditions
Our reservation system is automated and accessible through the "Book Now" or "Reserve Online" buttons. The system will take you through a few easy steps to book your tour and any desired extensions. The system is secure and uses a third-party, Ecuadorian payment system called Kushki, which meets all international regulations and security standards. Payment may be made using any major credit card. Please note that we must collect a government-issued ID number from you when booking due to Ecuadorian banking regulations. You may use your passport, driver's license, or any other government identification number.
Alternatively, you may request payment through PayPal in the system (click the PayPal logo on checkout). If you prefer to send a wire transfer, please let us know (using the "Ask a Question" button or "Contact" menu item, and we will provide our banking details.
Deposits are refundable minus 10% of the total rental or tour price only if canceled at least 90 days prior to departure or pick-up date. Cancellations are very costly to us as they impede our planning and ability to sell rentals and tours to other customers. Therefore, cancellations for any reason made less than 90 days before the pickup or departure date are not refundable nor may they be applied to a future rental or tour.
To protect yourself from this loss of your deposit, it is up to you to secure travel insurance that covers cancellations due to health problems, civil unrest, acts of God, family tragedies, any issues, cancellations or delays with flight departures, etc.
Medical and security emergencies happen; when they do, we rely on Global Rescue, the world's leading membership organization providing integrated medical, security, travel risk, and crisis response services to travelers worldwide. Memberships start at $129
Global Rescue has created the industry's most complete travel insurance that was built with the outdoorsman in mind. With minimal exclusions, the IMG Signature Travel Insurance is the perfect add-on to your Global Rescue membership.
To find out more information please visit our landing page at: https://partner.globalrescue.com/freedombikerental
The balance (second 50%) of your rental or tour is due when you pick up the bike in our office in Quito. The second 50% can be paid in cash, (United States Dollars), with PayPal, or with a credit card. We accept Mastercard, Visa, Discover, and American Express. A 100% refundable security deposit using a credit card for the rental motorcycle or 4x4 is also required and is separate from the payment for the tour. Security deposits are $500 - $2500, depending on the vehicle selected.