Andes, Amazon & Pacific Guided Tour
SERVICE LEVEL
Casual
à la carte dining
GROUP SIZE
1-10 Motorcycles
GUARANTEED DEPARTURE
Guided Motorcycle Tour Overview
Tour Start / End: Quito, Ecuador. Airport Code UIO
Distance: 1,455 kilometers / 904 miles - 99% paved route
Time Needed: 10-11 days vacation
Tour Duration: 9 days
Riding Days: 7
Rest Days: 2 - Canoa & Baños
Highest Elevation: 4,445 meters | 14,583 feet
Lowest Elevation: -1 meter | -3 feet
Elevation Gain / Loss: 25,658 meters | 84,179 feet
All-inclusive pricing: includes meals, gas, tolls, single occupancy hotel rooms, entrance fees to parks, excursions, and motorcycle use on rest days (if desired)
Minimum participants: one. We never cancel tours due to a lack of participants.
Maximum riders: 10 (keeps things fun and easy!)
Tour dates: See below or check our Tour Calendar
This motorcycle adventure tour traverses three distinctive regions in Ecuador: the Pacific Coast, Andes Mountains, and the Amazon jungle basin. It will take you through several climatic zones, including cloudforests, coastal savannah, beach, desert, rainforests on both the eastern and western slopes of the Andes, and the unique Amazon jungle.

The routes selected are well-paved backroads, avoiding as much as possible busy thoroughfares such as the Panamerican highway. Accommodations are non-touristy, boutique hotels, lodges, and inns. This is an all-inclusive tour designed to let you relax and experience Ecuador at its best.

It is an opportunity to experience several different cultures and varied ways of life from traditional coastal villages to those of indigenous people in the highlands and Amazon basin. The tour goes through some of the most bio-diverse regions in the world and parts of rural Ecuador that few visitors get to see. Activities include a special coffee and chocolate tour, the Inti-ñan Solar Museum, and an Amazon jungle hike and canoe excursion. The trip packs a lot into an inspiring nine days to create memories that will last a lifetime.
Motorcycle
Single Occupancy

This is the standard pricing if you are traveling alone (or traveling with friends but each with a single room). Single occupancy is standard on all of our self-guided and guided motorcycle tours.

Hero Xpulse200*

$4,340
BMW G310GS LOW

$4,520
BMW G310GS

$4,520
SWM Gran Milano 440

$4,160
Honda XR650L

LOW SEAT: 33.2 inches

REGULAR: 34.8 inches

$4,790
Suzuki DR650*

LOW SEAT: 33.2 inches

REGULAR: 34.8 inches

$4,700
Suzuki DR650 LOW*

$4,700
SWM RS650S*

REGULAR: 32.9 Inches

LOWERED: 31.7 Inches

$4,700
Suzuki V-Strom 650

REGULAR: 32.9 Inches

LOWERED: 31.7 Inches

$4,970
Suzuki V-Strom 650 LOW

$4,970
Aprilia Tuareg 660

$5,240
Yamaha Tenere 700

$5,150
Husqvarna 701 Enduro*

$5,150
BMW F750GS

$5,150
Triumph Tiger 800 XC

$5,240
BMW F800GS

$5,240
Moto Guzzi V85 TT

$5,330
Triumph Tiger 850 Sport

$5,240
BMW F850GS

$5,330
Triumph Tiger 900 Rally

$5,330
Husqvarna Norden 901

$5,330
Honda Africa Twin DCT

$5,510
Suzuki V-Strom 1000

$5,240
Passenger Sharing Room

If you will be riding with a passenger, (pillion) who will share your double room (1 or 2 beds), add this price.

$1,900

If you will be riding with a passenger, (pillion) who will share your double room (1 or 2 beds), add this price.

2 Vehicles Sharing Room

If you are traveling with someone who will be riding a separate motorcycle and sharing your room (1 or 2 beds), take 10% off the price of each bike!

10% Discount

If you are traveling with someone who will be riding a separate motorcycle and sharing your room (1 or 2 beds), take 10% off the price of each bike!
* Bikes marked with an asterisk are not configured to take a passenger.
All prices are in United States Dollars (USD) - the official currency of the Republic of Ecuador
Arrival in Quito
Travel day to Quito

Accommodations: Not included. We will provide you with a list of recommended hotels in Quito near our shop in the heart of the fashionable La Carolina neighborhood so that you can relax and explore the nearby galleries, museums, and cafés.
1 or 2 days prior to the tour start date
Pre-Tour Registration and Tour of Qutio
Arrive a day or two prior to departure to enjoy Quito and we'll provide you with tickets on the Hop-on / Hop - Off bus to enjoy a stress-free day in the capital. For those who want a little more fun, we can provide you with a selfd-guided tour of Quito on one of our 150cc motorscooters.
Quito - Mindo
Distance: 103 km | 64 miles
Meals: Lunch & Dinner
Activities: Sitio Intiñan Equator Museum, Birdwatching at Bellavista, Chocolate Tour
Accommodations: Septimo Paraiso Cloudforest Lodge
Mindo - Canoa
Distance: 296 km |183 miles
Meals: Breakfast, Lunch & Dinner
Activities: Hike and swim in Laguna Azul, Wire Bridge Crossing, Shrimp farm
Accommodations: Canoa Beach Hotel
Rest Day in Canoa
Distance: ? - you are welcome to use the bike to expore on your own.
Meals: Dinner
Activities: Swimming, surfing, optional mangrove tour, fishing, snokeling
Accommodations: Canoa Beach Hotel

Canoa - Quevedo
Distance: 184 km | 114 miles
Meals: Breakfast, Lunch & Dinner
Activities: Swimming
Accommodations: Hotel Olimpico
Quevedo - Mulalo
Distance: 237 km | 147 miles
Meals: Breakfast, Lunch & Dinner
Activities: Quilotoa Crater Lake, Banana Plantation, Rose Farm
Accommodations: Hacienda Hato Verde
Mulalo - Baños
Distance: 266 km | 165 miles
Meals: Breakfast, Breakfst, Lunch & Dinner
Activities: Wood Furniture Maker, Kunuyacu Hot Springs, Chimborazo Wildlife Refuge, Saquisilli Indigenous Market, Baños de Agua Santa Baths
Accommodations: Posada del Arte
Rest Day in Baños
Distance: ? you are welcome to use your bike to explore on your own
Meals: Breakfast
Activities: Available in Baños: horseback riding, mountain biking, swing jump, casa del arbol swing, atv rentals, rafting, hiking, canyoning and many more.
Accommodations: Posada del Arte Bed & Breakfast Inn
Baños - Puerto Misahualli
Distance: 150 kilometers | 95 miles on 100% paved roads
Meals: Breakfast, Lunch & Dinner
Activities: Zip Lilne. Tibetan Bridge, Canoe to Misahualli
Accommodations: El Jardin Misahualli Lodge
Puerto Misahualli - Quito
Distance: 222 km | 138 miles
Riding Time: 5 hours
Meals: Breakfast and Lunch
Activities: Hike in Amazon jungle with native guide, canoe expedition, tubing on the Napo River
Accommodations: None included.
Return home
Many international flights leave around midnight from Quito. If you are catching a flight the same evening as the last day of the tour, you may enjoy VIP access to our "After-Ride Lounge" - complete with a hot shower, jacuzzi, and open bar.
Day 1
Quito - Mitad del Mundo - Mindo
You'll embark on this nine-day/eight-night motorcycle tour from our shop in Quito, Ecuador. UNESCO granted the city the title of World Heritage Site in 1978 because it has preserved its historical centre which is one of the best preserved in Latin America. It is located high up on the Altiplano Plateau at an altitude of over 9,350 feet. We recommend you arrive a few days early to get used to the high elevation and adjust before starting your tour.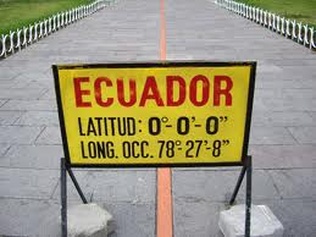 During the first morning of the tour, you'll be outfitted with the motorcycle of your choice and given a thorough orientation answering all questions concerning local customs, rules of the road, riding signals, Ecuadorian driver courtesies, and more. The first day's ride purposefully includes sampling the different types of roads we will be riding. You will have the opportunity to safely become accustomed to asphalt, dry gravel, cobblestone, and dirt farm roads.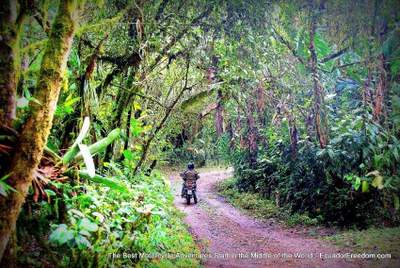 Inti-ñan means "path of the Sun" in the Quechua language, and the Inti-ñan Museum is situated directly on the Equator. The indigenous peoples have revered this site for thousands of years. Our group will learn how ancient people understood that this was the center of the world centuries before the advent of modern geography or GPS devices. During our first stop directly on the "red line," you will experiment with gravity, including witnessing how water drains either clockwise or counter-clockwise, depending on which side of the Equator you are standing. You will also have the opportunity to see how the indigenous populations of Ecuador live by visiting models of their homes. This visit will enable you to understand better the cultures and ways of life you will experience as we pass through the various regions.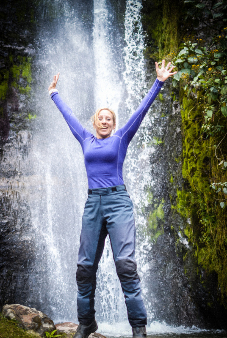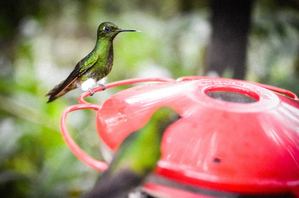 Departing the Inti-ñan Museum, we are officially outside the Quito metropolitan region and have begun riding in the Northern Hemisphere. Our second stop is to view the beautiful Pululahua Crater Geo-Botanical Reserve, a crater formed by a volcanic eruption 2,500 years ago. From there, head onto the Andes' western slopes full of dense, green forests and steep mountains. The roads have been recently paved, and riding these sharp curves is sure to be exhilarating fun.
We will have lunch in the garden of a fantastic restaurant in the heart of the cloudforest. We'll watch in amazement as hundreds of colorful birds surround us as we enjoy our first Ecuadorian meal together.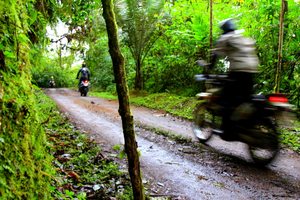 Changing the pace a little bit, we take a left turn off the main highway and venture onto an unpaved, unmarked road that leads even deeper into the cloudforest. Here, at the world-famous Bellavista Cloudforest Bird Lodge, we take a break on their amazing patio and watch hundreds of hummingbirds flitting around us. These are all of a completely different species than the birds seen at lunch. There is no other place on earth where so many species of birds can be viewed. Note that the unpaved section is optional - we can continue along the newly paved highway to Mindo if you are not comfortable riding on unpaved roads.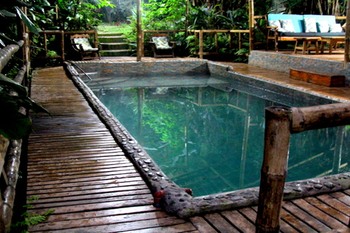 Continue through the lush cloudforest along clear streams with cascading waterfalls to the funky, eclectic town of Mindo. Mindo is situated in a warm microclimate cloudforest that's known for its natural beauty and great restaurants. We will visit the Yumbo chocolate makers for a tour that entertains while educating us about the farming and processing of organic cocoa and how it is turned into chocolate and formed into bars. You will want to sample this chocolate, as Ecuador produces some of the best chocolate in the world.
After we visit Yumbo Chocolate, we will check into the carefully selected accommodations for the night - deep in the cloudforest setting at the charming Septimo Paraiso Cloudforest Reserve Lodge, a beautiful lodge deep in the rainforest with individually decorated rooms, a heated pool, a spring-fed pool, jacuzzi, and billiards room. You'll fall into a deep sleep with the beautiful cacophony of the cloudforest.
Day 3 - Rest Day in Canoa
Day 7 - Rest Day in Baños de Agua Santa
Day 8 - Puerto Misahualli
What to Expect
This guided motorcycle adventure tour will start in our offices located in Quito's Carolina neighborhood - the modern, safe, and easily accessible neighborhood of Quito. There are many embassies, hotels, restaurants, banks, parks, galleries, and shopping centers within just a few blocks of our office. We will provide you with a list of recommended hotels in Quito for your stay before and after the tour. We suggest arriving in Quito a day or two early to enjoy the city and get the paperwork out of the way to have an easy start on Day 1.
On the morning of our departure, you will receive a detailed and thoughtful presentation on Ecuadorian rules of the road, customs, courtesies, and our group riding protocols. You will be provided the adventure motorcycle of your choice, fitted with a waterproof luggage system and a tankbag if you want one. If there are more than five riders on the tour, a support truck will be available to carry your luggage and carry bottled water. The support truck can respond in an emergency and make your ride more comfortable; however, it is not intended to provide you with opportunities to take a break from riding (you are expected to ride a motorcycle). If there are fewer than five riders on the tour, we may not provide a support truck, and you will need to carry your gear in the saddlebags or luggage system provided with your bike. However, with our guaranteed departure policy, we will not cancel a tour due to a lack of participants.
The route you will follow over the nine days is based on several years' of experience and riding these routes many times. Your guide knows the route thoroughly, having ridden it several times before. The route is almost completely paved, with some unpaved driveways and construction areas. The roads are chosen for their lack of traffic and outstanding scenery. The Guide will make many stops throughout the day to introduce you to the locals, explain the local history, and show you "hidden gems" that are not common knowledge.
During the rest days, you are welcome to use the motorcycle on your own to explore the local areas. Our rest days are located in towns with many opportunities for outings, tours, activities, and relaxation.
We do not want you to "push your limits." Rather, we want you to be able to lift your head, look around, and enjoy the amazing scenery during the ride.
Upon returning, you will have access to our honor bar, jacuzzi, hot shower, and staff that can assist you in getting to your next destination.
Weather and Temperatures
Weather and temperature ranges in Ecuador are generally the same year-round. You can expect the chance of passing showers in the highlands but rarely a full day of rain. Chances for a full day of rain are more likely on the western slopes of the Andes in March, April, and early May. This ride will be in elevations between sea level (where temperatures can be around 75-90 degrees Fahrenheit) to 14,500 feet (where temperatures can be in the 30-50's Fahrenheit). Dressing in layers is recommended. Please see this article for more information about the weather in Ecuador.

Accommodations
Throughout the tour, we will stay in carefully selected hotels, lodges, and inns. See the "accommodations" section on this page for details, photos, and links to the accommodations provided. Ecuador Freedom has the right to substitute accommodations of equal quality due to availability and will notify you of these changes.

Packing List and Preparation
Ecuador Freedom will provide you with detailed information to prepare for the ride, including a packing list. No knowledge of Spanish is required - your Guide can speak English and Spanish fluently. Before you travel, we recommend that you familiarize yourself in advance with these recommended guidebooks and maps.