Offroad Ecuador ADVenture Self-Guided Tour
6 days
From $1,795
See all prices bottom of page in tabs
Availability
All year except April 1- May 15
Accommodations
Unique non-touristy
Hotels and Lodges
Tour Overview
We designed this tour for the truly adventurous -those who love to ride off-road and way, way off the beaten track. The tour aims to avoid pavement as much as possible and will take the rider immediately out of Quito and onto some spectacular off-road riding and to parts of Ecuador that most people don't ever get the opportunity to see.
The route passes through a part of this world that time has forgotten, where farming is still done with ancient techniques and where people are surprised to see strangers come through their village. We'll stop to meet people that are happy to show us their way of farming, cooking, and living. It is a ride through incredible terrain, mountain passes and around crater lakes.
The Offroad Ecuador Tour passes through several climatic zones and thus offers a chance to view native wildlife while gaining an intimate understanding of the incredible biodiversity found in Ecuador.

At a glance
Time Needed: 6 days / 5 nights
Total Distance: 770 miles / 1,234 kilometers
Elevation gain / loss : 16,633 meters / 54,570 feet
Climactic Zones: Tropical Rainforest / Tropical Grasslands / Highlands Pampa / Cloudforest
Provinces: Pichincha, Santo Domingo de los Tschallas, Cotopaxi, Bolivar, Los Rios
Customizable: Add addtional riding days or combine with our other tours. Let us know your wishes!
WARNING:
This is not a normal motorcycle ride.
This tour requires elements of endurance and stamina. Riders must be able to ride in adverse weather conditions and adverse road conditions and for long time periods of time (up to 10 hours)
Click for Timeline Overview
Arrival in Quito
Travel day to Quito

Accommodations: Not included. We will provide you with a list of recommended hotels in Quito near our shop in the heart of the fashionable La Carolina neighborhood so that you can relax and explore the nearby galleries, museums, and cafés.
1 or 2 days prior to the tour start date
Pre-Tour Registration
Arrive a day or two prior to departure to enjoy Quito and to get the paperwork out of the way so you can have a faster departure on day 1. Consider our self-guided scooter tour of Quito - it is a great way to see the city at your own pace!
Quito - Otavalo
Distance: 151km | 94 miles
Included Meals: Dinner
Activities: Museo Solar Intiñan, Plaza de Ponchos (Largest indigenous market in South America), Mojanda volcano lake, Perucho church.
Accommodations: Cabañas del Lago
Otavalo - Mindo
Distance: 172 km |107 miles
Included Meals: Breakfast & Dinner
Activities: Leather Workshop, Cuicocha volcano lake, Coffee selection and production tour, Chocolate production tour, Butterfly sanctuary.
Accommodations: Septimo Paraiso
Mindo - Chugchilan
Distance: 214km | 133 miles
Included Meals: Breakfast & Dinner
Activities: Quilotoa crater lake, Many Waterfalls, Woodworking school,
Accommodations: Mama Hilda's Hostel
Chugchilan - Salinas
Distance: 191 km |119 miles
Included Meals: Breakfast
Activities: Quilotoa Lake, School Visit, Wood Carving, Moonshine Distillery, Guinea Pig Farm
Accommodations: El Refugio Hotel
Salinas - Quevedo
Distance: 131 km | 82 miles
Included Meals: Breakfast
Activities: Chocolate Maker, Soccer Ball Maker, Wool Mill, Cheese Makers, Palm Farmer, Chocolate Farmer
Accommodations: Hotel Olimpico

Quevedo - Quito
Distance: 250 km | 155 miles
Included Meals: Breakfast
Activities: Winery
Return home
Many international flights leave around midnight from Quito. If you are catching a flight the same evening as the last day of the tour, you may enjoy VIP access to our "Freedom Riders' Lounge" - complete with a hot shower, jacuzzi, and honor bar.
The Equator
We'll stop at the center of the world at Sitio Intiñan to see the Coriolis effect in action and learn how the ancients came to know this was the equator long before modern GPS were invented.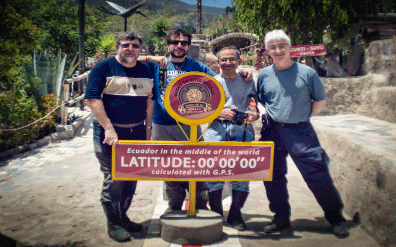 Quito
The tour starts and ends in the beautiful city of Quito. Included is a tour of Quito by bus or self-guided on one of our scooters.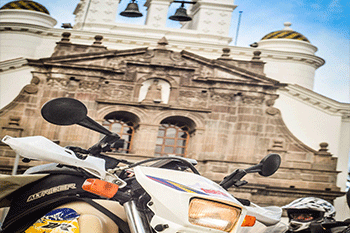 Pack for a Purpose
Save some room in your luggage to bring school supplies and deliver them personally to our Pack for a Purpose schools in remore areas of the country. Just a little bit of space can make a huge impact on the lives of school children!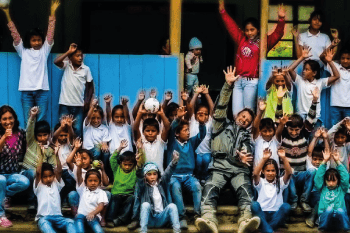 Otavalo Animal Market
When the sun comes up on Saturday mornings, the Otavalo animal market is already well on its way. People come from all around the countryside to buy and sell animals, large and small.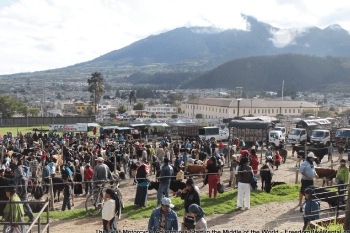 Otavalo Textile Market
We'll visit the Plaza de los Ponchos - the site of the expansive textile market that Otavalo is famous for. In addition to textiles the market offers clothing, herbal remedies, food, handicrafts and, of course, ponchos.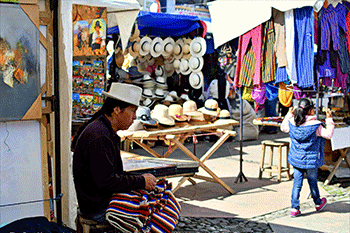 Banana Plantation
We'll visit a working banana plantation to learn how bananas are grown, harvested and packed for delivery around the world. You've probably never tasted a "tree-ripened" banana - see how different it tastes!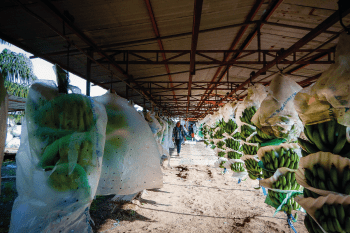 Cotacachi Leather Market and Artisans
The town of Cotacachi is a beautiful town known for its exceptional leather artisans. We'll visit with Luis who shows us how he uses his traditional , chemical-free process to tan hides.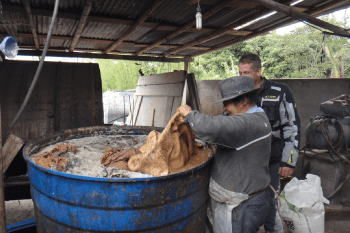 Quilotoa Crater Lake
The 3 kilometres (2 mi) wide caldera was formed by the collapse of this dacite volcano following a catastrophic VEI-6 eruption about 800 years ago.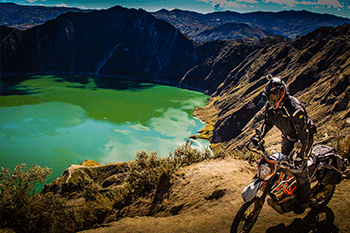 Bellavista Bird Lodge
This world-famous bird lodge is located in the thick of the Nono Biological Reserve, regarded as one of the world's most bio-diverse forests. It frequently wins the Audobon Society's prize each year for the number of bird species sighted.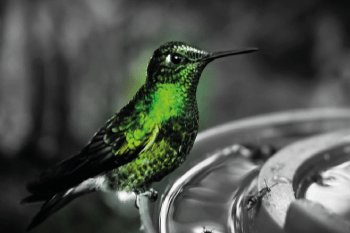 Chocolate Farm
You'll visit a cacao farm to learn how it is grown, harvested and turned into delicious chocolate!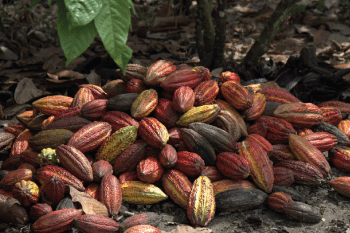 Pre-Tour Briefing
You'll be provided with a thoughtful presentation on Ecuadorian driving courtesies, customs and unwritten rules of the road as well as a complete overview of the route prior to your departure.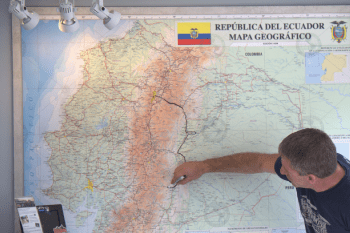 Moonshine Distillery
Visit a working "moonshine" distillery to see how Ecuadorians turn sugar cane into a delicious alchoholic beverage.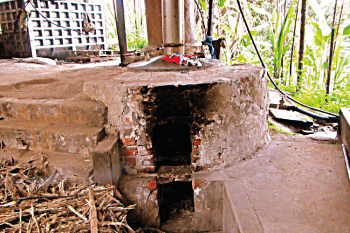 Cobblestone Roads
You'll ride on a few miles of one of Ecuador's national treasures - its network of ancient cobblestone roads that are maintained by hand in a traditional way. They are absolutely beautiful!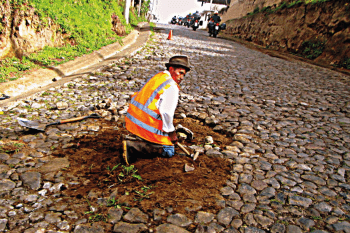 Cheese Maker
Learn how the traditional Andino Cheese is made in small batches from local dairy farms. This is a delicious, mature ripened cheese that goes well with just about everything!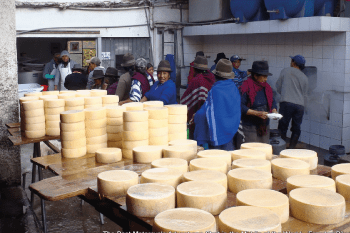 Roadside Pig Roasts
Try some new roadside snacks such as guinea pig or roasted pork. Absolutely delicious!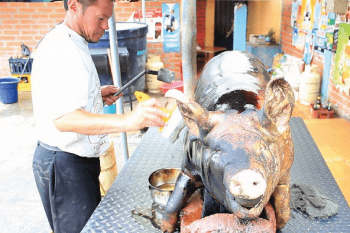 Traditional Farming
You'll visit communities where the way of life has not changed in centuries, where farming is still done with the assistance of animals and the results are pure and delicious food!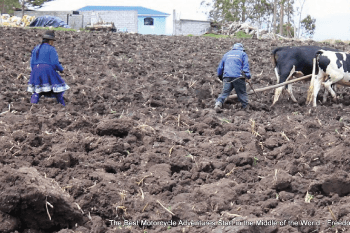 Small Towns
Experience a different pace of life as you ride through small villages and towns in remote areas of the country. Life is a bit more "tranquilo" here and people have time to be helpful and very friendly.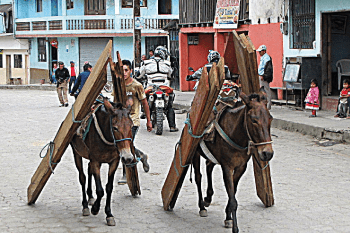 Water Crossings
On this tour you will have a few river and stream crossings.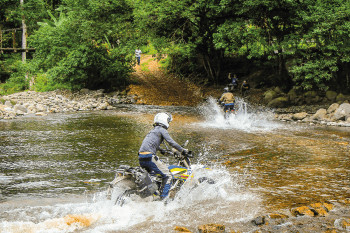 Wood Furniture Maker
Visit with skilled wood furniture makers.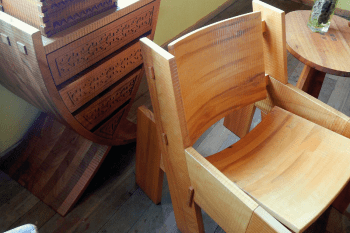 Laguna Mojanda
Mojanda is a complex of three high altitude lakes Caricocha (male lake) or big lake, Huarmicocha (female lake) or small lake and Yanacocha or black lake.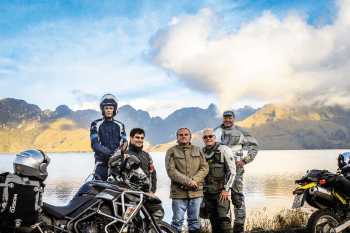 Cabbage Palm Farm
You probably know Cabbage Palm as "hearts of palm" that you will find in your salads. Have you ever had one right out of the field, fresh and not canned? It is fantastic!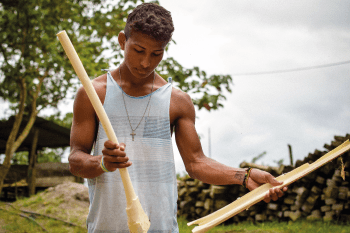 Coffee Plantation
Tour a working coffee plantation and see how the beans are grown, cultivated, sorted and roasted to perfection to make some of the best coffee in the world.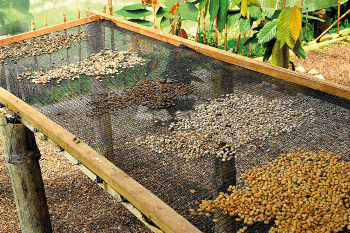 Volcan Cotopaxi
Cotopaxi, on Ecuador's famed "Avenue of the Volcanoes" is the world's highest active volcano.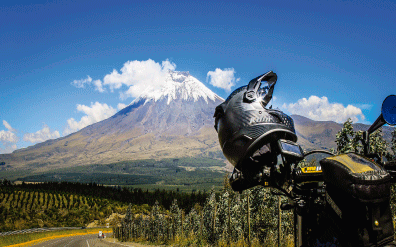 Cuicocha Lake
Cuicocha is a lake with an island in the shape of a guinea pig that also is home to wild guinea pigs.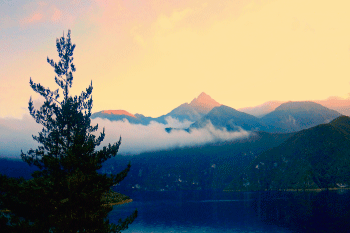 Nangulvi Hot Springs
The Nangulvi hot springs, alongside the roaring Rio Intag, provide you with several pools of varying temperatures. The location is stunning.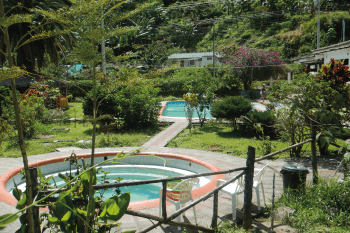 Jerusalem Dry Forest Reserve
This dry Andean forest is a testament to the extreme biodiversity of Ecuador.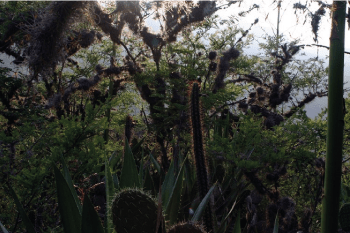 Soccer Ball Maker
See how soccer balls are hand made one by one in this small factory.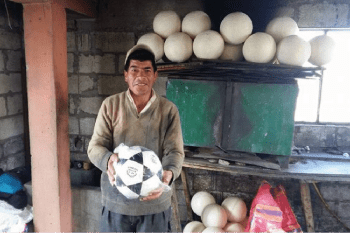 Wool Mill
Visit a working wool mill with machinery from 1900s New England. See how alpaca and sheep wool is sheared and converted to beautiful high quality wool yarns and exported around the world.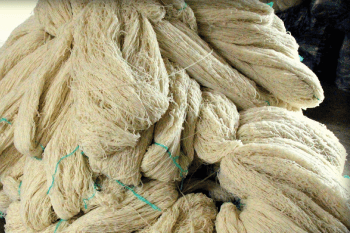 Elevation Profile - Day 1
+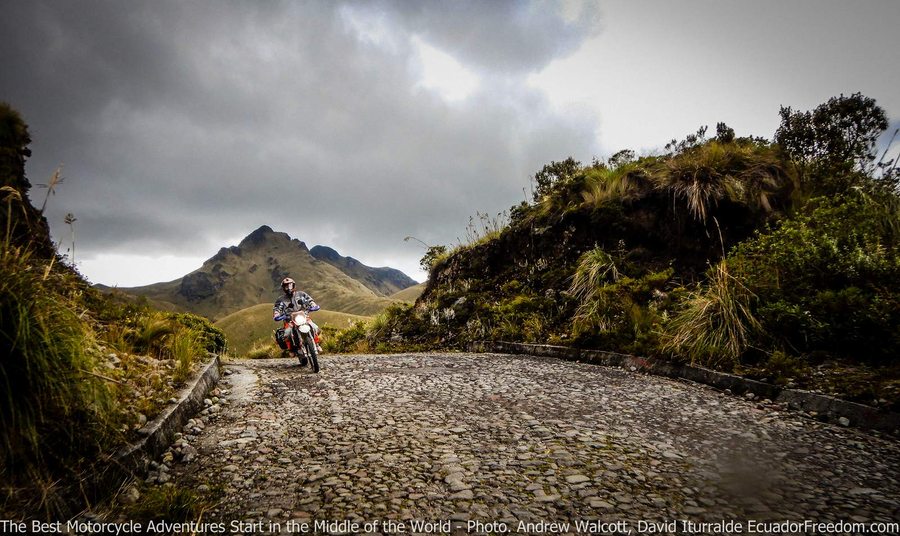 Day 1
Quito-Inti'ñan-San José de Minas-Laguna de Mojanda-Otavalo
Distance Covered: 94 miles / 151 km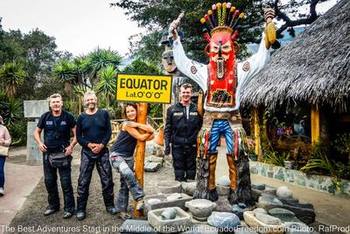 You'll begin your six-day "Offroad Ecuador ADVenture" from our shop located in Quito, Ecuador - 2850 meters (almost 2 miles above sea level) in the Andes Mountains, on the Equator, in South America. Quito was declared a World Heritage Site by UNESCO in the 1970s for having the best preserved and least altered historic center in all of Latin America. We recommend you arrive a day or two in advance of the tour to experience this majestic city and to acclimate yourself to the high altitude.
On the morning of the tour departure, you'll be outfitted with the offroad-capable motorcycle of your choice and given a thoughtful presentation that will answer all your questions concerning the route, local customs, rules of the road, and other tips to make sure you enjoy the road and have the information you need to make this ride a success. We provide you with a GPS that has been programmed with a route for each day. A "Road Book" will provide you with information for each day's route including points of interest, interesting facts, suggested lunch stops and advice on travel and departure times. We will provide you with a fully adventure-ready motorcycle with luggage and the accessories to complete your trip safely and securely.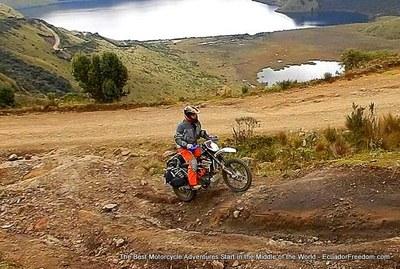 The first day's ride is intended to give you a sampling of the different types of roads you will be riding. You will ride on a combination of asphalt, dry gravel, cobblestone, and unimproved dirt roads.
The first stop will be in the middle of the world. The Inti-ñan museum is situated right on the Equator. Inti-ñan means "path of the Sun" in Quechua, a native language of Ecuador. Be sure to take a tour of this magical site, a place that the indigenous peoples have revered for thousands of years.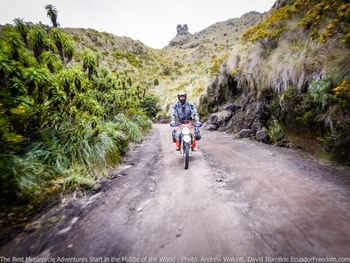 You will learn how the ancient people came to understand that this was the center of the world, centuries before "modern" geography or GPS devices. You can play with gravity here and perform some experiments to learn about the Coriolis effect caused by the Earth's rotation. See the water spin different directions down a drain, depending on which hemisphere it is sitting in. You will also get to know how the indigenous populations of Ecuador live and visit some typical homes of a few different cultures you will find in Ecuador. This tour will give you excellent background information on Ecuador and its people so that you will better understand the cultures as you pass through the various regions of Ecuador over the next six days.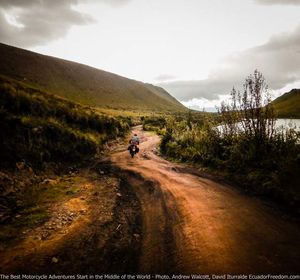 After the visit to the Inti-ñan museum, you will be riding in the Northern Hemisphere. You will first pass through a dry desert canyon on a dusty dirt road that will bring you into a deep gorge. This area resembles the landscapes you would find in Arizona or the California desert. Then ride out of the canyon into a lush green patchwork of fields of vegetables, roses, and dairy cattle. Stop in the charming little town of San José de Minas with its beautiful stone church and well-manicured central park.
From San José de Minas, climb in altitude on spectacular dirt back roads giving grand vistas of the serene farmlands and forests below. The wonderful aromas of eucalyptus and pine forests will waft into your helmet.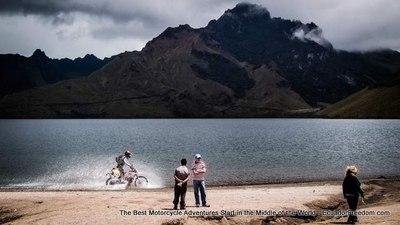 Stop to add a layer of clothing as you ride up to a height of over 12,000 feet (3714 meters) to view the majestic Mojanda Lake surrounded by the Fuya-Fuya volcano which stands guard over it. This high road will be the first time you will be in the high-altitude paramo climate on this ride.
From there, ride down, through the colonial city of Otavalo, famous for its expansive indigenous market. Otavalo is known to have one of the most highly concentrated Native American populations in all of the Americas. You should stop here to view the various crafts, textiles and other unique colorful items for sale at the Plaza de Los Ponchos.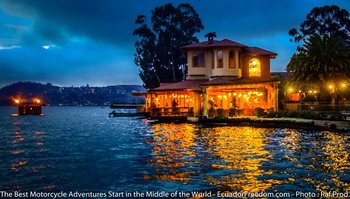 You will finish the day's ride along the calming shores of Lake San Pablo and settle in for the night in a private lakeside cabin at the Hosteria Cabanas del Lago. Have a delicious dinner (included) alongside the lake and return to your cabin, warmed by a wood fireplace.
Day 4 - Salinas de Guaranda
What to Expect
This self-guided adventure will start in our offices located in the Carolina neighborhood of Quito, the safest and most convenient part of Quito. Prior to your departure (on the day prior or the morning of departure), you will be provided a detailed and thoughtful presentation on Ecuadorian rules of the road, customs and courtesies. We will instruct you on how to operate your pre-programmed GPS unit and given a packet that includes your prepaid hotel vouchers and daily map sheets with points of interest. The route will be reviewed with you in detail to provide you with useful information about the timing, suggestions for meals and where to get gas along the way.
On the morning of your departure, we will provide the offroad-capable motorcycle of your choice which is fitted with waterproof luggage system, a first aid kit, a tankbag if you want one, spare innertubes or tire repair kit and a complete set of tools. In addition, you will have a prepaid cell phone to call us for support at any time during your trip. We will review the bike with our multi-point checklist to be sure that everything is in perfect working order before your departure and that you know what to do in case of an emergency or breakdown.
Once you are all ready and packed up, you will roll out of the city using the tunnel just a few blocks from our shop. You will take a route to the north of the city which involves very little traffic. Once out of the city, the route includes roads through very remote areas of the Ecuadorian Andes with little traffic.
The route you will follow over the next six days is based on several years' of experience and riding these routes many times on our guided version of the tour. The route is not highly technical and is composed primarily of unimproved dirt roads (natural dirt roads without gravel, etc.). There are several stops available which are marked on the GPS unit and the daily route sheets. You will have the freedom to stop and start as much as you like but will be responsible for getting to your hotel each night. You should be aware that there are two long riding days and that you will be traveling in areas where access to medical care may be several hours away.
You will have many opportunities for amazing photos and stops in remote villages where visitors are very rare. Locals are friendly and the areas visited are very safe with very low crime rates.
During your ride, Ecuador Freedom staff will monitor your daily progress using an onboard GPS satellite tracking system and can assist you by telephone if you need to change your route, need roadside assistance or help in any way.
Upon returning, you will have access to our honor bar, jacuzzi, hot shower and staff that can assist you with your next destination.
Weather and Temperatures
Weather and temperature ranges in Ecuador are generally the same year round. In the highlands, you can expect the chance of passing showers but rarely a full day of rain. Chances for a full day of rain are more likely on the western slopes of the Andes in March, April and early May. Please see this article for more information about the weather in Ecuador.

Accommodations
Throughout the tour, you will stay in ideally located, high and medium-end accommodations. See this page for details and links to the accommodations provided. Ecuador Freedom has the right to substitute accommodations of equal quality due to availability and will notify you of these changes.

Packing List and Preparation
Ecuador Freedom will provide you with detailed information to prepare for the ride, including a packing list. You should know how to make general motorcycle repairs and maintenance and to be able to change an inner tube. We recommend that you familiarize yourself in advance with these recommended guidebooks and maps.
Accommodations on this Tour
Accommodations on this tour
Our accommodations are selected for their exceptional quality, location, and unique character. Below are the accommodations featured on this tour.
Beautiful wood cabins along tranquil Lago San Pablo. We love the over-the-lake diniing room, their homemade chocolate liqueur and our favorite server, Paulina!
The Septimo Paraiso Cloudforest Lodge is Mindo's best hotel and winner of Luxury Travel Guide's award for best birding lodge. It features a heated pool, regular pool, jacuzzi and billiards room. Each room is individually decorated and its restaurant serves hearty country fare with their signature onion bread.
The Mama hilda Inn is family-run and you will be taken in and treated as a part of the family! Each night a family-style Ecuadorian meal is served with pots and pots of comfort food.
This hotel is new and just opened in November 2018. We have been working with the owner for several years where he managed another hotel in town.
Located in the costal region, you will appreicate the swimming facilities of Hotel Olimpico and its spacious and comfortable rooms.
Video - How We Select Accommodations
Dates and Pricing
OFFROAD Ecuador ADVenture Self-Guided Tour

Standard Pricing


1 Room 1 Rider
Single Occupancy
1 Pillion or Passenger Sharing Room with Rider
Double Occupancy
Discounted Price for 2nd Bike
Double Occupancy
Yamaha XT250
$1,795
n/a
$1,345
BMW G310GS
$1,915
$495
$1,475
BMW G310GS (LOWERED)
$1,915
$495
$1,475
Suzuki DR650
$2,035
n/a
$1,595
Suzuki DR650 (LOWERED)
$2,035
n/a
$1,595
SWM RS 650R
$2,035
n/a
$1,595
BMW G 650 GS
$2,155
$495
$1,765

Yamaha Ténéré XT660
$2,275
$495
$1,825
Husqvarna 701 Enduro
$2,335
n/a
$1,985
BMW F700 GS
$2,275
$495
$1,825
BMW F750GS
$2,335
$495
$1,885
Triumph Tiger 800XCx
$2,395
$495
$1,945
BMW F800GS
$2,395
$495
$1,945
BMW F850GS
$2,455
$495
$2,005
Honda Africa Twin CRF1000
$2,455
$495
$2,005
Honda Africa Twin CRF1000 DCT
$2,455
$495
$2,005


4x4

Jeep Wrangler
$2,695
$495
$2,275
Volkswagen Amarok
$2,515
$495
$2,125
Ford Ranger Diesel

$2,515
$495
$2,125
Available all year except April 1 - May 15.
Tour Includes
Unlimited Mileage Motorcycle Rental

GPS Navigation System with programmed routes for each day

Back-office tracking and monitoring

Road Book with daily maps and guide to points of interest

Detailed pre-ride briefing

Preparation lists, information and videos

Prepaid cell phone with 24 hour support

Saddlebags or hard luggage system

Tank bag

Single occupancy hotel room or suite (best rooms available)

5 Breakfasts, 3 Dinners

25% discount on high quality riding gear from

Souvenir T-Shirt

Souvenir decal

Luggage storage and locker usage

VIP access to the Freedom Riders' Lounge™ with hot shower, jacuzzi, and honor bar.
Not included
100% Refundable security deposit to cover any damage to the rental motorcycle

Ecuador IVA (sales) tax ONLY if you are Ecuadorian

NO TAX FOR TOURISTS TO ECUADOR!

Meals not listed

Gas
Before booking a self-guided tour with us, please carefully read our Self-Guided Motorcycle Tour Terms and Conditions
To secure your booking you will need to pay 50% at the time of booking your rental or tour. Please contact us using the "Reserve Now" button on this page and we will send you a payment request from our secure payments provider (currently we use "Kushki" - an Ecuadorian secure payments provider. Alternatively, we may request payment through PayPal. If you prefer to send a wire transfer, please let us know and we will provide our banking details.
Deposits are refundable minus 10% of the total rental or tour price only if canceled at least 90 days prior to departure or pick-up date. Cancellations are very costly to us as they impede our planning and ability to sell rentals and tours to other customers. Therefore, cancellations for any reason made less than 90 days before the pickup or departure date are not refundable nor may they be applied to a future rental or tour.
To protect yourself from this loss of your deposit, it is up to you to secure travel insurance that covers cancellations due to health problems, civil unrest, acts of God, family tragedies or problems with flight departures, etc.
We recommend Ripcord Travel Insurance. They provide very extensive travel insurance plus have outstanding repatriation and assistance in an emergency. To purchase, just go to this page
The balance (second 50%) of your rental or tour is due when you pick up the bike in our office in Quito. The second 50% can be paid in cash (United States Dollars) or with a credit card. We accept Mastercard, Visa, and American Express.
Available Extensions
Add additional rest days to your trip to relax and explore the area on your own. Simple, flat fees include extra lodging, breakfast and vehicle rental fees.
Septimo Paraiso Cloudforest Reserve Lodge
Add an extra rest day in Mindo. Flat Fee: $300
Galapagos Cruise
We work with the the longest-running cruise operator in the Galapagos and offer our tour customers special reduced pricing on permium tours in the Galapagos of 4,5 and 8 day cruises.
Please let us know if you would like more info