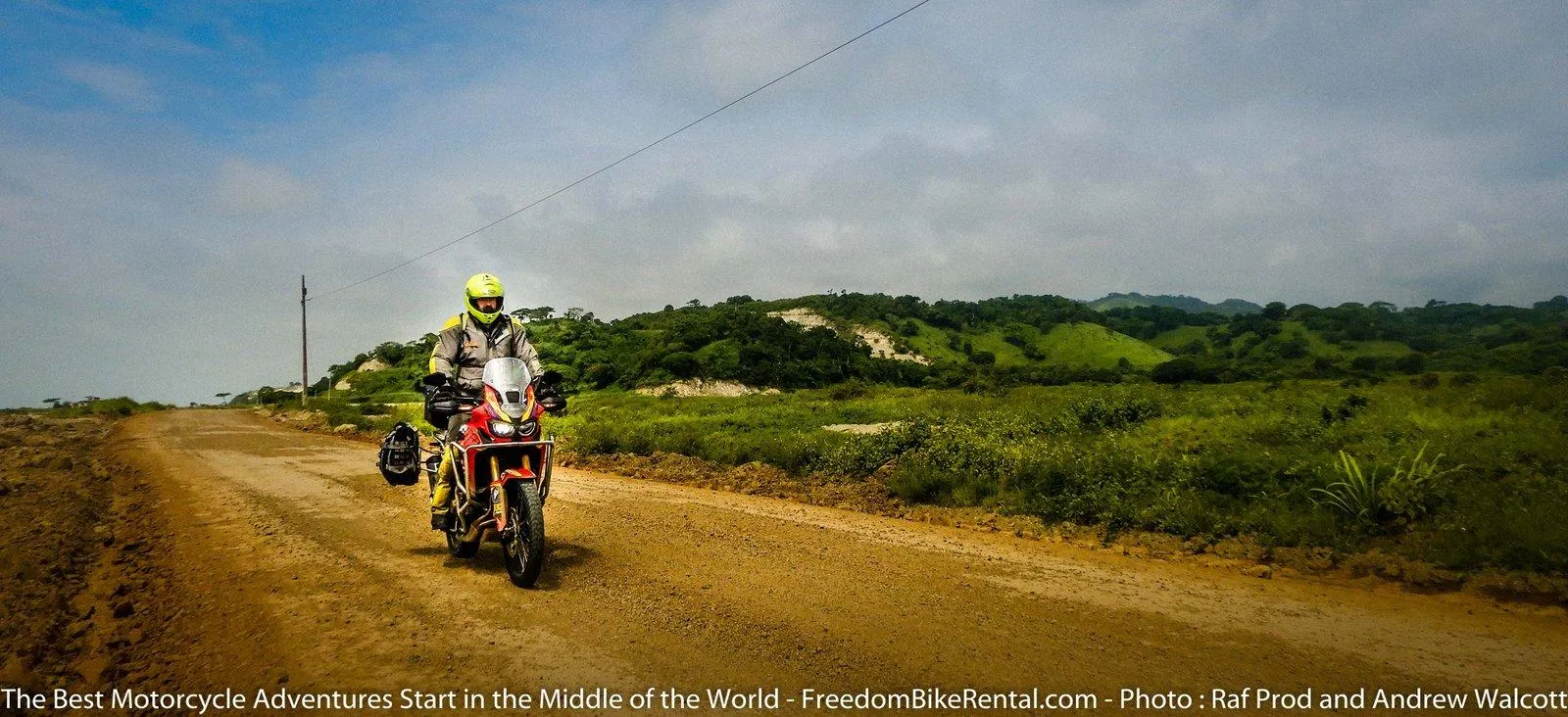 A Motorcyclist's Guide to Eating on the Coast of Ecuador
For motorcycle adventure riders, one of the great pleasures of riding Ecuador's Pacific coast is the opportunity to discover the unique cuisine of the region. From Esmeraldas in the north to the port city of Guayaquil in the south, one can sample dishes with exotic names such as comida encocada, tonga, and cazuela de verde. A source of pride among the population, many of these savory meals also have a unique story about how they came to be.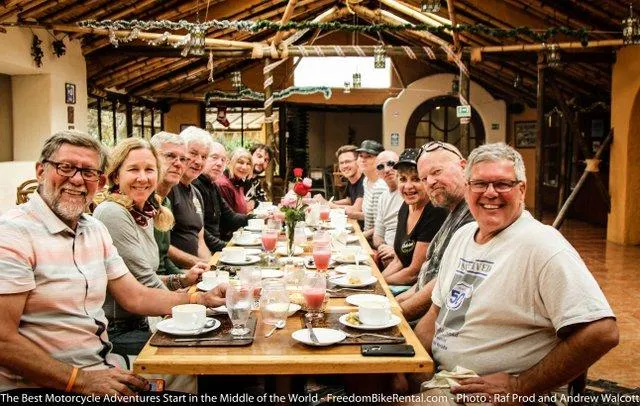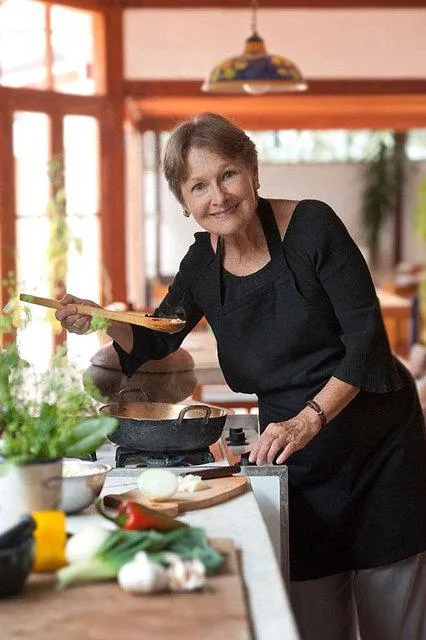 Recently, Ecuador Freedom Bike Rental spoke with Michelle O. Fried, author of the authoritative Ecuadorean cookbook, Comidas del Ecuador and founder of FUEGOS, a non-profit dedicated to preserving culinary traditions on the coast by training locals for careers as professional chefs. We asked her to talk a little about what is distinct cuisine along Ecuador's coast and what someone on a motorcycle or 4x4 adventure should try when traveling there.
She believes the coastal flavors of the Afro-Ecuadorian community of Esmeraldas are some of the best. With its proximity to the ocean, the locals have long had natural expertise with seafood, and they know that it should be only lightly grilled, steamed, or fried for optimal taste and texture.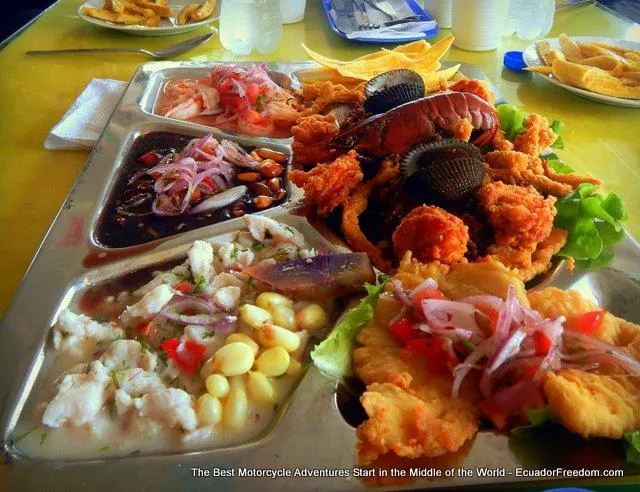 Instead, they flavor the fresh seafood by stewing it in coconut milk, a tradition known as "encocado." Coconut milk itself is high in fat and is extracted from the hard flesh of a ripe coconut after it has been grated with the shell of black conch (unique to Ecuador, and, unfortunately, at risk of extinction).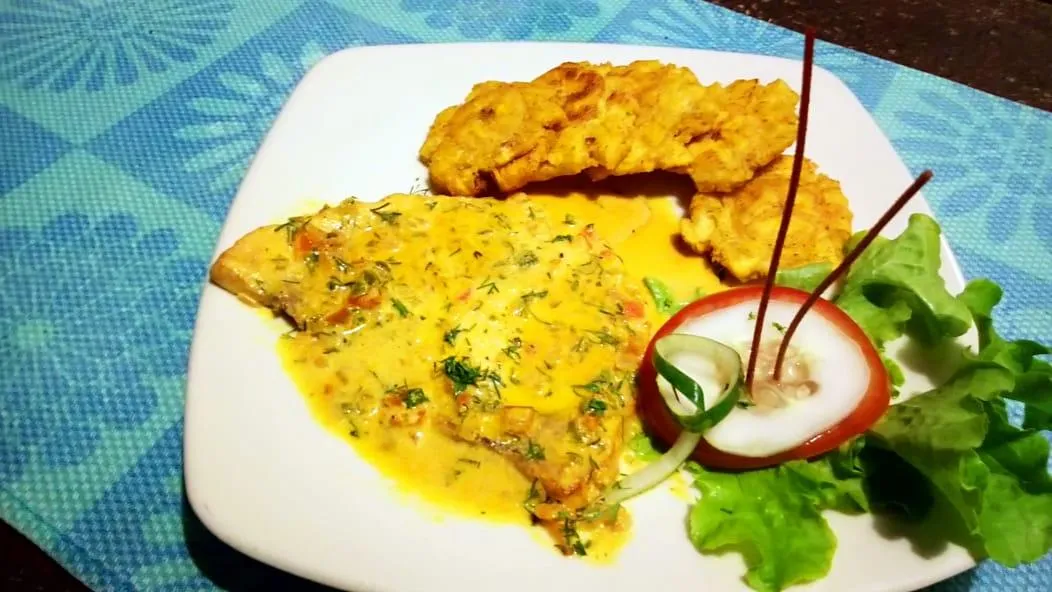 An iconic treat originating in the region, the cocada, also uses coconut as its primary ingredient. A compound of shredded coconut, milk, cane sugar, and cooked over firewood, these ping-pong ball-sized sweets are very chewy and popular throughout Ecuador. They make a great snack to tuck away in your tank bag or glove compartment, as long as you keep them in a plastic bag. They are very sticky!
As you ride further south, you will notice that in communities such as Portoviejo, peanut fat begins to overtake coconut fat as the prime source of flavor and creaminess in the local cuisine. In Manabí province, meals are often cooked in a large clay pot known as the "horno Manaba."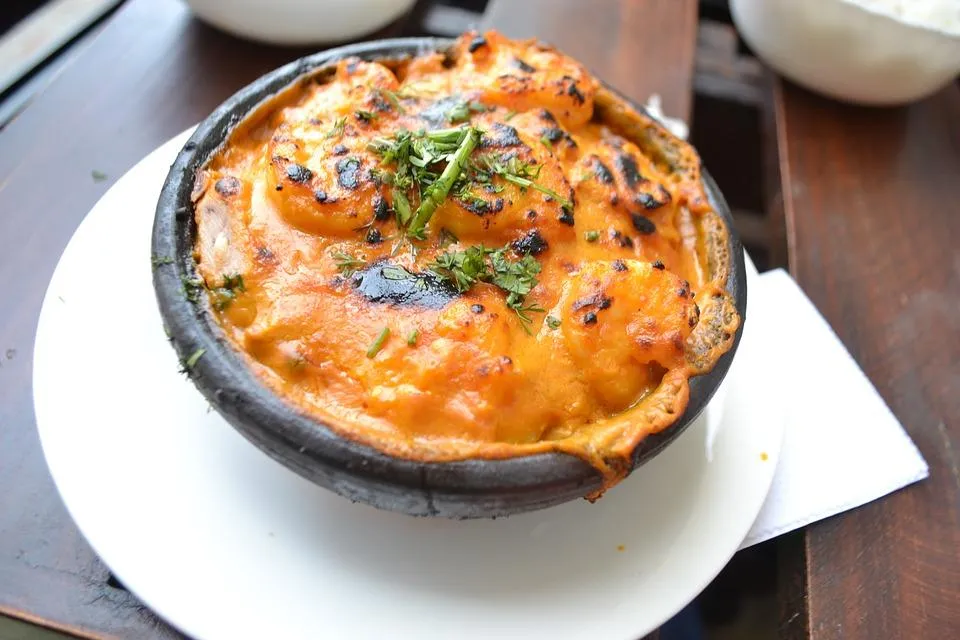 Often, a peanut soup, which also serves as a sauce, is served along with a roasted purple sweet potato known as camote or the root vegetable known as the yuca. Yuca is almost always fried and is commonly a side dish throughout Ecuador. It is often used to make delicious bread, which will melt in your mouth. You can get the best fresh yuca bread from the vendors selling it in plain, brown paper bags at the speed bumps in the town of Puerto Nuevo, a town you'll cross.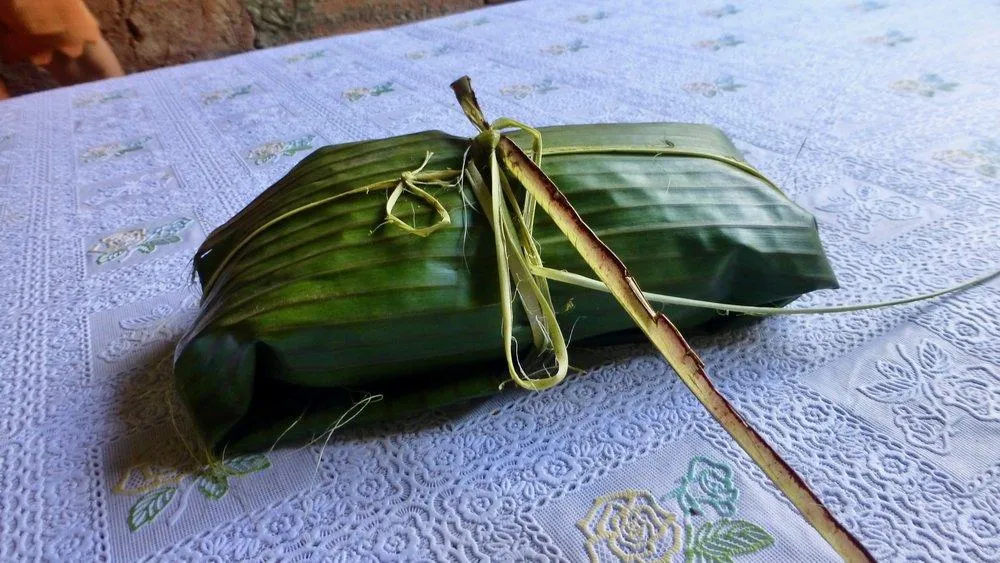 through on the way to the coast from Quito.
Ground peanuts are also a principal ingredient in a characteristic local condiment known as salprieta, made of an equal amount of ground, toasted corn and blended with oregano, coriander, pepper, salt, and sometimes onion or garlic. "It's something that you can put in anything," she explains, "soup, eggs, rice."
In the Manabí province, in cities such as Portoviejo, Manta, and Chone, one of the most popular (and portable) meals is the tonga (also known as a pandao). Wrapped in steamed palm leaves, like a tamale, it offers up a few ounces of rice, fried plantain (a variation of the banana species, known locally as a maduro, meaning "mature," since it is commonly cooked at full ripeness), chicken, and peanut sauce.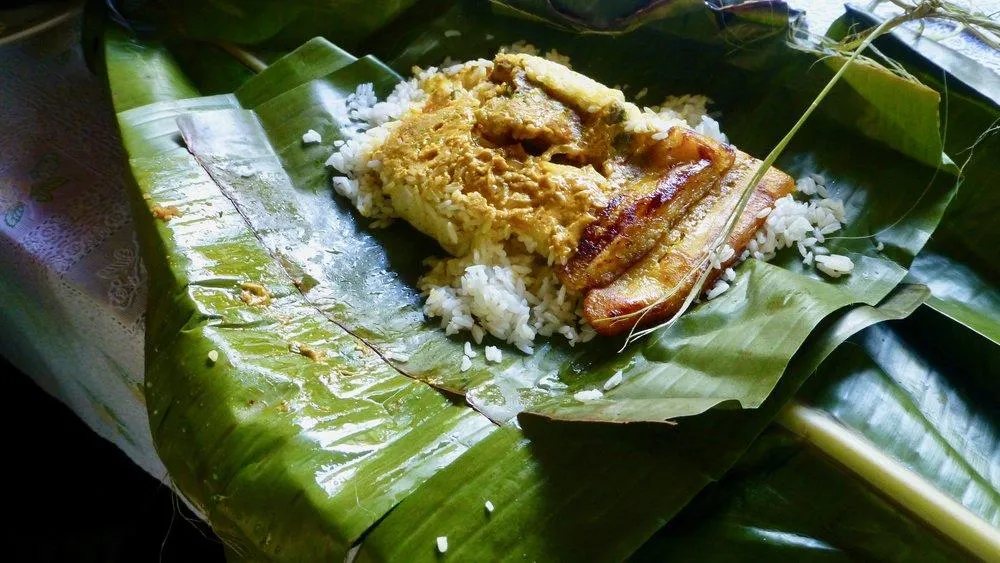 The banana palm leaf preserves the heat of a freshly-made tonga more effectively than aluminum foil or plastic wrap. It provides an ecological advantage as well – one can open the leaf directly on a table, where it can function as an organic "plate." According to the cookbook author, Michelle Fried, these leaves more effectively preserve and enhance flavor.
The tonga has its origins in the 19th century along Ecuador's coast, when much of the region was still a jungle and rich with rubber tree plants. Native women prepared these portable meals for their men before leaving for a long, hard day of labor in sweltering heat harvesting latex.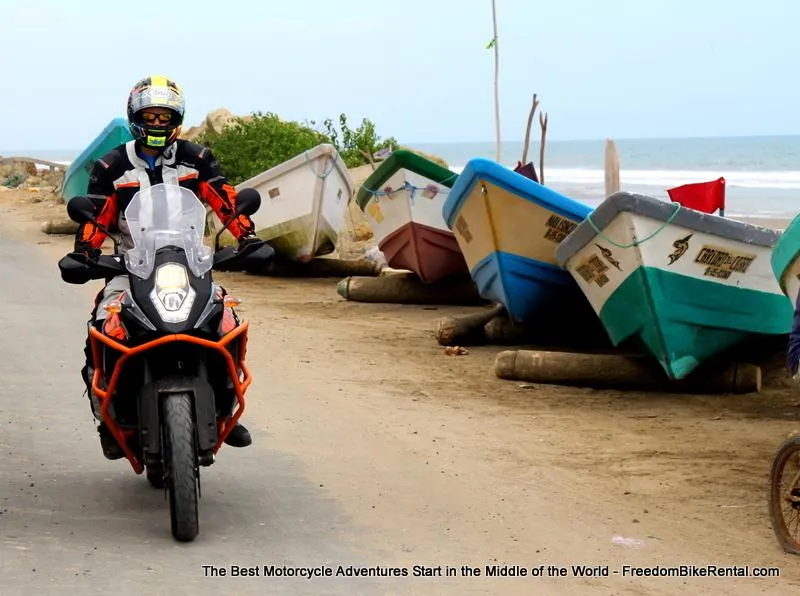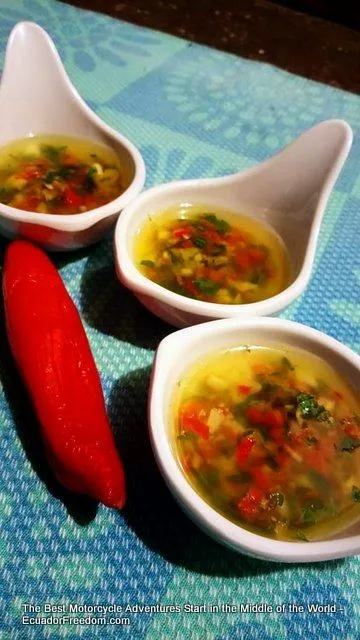 Around Ecuador, you will find a small bowl of a sauce on every table called aji (pronounced "ah-hee") made from various combinations of tree tomatoes, pearl onions, salt, vinegar, lemon, and chile peppers. Each region proudly serves its variation of the recipe using local ingredients, and the color and texture of the sauce will change as you ride through the country. For people who like their meals extra spicy, Manabí provides a unique aji made from chili peppers and banana vinegar - the smaller the pepper, the hotter the sauce.
A native stew (known as "menestra" in Spanish) is often prepared with lentils, lima, or fava beans, usually fresh from the produce markets instead of dry beans. Whereas in the Andean sierra's cities, a typical stew only features legumes; on the coast, they are cooked up with diced servings of a local squash known as the zapallo.
Zapallo is also prepared with olive oil - a tradition native to this area - resulting from a fluke of history. In the latter part of the 19th century, the port city, Bahia de Caraquez, served as the principal exportation point in Ecuador for tagua, a hard, white nut used in Italy to make buttons for suits and dresses. This connection resulted in a corresponding importation of European goods, including olive oil, which has remained a core ingredient in the local stew ever since.
Meals in Manabí are also often prepared with large amounts of onion, celery, and garlic, especially in the city of Manta. "The other thing that gives their food so much flavor," says Michelle Fried, "is that the moment they serve a ceviche, soup, or stew, they put fresh herbs on top, which also makes their dishes rich in vitamins and minerals." Families and professional cooks often grow their own herbs, and they are always chopped immediately before serving.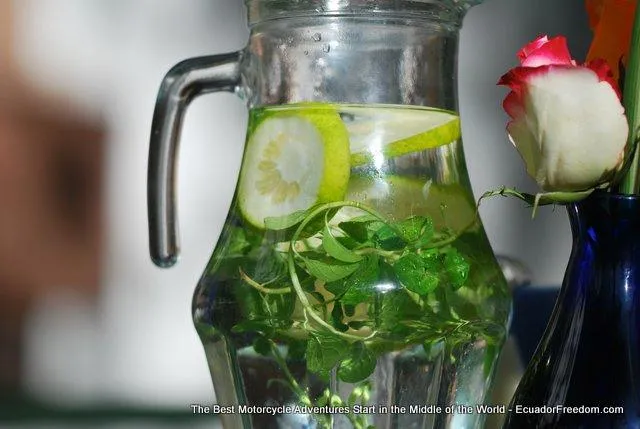 As for local beverages, instead of lemonade, one can sample a sweet drink made of plantain vinegar, water, and raw cane sugar. Or you can try a local alcoholic brew known as chicha de maiz, made from fig leaf and yellow corn. Drinking right out of a fresh, chilled coconut is also a cool refreshment from a motorcycle ride on the coast.
The town of Rocafuerte, north of Manta, is famous for its 300-plus dazzling varieties of colorful sweets, often wrapped in equally colorful paper. The core ingredients in most of these confections are milk, flour, sugar, and cinnamon, but then variations include the use of dried fruit, roasted nuts, or coconut. There are 146 families in the area dedicated to producing these treats.
Ecuador's cooking on the coast will fuel your body and, more importantly, your mind with the culture and knowledge of the communities of land that will linger long after your motorcycle adventure.
About the Author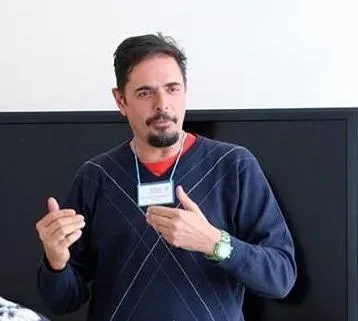 Rick Segreda is a professional film critic, travel writer, filmmaker, writing instructor, and public speaker, as well as a citizen of both Ecuador and the United States. Among the celebrities he's interviewed are "Black Swan" filmmaker Darren Aronofsky, graphic design legend Milton Glaser, and Les Stroud of the Discovery Channel program, "Survivorman." He articles, in both Spanish and English, have been published in Chile, Ecuador, England, and the United States.
Photos of Tonga courtesy of Alicia M. Rodriguez.
Ride Ecuador's Pacific Coast on any of these tours:
Other blog posts you might like: