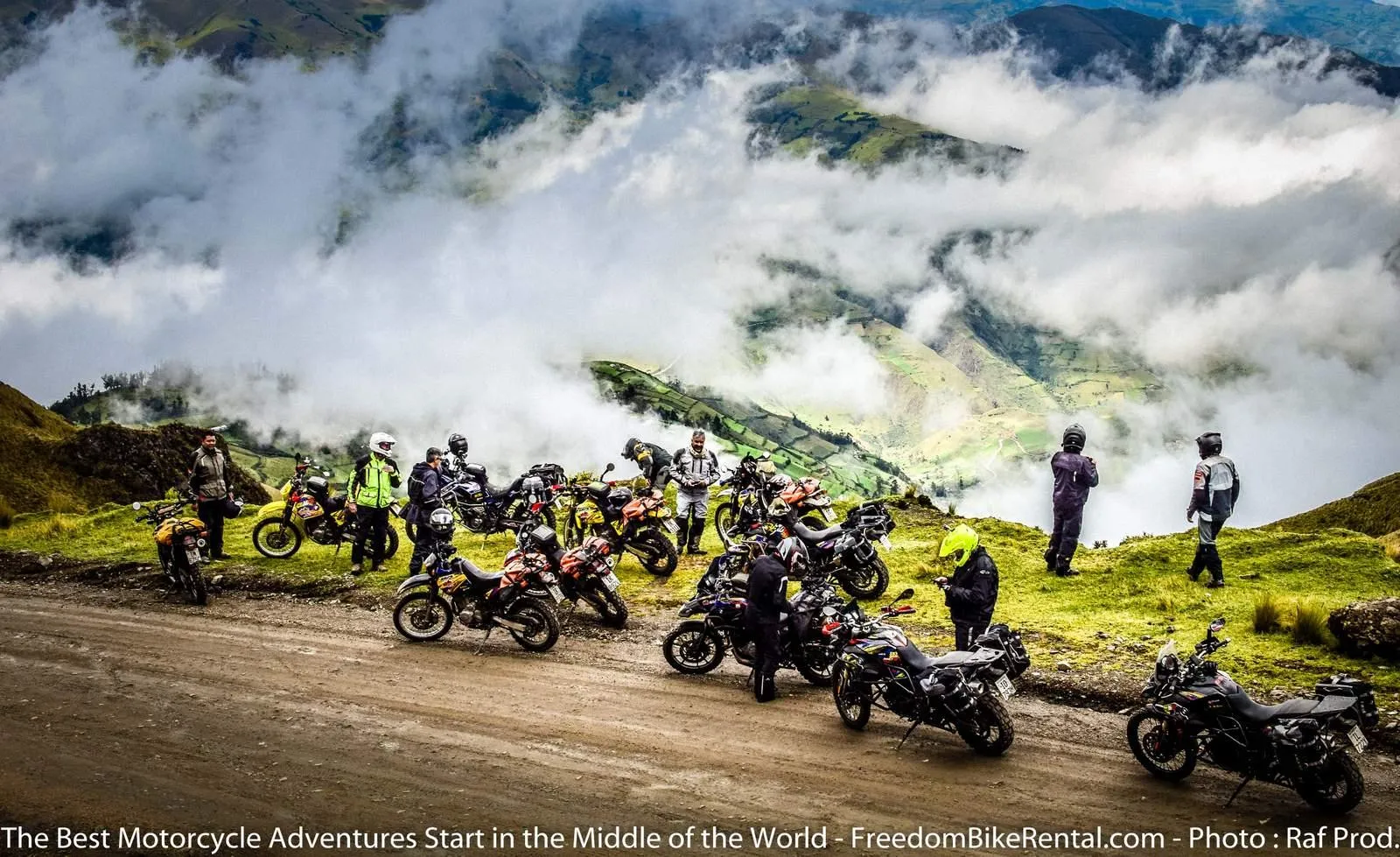 Motorcycles, Relationships, and Team Building: Why a Motorcycle Tour is the Best Approach
Going on a motorcycle adventure can mean a lot of different things. Unbridled freedom to ride and explore a new country, a fantastic way to get to know a different culture, experience an adventure of a lifetime – these are the first ones that come to mind. Motorcycles and travel are associated with independence, personal freedom, and discovery, and rightly so. But a motorbike tour can be a lot more than this.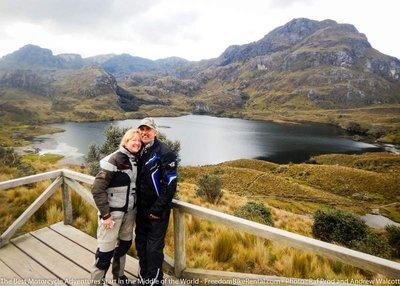 At Ecuador Freedom Bike Rental, we know how important it is to share the experience. Whether it's your spouse, partner, or your riding buddy, a motorcycle journey can cement your relationship and make the bond stronger. Shared adventures, discoveries, and new experiences aren't just better together: they're better at making people click and work towards a common goal.
We love taking couples, friends, and groups of people on our boutique motorcycle tours in Ecuador because seeing people enriched and happy when they get back is the best reward. But we also love helping organizations and companies strengthen and inspire their teams. That's right: a motorcycle tour can be a great team-building exercise. We get it - it's a novel idea, it sounds too good to be true, and it doesn't readily fit into the mainstream conversation. But, much like with our unique Ecuador routes, we're not here to follow the beaten path. We're here to change the conversation, and we're thrilled to invite you to come along.
Why Team Building Works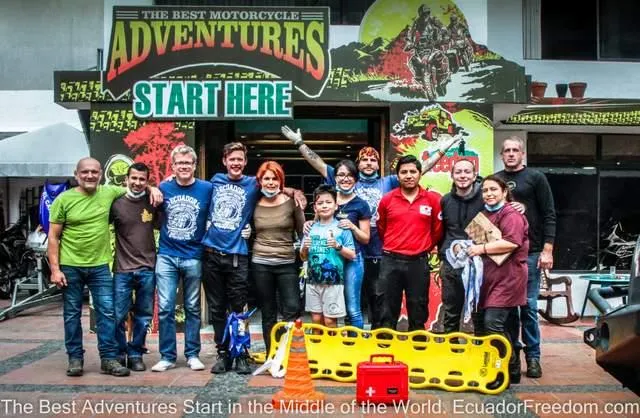 Ecuador Freedom Bike Rental was built on partnership, trust, and teamwork. That's why we're more than confident in saying that team building is easily among the most important investments you can make in your business. Team building can supercharge your team, maximize employee retention and productivity, and make the atmosphere in the workplace instantly change for the better. When the whole team is in sync, the workflow is significantly more efficient, stable, and coherent. More than that, team building exercises can inspire your crew to get more creative and make better decisions: motivation, after all, is everything.
When done right, team building activities create unique opportunities to get to know your colleagues and supervisors, develop trust and friendships, and create a more comfortable environment for everyone. On an individual level, team building also provides a remarkable chance to get to know your weaknesses or fears and utilize your greatest strengths, which you didn't even realize you possessed in the first place. Hidden talents tend to surface and blossom when people are challenged and encouraged at the same time and achieve something significant as part of a team.
On a larger scale, team building improves the team's morale and encourages better communication within the organization. It also teaches responsibility and teamwork because, to achieve a practical goal during a team-building exercise, each member has to work as a part of the group so that everyone can benefit. Last but not least, participating in team-building activities effortlessly creates greater understanding, empathy, and respect for different personalities, temperaments, and even cultures. It's a form of natural and seamless diversity training at its best.
Team building works because the idea is simple yet amazingly productive. And at Ecuador Freedom Bike Rental, we know just the right recipe for fun, adventure, and challenge to get people excited and co-operate effectively without ever realizing they're doing any work at all.
Team Spirit in the Wilderness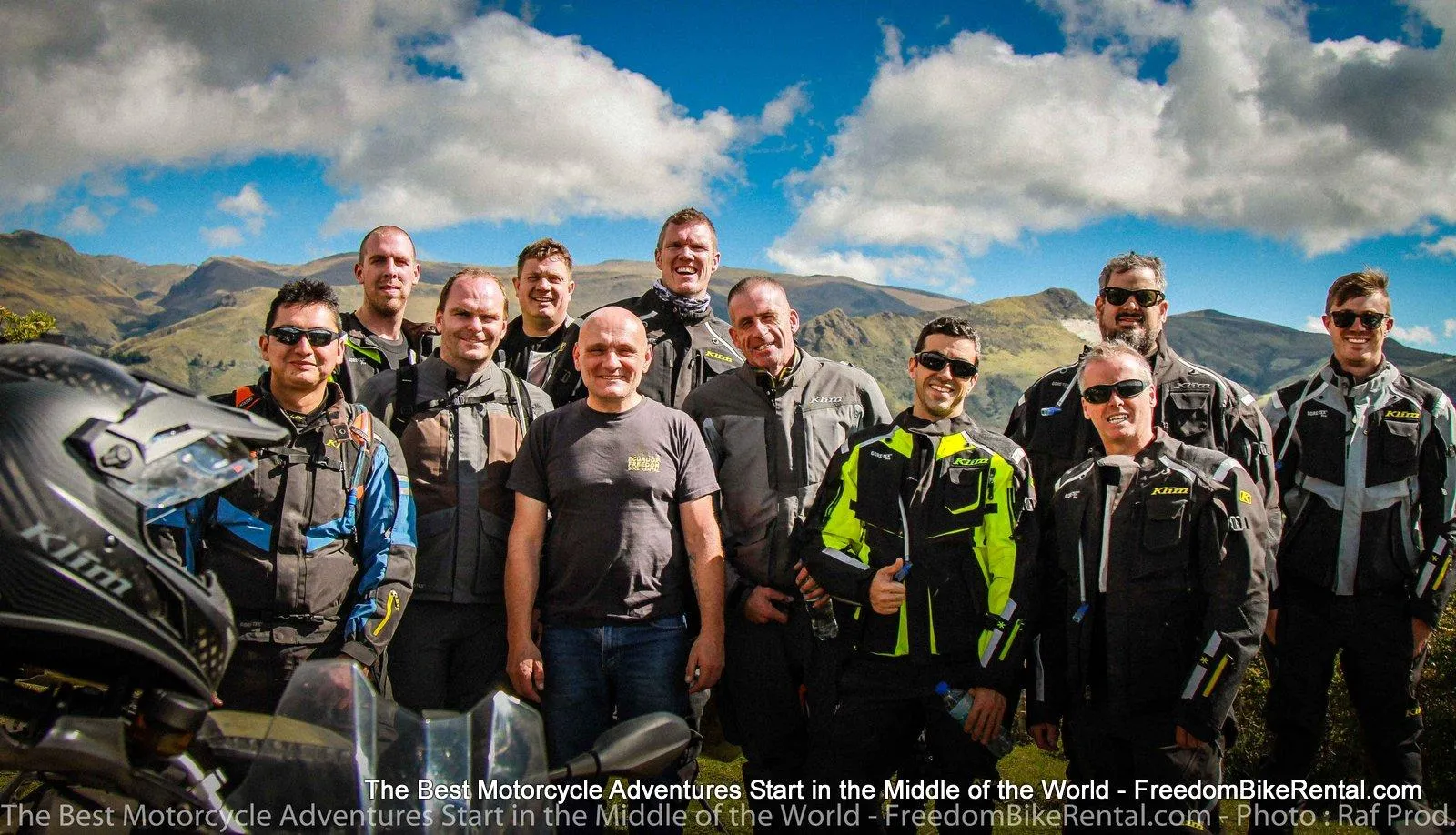 Various team-building activities range from relay races, motorcycle scavenger hunts to theatre classes and blindfolded food tasting. At Freedom Bike, we believe that the team spirit shines best when people face a thrilling adventure and put their limits to the test. Riding sturdy, off-road capable motorcycles across one of the most beautiful South American countries, doing a rope obstacle course in the Amazon jungle, and going on an Andean expedition makes people rediscover themselves and one another as a reliable team.
Outdoors is the best setting for team building activities there is. There are no distractions such as flashing phones, social media checks, computer screens, billboards, and ringing phones. People feel less trapped and closed off in open spaces and fresh air than in an office or a conference room. In an outdoor scenario, people are more relaxed and more ready to communicate and explore. Getting out of the office together is already a great start as it tends to eliminate pressure immediately and helps everyone feel more at ease. It's almost like skipping school together: it's that sweet taste of mischief and freedom, combined with a sense of belonging to your crew.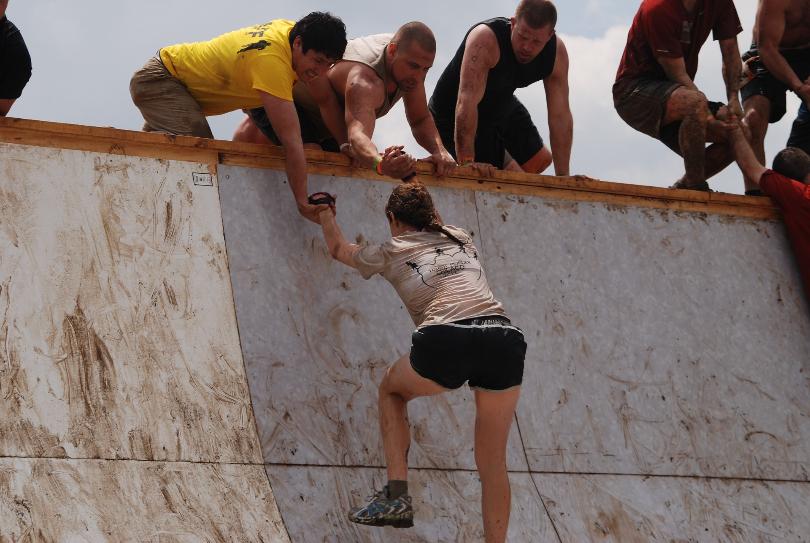 We don't just ride around. However: during our team-building tours, we also offer challenging but fun obstacle courses set in the Andes mountains and Amazon jungle. Doing an obstacle course as a team requires coordination and synchronization to accomplish the desired win. Even if Bill from accounting doesn't usually like working with Angela from reception, and Jason from sales thinks management is a little careless, they'll have to come together as a team to get over a wall in the obstacle course. It doesn't mean that employees are herded together and made to endure each other, though. Humans are wonderfully social creatures, and getting over that wall, as an example, might lead to Bill discovering Angela's got an extraordinary sense of coordination. At the same time, Jason might change his mind when he gets a leg-up from his supervisor. And the best part is that everyone is guaranteed to have a ton of fun, which helps to cement the experience positively.
Being (and Staying) Involved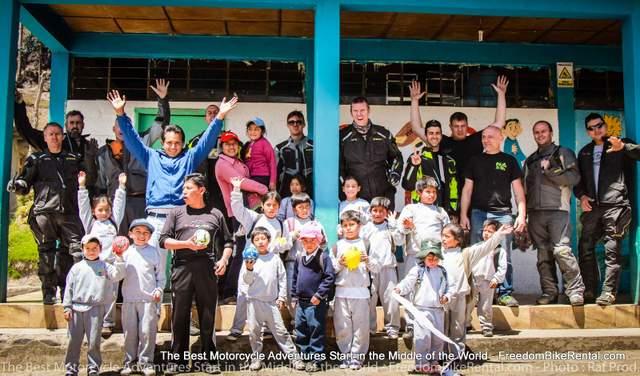 Team-building activities can become especially meaningful when paired with a social responsibility element that benefits a community or a charity. By getting involved in local community work or an environmental project, a team can become stronger as a unit. Sharing and giving back makes people feel like they're a part of something bigger, like making an impact and bringing a positive change in the world. This feel-good factor makes the experience even more unforgettable.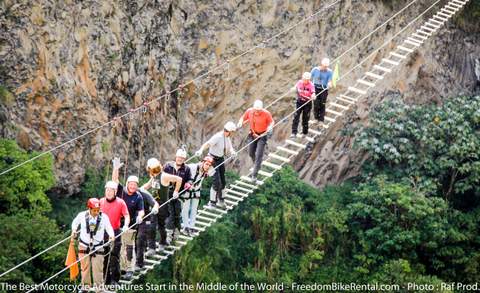 Helping others also helps a team develop and improve leadership, coordination, and decision-making skills. Getting involved in charity or community work gives the team a chance to participate in a project where everyone gets into it with an equal level of knowledge and responsibility. This means that no one faces any disadvantages or feels left out, overlooked, or less capable. Taking on something completely new levels the playing field, which boosts confidence, and when people feel good about themselves, spirits – and productivity – soar.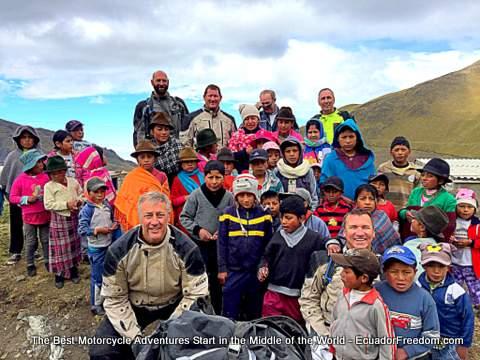 We have been living, working, and riding in Ecuador for over a decade, and we have developed strong bonds with the local communities. We have an exclusive Pack for a Purpose program where we ask travelers to bring school supplies, which are then distributed to remote, hard-to-access villages in Ecuador – you guessed it, on motorcycles. Pack for Purpose allows us to lend a helping hand to remote communities who face lack and disadvantage and learn the importance of compassion, service, and environmental responsibility. If your team takes part in this program, your people are guaranteed to return home with a renewed appreciation for giving to others, staying involved in your community, and caring for the environment. They will make meaningful connections, get involved in teamwork, and go back to work inspired.
Improving Relationships
Team building isn't just for corporations and organizations. We're always excited to see couples riding together because it means they're entirely in sync and on the same page. We often help friends and riders' groups to discover Ecuador. Once they come back, it's obvious the dynamic has changed: people trust each other more, are more willing to help each other, to tolerate each other's quirks, and to make sure everyone's having a great time.
A motorcycle tour can test your relationship to the max. Even on the best-prepared tour, and ours always are, there might be unexpected obstacles. A landslide, a rainy day, a river crossing – all of these require a certain amount of grit and determination. Overcoming a hurdle together and helping each other as you go along is the perfect foundation for a strong bond.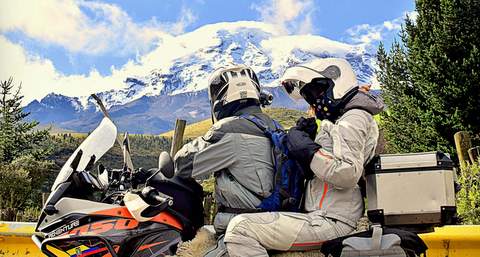 For group rides, we always monitor people's abilities and expectations to challenge them just enough, so they have a lot of fun and have a sense of achievement once the tour is over. We'll push you to try and ride a little dirt, invite you on a hike among the volcanoes, send you tubing down a jungle river, and we'll set you free in an Amazonian rope course and canopy walk to experience a taste of what it's like to face your fears, but go for it anyway.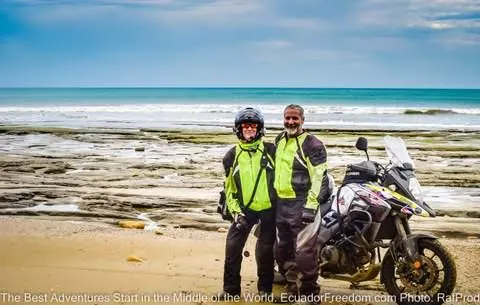 A motorcycle tour with team-building exercises works for couples, groups of friends, business partners, and co-workers alike. Don't worry if some of your colleagues don't ride adv bikes or dual-sport motorcycles; they can participate fully using one of our off-road capable 4-wheel-drive vehicles as well.
We offer tailor-made experiences, road-ready motorcycles, the most scenic routes, engaging cultural experiences, and the best that Ecuador offers. Contact us today to set up a tour for your organization or family!
Other blog posts you might like: