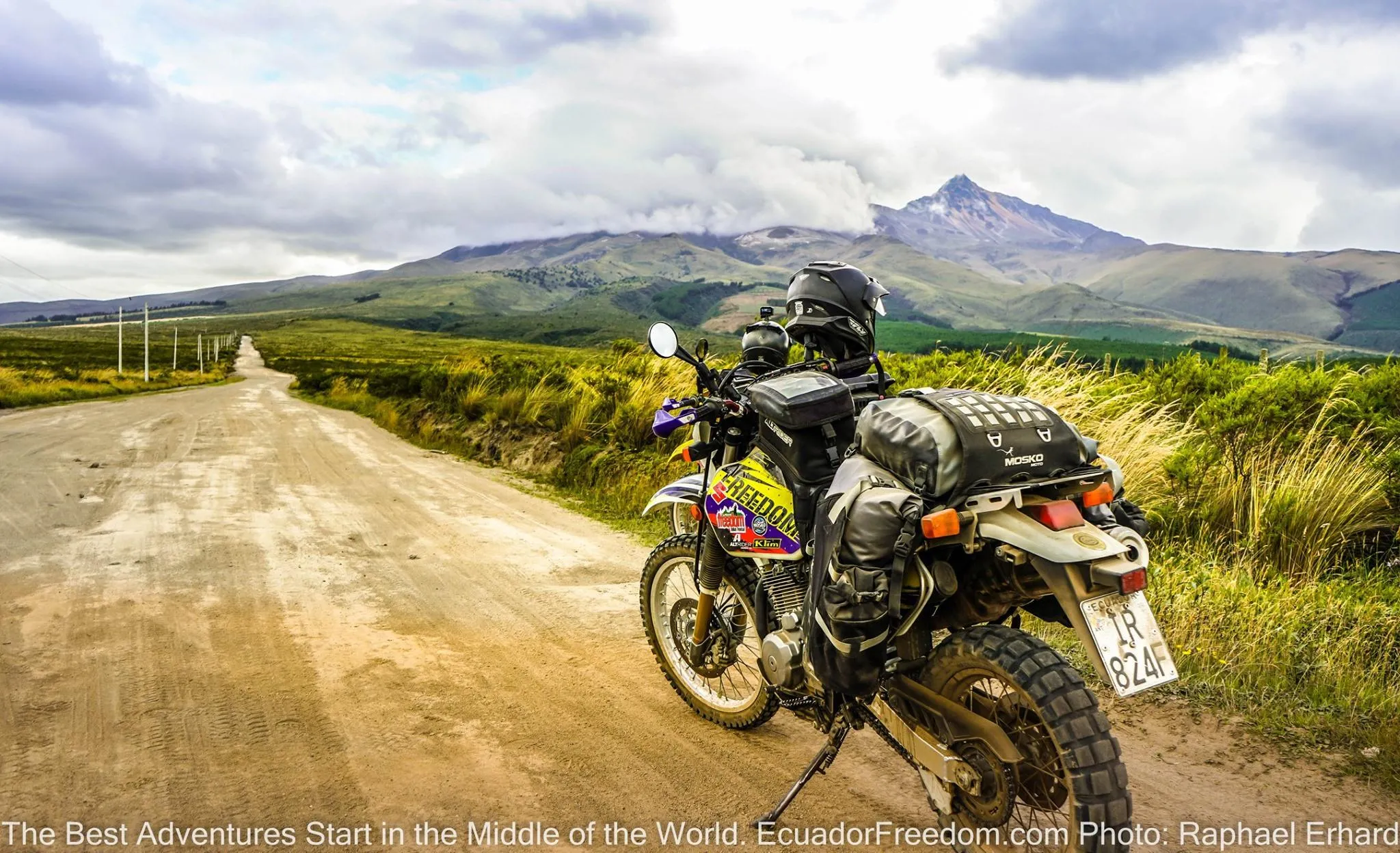 Freedom with Mosko Moto: Soft Luggage for Hard Travel
Ever since we started Ecuador Freedom, our mission has been simple: to share Ecuador's hidden gems off the beaten path with riders from around the world. Over a decade of exploring both Ecuador's famous locations and the deepest backcountry, we've ridden countless different routes, tested hundreds of different motorcycles on and off the road, and went through mountains of gear to find out what works best. All of our tours are designed to take riders on an adventure in the truest meaning of the word, which means we often get off the road, into places few tourists ever get to see, and through crazy weather and varying altitudes. Just like the motorcycles we ride, our gear needs to be versatile, reliable, and durable, and it has to withstand everything we throw at it.
This is why we've been solid Mosko Moto fans for years now, offering our riders motorcycles equipped with Mosko Moto bags. But it's a little more than a simple choice of bags. Here's why.
Mosquito Coast Ride
Mosko Moto was born in 2013 when founder Pete Day was traveling La Moskitia, or Mosquito Coast, in Honduras and Nicaragua on his bike. After a series of mishaps, Pete had to leave the motorcycle and return to the US, where he met Andrew Bryden. A lead bag designer at DaKine and the two set out on a mission to design motorcycle luggage that would revolutionize the market. "We started this business with a basic question: why is there such a large gap between the quality of gear we use in other outdoor sports - like backcountry skiing, backpacking, cycling, and climbing - and the gear available for our bikes?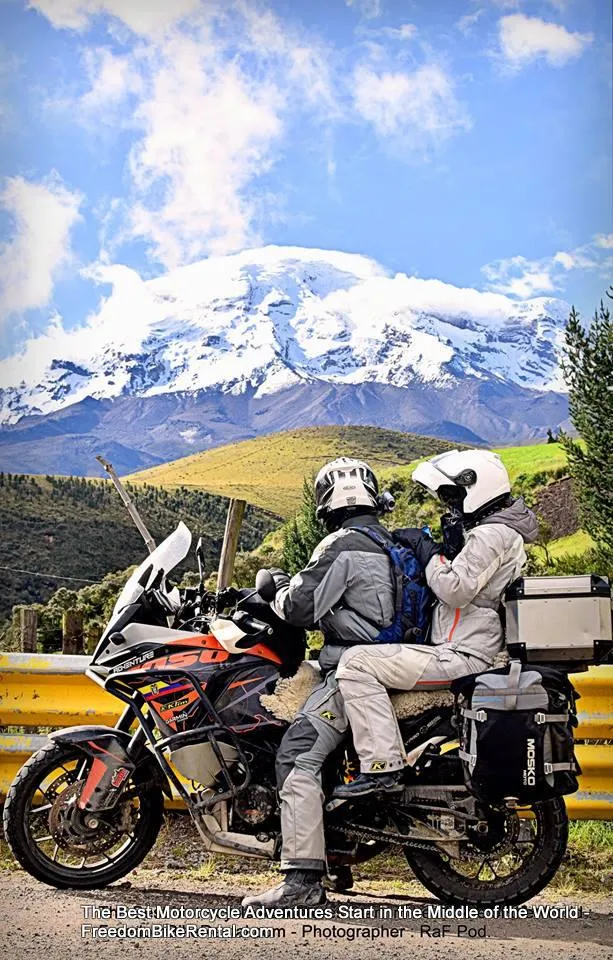 Moto gear requires a unique balance between durability and weight. The fundamental needs are the same: tough, weight-conscious gear that can survive long-term, unsupported travel through highly abusive terrain. Companies like Patagonia, Arcteryx, and The North Face completely revolutionized outdoor soft goods, but for some reason, that revolution never quite made it to motorsports", Pete says. After a year of brainstorming, designing, cutting, and sewing, Pete and Andrew had the first Mosko Moto prototype bags, which Pete took back to Central America to complete his ride.
Staying in Tune with the Community
Much like the unique approach of starting the company, coming from action and adventure sports backgrounds, and united by the passion for no-frills motorcycle riding, Mosko Moto continued to defy industry standards. Refusing to get involved with distributors and dealers, Mosko Moto still sells its products directly, enabling them to continually improve their work and offer better prices for customers. This resonates a lot with us, as here at Ecuador Freedom, we too do not sell our tours through booking sites and tour agencies. The extra margin we save this way is used to give our customers better hotel and food experiences and include custom-tailored excursions with locals and other off-bike activities. It's more work when you do it yourself, and it's often harder, but it allows us to always aim for high quality and stay in touch with our riders' needs.
More unexpectedly yet, Mosko openly posts their development and design process online on their blog and ADV Rider forum. "By publishing rather than protecting this information, we collect direct and unbiased feedback from hundreds of dual sport riders around the world before our designs are finalized," Pete explains, and this approach is clearly working. Mosko Moto has grown exponentially over the years. Yet, the company remains firmly rooted in the community and so in tune with riders both in North America and worldwide that countless motorcycle travelers now say "Mosko" when they mean "motorcycle luggage." We have a very similar MO here at Ecuador Freedom: instead of guarding our tour routes, we publish a lot of information about riding in Ecuador, including listing hidden gems, off-road route suggestions, hotel recommendations, and the like right on our website and in our Facebook group. This way, our customers always know exactly where they're going and where to stay, and there are no surprises. Additional bonus? Independent riders can also benefit and explore Ecuador in more depth than just riding the Pan American Highway.
South American Adventures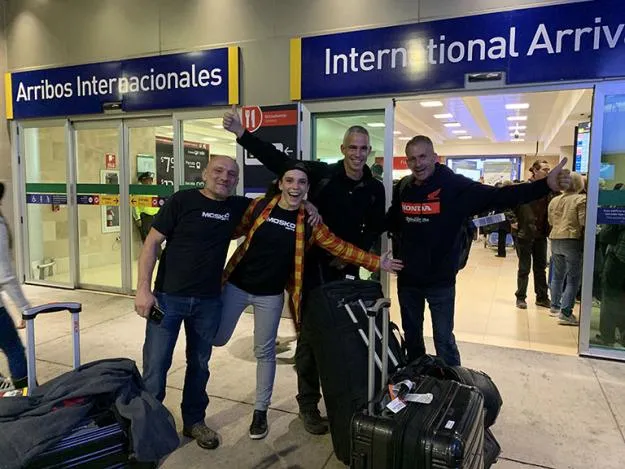 We knew just how good their products were, as we've been using the Mosko Moto panniers and the duffle bags for years. But it was meeting Pete Day and Ashley Myhre, the hearts and souls of Mosko, personally that convinced us they were serious about their genuine interest in the motorcycling community. A year ago, Pete and Ashley came down to Quito to visit us and ride with us to see how their bags were performing in Ecuador first-hand. We still have some hilarious memories from celebrating the crazy Ecuadorian New Year with them. Once the party was over, Pete and Ashley took two Suzuki DR650s. They took off on their riding dirt trails of Ecuador exploring remote Andean backcountry and throwing themselves right into the adventure. We enjoyed hosting the newest additions to the Mosko family, Ames Conant and Sarah Miller, who rode our self-guided Off-Road Pacific Discovery Tour.
Here's the thing: Mosko Moto is the real deal, and they have never veered off their original course to design lightweight but indestructible motorcycle luggage for hard travel and continue to listen to the motorcycling community and paying attention to the feedback they get. They aren't a big faceless corporation marking up generic Chinese-manufactured products. They genuinely care about crazy motorcycle adventures worldwide – the more off the beaten path, the better.
When you come to ride with us, expect your motorcycle to be kitted out with Mosko Moto bags. And if you're currently at home preparing for another trip for when the world goes back to normal and looking for new bike luggage, look no further. Mosko Moto's got your back.
Comments...
Loading comment...
The comment will be refreshed after

00:00

.