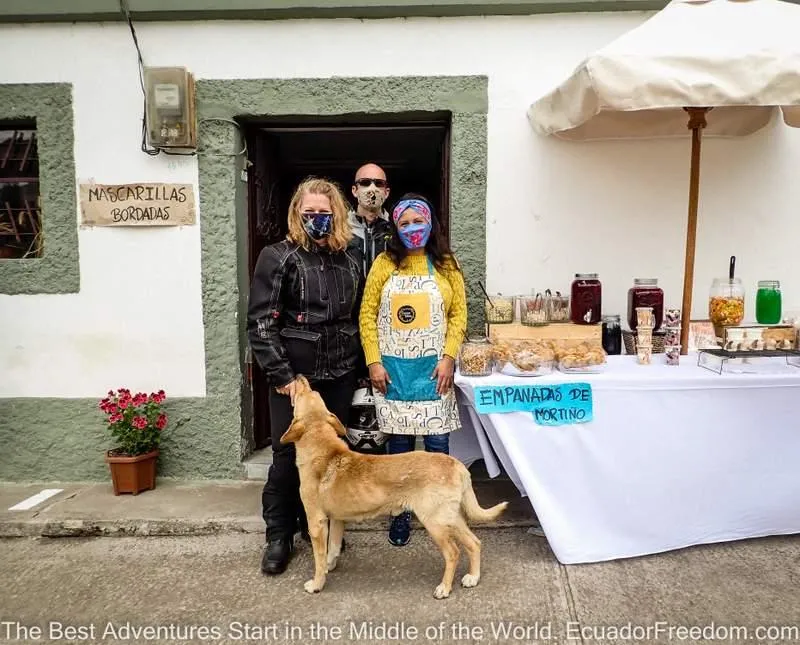 Being Well in Ecuador: Escape the Winter on a Motorcycle
Peter Sage once said that the way media news work is a little like going into the jungle at night, shining a flashlight on something, and saying, "oh no, look, a snake is devouring a mouse!" while completely ignoring what's going on in the rest of the forest. 2020 has been a strange year, and we're all a little exhausted from what's going on in the world. So we figured it's time to shine that flashlight on the good things that are happening all around us – right here in Ecuador.
Just a year ago, Bloomberg ranked Ecuador among the top twenty countries in the world in terms of the efficiency of healthcare; well-being in Ecuador is higher than in Italy, which has a GDP that's seven times larger, and it's now been twelve years since the Ecuadorian government adopted "Buen Vivir," or "good living," as its guiding philosophy. According to the Happy Planet Index, well-being and sustainability are placed at the heart of Ecuador's development, and we've been experiencing this first-hand for years living, riding motorcycles, and working in the country's capital Quito.
Yet 2020 is no ordinary year, and we understand that many of you are still a little wary of making big travel plans. Here's the thing, though: not only was Ecuador among the first countries in South America to earn the #SafeTravels certificate and open for tourism, but it remains a place of health, well-being, adventure, and fresh air. It's the perfect combination to escape the winter on a motorcycle, and here is why.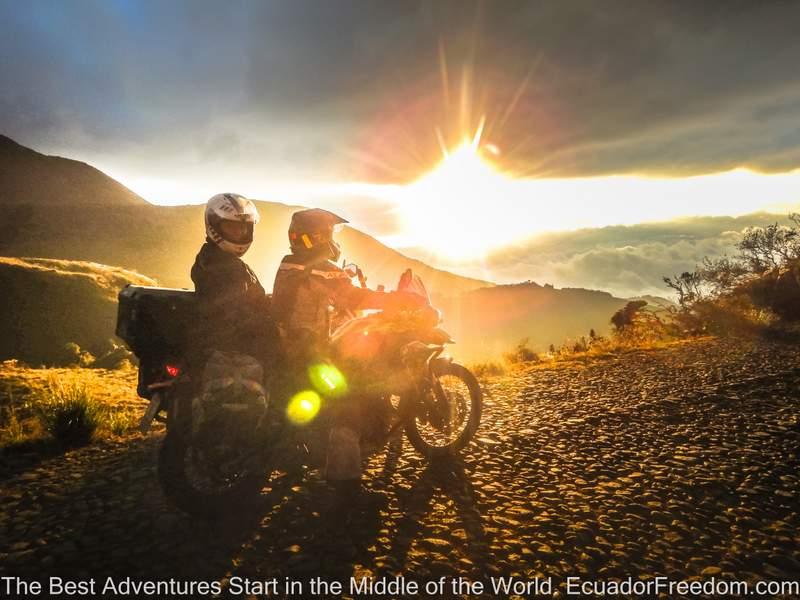 Sunlight and Open Air
Straddling the equator, which has earned the country its name, Ecuador enjoys great weather year-round. Quito is called the City of Eternal Spring for a good reason: the temperatures here are mild and mostly sunny regardless of whether it's July or January, making it an ideal destination for motorcycle adventures. Sure, it gets a little chilly at high altitude when you're traversing the Andes Mountains. The Amazon region experiences some rain – it's not called the rainforest for nothing – but whenever you choose to travel to Ecuador, you can be certain the weather is going to be just perfect for riding motorcycles and enjoying countless off-bike activities from zip-lining and boat trips to trekking, exploring Ecuador's magnificent colonial towns on foot, or relaxing in the natural hot springs. Fresh air, plenty of sunlight, swimming in beautiful pools under cascading waterfalls, and unwinding in natural thermal waters is just what we all need to escape during the winter months in the Northern Hemisphere for a while.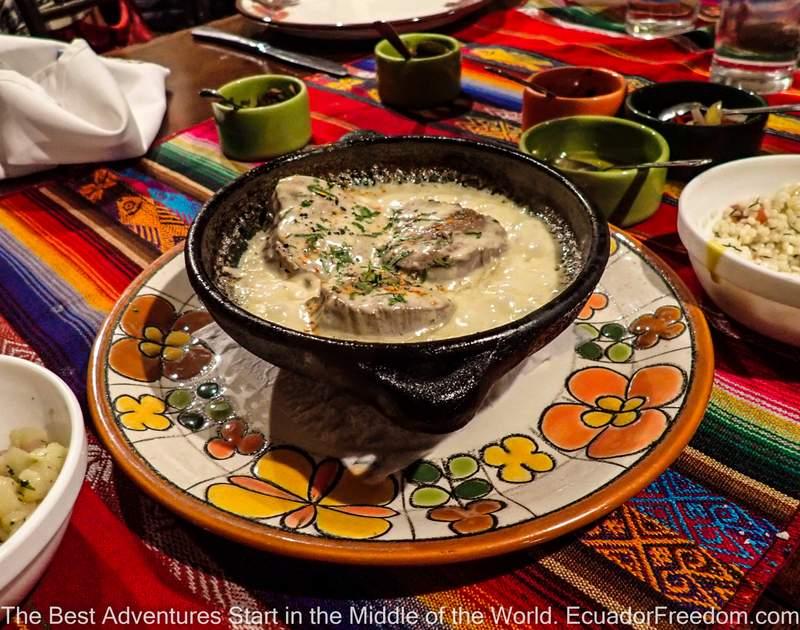 Organic Food
Ecuador is world-famous for its chocolate, shrimp, and bananas, but there's much more to the local cuisine than that. Still largely an agricultural country, Ecuador still produces a lot of its food organically, farm to table, and you can enjoy a very healthy menu daily wherever you go. On the coast, trying freshly caught ceviche and seafood is a must; in the Andes, hearty local soups and stews make for a filling and healthy lunches and dinners, and in the Amazon, the availability and variety of local fruit and fresh juices are guaranteed to replenish your vitamins and antioxidants in a matter of days. Ecuador does not have a fast-food culture. No self-respecting restaurant or local eatery will ever use highly processed frozen food: here, people enjoy healthy, nutritious food and delicious cuisine as a way of life.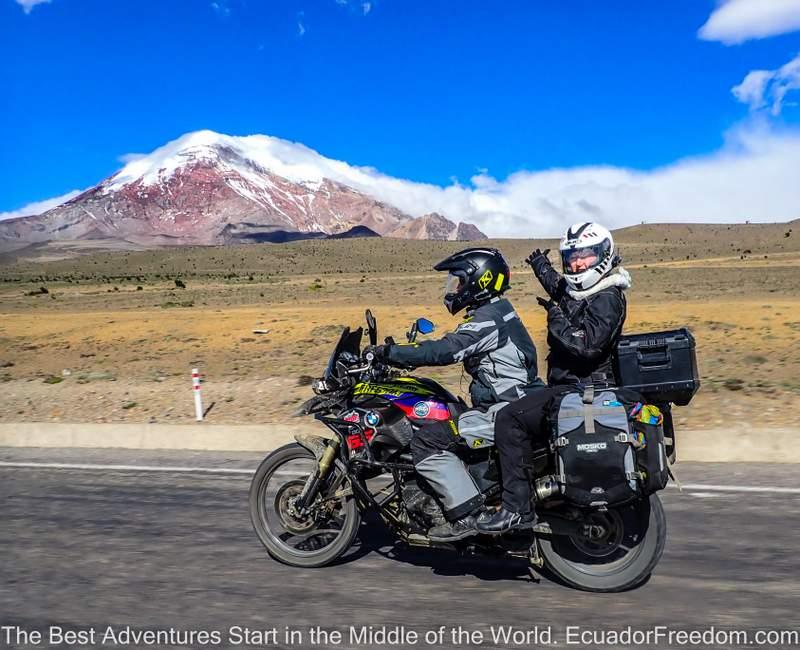 Healthcare and Safety
You no longer need a Covid 19 test or vaccine to enter Ecuador, but what about what happens when you're here? Overlanding by motorcycle is likely one of the safest ways to travel right now by nature. Still, if you feel unwell for whatever reason, keep in mind that Ecuador has first-rate medical care. Ecuadorian doctors are often continuously trained in the US and Europe, and the price of seeing a specialist is as low as $30-50 in most major cities. Emergency medical care at its local health offices is free for everyone. There is not even any paperwork to fill out.
However, we bet you won't need any medical assistance while exploring Ecuador. Open-air and plenty of sunlight, fresh food, delicious fruit juices, being outdoors, and exploring some of South America's most stunning landscapes by motorcycle is the best recipe to battle dark winter months and bleak media news wherever you are. To encourage travel, Ecuador is currently rolling out the red carpet to visitors, so book your flights and ride the equator with us, enjoying the buena vida – the good life.
Other blog articles you will like....