South America Motorcycle Adventures on a Budget
If we told you South American motorcycle tours cost as little as $769.50, cozy hotels and meals included, would you believe us? How about the fact that round-trip flights from Houston, Miami, or Madrid to Quito, Ecuador, cost around $500, fuel prices in Ecuador are well below what we're used to in the Western countries, and that you can see the Pacific Coast, the Andes, and the Amazon in just one week?
If it sounds too good to be true, we get it. When it comes to South America motorcycle tours, most people assume they're costly, take forever to plan, and booking flights is a nightmare. That may be the case if you're headed to Patagonia or going on a long Trans-America trip. However, if you're looking to escape the fall or winter months for a week or so, and especially if you love traveling with friends, Ecuador offers some amazingly budget-friendly options in terms of bikes, hotels, and travel expenses.
Ecuador on a Shoestring
Here at Ecuador Freedom, we're focused on tailored, boutique motorcycle travel experiences designed to showcase the best that the country offers while taking your needs and expectations into consideration. We do have several guided, all-inclusive motorcycle tours featuring some of Ecuador's best hotels and fine dining, as well as top-shelf trips like our Dirt Deluxe tour where you're riding off-road but staying in some of the most awe-inspiring places in the country.
However, we know that some of our riders prefer more economical options, minimalist travel, and plenty of exploring. Our new discount option gives you and a friend ten percent off our guided and self-guided tours when you share a room on the tour. This is why our self-guided, four-day tour of Ecuador on a bike like the Italian-built SWM Gran Milano costs as little as $769.50 with hotels, an Amazon jungle excursion, and several meals included. (This price is calculated for two riders on an SWM Gran Milano 440, sharing a room which is $855 - 10%= $769.50). You'll also get a full travel itinerary and a GPS unit with pre-programmed routes, pre-booked hotels, and several off-bike activities to enjoy while exploring Ecuador on your own. When you return, there'll be a red carpet waiting for you in the form of our After Ride Lounge and bar at the Freedom headquarters in Quito. Another bonus is that Ecuadorian tax regulations allow us to sell tour packages (guided or self-guided) 100% tax-free! This means you won't pay the 12% sales tax on the motorcycle rentals, and you'll save the 22% tax on hotel rooms!
When you add the flights, you can expect to spend no more than $1,100 – $1,600 for your Ecuador motorcycle tour, and it will include some of the most scenic routes, the famous Avenue of the Volcanoes, and the Amazon basin. Packed with adventure, otherworldly landscapes, and immersion in the local ways of life, this is the perfect motorcycle tour to get a taste of South America on the cheap in just four days.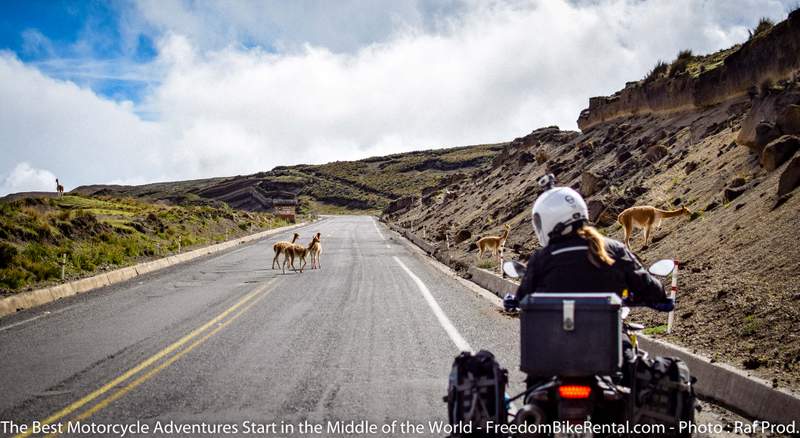 Budget Breakdown
Ecuador is an incredibly budget-friendly destination, especially if you opt to rent a motorcycle and design the trip itinerary yourself. Expect to pay as little as $15-25 for basic hotels, especially off the beaten path, and restaurant meals can cost around $3-8 or less if you choose small, local eateries and market stalls. When it comes to fuel, a gallon of gas costs around $1.78 in Ecuador, so there's no limit to how much you can explore during your motorcycle adventure. If you prefer to ride dirt and camp, your costs are minimized even more as you can camp wild almost everywhere in Ecuador, and if you prepare your own food, the travel expenses come down to nearly nothing. Now, when you book a motorcycle rental from us, you save 5% when you and your friends rent two bikes, 10% when you rent four or more!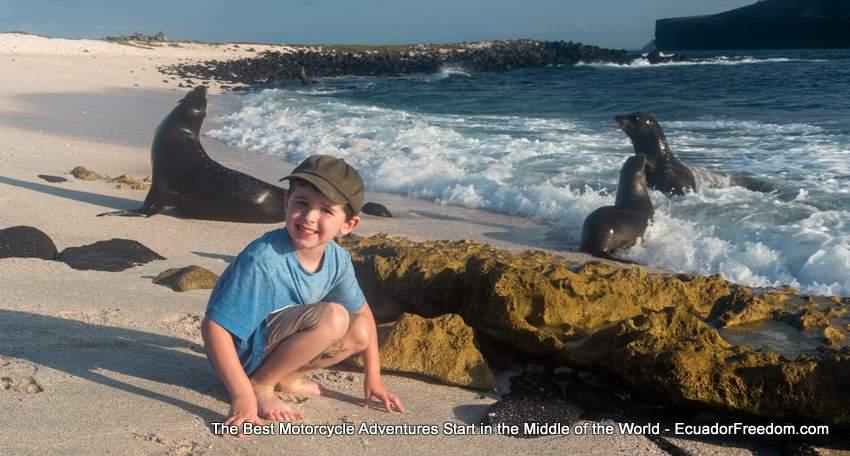 Family Travel
We know just how important it is to share the adventures with your loved ones, which is why you can now enjoy discounts on tours if you choose to travel together. Sharing a room with your best riding partner will get you both a 10% discount on our guided and self-guided tours. We've lowered many of the passenger fees on our tours, and we thought of the little ones, too: kids under 12 get new special prices! So bring the family along and enjoy Ecuador at lower costs. Traveling together and sharing experiences can strengthen your bond and make you an unbreakable team, which is why we're excited to offer lower prices for families and couples.
Fly and Ride the Cheap Way
Another great way to save on costs is to travel with your friends. Most hotels and tour operators will offer better prices for a group rather than one individual, so if you're itching to go, get your riding buddies on board and travel together.
Flights to Ecuador are at an astonishing low right now both from North America and Europe. Even if you can't travel now, we'd recommend booking your flights and bike as soon as you can to save costs: airlines are offering great deals at the moment, and they're prepared to be very flexible with date changes – as are we here at Ecuador Freedom. If you book now, we'll be happy to change your dates if it turns out you're going to be a little delayed, and the same goes for most flights from the US, Canada, and most European countries.
And, don't forget to sign up for our mailing list! We periodically have special deals and discounts on our tours that you will not want to miss!
South America motorcycle tours do not need to be expensive to offer plenty of scenery and adventure. We started Ecuador Freedom with a vision to share the joy of riding Ecuador with as many travelers as possible, and we wanted to make our tours as accessible as can be. Guided, self-guided, or just a bike rental with your own itinerary and hotels: we've got your back, and we won't break your bank.
Other blog articles you will like