Planning a Group Motorcycle Ride in Ecuador: How to Come Out as a Star Planner
If you've ridden motorcycles in South America before, planning a group motorcycle ride in Ecuador and bringing your friends along can be an amazing experience for everyone involved. You already know the land, the culture, and the roads, so now, all you need to do is put an itinerary together, and you're good to go, right?
Not necessarily. Whether you have already visited Ecuador or are coming to ride here for the first time, planning a group ride is a very different task than going on a road trip on your own. You may already have some scenic routes and places to visit in mind, but connecting it all into one smooth ride with a group of friends is a whole different story.
Having spent more than a decade designing custom tours, boutique experiences, and unique motorcycle routes here in Ecuador, we can help plan your group ride. Here's what you need to know before inviting your friends to ride Ecuador with you:
Know Your Riders
First things first: who are the guys and gals you're bringing to Ecuador with you? As the group ride planner, you need to know what sort of riding your friends prefer. Is the group mostly interested in enjoying paved mountain twisties at a leisurely pace, or are they all die-hard enduro maniacs ready to tackle some gnarly off-road trails? You will be setting the mileage, the pace, and the ride's tone as the leader, so you need to think of these things before you leave.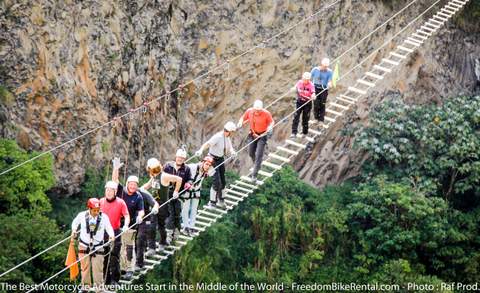 Once you know what type of riding you'll be doing, we recommend tailoring the off-bike activities to fit the itinerary. If it's mostly a paved tour, perhaps throw in some zip-lining or a jungle hike to spice things up and get everyone moving. On the other hand, if you know you'll be spending 8+ hours on the bikes daily negotiating dirt tracks across the Andes, perhaps aim for a hot spring soak and a hearty dinner rather than a long hike once you get to your destination.
Finally, when booking off-bike activities and hotels, decide on a budget that everyone is comfortable with. Are you roughing it with basic homestays and camping, or are you going for more comfortable hotels and lodges? Find out what the riders in your group are most comfortable with before you book.
We'd also recommend planning your group ride with the riders' fitness in mind. Start with an easy, short day to get everyone comfortable with their bikes, new surroundings, and new culture. Then, throw in a few long or more technical days as people will still have a lot of energy at the tour's first leg. Plan a rest day somewhere in the middle so your riders can recharge, and finish off with some easier days towards the end. This way, your friends will enjoy the thrills of the longer or harder rides, have a chance to rest up, and finish the ride with plenty of energy reserves to truly enjoy those last days of the tour.

Self–Guided Motorcycle Tours in Ecuador
For some travelers, planning the group ride in Ecuador is part of the fun. However, for most, spending a lot of time and energy on research, route information, hotel booking, and the rest aren't viable as we all lead busy lives with little time to spare. If that's the case for you, there's an easy solution: book one of our self-guided tours right here at Ecuador Freedom. On or off the road, a few days or a couple of weeks, with a variety of different motorcycles and price points available, our self-guided tours are designed to fit the needs of independent travelers. We have done all the research and planning, scouted the routes, pre-booked the hotels, calculated the daily miles, and found some unique, off-the-beaten-path places to explore. All you need to do is pick a self-guided tour, book it for you and your friends, and come out as the star planner who has done meticulous research and set up something truly amazing.
When you ride Ecuador on one of our self-guided tours, you'll get your rental motorcycle prepped, and road-ready with a GPS unit mounted on the bars containing all the routes already programmed in. You will also receive a road book, a detailed sheet for each day describing the ride, and highlighting all the places of interest along the way. Your stays will already be pre-booked, and if you run into any issues on the way, call us here at the Ecuador Freedom HQ in Quito, and we'll be ready to help you out. Added bonus? If you book a self-guided tour with us, you'll save hundreds of dollars in taxes. When you book hotels and activities on your own, Ecuador will charge you extra in taxes and fees, whereas booking via us, you'll save all that cash for some better things - like delicious local meals or a canelazo tasting tour in Cuenca.
This way, you'll get all of the benefits of a pre-planned ride with none of the hassle of the actual planning. Pick the self-guided tour option that would suit you and your friends best, show up, and ride – and we'll take care of everything else in the background while you look like a group ride planning superstar.

Custom Motorcycle Tours
We know that no two riders are the same, let alone an entire group of motorcyclists. If you and your riding buddies are looking for something truly extraordinary, we can tailor-design a custom tour to match your interests. Because of our extensive experience and knowledge of riding Ecuador, we're happy to put unique tours
together from scratch. Mix and match an off-road tour with luxury hotels and local food tasting? Check. A paved tour taking riders to meet local Ecuadorian guitar makers, leather artisans, and indigenous communities? Done. An adrenaline-filled week of gnarly off-road trails, white water rafting, zip-lining, and visiting active volcanoes? Sure thing. If you're looking for a tour that would combine jaw-dropping scenery and incredible riding with activities and experiences to suit your group's interests to a T, we've got you covered: shoot us a message, and we'll design a once in a lifetime experience for you and your friends here in Ecuador.