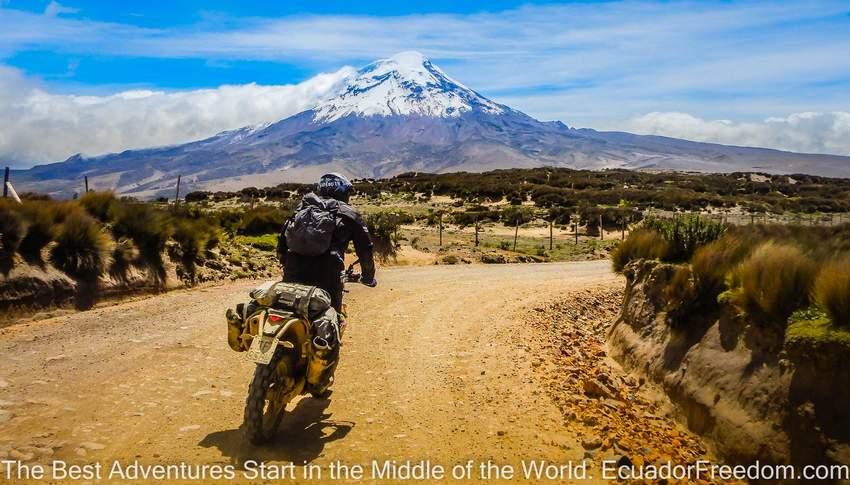 Touring by Motorcycle: How to Prepare for an Adventure Ride in Ecuador 
Touring on a motorcycle is the greatest adventure there can be, but not all destinations are created equal. What works for riding your bike in the Rockies or the Alps may not work for the Andes, and if you're planning an adventure ride in South America, you'll need to do some prep. Having designed hundreds of motorbike trips here in Ecuador and led thousands of successful tours, we know a thing or two about tour preparation. If this is your first time riding South America, read on: we put together this general guide to prepare for a motorcycle tour in Ecuador. Don't worry, you won't need to spend hours on research, packing lists, and planning – we've done all of this for you! Keep in mind that riding motorcycles in Ecuador isn't some super extreme expedition. Still, you need to know what's different about traveling here, what to pack, the local road courtesies, and what you can expect in terms of terrain, climate, and riding difficulty. The good news is, Ecuador can be experienced both on and off the road, and you can pick from several different tour options. Luxury vacation on tarmac roads and comfortable ADV motorcycles or dirt bike adventures on capable dual sports – we've got it all covered.
So what do you need to prepare for a motorcycle tour in Ecuador? Here's a step-by-step guide to help you in the right direction: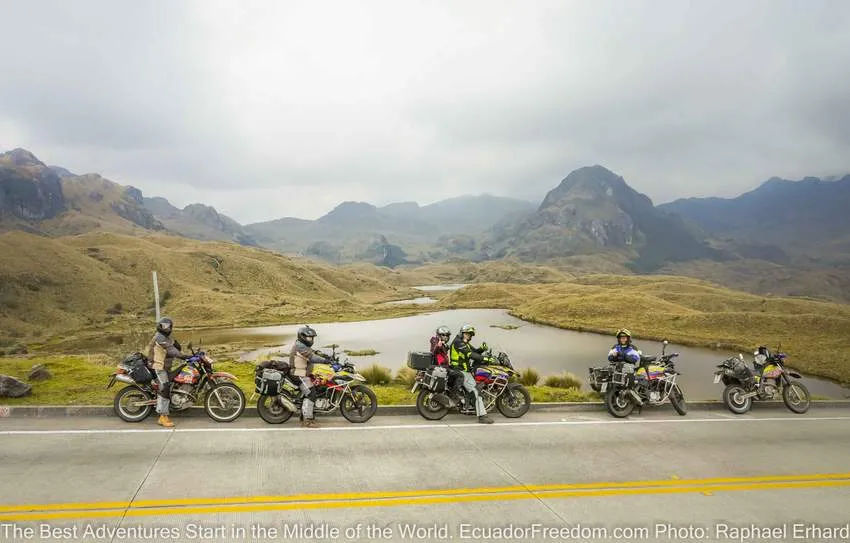 Motorcycle Touring in Ecuador
Here at Ecuador Freedom, we like to call Ecuador the "gateway drug" into South America. That's because Ecuador is uniquely positioned right on the equator, from where it gets its name, and it's a relatively small and compact country offering a glimpse into the three most sought-after regions of South America: The Pacific Coast, the Andes Mountains, and the Amazon basin. In Ecuador, you can explore all three of these bucket-list destinations in just one tour without having to cover thousands of miles to see it all. Ecuador has a well-developed infrastructure with excellent-quality tarmac roads, charming hotels, fantastic cuisine, and beautiful colonial towns, as well as spectacular traditional haciendas and dreamlike jungle lodges. Traveling here is hassle-free, comfortable, and incredibly motorcycle-friendly as Ecuadorians themselves are avid riders, and motorcycling is a big part of the culture. You'll travel jaw-dropping mountain twisties, jungle trails, and meandering coastal routes, encounter curious and friendly locals, and experience the Ecuadorian culture up close and personal while enjoying many Western comforts along the way.
That being said, however, Ecuador is not Wisconsin, and you will encounter some challenges such as narrow backcountry roads, varying temperatures, terrain, and altitude, and some local curiosities and customs you may not be familiar with. Touring by motorcycle is all about adventure. Ecuador has no shortage of thrilling routes, breathtaking scenery, and fascinating culture and heritage to enjoy, but if this is your first time riding South America, start at the beginning and think about what sort of riding you want to do and what bike will work best for you.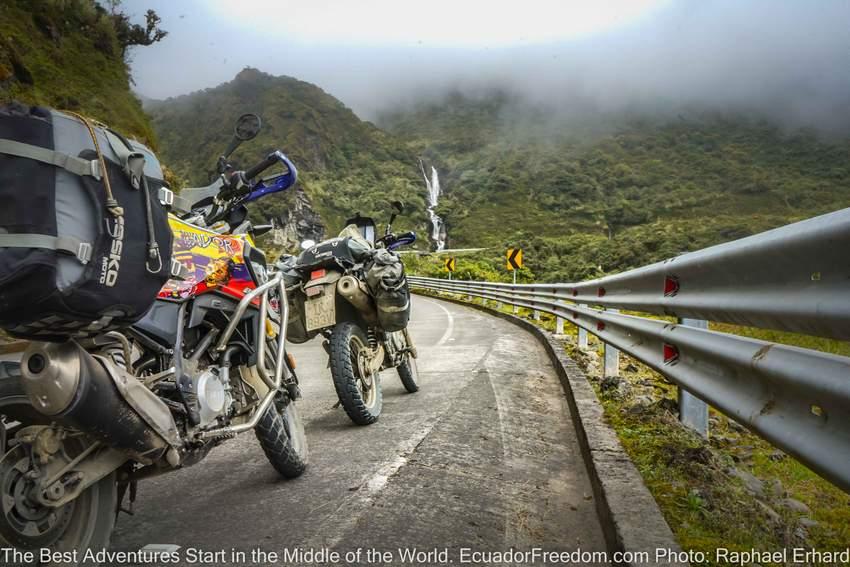 Choosing a Motorcycle Tour
We have been riding motorcycles, working, and designing motorbike tours in Ecuador for over a decade, and we know that no two riders are the same. That's why we have a wide selection of tours available: guided and self-guided, focused on scenic tarmac roads and dirt trails, luxury tours, and budget trips, group rides, and custom tours – we've got something for every level of skill, comfort, and degree of adventure.
If you're unsure which tour option will work best for you, first think of what kind of riding you enjoy most. If you prefer canyon carving and throwing the bike around adrenaline-inducing mountain twisties, look at our paved tours featuring the Andean routes. For those who love the beaches, the mountains, and the jungle in equal measure, our Inca Royal Roads and Cloudforest, Coast, and Craters tours will be a great choice. Love riding dirt? Our Off-Road Pacific Discovery, Dirt Deluxe, and Off-Road Ecuador ADVenture tours will be the perfect fit for you. And if you prefer exploring on your own while having the comfort and safety of pre-programmed routes, pre-booked hotels, and daily roadbook sheets provided, our self-guided tours are an excellent option.
In terms of riding, Ecuadorian roads can be a challenge if you're not used to steep switchbacks and hairpin turns. Straight, wide-open roads in Ecuador are few and far between: for the most part; you will be riding mountain twisties with big, generous sweepers, tight hairpins, countless switchbacks, and more adrenaline-inducing corners than you can imagine. While most main routes, such as the Pan American Highway, are well-engineered and well-maintained, some of the backcountry routes may have potholes and uneven surfaces due to frequent landslides and earthquakes. Not to worry, earthquakes and landslides aren't a daily occurrence in Ecuador but bear in mind that some roads in the more remote, rural areas in the Andes and the Amazon will not boast silky-smooth surfaces like in North America or Europe.
When it comes to dirt riding, Ecuador is nothing short of a dual-sport paradise. Out here, you'll ride mountain trails, jungle paths, and wild beaches, and we guarantee Ecuadorian dirt roads will have you coming back for more. However, as with the paved routes, expect the ride to be bumpy every once in a while, and you may have to tackle some washouts, river crossings, mudslides, and other obstacles along the way.
Daily Riding Distances
In addition to different road and off-road surfaces, keep in mind that motorcycling in Ecuador is not about speed. Countless turns and twists that will keep your pace in check aside, you may encounter wildlife, domestic animals like cattle, and people on the roads. It's not unusual to come across a llama shepherd strolling casually down a busy main road with their animals hogging a lane or two, and we've had to brake hard for loose sheep, dogs, and vicuña hanging out right in the middle of the road. It's part of the local ways of life, and it's essential to stay alert when riding Ecuador at all times.
Riding motorcycles in Ecuador requires more focus and skill because of the varying road surfaces, different altitudes, and road conditions. This is why we prefer to avoid rider fatigue and keep daily distances to around 120-180 miles: remember, motorcycle touring in Ecuador is not about eating up big miles on wide-open highways but rather about the adventure and the experiences along the way. You will be riding winding, twisty roads, crossing multiple towns and villages, often stopping for meals, sightseeing, visits with the locals and other off-bike experiences, and acclimatizing to different elevations daily. You'll need to ride tight corners well, be able to manage U-turns in narrow spaces, feel comfortable on cobblestones and some gravel here and there, and be prepared to brave diverse weather situations. In other words, motorcycling in Ecuador isn't about high speeds and high mileage; it's about the ride and the immersion in the local culture.

Choosing the Best Touring Motorcycle for Your Trip
While touring Ecuador, no two days will be the same. In the capital Quito, the altitude is over 9,000 feet, elevation at Mount Chimborazo pass is around 11,000 feet. In contrast, the cloud forests and the Amazon basin roads are at near sea level. Riding Ecuador, you will be experiencing drastic elevation changes daily. The road conditions will vary. While we keep the daily distances reasonable, it's not exactly a walk in the park. This is why we highly recommend choosing a motorcycle that you are most comfortable with.
Often, we get inquiries about large-capacity motorcycles with big comfortable sofa seats, highway pegs, CD players, and cruise control. We understand why these bikes are great when you're in the US, Canada, or Europe, but you need something smaller, lighter, and nimbler for Ecuador. You will be shifting your weight around, standing on your pegs, crossing narrow bridges, transporting the bike in canoes, maneuvering in tight, limited spaces, tackling steep hairpins, and potentially some dirt sections here and there. To ride Ecuador comfortably, choose an adventure or a dual-sport motorcycle that you can handle with confidence. Here at Ecuador Freedom, the biggest bike we offer is a Honda Africa Twin 1000: this is because in Ecuador, you are going to experience angles and pitches you have never experienced before, and experience has shown us that lighter is better. The best tool is one that you don't have to think about, and you don't even realize you are using, and if at the end of the day you didn't think a smaller bike would have been easier and made you less tired, you've made a good choice.
Most of our customers go for 650cc motorcycles when riding solo and 800-850 cc bikes when traveling two-up. For our paved routes, we recommend Honda Africa Twin 1000 and BMW GS 750-850 motorcycles, whereas if you're planning to ride dirt, our Suzuki DR650's and SWM 650 are an excellent choice. If you're going for a more technical, arduous enduro-style trip, even small dirt bikes like the Yamaha XT250 can be a lot of fun.
Some of the bikes can be chosen with heated grips, and if you want to use heated gear on the trip, choose a bike with lots of auxiliary power sockets like the BMW F800GS or F750GS.
An in-house team of mechanics regularly maintains all our motorcycles, so you can ride with confidence, knowing that your motorbike is entirely road and adventure-ready.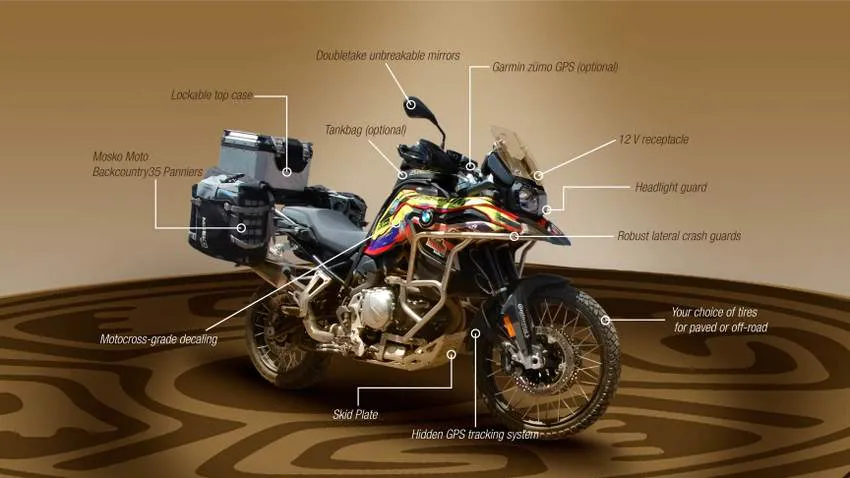 Motorcycle Luggage and Packing
When you ride with us, luggage is provided along with your rental bike. Our website shows the actual luggage configuration for each of our bikes: we do not use stock images, so what you see is exactly the configuration you get. We do not use hard luggage on our motorcycles for safety reasons and keep the weight off; instead, we prefer soft luggage options such as Mosko Moto and Alt Rider. You can choose the Mosko Moto Backcountry 35 panniers and a duffel bag or the AltRider Hemisphere saddlebags, depending on how much space you need. Generally, Mosko Moto panniers are more than enough for traveling two-up, and the Alt Rider or Mosko Moto Reckless 80 bags are excellent for dirt tours.
When packing for your motorcycle tour of Ecuador, remember to pack light. A good rule of thumb to follow is to pack what you will use, not what you think you might use. If in doubt, leave it out. Although we provide a chase vehicle on guided tours with more than five riders, we recommend the minimalist approach to packing. For a ten-day tour, pack a change of clothes, some thermal layers, some underwear and sock sets, your toiletries, and your phone: that's all you'll need for the trip. Remember that most hotels offer laundry services, and even the more upscale places in Ecuador will accept casual dress, so you do not need to bring an entire closet with you. Leave large suitcases for a Caribbean cruise: you're here for an adventure rather than a glamorous vacation, so only pack the essentials and focus on the experience, not the swimsuit collections. The less you pack, the lighter your bike will be, and the easier it'll be to check in and out of hotel rooms, pack up your bike each day, and travel with ease. Make sure to leave room for souvenirs or for our Pack for a Purpose program where we encourage riders to bring down school supplies for local kids in need; at the end of the day, you won't remember the outfits you wore, but the experiences and memories you'll create.
In addition to your clothing, toiletries, and electronics (please keep those to a minimum, too – you do not need a mobile office with you when touring Ecuador!), bring any medications that you take regularly and pack some Ibuprofen, Aspirin, or Diamox if you think you may struggle with high attitude. Other items we recommend are a small compact power strip to charge stuff at night as Ecuador hotels usually don't have many outlets, wet wipes as toilet tissue isn't always a given at gas stations, and a camelback if you're planning to ride dirt and want to stay hydrated. We also recommend bringing a headlamp: it comes in handy when walking around jungle lodges or beaches at night or changing a flat tire in the dark.
When you book your tour or rental bike with us, we will email you a more detailed packing list depending on what type of riding you'll do. In general, however, remember that you can always buy stuff in Ecuador if you forget something: in the capital Quito and other major cities and towns, there's no shortage of shopping malls, so if you forgot to pack a phone charger or a set of warmer socks, you'll find supplies locally.
On our Ecuador motorcycle tours, we stop for meals often, and you can always grab a snack along the way. However, if you know you tend to get hangry quickly, make sure to leave some space for snacks in your bags. Dried fruit, beef jerky, trail mix, nuts, and protein bars are usually enough.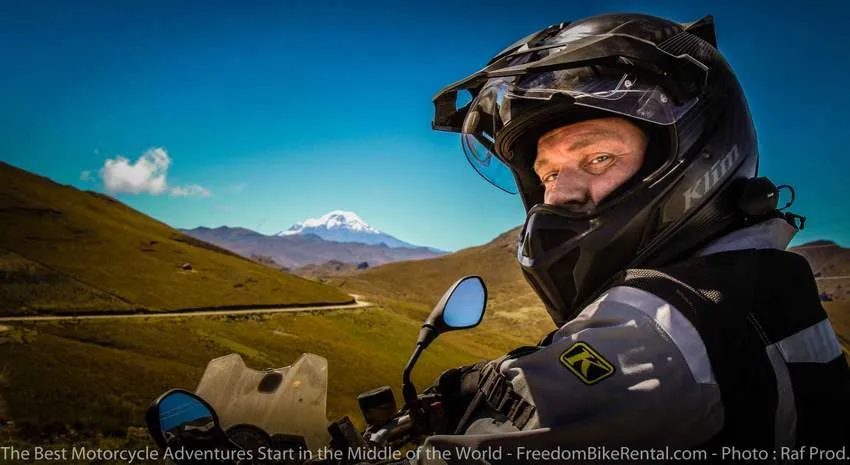 Gearing up for Motorcycle Tours in Ecuador
Now that you know which tour you're going on, which bike you're riding, and what's on your packing list, it's time to think about motorcycle gear for Ecuador. Because you will experience different elevations and climates, we recommend four-season riding gear such as Klim, Rev'It, or similar adventure apparel. Here at Ecuador Freedom, our guides prefer four-season Klim gear because it offers serious protection and has integrated GoreTex to keep you dry and warm in colder weather, and features multiple vents to stay cool and comfortable in hot and humid conditions. We offer discounts on Klim gear when you book a tour with us, so if you're unsure which gear to choose, you can gear up with Klim while potentially saving hundreds of dollars!
Regardless of what brands you choose, make sure your riding gear has plenty of protection in case of a crash and offers reliable, abrasion-resistant materials as well as decent rain protection and good ventilation. If your gear isn't waterproof, pack some rain overalls: Ecuador is a country of eternal spring, and you may experience some rain at high altitudes and in the rainforest areas.
For your base layers, choose fabrics like wool and synthetic fibers to stay dry and comfortable. Avoid cotton, as it gets wet, cold, heavy, and dirty quickly, and stick with high-quality, thin thermal layers to save packing space.
For gloves, pack two pairs for hot and cold weather, or choose an all-rounder glove that will work well for both. If you're opting for a bike with heated grips, one pair of gloves will be enough.
Tools and First-Aid Kit
Whether you're going on a self-guided tour or exploring Ecuador on your own, your bike will come with a toolkit and some essential spares. Our tool kits vary for each bike, and we have sorted out all the details and will go over them with you. Generally, the bike tool kit contains everything you may need along the way, such as spare inner tubes, tire repair kits, extra fuses, air pump, zip ties, duct tape, tire irons, and so on. You are welcome to bring your own toolkit, but we generally have you covered, and on a guided tour, we will have any bike issues sorted for you – you do not need to bring anything at all.
Our first aid kits have been designed and approved in consultation with the Ecuador Red Cross. In them, you will find the essentials for first aid and trauma and medications for food poisoning, allergic reactions, and headaches. It's always a good idea to brush up on first aid procedures, and if you have any questions, our entire staff is certified in accident scene management, first aid, and CPR. If you have any questions about the contents of our first aid kits, just let us know.
In terms of motorcycle safety, the hotels we use in Ecuador have been checked and vetted by us personally, and they all have guarded lots where your bike will be perfectly safe. When you stop to visit an attraction, there is usually a guard at the lot, and you simply pay $0,50 - $1. In cities like Otavalo, there are parking guards licensed by the city for each block, and they happily keep an eye on your bike for you. You might want to bring a cable lock to lock up your helmet and jacket if you don't want to carry them, but most of the time, it isn't necessary.
What to Expect in Ecuador
If this is your first time riding motorcycles in Ecuador, we recommend browsing some maps, reading a guidebook or two, and learning the basics about the history and culture before you arrive. Ecuador is a fascinating Andean nation with a long and complex history, mixed heritage, and curious local customs (did you know that roasted guinea pig is a national delicacy here?). The local people in Ecuador are extremely friendly and helpful to foreigners, and you're guaranteed to strike up conversations with locals everywhere you go. Learn a few basic Spanish phrases as English is only spoken in the big cities, and don't forget to check out our Pack for a Purpose program if you'd like to immerse yourself in the local culture as you travel Ecuador. All our tours and self-guided tour programs are designed to show you the inside view of what life in Ecuador is really like: you'll visit local craftspeople such as leather artisans, guitar makers, and cacao farmers, browse the colorful indigenous markets, experience the local cuisine, hike the Amazon with local indigenous guides, sample freshly caught seafood in small fishing villages along the Pacific Coast, and visit local Panama hatmakers and artists along the way. Incredible riding, scenery, and breathtaking roads aside, traveling Ecuador is about the culture just as much as it is about motorcycling.
Preparing Yourself to Ride in Ecuador
Riding in Ecuador for the first time, you may face some riding challenges that you have never encountered before or are completely comfortable with. You may have to start on a steep slope without rolling backward. You may want to lane-split without hitting the mirrors of the cars with the panniers. You should figure out what your weaknesses are and what you are apprehensive about before traveling so that you can practice and get confident. If you are not good at making U-turns on narrow streets, practice that. If you aren't comfortable lane-splitting, set up some cones and practice riding through narrow openings. Suppose you are not used to high-clearance adventure bikes; practice stopping and putting only one foot down on uneven ground. Get ready to go beyond your comfort zone by working on those weaknesses, and you'll feel much more confident when you start riding here.
If you're opting for a rental bike or a self-guided tour option, be sure to get in shape so you can tackle the more challenging routes, pick up your bike, and fix potential issues like a flat tire or a broken clutch lever. When you arrive, we will give you a detailed pre-ride briefing explaining local traffic, road courtesies, and customs so you will quickly feel comfortable and confident.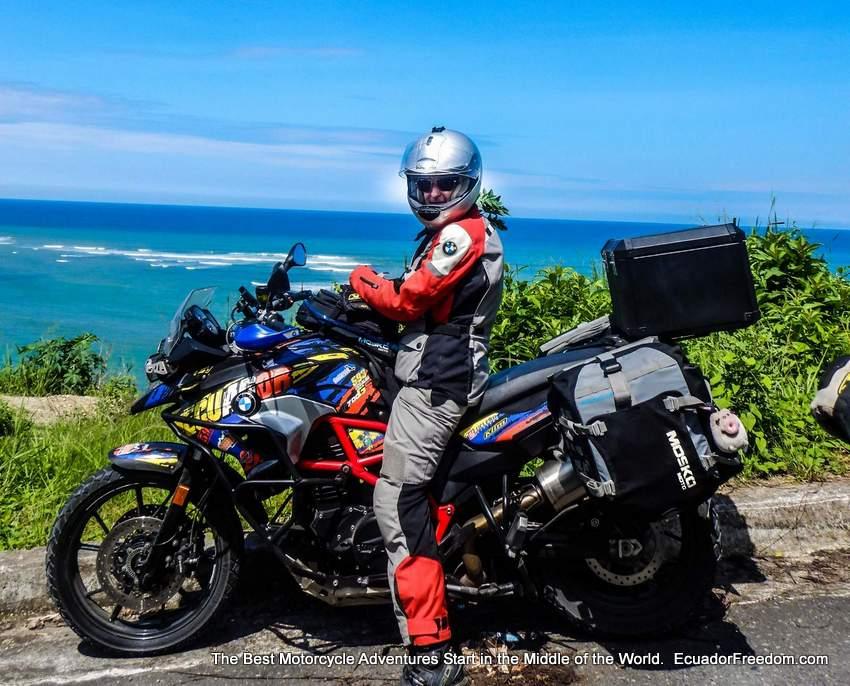 Tour Prep Summary
We hope this general tour prep guide helps you figure out your next Ecuador adventure, and if we could sum it all up in one sentence, it would be this: pack light, ride hard, and choose experiences over stuff!
Riding motorcycles in Ecuador has its challenges, but as long as you're confident riding a variety of different roads, are happy with changing elevations and temperatures, pack light, and gear up, you're in for an adventure of a lifetime. Be prepared to tackle some serious twisties, experience awe-inspiring scenery, and enjoy unparalleled hospitality, all while traversing Ecuador's most stunning landscapes aboard a trusty dual-sport or adventure motorcycle. If you have any questions or concerns, we're just one email or phone call away, and in the meantime, we hope you're getting excited about your upcoming motorcycle tour in Ecuador!
Comments....
Loading comment...
The comment will be refreshed after

00:00

.
Other Blog Posts You May Like