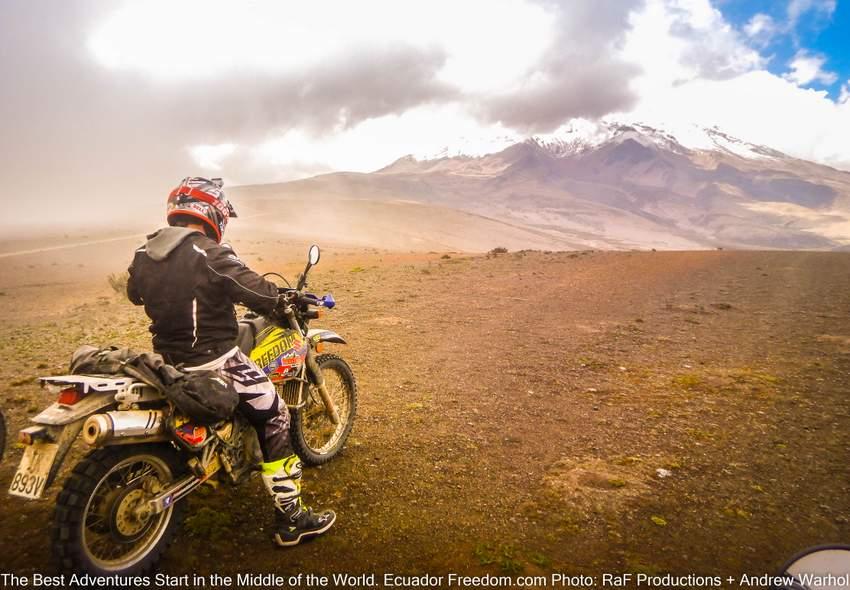 Dirt Riding in Ecuador
So you're ready to rip up some dirt below the equator? If you're looking for some serious off-road fun in South America, Ecuador is a fantastic place to start. Dirt riding in Ecuador is three things: it's limitless, it's legal, and it's a ridiculous amount of fun. From dirt bikes to dual-sports and adventure bikes, there are different tracks, terrain, and scenery to suit every skill level and exceed every expectation, and here at Ecuador Freedom, we confess that dirt tours are our favorites. And it's not just because of the challenge: dirt riding in Ecuador takes you where no tourist bus will ever go, and you get to experience this country from a completely different perspective.
What to Expect Riding Dirt in Ecuador
Whether it's the Pacific Coast regions, the Andes Mountains, or the Amazon basin, Ecuador has thousands of gravel roads and dirt tracks crisscrossing the country. Just outside Quito, you can find everything from ancient cobblestone roads to gnarly single track, and if you venture into the Chimborazo National Park, you'll have sand, shale, rocks, and everything in between, not to mention some glorious beach riding on the coast and river crossings in the cloud forests.
Depending on your skill level and the type of bike you ride, you can create a route that will best suit your riding style. Inca Roads – narrow cobblestone roads leading into the mountains – and bigger graded dirt tracks are ideal for dual-sport and adventure bikes, but keep in mind that no road in Ecuador is ever straight: you'll encounter countless steep turns, switchbacks, and hairpins around every mile.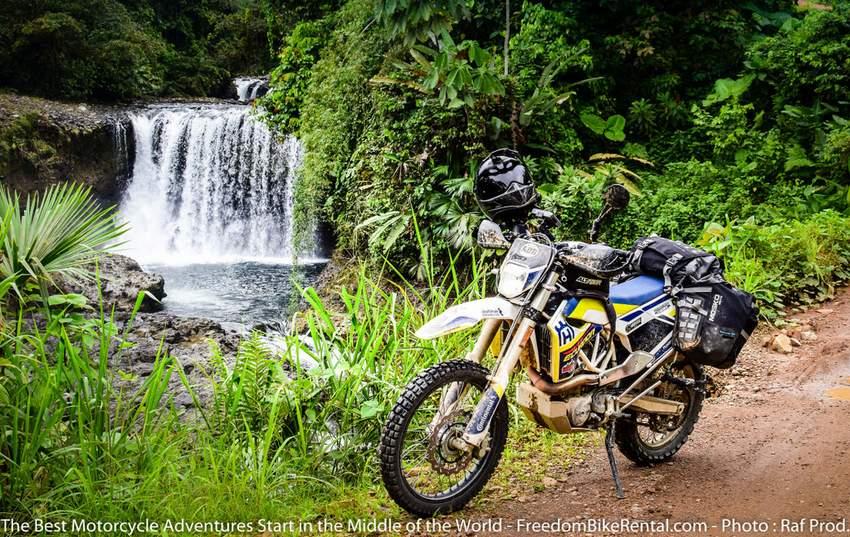 For those on lighter, off-road or enduro-style bikes, there are plenty of gnarlies you can tackle. Steep, rocky sections, sandy tracks near dormant volcanoes, muddy jungle trails, and endless single track abound here, so if you're after a serious challenge, prepared to be wowed (and left breathless – not just because of the views, but because of the high altitude, too).
Although off-road riding is perfectly legal in Ecuador, try and keep that throttle steady. While a lot of the dirt tracks may seem empty of traffic and people, there will be small villages, loose livestock, and wildlife along the way, so don't treat dirt riding in Ecuador as a rally race. You never know when a llama, a dog, or a kid may wander into the road, so slow down a little before corners and enjoy the scenery as you go along. After all, in Ecuador, the landscapes and the views are just as mind-blowing as the riding.
Level of Difficulty
Depending on what sort of riding you normally do, you can choose easy, wide gravel roads (these are especially plentiful around Volcano Chimborazo and Cuenca) or technical, narrow mountain tracks (Nono area around Quito, as well as the Eastern side of the Andes, are perfect for that). However, keep in mind that the road conditions may change on a daily basis: weather, floods, landslides, and other factors constantly shape the Ecuadorian landscape, so expect the unexpected and keep your daily mileage low. You may very well be able to do 400-500 kilometer days in Baja or Colorado, but here in Ecuador, a dirt track may be blocked by a landslide, a river may have become impassable overnight, or you may hit some unpredictable weather, so always stick to shorter distances and don't plan Dakar-style stages each day.
In addition, high altitude is sometimes a factor for riders who aren't used to elevations above 7,000 feet. While most riders do not experience any symptoms, if you're riding technical terrain, you may get out of breath and get fatigued sooner than you normally do. Once again, keeping the daily mileages reasonable (we recommend no more than 250 miles a day if you're riding dirt) will solve this.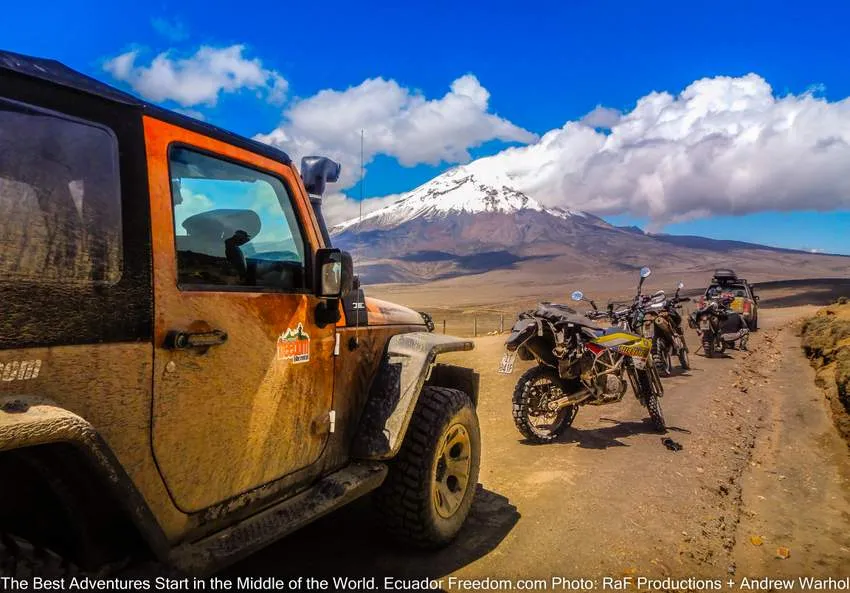 Finally, if you're riding dirt in Ecuador, you will be crossing the Andes Mountains several times. The Andes are the second biggest mountain range in the world, and it's a force to be reckoned with: high altitude, unpredictable road conditions, and countless steep switchbacks and turns mean you will be working harder than you would on the Trans American Trail or the European countryside trails. Even if you're planning to ride technical tracks, pack a warmer sweater as the temperatures stay cool at high altitude, and when you descend into the Amazon basin or the Pacific Coast, be sure to hydrate well and carry a camelback.
If you're not sure about dirt riding in Ecuador, you can always mix and match your routes: here at Freedom, we offer tours with both paved and off-road roads and off-road roads, as well as tours that focus mainly on tarmac with just a little section of gravel here and there. And if you're ready for dust and glory, simply pick a rental, point your front tire South, and keep it pinned!
Other Blog Articles You'll Dig...