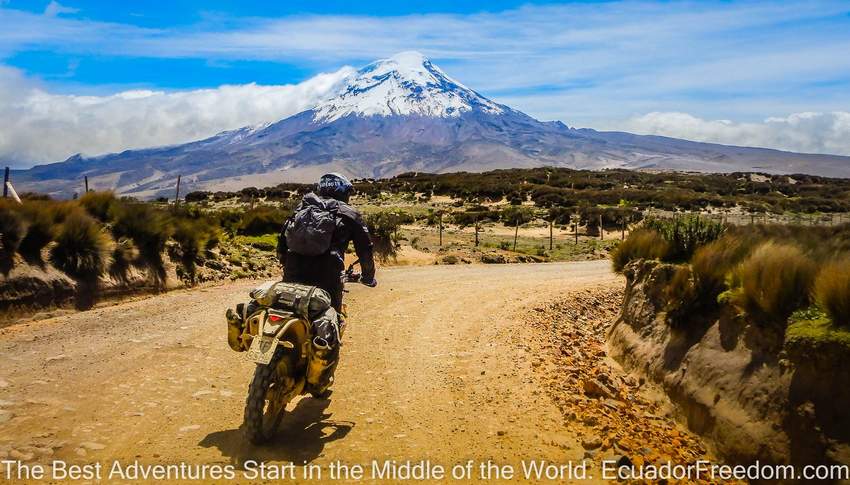 Adventure Riding in Ecuador vs. Colombia: Differences Explained
If you're a motorcyclist looking for an exciting adventure in the equatorial South American region, the two countries that immediately come to mind are Ecuador and Colombia. Both destinations feature breathtaking Andean scenery, welcoming locals, and a variety of on and off-road tracks for you to explore. Not to mention, they're both Spanish-speaking, budget-friendly, and highly motorcycle-friendly countries.
But how do Ecuador and Colombia differ? Though the two nations border each other and share similarities, they have plenty of distinctions that set them apart.

The Proximity of Diversity
Without a doubt, Colombia boasts more than its fair share of natural diversity. There's the Caribbean Coast, the Andes Mountains, the Tatacoa Desert, and the River Magdalena lowlands as well as the famed El Cocuy glacier park, all areas worthy of a visit.
However, Ecuador has something Colombia does not: unrivaled diversity that's always in close proximity.
In Colombia, it would take days to ride from the Caribbean to the high-altitude Andean passes. In Ecuador, the Avenue of Volcanoes is where the two mountain chains of the Andes come closest to each other. As a result, the Amazon rainforest, the Andes Mountains, and the Pacific Ocean are all within a day's ride from each other. This means you'll see altitude, terrain, and nature changing every day. You can go from sea-level tropical lowlands into a green, foggy rainforest and finally, a high-altitude, snow-capped mountain region within ten hours.
What's more, Ecuador is known not only for its geographical variation, but also its culture, cuisines, and people which are constantly shifting throughout your journey. Of course, the icing on the cake is the Galapagos, the archipelago renowned for its biodiversity and unforgettable experience. While adventure motorcycle rentals are unavailable there, it's a must-see for anyone traveling to Ecuador.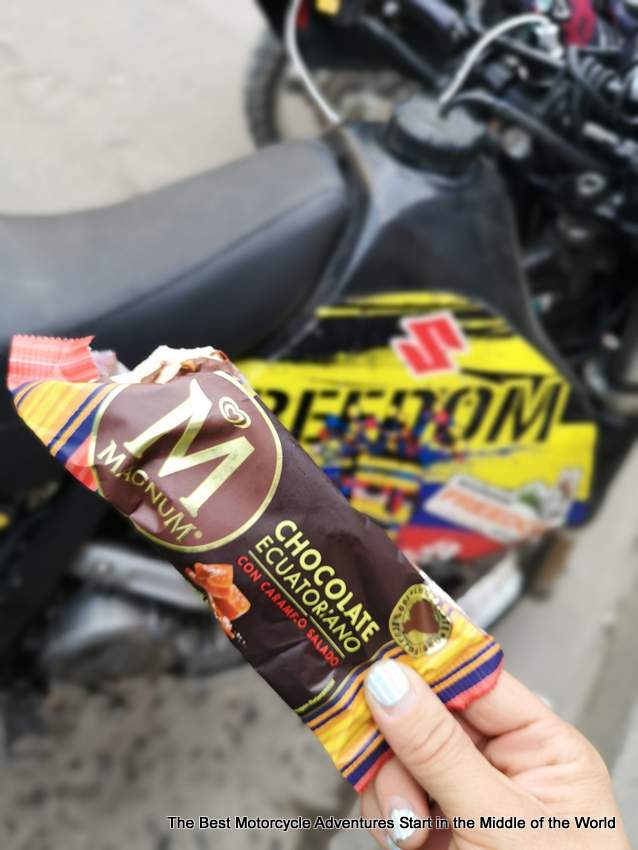 Cuisine
If you're a foodie, Ecuador has a wide variety of local traditional cuisine from coastal seafood and fish dishes to hearty highland soups and stews and finally, delicious rainforest fruit and fresh fruit juices on offer.
Food is as diverse and rich as Ecuador's culture and nature, whereas Colombia often feels a little stuck in its perpetual staples of rice, beans, and meat.
Granted, Colombia has world-class coffee. But Ecuador has world-class chocolate – and trust us, a visit to a working cacao farm to see Ecuadorian chocolatiers at work is a fantastic (and delicious!) experience.

Travel Expenses
Regarding travel expenses, Colombia is slightly more affordable than Ecuador when it comes to hotels and highway tolls, particularly with the current exchange rates. On the other hand, Ecuador uses the US Dollar, making it more stable and much simpler to calculate conversions. Therefore, you will never be perplexed by the prices, whether you're in a Juan Valdez coffee shop in Quito or an indigenous market in Otavalo. Ecuador is an OPEC country. Gasoline and diesel fuel are less expensive in Ecuador as they are not taxed and the prices are government controlled.

Traffic and Road Conditions
If you're riding South America for the first time, traffic might feel a bit "colorful" at first – especially in Colombia. While the country's roads are nothing short of spectacular, the stunning views and curves are often spoiled by intense truck traffic and drivers that are decidedly more caffeinated and pushier. Driving in Ecuador is a lot more mellow, in part thanks to courteous drivers and in part, the fact that high vehicle taxes reduce overall traffic. Additionally, Ecuador has much higher spending per capita on roads and infrastructure, whereas, in Colombia, road closures and stopped traffic are frequent occurrences.
The environment is taken into much greater consideration in Ecuador, as evidenced by the significantly lower amount of litter on the roads. Nature is given rights in the Ecuadorian constitution, indicative of the country's commitment to preserving the environment.

Political Stability
Although Colombia enjoyed a period of stability between 2013 and 2019, in recent years, the country has been struggling with corruption and civil unrest due to the situation in Venezuela next door as well as leaders that fail to promote economic growth and prosperity.
Unlike Colombia and Peru, Ecuador has not elected far-left leaders with ties to questionable associates. Our current president, Guillermo Lasso, is a businessman who has been very successful in attracting new investors and creating new, business-friendly goals such as encouraging airlines to increase flights here by dropping taxes and costs to fly to Ecuador. Thanks to his work and that of the current Minister of Tourism, Niels Olsen, we should see lower and lower airfares in the coming months which is great news for adventure motorcyclists.
The current Ecuadorian president is acting with strength against the drug cartels and taking control using the army and getting assistance from the USA to combat drug trafficking. We feel it is under control in Ecuador while the cartels will move their focus to Colombia and Peru where things, unfortunately, currently seem to be in disarray with no firm solutions in sight.

Crime, Police, and Safety
It is difficult to make a generalization about the safety of entire countries, as safety can vary greatly depending on the specific region or city. However, generally speaking, Colombia has had a significantly higher violent crime rate and higher levels of violence than Ecuador in recent years. It is believed that this is largely due to Ecuador's significantly larger police force (28% more police per capita), which has managed to reduce gang violence and disruptive behavior. While we don't like to make broad generalizations, we just returned from a ride to Colombia where we were shaken down by the police and pressured to pay bribes. In our 13 years here in Ecuador, this has never happened to us.
Ecuador Freedom Bike Rental has had a presence in Ecuador for over 13 years, and throughout that time there has not been a single episode related to security. In addition, women aged 70+ have been able to enjoy our tours with no problem, reporting nothing but positive experiences.

Motorcycle Tour Options
Although Colombia is an excellent motorcycling destination, bike rental and motorcycle tour options are limited compared to Ecuador. With the recent closing of Motolombia in Cali due to political instability, there are still several motorcycle rental places in Medellin and Bogota, but all of them combined do not offer the variety and availability of our fleet in Quito. Colombia unfortunately has very limited self-guided motorcycle tour options, likely due to visitors being apprehensive about traveling without a local guide to help them resolve any issues with the authorities and to provide protection against potential criminal activities. In contrast, we have over 14 diverse guided and self-guided tour options, enabling customers to explore and experience Ecuador at their own convenience, style, and pace.
Here at Ecuador Freedom Bike Rental, we have the largest rental fleet of adventure and dual-sport motorcycles in South America, ranging from Suzuki DR650s to BMW GS, Aprilia Tuareg, Honda Africa Twin, Husqvarna Norden, and Triumph Tiger models among others. In fact, we also do 4x4 rentals in case your non-riding family or friends want to join the adventure! Choose whichever motorcycle you prefer for however long you want it, go on a self-guided tour, or pick one of our guided Ecuador motorcycle tours and enjoy the adventure – sans the hassle and uncertainty.
Comments...
Loading comment...
The comment will be refreshed after

00:00

.
This commment is unpublished.

I can certainly attest about Ecuador's friendly welcome to tourists and motorcyclists as we've been there twelve times now in the last four years because it is so easy to travel to and trough Ecuador. And these people at Ecuador Freedom Bike Rental know their stuff and their bikes are just great. You won't regret choosing Ecuador!

This commment is unpublished.

Dude. Don't appreciate the elderly woman comment. As if elderly men are any safer. And by the way anyone riding a bike is not elderly regardless of age. Tuck it in guy. 

This commment is unpublished.

Honestly, I thought elderly just meant "old" and then, when I looked it up in the dictionary, I just saw that I was right -- it does just mean "old." Being an older rider is not shameful or insulting- it is quite an honor! I hope we can all be older riders!  Not really understanding why the outrage!?