Adventure Motorcycle Tours & Rentals in Ecuador
Ecuador Freedom Bike Rental has been providing travelers with authentic adventure experiences since 2009.
Our selection of mountain bikes, adventure motorcycle rentals, and 4x4 outfitting allows explorers to uncover the deeper, lesser-known regions of Ecuador.
We take pride in making sure your journey with us is nothing short of extraordinary. Our fleet of well-maintained motorcycles and four-wheel drive vehicles ensures you find an option that caters to your needs. Our experienced staff is there to assist you every step of the way, whether you're interested in an enjoyable ride through the Andes or a thrilling off-road adventure.
Our services are comprehensive and tailored to suit every rider's preference and budget. We've got you covered, from state-of-the-art adventure motorcycles and four-wheel drives to guided and self-guided tours across Ecuador. We offer rentals, custom tour planning, roadside assistance, and full tour packages. In the unlikely event of any mishaps during the journey, our well-equipped workshop provides 24/7 technical assistance.
Our self-guided tours take the hassle of trip planning out of your hands, and our state-of-the-art GPS navigation equipment and daily tour sheets ensure you stay on the right track. For those seeking expert insights about Ecuador's history, culture, and environment, our guided motorcycle tours are led by passionate and knowledgeable guides. Our customizable tour packages offer a blend of luxury accommodations, unique dining experiences, and iconic sites, providing a glimpse into Ecuador's rich and vibrant culture.
At Ecuador Freedom Bike Rental, we believe that a memorable trip requires proper preparation and guidance. We pride ourselves on delivering a one-of-a-kind adventure that reveals Ecuador's hidden gems and untold secrets. Book with us today and experience the magic of Ecuador firsthand.
And don't be fooled by pretenders copying our name! Trust only the original Ecuador Freedom Bike Rental to deliver the adventure of a lifetime.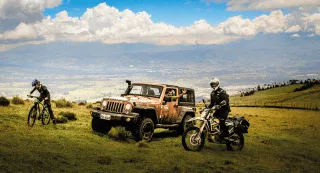 Bike & 4x4 Rentals
Rent motorcycles, mountain bikes, and 4x4's to explore on your own.  We have the largest selection of adventure-ready motorcycles in South America, outfitted with quality gear and maintained by an in-house staff of professional mechanics.  You'll get more than just a rental vehicle - you'll have the most experienced outfitter to help you plan the perfect trip.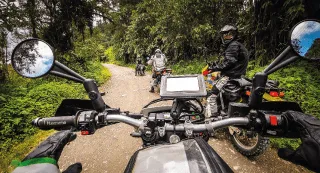 Self-Guided Tours
Channel your free spirit (and our local knowledge) on your own self-guided tour - alone or with a group of friends.  Our self-drive tours include an adventure motorcycle or 4X4 vehicle, motorcycle luggage, pre-programmed GPS, detailed road book with daily maps, prepaid lodging, select meals and a cell phone for 24-hour customer support in Ecuador.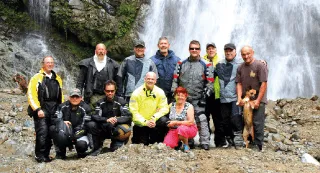 All-Inclusive Guided Tours
Our guided adventure motorcycle tours allow for a deep, personal connection with Ecuador and are designed to let you experience Ecuador like few travelers do. We take people off the beaten path - to places they would never see or explore without a local guide - providing them with an opportunity for insights into worlds they had previously thought long forgotten.
Adventure Motorcycle Rentals
Ecuador Freedom offers South America's widest selection of dual-sport / adventure motorcycles, 4x4's and bicycles for rent at daily and weekly rates. Our vehicles are purchased new and maintained that way by an in-house crew of professional mechanics using the highest North American and European standards. All vehicles are equipped with high-quality accessories from the world's leading manufacturers to make them safe and ready for everything Ecuador has to offer.

Self-Guided Motorcycle Tours
We put thousands of miles on the road each year, sourcing and testing the best for our self-guided travelers. Self-guided adventurers will see the must-sees but also see the incredible natural landscapes, archaeological ruins, wildlife, foods, and cultures that evoke a sense of awe. Our self-guided tours include an adventure-ready dual-sport motorcycle or 4X4 off-road capable vehicle, motorcycle saddlebags or luggage, pre-programmed GPS, detailed road book with daily maps, prepaid lodging, select meals, and a local prepaid cell phone for 24-hour customer support.

An Ecuador Freedom self-guided motorcycle tour (or self-drive 4x4 tour) booking can now be completed entirely online in just a few easy steps! Our new system will let you know what bikes are available for the tour date selected and you can book the tour for yourself - alone, or with a travel companion.
If you face any trouble booking your tour online or if you need any additional information in order to complete the booking, please do not hesitate to let us know.
All-Inclusive Guided Motorcycle Tours
We design motorcycling itineraries that go well beyond surface-level experiences aimed at people who want to genuinely immerse themselves in the world around them.  Our customers experience Ecuador and Peru on an intimate level through conversations with locals and by experiencing what life is like in these lands of diverse topography and peoples.
An Ecuador Freedom guided motorcycle tour booking can now be completed entirely online in just a few easy steps! Our new system will let you know what bikes are available for the tour date selected and you can book the tour for yourself - alone, or with a travel companion.
If you face any trouble booking your tour online or if you need any additional information in order to complete the booking, please do not hesitate to let us know.
Official Partners:
Ecuador Freedom Bike Rental has partnership agreements with the following world-class companies:
Ecuador Freedom in the Press
Magazines that have featured articles about Ecuador Freedom Bike Rental:



AWARD-WINNING SERVICECUSTOMER ACCOLADESRECOMMENDED BY ADVENTURERS
Challenging, Fun and Exhilirating
"It's clear these guys have spent hundreds of hours finding the best roads and a bunch of unique places to stay. The riding was challenging, fun, and exhilarating. Some of the hotels were so cool I wished I could spend a few days at each. This trip will want to make you come back for more. Note, you should have some off-road skills or take an off-road course unless you are planning a 100% asphalt trip. Dirt switchback roads in the rain are fun but intense - not for the inexperienced rider."
Dan L., Ontario Canada
Once in a Lifetime Trip
"We booked this Guided tour many months ago and looked forward to our arrival in Quito to see the folks at Ecuador Freedom! I have read so many 5-Star reviews for this place and truly thought that it had to be too good to be true! Not so!! All of the reviews and comments about how great the service is, how detailed the trips are planned, bike maintenance, etc are spot on. This was a once in a lifetime trip and we were not disappointed at all!

We took this tour from June 29-July 8th and we were able to experience so many different aspects of Ecuador. One of the things that really sticks out is just how knowledgeable these guys are about the country. It is not just the roads and the places that they take you to visit, it is more about the depth of knowledge that they have about the history of Ecuador and the villages/people that we encountered. Not a question went unanswered and they always offered much more detail to explanations to our questions. That being said, the miles produced a lifetime of smiles as the scenery and area is breathtaking.

All items that are mentioned in the ads for the tours are exactly what you get. All-Inclusive (except for alcohol/souvenirs) and that goes down to the fuel, bike, support vehicle, etc. Nothing is left undone and no detail has been missed.

If you are into Adventure Riding of any kind and are at all on the fence about either going to Ecuador or using Ecuador Freedom.......get off the fence! Do it and get it booked right now. You will NOT be disappointed in any way!"
Brian H., Indiana USA
TripAdvisor Hall of Fame Award
Our customers are extremely satisfied: We have been awarded a 5-star rating and the coveted "Certificate of Excellence" by TripAdvisor.com for being in their top 10% of best performing businesses, worldwide five years in a row! This has earned us the coveted "Certificate of Excellence - Hall of Fame Award" that very few tour operators in the world have achieved.
The accolade, which honors hospitality excellence, is given only to establishments that consistently achieve outstanding traveller reviews on TripAdvisor, and is extended to qualifying businesses worldwide. Establishments awarded the
Certificate of Excellence
are located all over the world and represent the upper echelon of businesses listed on the website.
Motorcycle Tour Operator of the Year - Luxury Travel Guide
Ecuador Freedom Bike Rental & Motorcycle Tours has won the Luxury Travel Guide Award for "Motorcycle Tour Operator of the Year."

The Luxury Travel Guide Awards recognize and celebrate excellence across all sectors of the affluent travel and tourism industry in Europe, The Americas, Asia, Australasia, Africa and the Middle East.

To help readers cut through all the clutter and to find the best hotels, restaurants and tour offerings around the world, the awards program selects winners based on their achievements and strengths in the travel industry. Ecuador Freedom Bike Rental was selected after passing through a rigorous assessment carried out by experienced in-house professionals, as well as a number of celebrity guest judges.
Honeymooners from London
We were looking to go on a bit of an adventure for our honeymoon, but also wanted a little bit of luxury along the way. Freedom bike provides exactly that. We did 1000 miles in total across some of the most incredible and at times challenging terrain.

Freedom Bike provided us with a BMW F800GS which never missed a beat on the entire trip. The locations and hotels were fantastic, to the point that it is impossible to pick our favourite point in the whole journey. Lagoons, waterfalls, ziplines, cloud forests, beaches, jungle trekking, canoeing and even floating down a river in the Amazon on a rubber ring; you'll struggle to find anything better than this.

My wife is a vegetarian and she never once had any issues finding a good meal on the whole trip. Food for both of us was top notch.

Our lowest point was knowing it had to end! We almost had tears in our eyes when we had to hand 'Archer' (we named the bike) back.

If you want an exciting honeymoon, or holiday in general, this is exactly what you should be doing.

The whole team at Freedom Bike are incredible. So welcoming and friendly. Constantine makes a killer G&T too. Exactly what we wanted on return!

Top tip: if you can get down to the shop the day before to complete all the paperwork and attend the briefing it makes your start day a bit more relaxed.

- Nic, London England
We Will Be Back!
I am not gonna dwell on the tour we did instead I shall talk about the experience I had with the company. The reason is because this is such a professional outfit I cant believe your customer satisfaction will be any different than mine regardless of the tour. The owners name is Court and although I had limited experience with him I can tell you one thing for sure, he knows the right people to hire. Andy our tour guide was not only a great rider, but a great guy. He made me feel not only welcome but as though I had made a new friend almost immediately. He seemed to have a sense that allowed him to choose a pace that was fast enough for faster riders, but worked for the slower ones as well. Bravo Andy this is a tough trick to pull off and you did it with seeming ease. As an aside his grasp of customer service was so superb It seemed hard to believe he was not born to perform it. We had a group of five so a chase truck was included. The guys in the truck were Raphael and Dave. Raphael was the support guy and once again the qualities he showed were the ability to make strangers friends in an instant excellent customer service skills and compassion for the riders when they were inevitably tired, hot, cold etc. Dave was the video guy and when he wasn't taking outstanding pictures and videos was (you guessed it) the most helpful friendly guy you can imagine. Can you see a theme here? Ecuador freedom gave me and my group a terrific ride. That I am sure was the easy part. This difficult part was to make us feel as though we we were the only reason the company existed. The sad part was not that the ride was over, but that I was leaving a group of friends behind. I would like to tell you this was the ride of a lifetime, and it was. But I am sure I will be back not only for another amazing ride, but to revisit the friends I left behind in Ecuador.

-Steve, Covington Kentucky USA
These Guys Rock!
These guys rock !!
I was traveling solo in Quito and got the urge to rent a bike and do a bit of riding in the mountains around Quito . Ran some research on the net and made my way to EFBR.

I could not have made a better choice. These guys are super professional and friendly and really know what they are doing. The setup is fab and fully equipped.

I did a 2 day rental without the tour and they went above and beyond in service even mapping out a few routes on the GPS ( which was not supposed to be included ), and guided me on some great roads to ride.

Andy & Sylvain went out of their way to make me comfortable and get me equipped ( it was my first time renting and riding solo like this )

I had a great time , the machine was in great condition and ran faultlessly in all weather conditions and I had an amazing 2 days thanks to these guys.

I hope to be able to return with some friends some days and do a longer tour.
Rajef, Mumbai India
4 Military Guys' Trip
Four military guys from North Dakota made the decision to fly to Ecuador and rent bikes on a guided tour from Ecuador Freedom Bike Rental in Quito. This was the best decision we made when it comes to riding in South America. The bikes were awesome and were inspected every morning. Raphael and Andy were our guides and they absolutely know the country and the unique places to eat and stay. "Pack For A Purpose" was amazing as we brought school supplies and musical recorders along to distribute to Ecuador elementary schools. Our hearts were blessed to see the schools and how we were helping the children. If you are looking at your first motorcycle destination ride, then seriously explore Ecuador Freedom Bike Rental. You will not go wrong.

Rob K, North Dakota, USA
Simply the Best!
What is it you want to do or see in Ecuador ? How do you like your motorcycle to handle ? Just ask !
This team of passionate people will do everything to help you out and make your trip memorable. In fact, they are so good, we just had our third trip with them, all in less then 18 months. We were so well pampered that we immediately felt in love with Ecuador and we are still planning to go back soon.
Please note that my "budget friendly" appreciation refers to the fact that there is no surprises or admin fees. The advertised price is what you pay and almost everything is included (bikes, hotels, most meals). So when you plan, you can stick to that plan as prices in Ecuador are relatively on the low side.
-Patrick P. Québec, Canada
An incredible organization
The front desk staff was fun and cheerful as they took us through our paperwork. The entire Freedom Bike Rental compound, in fact, is a whistle-while-you-work, wisecracking crew of folks who clearly enjoy one another's company and take pleasure in the work they do. Over two days, two guides gave us more than FOUR HOURS of unbelievably thoughtful briefings—on Ecuadorian road rules, relevant cultural mores, and the daily routes on the self-guided tour we were going to take. They've pretty much thought of everything, and that's not easy to do when you're sending people out on a motorcycle adventure this rigorous in a strange country. And when they welcome you back, it's with free beers, and open ears, to hear about your trip. Hard to imagine an operation of this nature could be any better. In fact, it's hard to believe it's this good.
The Best Experience!
This is my 1st experience with an adventure bike outfitting company, but I cant imagine it could get any better. A fun, easy going but very professional group at Freedom. Excellent support and information - from the website, pre trip communications, briefing and contact during the trip. I had never been to South America, yet felt comfortable with a self guided tour due to the preparation provided. Great equipment. Excellent knowledge of the routes. These guys have thought of everything.
Mind-Blowing Magical Adventure
I had no idea what to expect from this four day three night self-guided Avenue of the Volcanoes. The four days felt like a three week vacation due to the variety of the landscape, breadth of the country we experienced, and overall packed experiences. The first night at the farm house B&B, hosted by a sixth generation farm owner, sparked a magic that lasted throughout the entire trip. The team at Freedom Bike rental curated the perfect experience, unique, local, safe, and full of as much adventure as we could handle. Traveling with my boyfriend (I was riding pillion), the trip was romantic and awe-inspiring, as well as challenging and fun. I would follow the Freedom Bike Rental tours anywhere in the world they wanted to take me. Thank you to the team for thoughtfully sharing their passion for Ecuador and adventuring. You are the best!
John A . Dirt Deluxe Self-Guided Tour
So a friend and I just finished the "Dirt Deluxe" self guided tour on Suzuki DR650s. 5 nights. 6 days. The bikes were in excellent shape and meticulously maintained. Andy checked us in and went over the particulars of the bikes, navigation system operations, etc. Cort also briefed us on traffic/driving pointers and what to expect out on the routes. The whole process was extremely smooth and informative. The routes are easily to follow on the Nav system and broken down by days with points of interest and fuel stops indicated on screen. Daily routes sheets provided us with what to expect. Distances, elevation profiles, things to do and see along the way. The scenery is just beautiful. Riding through The Andes mountains and the small villages nestled in them is like riding back in time. This is a real adventure vacation not a watered down cruise ship excursion, but the daily distances were easily doable with plenty of time for lunch, touristy stuff, shopping, ect Now to the most surprising aspect of the trip. The accommodations. I could have never imagined how beautiful these lodges were going to be. Each one unique it is own way. Not generic first class, and each more amazing than the last. The dinners and breakfasts are delicious with several choices to suit all pallets. The staffs were there in what ever capacity you wished. I'm a low maintenance guy who doesn't require much pampering, but they were willing to attend to my every need. Once I returned from my supper to find my fire place lit and a hot water bottle in my king size bed! If you are a motorcycle enthusiast like myself or you want to try a different sort of vacation for a change, look through the website. They have guided tours also. Long tours. Short tours. Even tours in sturdy 4×4s. I am already looking forward to my next one!
David C - Self-Guided Cloudforest, Coast & Craters Tour
I had always dreamed of riding my motorcycle through South America. With a family at home, making time for a trip never allowed me to go. After scouring the internet and researching the rental and tour options, I decided on Ecuador Freedom. Convincing a lifelong friend to go was made easy with how well the self-guided tours are set up. We arrived a day early to get aquatinted with Quito. The first day we received a thorough briefing about riding in Ecuador, our route, and expectations along the way. Our 7 days on the road were simply amazing. Each day had a perfectly laid out route (a full day with stops, but not overwhelming), fantastic food suggestions, and amazing hotel accommodations. No single day was like the previous. We chose a dual-sport option and experienced some of the most incredible paved roads, phenomenal dirt roads, and even little trails we would never experience without the well laid out routes. Each day had its own route in the easy to use Garmin GPS. Each night we were met with a unique hotel that included breakfast, from beautiful beachfront to secluded luxury in the cloud forests. Each place is very memorable in its own way. The hosts at the hotels were equally accommodating to all of our needs. The food was simply fantastic (so much for losing a couple of pounds). As far as safety goes, we were pleasantly surprised by how good cell phone coverage was throughout the country. Even in the most remote areas, we both had cell service. Court answered our call during a road closure and quickly rerouted us right back on course. Once we finished, Court and Sylvain went out of their way to make our final few hours great. We had a few beers, a warm shower, a birthday party, and we left our bags at the shop to enjoy a nice meal in Quito before our 3 am flight home. They arranged a cab for us back to the airport at 11 pm. They genuinely care about their clients. There is simply no possible way in 7 days to get the same experience we had, except in a self-guided tour. I live in Colorado and ride all over the west, but none of that compares to what we experienced during the tour. Everything is so well planned for you, but you're still on your own. I can't recommend it enough and can't wait to go back!!
Rainbows over Ecuador
Let me start at the end. On our ninth and last day of riding in Ecuador, we were returning to Quito with several of our party concerned about making flights home. Roads were being closed ahead of us as a result of torrential rains and landslides. We got an early start from our mountainside lodge, setting an aggressive pace along winding roads, rivers, and waterfalls. The key route to Quito closed just as we reached its entry point, some hours later. Until road crews could clear several points ahead, we were stuck. What a great time! Our party by now rode, worked, played, and relaxed well together. We also ate well together – so, lunch! Court and Sylvain, our guides and leaders (and the owners of Ecuador Freedom) just happened to know some people and a place back up a side road. In fact, they knew people everywhere – and that made a major difference in our trip. For our entire time in Ecuador, we traveled as part of the local communities, not as tourists riding through them. For that rainy lunch, we ended up at a small roadside restaurant that specialized in local trout, good coffee, and a warm fireplace. The rest of the small restaurant was occupied by a local wedding party – before we left, we were part of that party too, enjoying wedding cake as our ending sweet and dessert. It is easy to hit the guidebook sites for punch list check-offs – but experiences like this one enhance the soul. And this was the kind of experience we encountered repeatedly thorough our trip with Court, Sylvain, and Hannah, our third guide. The road opened (kind of…) and several hours of incredible riding (including through an active waterslide) brought us to the fringes of Quito, slowly clearing skies, and an enormous rainbow arching from one side of the horizon to the other. Seemed appropriate. We returned to the Freedom garage not as customers, but as friends. From the beginning - In July 2019 my daughter Melissa and I joined the Andes, Amazon and Pacific tour. She rode a BMW 310GS, perfect for her experience level and stature. I rode a VSTROM 650, which suited me very well. Three couples, riding two-up on somewhat larger bikes, made up the rest of our party. The range of available motorcycles and equipment was impressive – the condition of the bikes was excellent. I suggest you take a look at the photo gallery for that trip (July 2019 Andes, Amazon & Pacific) to get a real sense of how much we all enjoyed it! Court and Sylvain distinguish Ecuador Freedom from other larger and more advertised motorcycle tour options, in Ecuador and elsewhere. They have made Ecuador their home, and they have explored and experienced it first-hand. With and through them, we became a part of the culture and the people, not just the scenery. As an example, we stayed for two nights in Canoa, on the Pacific Coast. Did the checklist – walking to the seaside, thatched-roof restaurants, tropical drinks in the hot tub, motorcycling on the sandy beach, late-night conversations with the owners and friends. Canoa welcomed us in an unexpectedly warm and open manner – in part because Court and Sylvain were in Canoa during the massive 2016 earthquakes, experiencing the destruction first-hand and participating directly in the immediate rescue efforts and subsequent rebuilding. A connection like that cannot be booked as part of a big-company group reservation. Outside of Canoa was additional evidence of the depth of connection to the area – we had been asked to bring school supplies and related materials from the US for distribution in rural schools, and enjoyed a morning doing so, sharing books, dictionaries, teaching cards, and other educational supplies. One of our group also brought soccer balls and a pump to inflate them. Take a look at our photo gallery on the Ecuador Freedom website (July 2019) for a look at the expression on the kid's faces as they got to sit on top of our motorcycles. Looked like naturals! In Baños, another two-night stop and the location of a waterfall dropping next to steaming hot baths, we also connected more deeply than tourists. We stayed almost next door to the baths, welcomed as family members more than strangers. It seemed the baths attracted the entire town for an after-dinner soak – I had a long and pleasant conversation with an Ecuadorian gentleman trying out his English (and my very limited Spanish) while up to our necks in hot water. A great equalizer, I might add. The next day, wandering through the local farmers' market, I shared lunch at a small table with a three-generation family, grandmother spoiling grandson and granddaughter while mom and dad smiled on. What a way to experience local chicken soup. There were other highlights reflecting the consideration Ecuador Freedom gave to the specific interests of our party. One couple with us owns a plant and flower growing business in Pennsylvania. On their behalf, and to our great pleasure, we were invited to a rose growing farm and given an exceptionally interesting tour and introduction to that business – an important export for Ecuador. My suggestion – stay away from the rose flavored wine… Other highlights included motorcycling along the ancient Incan cobblestone roads, lunch with hummingbirds, and swimming underneath forest waterfalls, far off the beaten path. Sautéed grubs with jungle herbs, served in an indigenous village, was optional (but surprisingly tasty). Not all was perfect – which was, in a way, even better. I have visited perfect resorts and not enjoyed the experience in a visceral way. We had one night's lodging at a banana plantation that had gone downhill since the last visit. Way downhill, to the extent that there were frogs and other interesting fauna in what was once a swimming pool. We all dealt with it with humor, as a bonding opportunity and a chance to order Rum from the town down the road. This contrasted with other lodgings – one so beautiful on the banks of an Amazonian tributary, with our own plunge pools and incredible food, another directly on a white Pacific beach, and yet another offering a late-night heated pool to take the edge off the day's ride. On the whole, authentic rather than plastic, Ecuadorian rather than conventional and domestic. Wonderful. On my next trip, I will make two changes. First, I will make a better choice in waterproof gloves. There were high altitude rides through the clouds that got wet, and cold. For the same reason, I will bring a heated jacket and a patch cord to connect to the battery. Not a big deal, but it will make some of the higher altitude parts of the trip a little more comfortable. Prior to and after our tour, we stayed at the Sheraton Quito, right around the corner from the motorcycle shop. It was a very convenient location, and they took good care of us. More in Quito than of Quito, but frequent traveler points made it free. Next trip, I will add a day before and one more day after, to see more of the City and the area – unless we opt for some of Court and Sylvain's new routes into Peru. My daughter and I loved the trip and loved taking it together.
Backroads of Ecuador Self-Guided Motorcycle Tour
If this is your first time riding motorcycles in South America, go with Ecuador Freedom? Our Backroads of Ecuador tour on Suzuki dr650's blew our minds on a daily basis - the routes are carefully selected to show the best of the Pacific Coast, the Andes, and the Amazon basin in just ten days! We traveled some of the most scenic roads, met locals and stayed at incredible lodges and hotels with swimming pools and hot springs. More, please!!
The pre-recorded GPS tracks, pre-booked hotels, and daily roadbook sheets make it dead easy to travel - every step of the way, you've got restaurant recommendations, waypoints, optional off-road detours, places off the beaten path, and cultural experiences mapped out for you, so all you gotta do is jump on your bike and ride without worrying where you're eating and sleeping. It's like being on a fully guided tour but riding on your own - thumbs up for a brilliantly designed Moto experience?
Katy and Matt from Arizona
Top notch motorcycle rental in Ecuador! We have rented motorcycles all over the world and these guys are the best! They have a wide variety of motorcycles and tours available. We chose a self guided tour. We actually did two separate self guided tours with them while we were in Ecuador. Ecuador Freedom Motorcycle Rental provided us with a clean, well maintained motorcycle, tools, air compressor, first aid kit and plenty of luggage capacity.

For the self guided tour, Ecuador Freedom booked our hotels and provided us with a GPS with all routes pre-programmed. Really easy to follow. The hotels were all special in some way, whether location, views, luxury or included meals. None were disappointing and some were really amazing! Along with the pre-programmed GPS, we also received a daily note sheet, one for each day of the ride. This included recommended stops for sightseeing and meals organized by trip kilometers. Very helpful! I should add that the routes are not just to get you from point to point. The routing itself is one of the best parts of this trip. Many great motorcycle roads, incredible views - some of the old cobblestone routes were the most memorable!

Ecuador Freedom's facility in Quito is clean, organized and fun! Their entire staff appreciates and looks after their customers. We didn't take advantage of any of their riding gear, but they had a huge selection of quality gear for their customers. They have an organized and polished process of greeting customers and getting them on their bikes and on the road. For the self guided tour, we were provided with a thorough orientation of the route, Ecuadorian driving customs and any other special issues of note. We received a separate bike orientation with a point by point inspection checklist and a review of the tool kit.

Customer service? We had a problem with one bike and Ecuador Freedom was at our hotel the following morning with a replacement! Ecuador Freedom provides you with a cell phone if you need to contact them. We called twice and received prompt attention each time.

Ecuador Freedom Motorcycle Rentals has truly raised the bar for motorcycle tour and rental companies. Others would do well to follow their lead. We had an epic vacation, thank you!
Ecuador Freedom Bike Rental
Calle Finlandia N35-06 y Suecia
Quito, Ecuador 170135

Tel: +593 (0)2-600-4459
USA: +1 (603) 617-2499