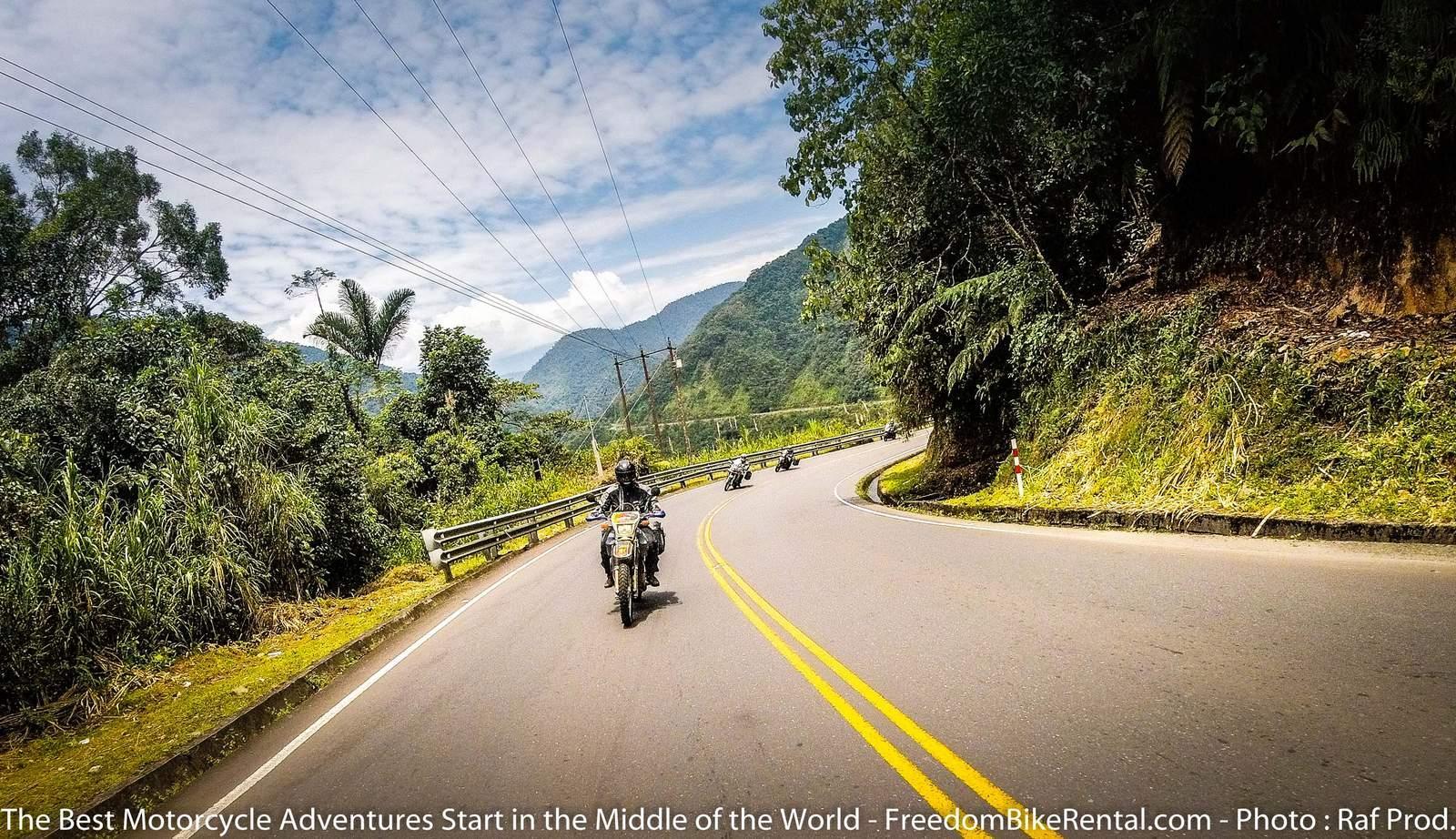 Authentic Motorbike Adventures in Ecuador
"Be yourself; everyone else is already taken." — Oscar Wilde.
Over the last few years, "authenticity" has become just another buzzword used by anyone and everyone out there, from Instagram influencers to marketers. Everyone wants to be authentic now: companies, individuals, corporations… but authenticity is a lot like experience. Before you can make big claims, you've got to walk the talk – otherwise, instead of genuine authenticity, it's simply arrogance.
Creating authentic motorbike adventures in Ecuador requires three things: experience, curiosity, and hard work. We have been motorcycling, working, and enjoying our lives in Ecuador for over ten years now, but we remain curious and open-minded. This enables us to keep exploring and discovering new places and people, making our tours better each year. We have ridden across Ecuador from top to bottom and from left to right more times than we can count, but we always have a vision of where we're going next and how we're going to get there, ready to roll up our sleeves and get the work done. We don't sell anything we don't truly believe in. Every single mile you ride with us has been thought out, ridden before, and added to the tour for the ultimate experience.
And if there's anything we've learned along the way, it's that authenticity matters just as much as experience does. Here's why.
Transparency and Integrity
The simple truth is that with authenticity comes integrity, and we're proud to reflect on our philosophy of living and working here in Ecuador. Being transparent about what we do and how we do it, taking care of our customers like they were old friends, and supporting the locals as a way of saying "thank you" for the hospitality are high on our priorities list. Unlike so many foreign companies cropping up everywhere now, we consistently hire local Ecuadorians, whereas our Pack for a Purpose program is designed to help communities in need. Ecuador has given us so much and opened its doors for us; we believe it's only natural to try and give back. Instead of swooping in with a ready team of Westerners, we care about the diversity and fairness of opportunity here in Quito, and we're excited to welcome locals to our Ecuador Freedom family.
You Can't Fake It
Having seen our fair share of copycats here in Ecuador, we know one thing for a fact: fakery will always come out, one way or another. Motorcycle rentals and tours is a particular, very niche segment of the travel industry, and it is easily among the most unique. Because of this, there's just no way around it but to create your own boutique, signature experiences; otherwise, the customers will smell a rat from a mile away.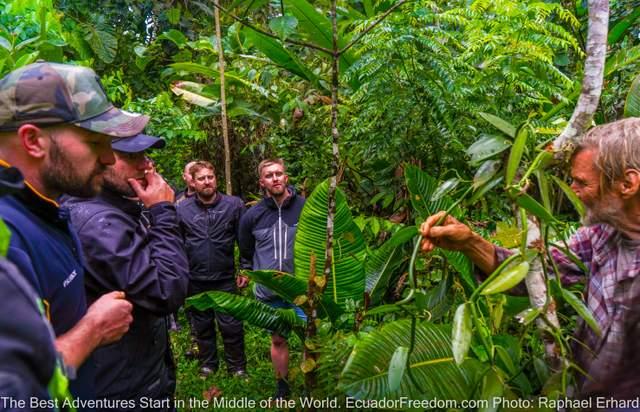 At Ecuador Freedom, we have created several unique visits that did not exist before. As we ride, we love to stop and visit the local fruit and cacao farmers, heart of palm plantations, leather and saddle workshops and chat with the local guitar makers, shepherds, school teachers – it makes our tours that much more rewarding and immersive. We offer these experiences so that people aren't just riding through landscapes; they begin to understand why all those small little palm trees are growing or what a coffee tree or cacao tree is and why they are growing there, what the purpose is, how much work goes into all of it. It creates a deeper, better understanding of the country and the people. These aren't mainstream tourist attractions. These are real, authentic local people welcoming us into their homes and workshops. We don't offer tourist packages. We create these exclusive experiences for our riders to show them the hidden gems of Ecuador.
Safety First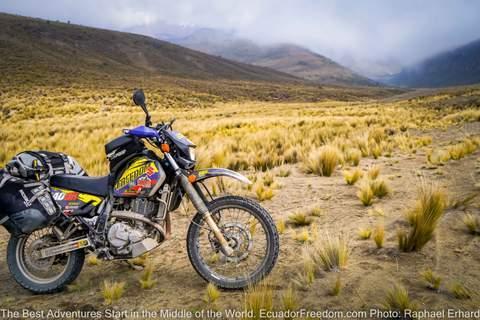 However, what's worse than going on a mediocre tour is that trusting a copycat can be dangerous. Motorcycle riders are in for the adventure, not the trouble. When newly minted tour companies try to copy what we do without the experience or the know-how, it can quickly become dangerous for everyone involved. Without investing the time, the work, the riding, and the relationships with local communities, it's much harder to make sure everyone on the tour will be safe. Here at Ecuador Freedom, if trouble happens on tour, we have a country full of communities willing to reach out their hands to help us. Authenticity and experience allow us to be flexible, move quickly if we need to send out help, and weather the storms wherever they may arise. Poorly designed routes that look great on a map might have dangerous heavy traffic, poor maintenance, or require riders to go somewhere and turn around. We build the maps on Open Street Map and know how to design a tour that doesn't have a single U-turn along the way.
True or False?
It's easy for us to see who's who in the zoo, as we've been in Ecuador for a decade now. However, if it's your first time booking a motorcycle tour in Ecuador, you may get confused by all the different offers. Which tour company is the most reputable and trustworthy? Who's got the authentic experience and the knowledge, and who only built a slick website?
To figure this out, take a look at the company's owners. How long have they been in the country? Do they speak the language? Are they passionate motorcyclists? Are they actively involved in local life? Next up, talk to them. Can they recommend roads to ride or places to see without trying to sell you a tour? Do they support motorcycle travelers? Are they happy to share their experience and knowledge? Then, check the reviews. Don't just click on the first few ratings, dig deep: how many reviews does the company have, how far back do they go, do they sound genuine? A good way to figure out whether the review is fake is looking at the reviewer's account: if it's brand new and doesn't have much info, it might be a fake. If the review is very generic, chances are, the person hasn't actually been on the tour. More in-depth reviews and mention details such as tour guides' names or specific locations tend to be genuine. Another warning sign is a sudden spike in similar-sounding, generic reviews such as "had a great time," "cool stuff," or "awesome adventure."
And finally, see if you can find any ride reports or experiences by other tour participants. Word of mouth doesn't lie, nor does the motorcycling community. But don't just take it from us: here's what our riders had to say about our tours:
"On our ninth and last day of riding in Ecuador, we were returning to Quito concerned about making flights home. Roads were being closed ahead of us a result of torrential rains and landslides. We got an early start from our mountainside lodge, setting an aggressive pace along winding roads, rivers and waterfalls. The key route to Quito closed just as we reached its entry point. Until road crews could clear several points ahead, we were stuck. Court and Sylvain, our guides, and the owners of Ecuador Freedom just happened to know some people and a place back up a side road. In fact, they knew people everywhere – and that made a major difference in our trip. For our entire time in Ecuador, we traveled as part of the local communities, not as tourists riding through them. For that rainy lunch, we ended up at a small roadside restaurant that specialized in local trout, good coffee, and had a warm fireplace. The rest of the small restaurant was occupied by a local wedding party – before we left, we were part of that party too, enjoying wedding cake as our ending sweet and dessert. It is easy to hit the guidebook sites for punch list check-offs, but experiences like this one enhance the soul. And this was the kind of experience we encountered repeatedly thorough our trip with Court, Sylvain, and Hannah, our third guide. Court and Sylvain distinguish Ecuador Freedom from other larger and more advertised motorcycle tour options, in Ecuador and elsewhere. They have made Ecuador their home, and they have explored and experienced it first-hand. With and through them, we became a part of the culture and the people, not just the scenery. As an example, we stayed for two nights in Canoa, on the Pacific Coast. Canoa welcomed us in an unexpectedly warm and open manner – in part because Court and Sylvain were in Canoa during the massive 2016 earthquakes, experiencing the destruction first-hand and participating directly in the immediate rescue efforts and subsequent rebuilding. A connection like that cannot be booked. There were other highlights reflecting the consideration Ecuador Freedom gave to the specific interests of our party. One couple with us owns a plant and flower growing business in Pennsylvania. On their behalf, and to our great pleasure, we were invited to a rose growing farm and given an exceptionally interesting tour and introduction to that business – an important export for Ecuador. Other highlights included motorcycling along the ancient Incan cobblestone roads, lunch with hummingbirds, and swimming underneath forest waterfalls, far off the beaten path. On the whole, authentic rather than plastic, Ecuadorian rather than conventional and domestic. Wonderful. My daughter and I loved the trip and loved taking it together."