Adventure Rides: Guided vs Self-Guided Motorcycle Tours in Ecuador
Designing a motorcycle tour in Ecuador is a lot more than just scenic routes, well-maintained bikes, and nice hotels. Having spent over a decade in Ecuador and created thousands of successful adventure rides for countless happy customers, we have developed our own philosophy and our way of running motorcycle tours here in Ecuador, and we want to share our vision with you to help you choose the best tour option for you and your riding buddies.
There are many ways of running a motorcycle tour - whether guided or self-guided. Several excellent tour companies around the world have been running tours for a while. Each of these companies has a different tone to their tours and a way of operating them. We believe that each tour company strives to provide the best experience for its customers in various conditions, climates, and customers of varying skill levels. Every company is different, and motorcycle touring is usually very specific to each different country.
So what's different about riding in Ecuador? How do we run our guided and self-guided tours, and which option would you be most comfortable with?
Adventure Motorcycle Rides in Ecuador
Most riders can easily navigate, tackle on- and off-road routes on their own, and explore countries like the US, Canada, France, or Italy without guides or support. Well-developed road networks, accurate maps, informative signage, and familiar traffic conditions make it easy to ride, whether you're traveling across Spain or Norway. However, Ecuador is slightly different: for one, navigation here can be a little trickier, the traffic and driving courtesies are different, most locals only speak Spanish, and the roads are so twisty it's impossible to blast through.
If this is your first time riding in South America, Ecuador might be a new challenge at first, which is why we run our guided motorcycle tours here as a tightly-knitted group. We always keep the riders together: we ride as a group and try to immerse the riders into what is going on around them as much as possible. We all ride together, lunch together, and stop to visit waterfalls, local craftspeople, and sites together.
We also go on visits with locals and short hikes as a group. Our riders appreciate having a professional, experienced guide with them. All our tour guides have deep local knowledge of the country, speak several languages, and keep an eye on the riders and give tips on riding the trickier sections like off-road trails or steep switchbacks. In case of trouble, our guides will fix the issue for you or know who to call for immediate assistance.
On our guided tours, we keep riders together for several reasons. One of the most important ones is safety: if a rider experiences an issue or an accident, we know that immediately, not hours after the fact. Another vital reason is camaraderie: experiencing the Ecuadorian roads and off-road trails, off-bike activities, and meeting locals is a lot more fun together. We know a guided tour can be a great bonding experience for friends, teams, couples, and even strangers. It's a little bit like listening to the radio versus going to a live concert: sure, you'll hear the same music, but the shared emotion with others in a live concert will make the experience that much more impactful.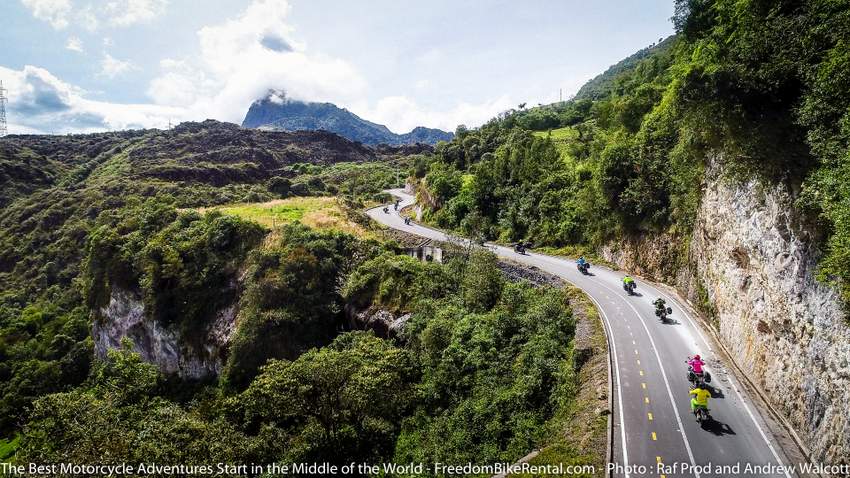 All our guided tours are truly all-inclusive, which means you don't have to worry about paying for meals, fuel, or included off-bike activities. Forget the hassle of ten riders trying to pay for their lunch individually – we take care of everything while on the tour, and all you need to do is enjoy the ride without pulling out your wallet.
Finally, our guided tours have a chase vehicle included if the group consists of five or more riders. We know some companies like to take a chase vehicle at all times and offer space in the truck for people who want to take a day off from riding whenever they feel like it. While this is a nice feature for those who do not intend to ride every day, the drawback is that these tour companies do not offer guaranteed departures for their tours. This means that you can sign up for a tour and the company can cancel it on you 30 or 60 days before your tour date for lack of participation and you'll end up not going anywhere. We don't operate like this: our tours are guaranteed to go, with no minimum riders. When we have more than five riders, we view the chase vehicle as an opportunity to provide an additional guide to help manage the larger groups. It carries water, snacks, and some of the luggage, and has space for one or two motorcycles in case of a potential breakdown.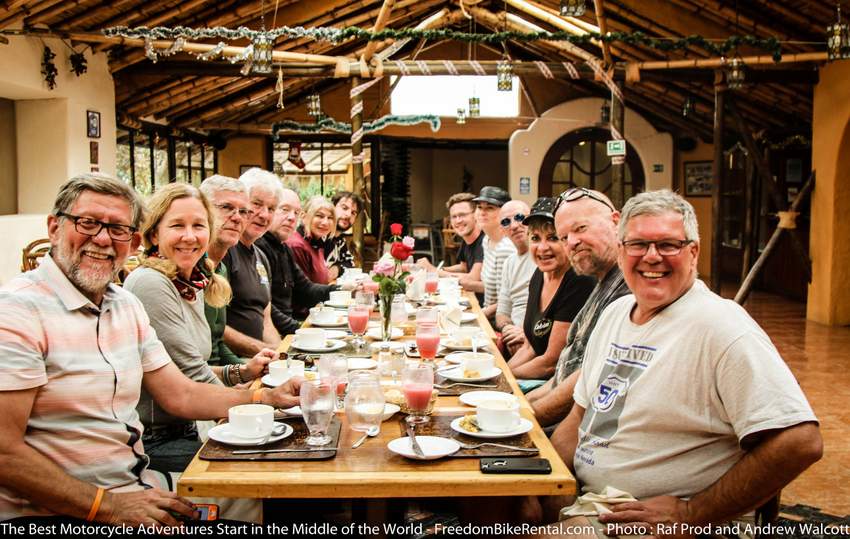 Dealing with Different Rider Abilities
When it comes to our guided motorcycle tours in Ecuador, we often get asked about rider ability. If we keep our riders together, how do we balance out differences in speed and skill? The answer is relatively simple: here in Ecuador, straight roads where you can go flat out are few and far between. In fact, our routes take riders on the twisties so much, and some of those roads pass so many towns and villages it's virtually impossible to ride very fast, and this is why riders on the guided tours never feel like they are being held back or struggle to keep up. Instead, everyone rides at the same pace and can focus on the scenery just as much as the motorcycling. Unless it's one of the two extremes – either highly skilled speed fanatics who love to scrape the footpegs every chance they get or very inexperienced riders who struggle to ride over 30mph – we never have issues with differing rider abilities because Ecuadorian roads are a great equalizer.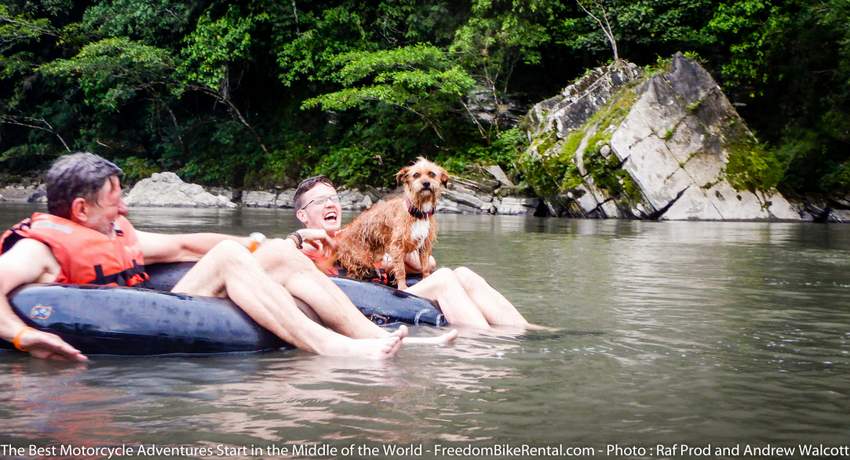 It's the same with riders' interests: no two travelers are the same, but this is exactly why we jam-pack our tours with plenty of sightseeing, tours, and other off-bike activities to make sure all the riders get their fill of adventure, exploration, and cultural experiences that match their interests. We don't simply eat up the miles: we visit locals, venture off the beaten path, and include unique experiences such as chocolate tours or guitar makers' workshops to make sure your motorcycle tour in Ecuador will immerse you in the local ways of life as much as possible.
As mentioned earlier, many tour companies in other parts of the world deal with the issue of different riding abilities in a different way: they provide a morning briefing and then let the riders on their own for the rest of the day and meet up with them at the hotel at night. We feel this is more in line with our self-guided tour offerings which will suit our guests who wish to travel in this way.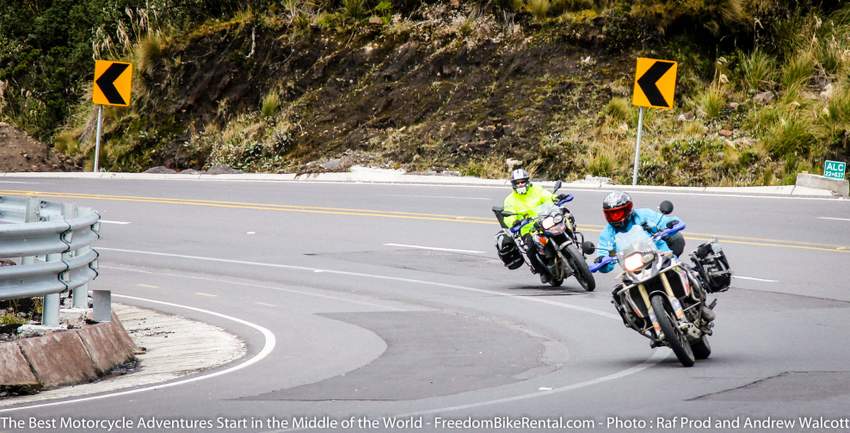 Self-Guided Motorcycle Tours in Ecuador
For riders who are discovering South America for the first time, love riding with others, and enjoy the comfort of a fully guided ride, we recommend our guided motorcycle tours. However, if you are a very fast (or a very slow!) rider and group riding isn't for you, if you prefer to ride alone, or if you like having a little more flexibility and want a more economical tour option, we also have a wide variety of self-guided tours available. On a self-guided tour, you can ride alone or with friends going at your own pace and stopping wherever and whenever you want. Before you leave, you receive a detailed rider briefing, a GPS unit with pre-programmed routes for each day, and a roadbook detailing all the stops, restaurant recommendations, and interesting waypoints along the way. We also pre-book your stays, so you never have to worry about finding a hotel on your own. Finally, we provide you with a local cell phone, and you can always reach us if you need help or experience bike trouble.
You will have the comfort and safety of pre-recorded routes, pre-booked hotels, and detailed daily recommendations of what to see and where to eat along the way. Still, you'll be able to stop whenever you want to, take a detour if you feel like it, or explore in more depth using our suggestions.
However, self-guided tours aren't just for lone wolves: you can easily plan a ride with your friends this way and explore Ecuador together while coming out as a star ride planner. Forget arguing where to go each day – a self-guided tour option will provide you with detailed routes and itineraries, and you'll be able to enjoy the ride. It's also a more economical way of traveling Ecuador, as you will get the rental motorcycles and hotels without the taxes, thanks to Ecuador tax regulations!
We recommend self-guided tours for riders who are resourceful and independent, capable of fixing minor motorcycle maintenance issues or a flat tire, speak a little Spanish, and can deal with unexpected situations like a landslide or a trickier off-road section. While we will always be just a phone call away, we suggest self-guided tours for experienced, capable riders.
Whether you opt for a guided or a self-guided motorcycle tour in Ecuador, we guarantee you'll have an adventure of a lifetime, discover South America in the best way imaginable, and come back home refreshed, inspired, and full of unforgettable memories!