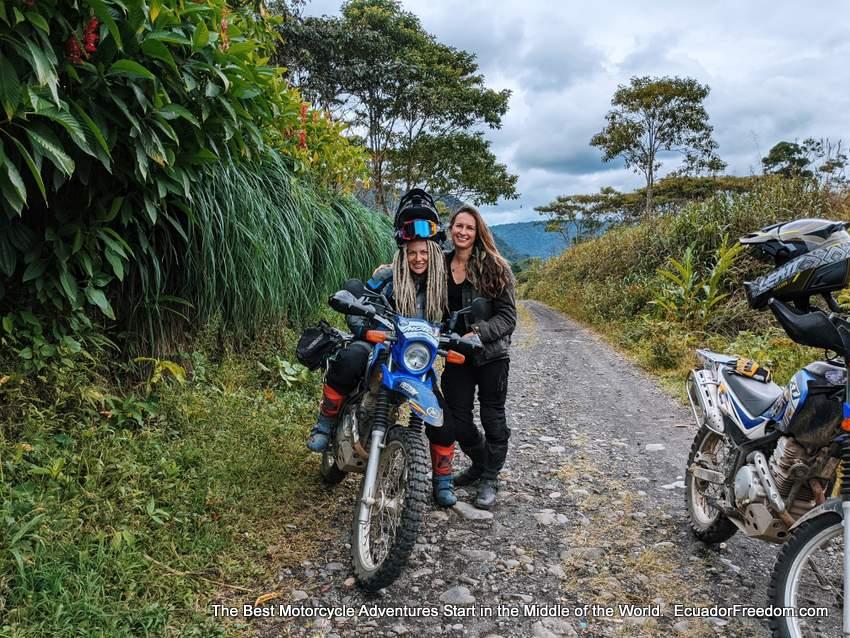 Why Women Should Choose to Adventure Ride in Ecuador
Here at Ecuador Freedom, we love to welcome motorcycle travelers whether they're going on one of our tours or simply passing by on their own motorcycles. Over the years, we've shared chain grease, beers, and stories with countless motorcycle adventurers, and we have been noticing that each year, more and more solo women riders are taking to the road. From Janelle Kaz, an American motorcycle journalist, and photographer, to Bikem Akpul, a dirt bike maniac from Turkey, we've seen female riders exploring Ecuador in increasing numbers (which is why we've also designed women-only motorcycle tours here!).
We love seeing female riders traveling on their own, and we think women should choose to ride Ecuador more often. Here is why: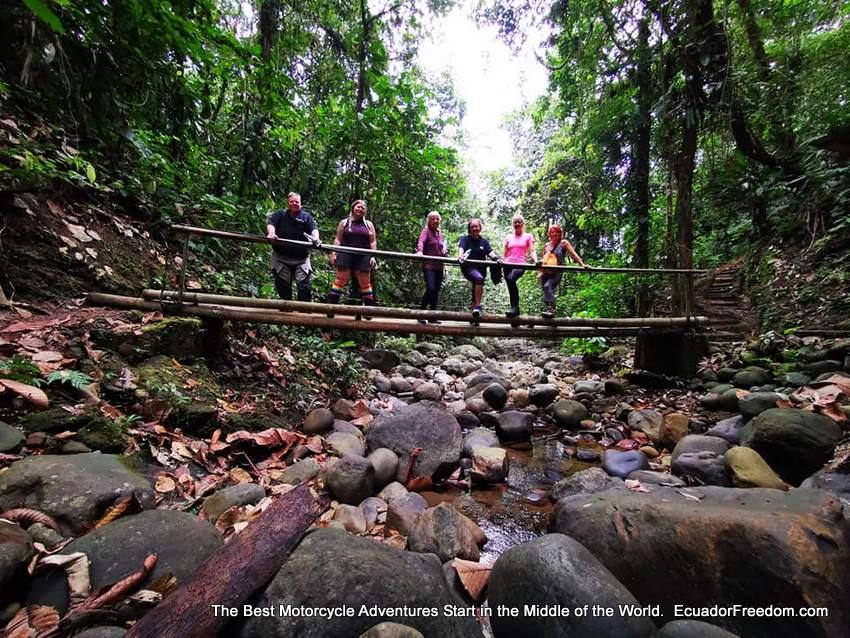 More Sights in Less Miles
One of the best things about Ecuador is that this country is relatively small yet offers so much natural, geographical, and cultural diversity that it feels like you've seen all of South America in just a couple of weeks. The Andes Mountains here run right across the middle of the country, making the coastal and the Amazon regions easily accessible; you can ride the high mountain passes, the Pacific Coast, and the Amazon basin without putting in thousands of miles to cover the distance. Even if you only have ten days or two weeks to ride Ecuador, you're guaranteed to see so much it'll make memories for years to come.
We know women riders love to explore more and do plenty of off-bike activities, not just eat up the miles, and Ecuador's diversity is ideal for that. Ride, travel, meet the locals, help local schools, visit wildlife sanctuaries, take a boat trip down the River Napo – everything is accessible within a day's or two days' ride, and there is so much to see and do along the way.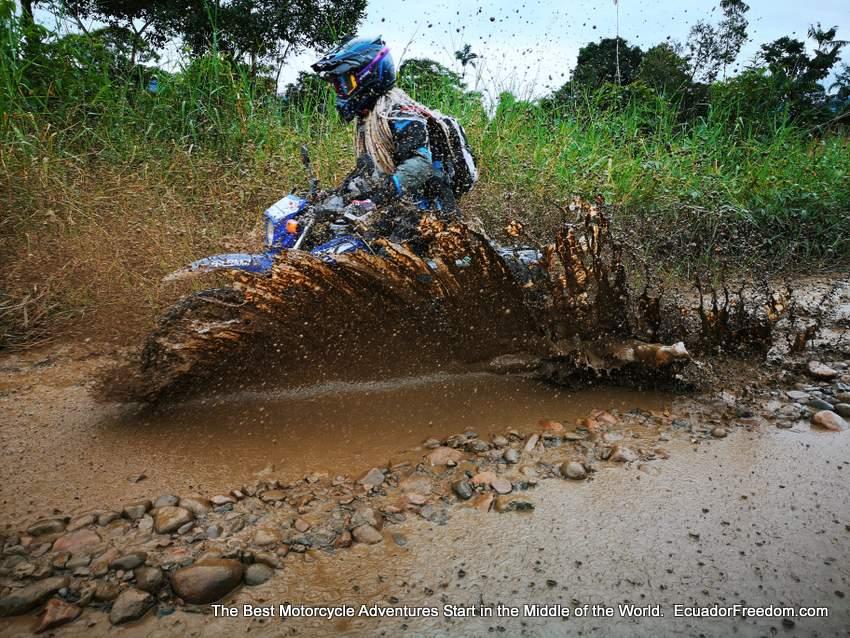 Motorcycle-Friendly Culture
Ecuador is among the most motorcycle-friendly countries on the entire continent. For women riders who choose to travel here for the first time, this might make the transition easier. The traffic conditions in Ecuador are different than in Europe or North America. Still, Ecuadorians are courteous drivers, and they are used to seeing motorcycles on the road, so riding here isn't complicated, and most of the time, it's very secure. According to our female tour guides here at Freedom, riding motorcycles in Ecuador is never unadventurous - but always safe. And the best part is, Ecuadorians love seeing women riders on bikes: it's a rare sight to see local women riding anything bigger than a 150cc, so female motorcycle travelers in Ecuador receive a heartfelt welcome. In fact, Quito even has its own women riders' group, so if you feel like riding with local women, you're in the right place!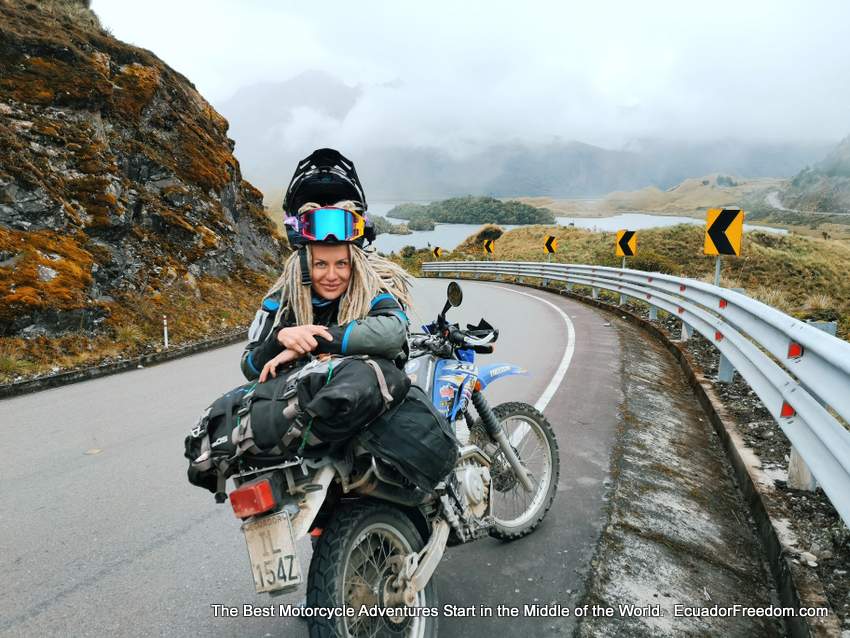 Safety on the Road
For solo women riders, safety is important, and that's why Ecuador is a great entry country to South America. This is one of the most stable, peaceful, and safe countries on the continent, and we've heard countless stories of women riders experiencing nothing but hospitality here in Ecuador. Planning your routes whether you go on or off the road, booking your stays, and finding safe parking for your motorcycle here is easy. If you're not sure where to go, shoot us a message – we love connecting with independent travelers or helping you choose your rental bike (Ecuador Freedom offers a wide variety of low-seat rental bikes) or tour.
If you're still unsure, we highly recommend our self-guided motorcycle tour options, especially if you're going solo. On the self-guided tour, you have all the freedom and flexibility with an added safety net: all our rental bikes are tracked, we know exactly where you are at all times, and we can keep an eye on you remotely. If we see you haven't made it to your hotel or destination, we can always spring to action; we pre-book your stays and plan your routes for you, and we're always only a phone call away if you need assistance.
Fly and Ride Adventures
If you're not on the epic Pan American odyssey on your own motorcycle but would rather like to fly and ride South America instead, Ecuador is the perfect place to start. You can choose one of our guided or self-guided tours, bring your riding buddies, or have us create a custom motorcycle tour for you and your gal pals only: here at Freedom, and our female motorcycle tour guides are always excited to lead all-women's rides. Exploring the Andean twisties together, getting off the road, connecting with locals, going on jungle hikes, and visiting colorful indigenous markets while traveling on a motorcycle is the perfect getaway for solo women riders and groups or couples alike, so if you're ready for a fly and ride adventure in Ecuador, let us know. We'll make sure you'll have an experience of a lifetime!
About the Author
---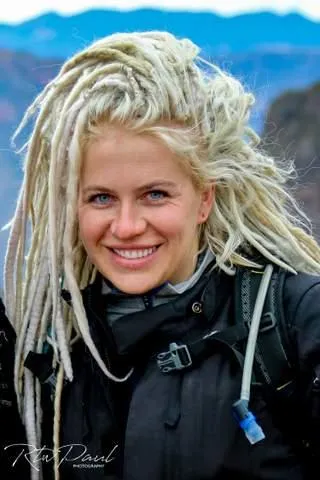 Egle Gerulaitytė is a motorcycle journalist, writer, and adventure rider obsessed with remote off-road trails, obscure cultures and communities, and organic coffee. Egle edits Women ADV Riders, an online magazine and resource for female motorcycle travelers worldwide, and hopes to inspire more women to go out there and explore the world on two wheels.
"Adventure travel is the biggest gift you can give to yourself as a rider and as a person. It's an eye opener, a massive confidence boost, and an incredible way to get to know the world" - Egle