Get Ready to Ride Motorcycles in Ecuador
So you're thinking of riding Ecuador? Kudos – we bet you're going to have an extraordinary adventure! However, as with any trip, riding Ecuador does require some preparation. If this is your first time exploring South America on two wheels, we've put together a list of things to keep in mind and prepare so that your journey is a truly memorable adventure – sans any frustration.
Get Ready to Ride Ecuador: Roads
When it comes to motorcycling in Ecuador, we've got two words for you: mountain twisties. Ecuador is an Andean country, which means most bike routes here are mountain roads with countless bends, switchbacks, and corners. Sound like a motorcycling paradise? It certainly is, but if you're not used to riding mountain roads, it's not a bad idea to get some practice. If you're a road rider mostly found on interstates, negotiating the steep switchbacks of the Andes Mountains may feel a little challenging.
To avoid sweating on the hairpins, get in a bit of mountain riding practice before you ride Ecuador. The easiest way to go about it is looking for some scenic, twisty routes in your area – look at motorcycling apps like Calimoto or Scenic to find mountain roads near you, reach out to other riders, or simply look for twisty routes on Google Maps. Get some twisty miles under your belt before you ride Ecuador, and we promise you'll have a much better time riding here!
You can also practice riding through traffic cones. Set up the cones and practice first riding them like a slalom race as fast as possible - see how much quicker you can do this with practice. Now do the same course going as slow as possible without putting your foot down. See how much slower you can do the course. Having the ability to control your bike at both high and low speeds will help when you are in Ecuador.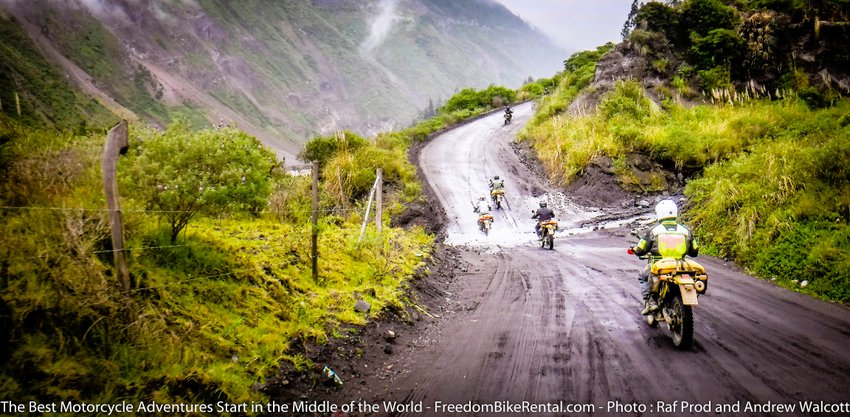 Ecuador Off-Road
Ecuador is a true off-roading heaven for dirt bike maniacs, but exploring Ecuador on dirt isn't quite the same as riding your local BDR. For one, the altitude here varies from sea level to 15,000 feet, and that means different climate conditions that can change throughout the day. Every once in a while, you might come across a landslide that will take some skill to get over, and the weather can be unpredictable in the Andes Mountains, meaning you might have to ride mud or washed-out trails.
In other words, it's best to get some off-road practice in before you hit the dirt in Ecuador. Sign up for some dirt bike training, head out on the trails with your friends, or simply practice on your local trails: the more dirt experience you have, the more fun Ecuador off-road is going to be.

Rider Endurance
This is something most riders don't even think about, but it's crucial to keep in mind when you're going on a motorcycle tour in Ecuador: endurance. We're not saying you need to be in excellent shape, but riding a motorcycle on a multi-day trip with changing roads, plenty of curves, and varying altitude means you'll likely get fatigued if you're not ready. It's one thing to go on weekend rides and quite another, to embark on a seven or ten-day motorcycle trip in Ecuador, so make sure you're ready for the adventure! Go on longer rides with friends back home, commute to work on your bike (even if it rains!), and hit the gym once in a while – you'll thank yourself later.
Navigation in Ecuador
Navigating in Ecuador is relatively straightforward…if you're familiar with GPS navigation units like the Garmin or TomTom. Here at Ecuador Freedom, we're fans of Garmin as it works smoothly and offers simple, easy-to-follow navigation both on and off the road. If you mostly navigate by phone, you should be able to figure out Garmin in no time, but it's never a bad idea to practice a little by creating new routes for your rides at home. If you need a GPS unit to practice with at home, take advantage of the special offer to get a Garmin Zümo XT at just $449 ($50 off the regular retail price), so you can install and practice on your own bike before getting here.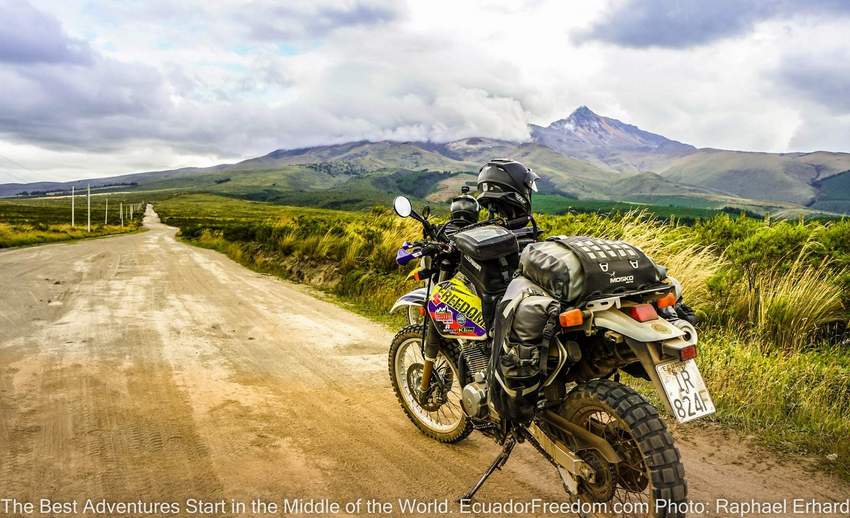 Packing and Luggage
Light is right: the same rule applies to traveling to Ecuador. When you're thinking of your packing list, try to minimize what you carry to the essentials only. Trust us, all you need to enjoy your trip is your riding gear, a change of clothes, your electronics, your toiletries, and your base layers. The lighter you pack, the less hassle it is to get everything on and off the bike each day! Your bike will be fitted with top-quality riding gear from Mosko Moto, AltRider, Hepco & Becker, and or Kappa, which will provide enough room for you - even when tow-up riding - if you plan correctly. When you book a tour we will send you a detailed packing list to make sure you bring what is necessary.
Furthermore, carrying less weight means it's easier to balance on the bike. This leads to being less tired at the end of a ride - so pack light! When you sign up for a tour with Ecuador Freedom, you'll get 25% off riding gear from Klim - so it may be an excellent time to get that new jacket that eliminates your need for extra rain gear, for example.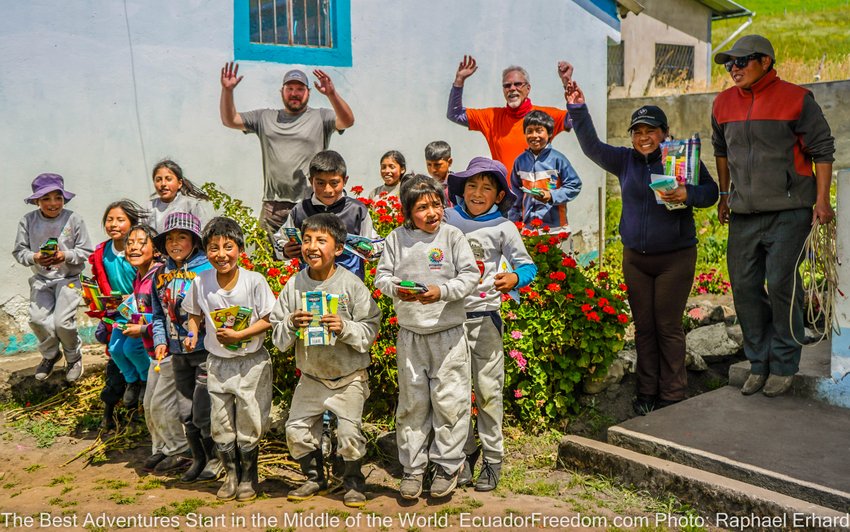 Packing for a Purpose
Save some space in your luggage to carry items that will benefit children at an isolated school located in a rural area of Ecuador. Like construction paper, watercolor paints, and quality volleyballs- these supplies are difficult to find in Ecuador. If you can bring them from home, you will be able to make a personal delivery as part of our Ride for Purpose Program!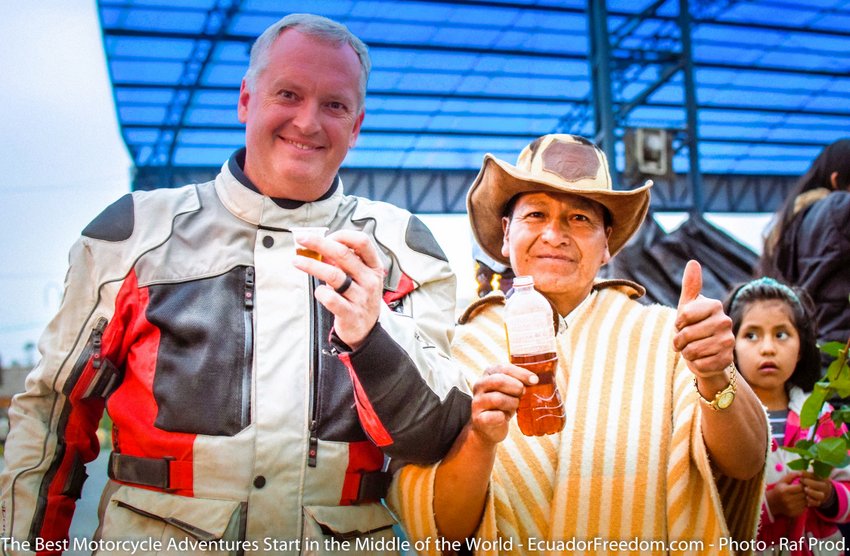 Hola, que tal?
Ecuador is a Spanish-speaking country, and while you'll be able to communicate in English in most places, learning a few basic phrases in Spanish will get you more smiles from the locals. Apps like Duolingo are excellent for learning languages, and you don't need to become a fluent speaker – just learning how to say hello, how are you, and have a good day is already a great start.
We hope this quick guide will help you prep for your Ecuador ride better, and if you've got questions, shoot us a message – we're always happy to chat with riders!
Other Blog Articles You'll Dig...