Adventure-Driven Marketing: Why Touring Companies Are the Key to Motorcycle Brand Success
What motivates people to buy a given motorcycle brand?
Simply put, it is the promise of adventure!
That's why getting your bikes into motorcycle touring company rental fleets is one of the best long-term marketing game plans out there. Just think about it: if riders have an adventure of a lifetime aboard your motorcycle, they're a lot more likely to buy the same model once they get back home.
Reputable motorcycle touring companies, especially those based in far-flung destinations like Ecuador, focus on providing riders with unforgettable experiences. At the same time, motorbike touring and motorcycle rental companies are known for choosing reliable, trusty motorcycles since doing otherwise just wouldn't make much business sense: touring and rental bikes must withstand countless challenges, different riding levels, varying on-road and off-road conditions, altitude, weather, wear, and more. This is why riders tend to trust rental motorcycle options provided by established touring brands – no self-respecting tour operator would send customers off on problematic motorcycles prone to breaking down or providing an unfulfilling riding experience.
But that's just the main benefits – and there are plenty more.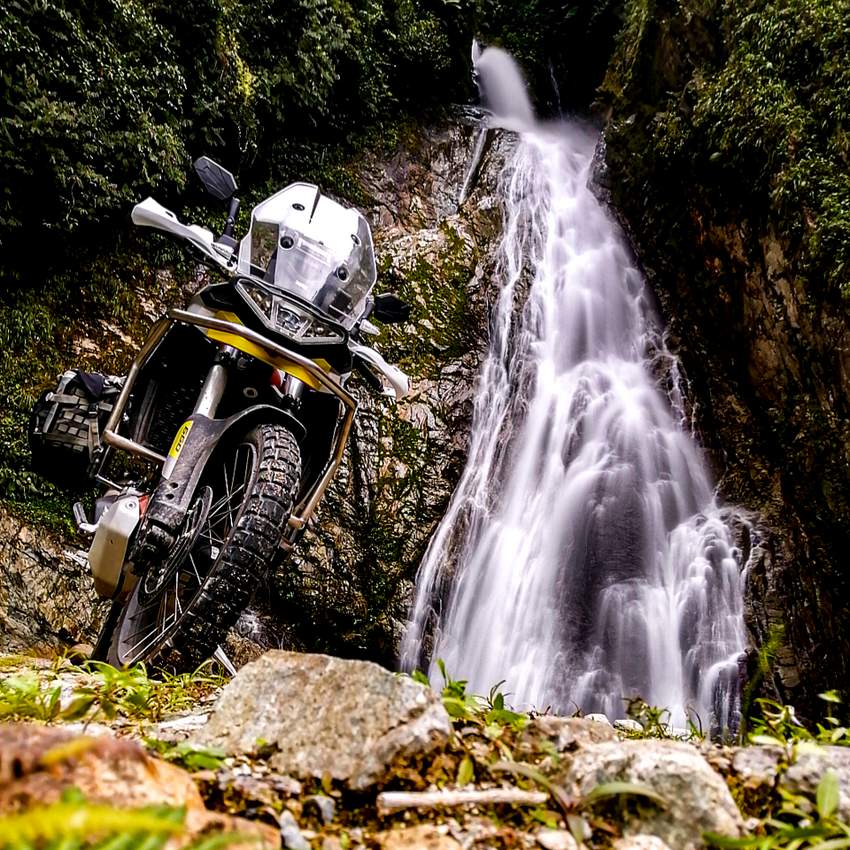 Increased Brand Awareness and Visibility
Motorcycles in rental and touring fleets are highly visible and are often featured in print and online motorcycle magazine articles. Additionally, images, videos, and stories talking about rental and touring bikes are more often shared on social media platforms as people post their amazing moto vacations and adventures that are out of the ordinary. Just think of the Long Way Round Series – except nowadays, everyone with a smartphone can be Ewan and Charley, and adventure riding social media exposure and reach has grown exponentially.
A Motorcycle Test Ride in the Best Possible Conditions
When riders explore a destination on a rental, they're provided a bike that is ideally equipped with appropriate tires, the right accessories, and a thoughtful customer briefing on how to operate the motorcycle by a knowledgeable staff. More importantly, they get to ride the motorcycle in diverse landscapes and terrain, test it over several days, and really get into the nitty-gritty of how a particular bike feels and handles in varied conditions. No dealership could ever come close to providing a test ride like this – and that's why many of our customers return home and purchase the motorcycle they had an amazing experience with while on vacation in Ecuador.
Deepen Brand Loyalty
As a motorcycle rental company, we understand that customers can easily fall in love with the bike they rent for their vacation. By including your bike in our rental fleet, we are able to offer customers a fantastic experience without them having to make any long-term commitments. Additionally, having your bike in our fleet means that customers are less likely to develop a connection with another motorcycle and are more likely to remain loyal to your brand. With repeat customers requesting the same motorcycle for their future adventures, having your bike in our rental fleet is a smart move for promoting brand loyalty.
Reliable and Cost-Efficient Bikes
Trust us when we say that Ecuador offers plenty of challenges for our rental adventure motorcycle fleet: high-elevation passes of the Andes Mountains, the humid climate of the Amazon Basin, the salty breezes of the Pacific Ocean, off-road and on-road routes, and varying riding levels of our customers are all taken into consideration when we purchase new bikes. We need reliable, robust, and cost-efficient adventure motorcycles to purchase and maintain.
To have a motorcycle brand chosen by top motorcycle rental and touring agencies gives it an acutely positive image in terms of reliability and cost, and that image is only boosted over the years: motorcycle touring and rental operators scrupulously maintain their fleets, which means the motorcycles remain in top-shape long after they've rolled off the showroom floor adding to long-term credibility.
Expanding into a New Market Segment
The world of adventure riding is constantly evolving and growing, and being seen as part of the adventure market is crucial for any new dual-sport, dirt, or adventure motorcycle brand. What better way to do it than by getting riders to experience the motorcycles where adventure happens – with the help of motorcycle touring companies in exotic destinations?

Gaining Valuable Feedback
Motorcycle tour and adventure motorcycle rental company fleets provide the perfect test ride opportunities for customers – and the same goes for the manufacturer. By working closely with rental companies and analyzing customer feedback, manufacturers can gain valuable insights into how their motorcycles are performing in the real world with a variety of users, quickly. This can help them identify areas for improvement and make adjustments to future models to better meet the needs of their customers. Testing a motorcycle someplace rugged and adventure-worthy like Ecuador adds to the brand's credibility. If the motorcycle can negotiate the Andes Mountains, riders will trust it to tackle the roads in Arizona or British Columbia, too.
Intrigued? Contact the Ecuador Freedom team for potential possibilities of testing your motorcycles in South America!