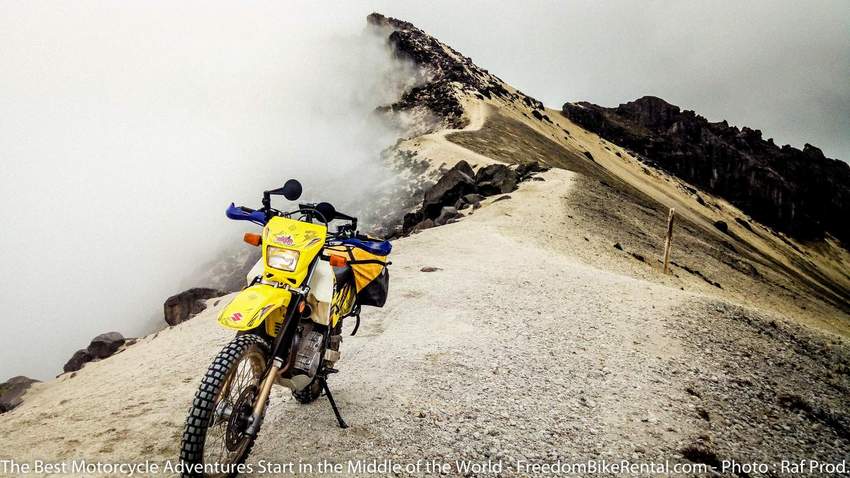 Why Every Adventure Rider Needs a Garmin InReach Satellite Communicator
Take a moment to think of the adventure rider's ideal roadside (or trailside) emergency kit.. Basic tools for nuts and bolts, flat tire repair supplies and a spare tube just in case, a chain link or two, spare levers, spare footpegs, spare hardware… the list goes on. These are all good supplies, and your typical kit may be fine for riding in your local area (especially in a group) but what about when you're really getting off the beaten path? We think a proper satellite communicator should be in every ADV-enthusiast's loadout, and while we could just give you a list of reasons why (don't worry, we'll do that too) let us start by sharing a story from one of our 2021 tours…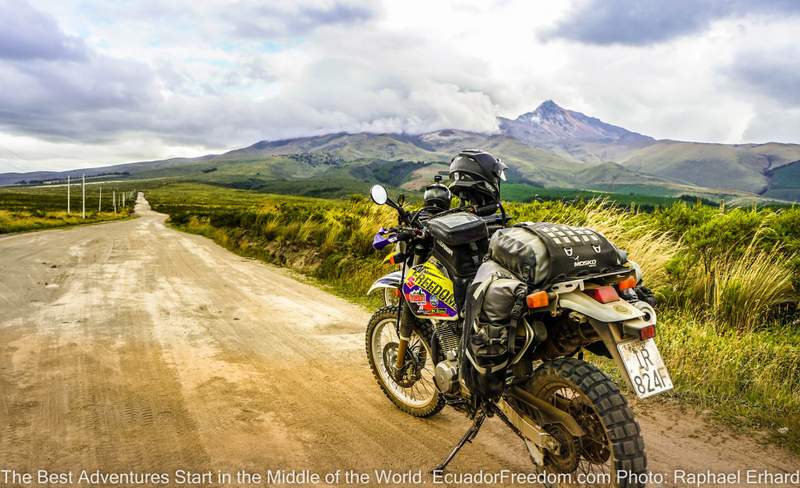 Alone, Broken Down, And Not A Cell Tower In Sight…
Back in late November, we had a client fly in to try out our self-guided Dirt Deluxe tour. The client was deaf, which isn't nearly as uncommon in our line of work as you might imagine, but he was the first deaf rider we've had go out on a solo trip. Naturally there are some added safety concerns on a tour like this, but he was a confident and skilled rider and it was pretty inspirational to see him off on his journey.
All was quiet until the fourth night of the tour, when we received a call from a local farmer late that evening. With some difficulty he explained to us that the rider had found his way to his farm on foot and asked him to get in touch with us. Fearing the worst, we asked for whatever details he could share.
Apparently, the man had been riding along some of the more remote backcountry in a nearby national park when he rode the bike into what he thought was a shallow puddle (it more closely resembled a lake as we would later learn) and the bike abruptly shut off on him. He had been unable to get it started again, and with night fast approaching, ended up hiking nearly four hours in his riding gear at over 13,000 feet of elevation in the rain before finally stumbling across the farmhouse and asking for help.
It gets worse…
We first got the call around 7pm, and immediately set out to assist our customer (because that's what we do here at Ecuador Freedom). We arrived at the farm after 1am that night, retrieved the rider and the bike, and then drove through the night before finally making it back to our Quito home base at 6am Friday morning.
It doesn't end there…
Needless to say the man was beyond tired, but wanted to continue his ride as soon as possible. We unloaded the bike and started to look it over, and it took all of 60 seconds to diagnose the issue: He had accidentally hit the kill switch when he dropped down into the puddle.
The bike started back up immediately, and we all learned a valuable lesson about why every adventure rider needs a satellite communicator.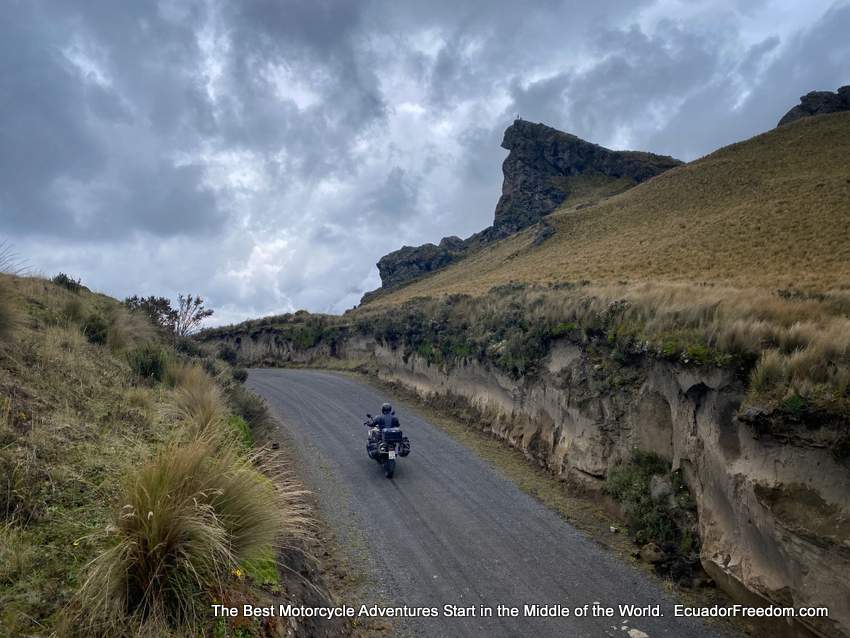 So What Did We Learn?
The beauty of a modern smartphone is that even if you speak a different language, or in the case of this particular client, don't speak at all, you can still communicate with pretty much anyone, anywhere in one way or another. So long as you have service, that is.
There's a reason we outfit every guided motorcycle tour with the Garmin InReach Mini satellite communicator: Adventure riders often find themselves in the most remote places where cell phone service is wildly unpredictable if it's available at all.
Satellite communicators like the Garmin InReach, on the other hand, are able to send text messages from virtually anywhere on the planet so long as you've got a view of the sky overhead. Had this client included a sat com system in his adventure loadout, the whole ordeal could have been resolved in a few short minutes.
No four-hour hike in the rain. No six-hour drive in the support truck, followed by another six-hour drive back. No painfully ironic head-slapping moment when you realize the kill switch was flipped. A few short troubleshooting messages to our team would have had the bike back on the road in short order, and the customer would have spent the night drying out in a plush hotel room with a delicious meal and a few adult beverages. Did we mention how luxurious our off-road tours can be?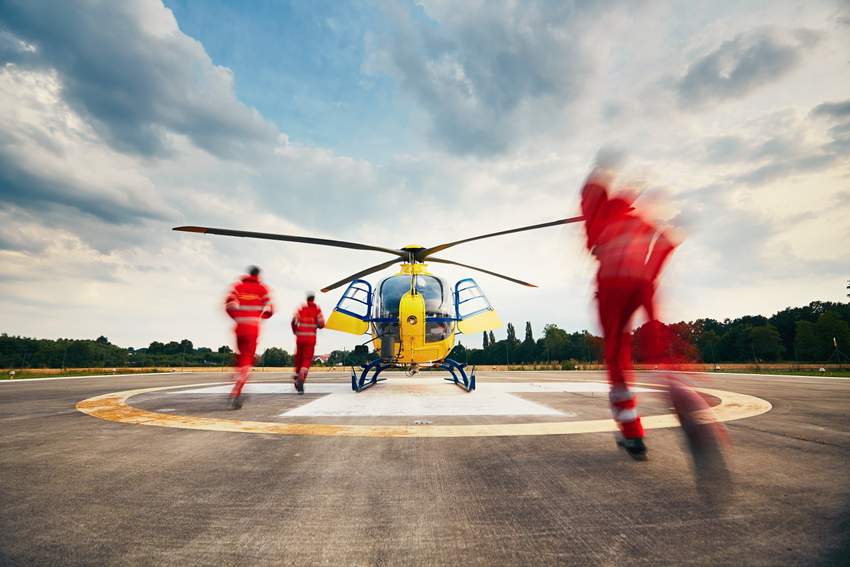 Why We Chose The Garmin InReach For Our Guided Motorcycle Tours
When you're adventure riding (especially in a foreign country) any satellite communicator is better than nothing, but there's a reason Garmin's InReach is the go-to for so many outdoors enthusiasts. Thru-hikers, open ocean sailors, and globe-trotters of every description can agree: Garmin's stuff is just the best.
That's because Garmin leverages the Iridium global satellite network, which is both the largest commercial satellite com system in the world as well as the only one that truly covers 100% of the globe.
The InReach is also unique in that it integrates seamlessly with our recently upgraded Garmin Zumo XT GPS units, further simplifying the device's two-way messaging system with its large touchscreen color display. In addition to this, pairing the InReach with the Zumo XT enables the emergency incident detection feature, allowing the InReach unit to send a notification to your pre-selected emergency contacts in the event a crash situation is detected.
And, although not every "emergency" is life-threatening, the Garmin InReach also features the essential "SOS" function, which uses a single button to summon local search and rescue teams to your location in a serious situation. Not the kind of thing you'd want to use for a "broken down" bike (although we're sure our customer would have strongly preferred a helicopter ride to his wet four-hour hike), but it's an important tool to have should you need it.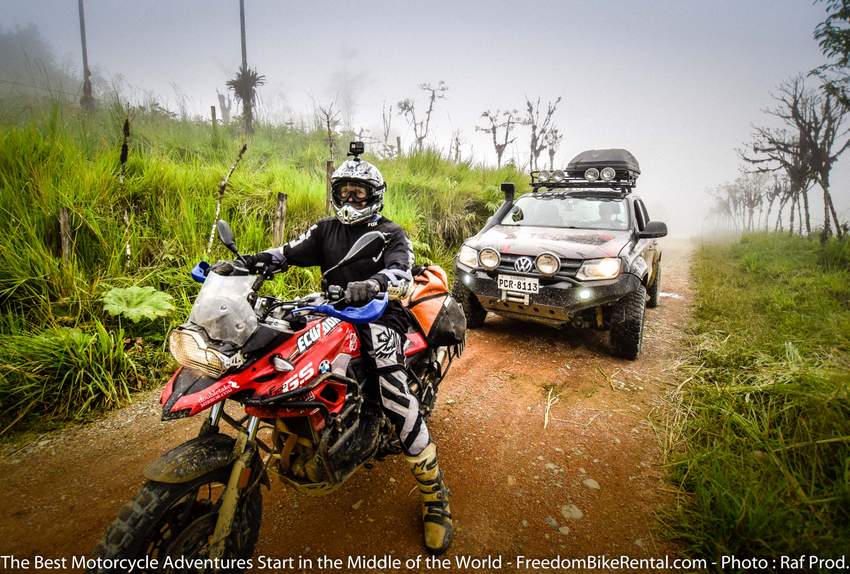 Conclusion
If we learned nothing else from this ordeal, it was that we made the right choice in outfitting all of our guided tours with a reliable satellite com system. Unfortunately this particular customer didn't bring one of his own along for his solo tour, but we can all learn from his experience.
The Garmin inReach Mini currently retails for about $350. We don't know about you, but we would happily spend that money any day to avoid a four-hour hike in the pouring rain. All jokes aside, we think this rider got lucky. Had he dropped the bike in that puddle and been injured, we could be telling a much more somber story today. You just can't deny the value of such a useful piece of gear. For serious adventure riders, breaking down and getting lost are all part of the experience. You've got to come prepared, and the Garmin inReach is just as essential as a spare tube and a first aid kit.
Riders of our guided and self-guided tours can purchase a Garmin InReach mini for just $329 USD!
Riders on our guided and self-guided tours can purchase a Garmin InReach mini for just $329. Ask for it when you book your next self-guided or guided tour with us!
Loading comment...
The comment will be refreshed after

00:00

.