How Adventure Riders Can Get Paid to Travel To Ecuador
Yes, you read that right and no, we're not kidding. Literally any adventure motorcyclist coming from the US can get paid to travel to Ecuador. We know that sounds like clickbait at best and an outright scam at worst, but we're 100% serious. If you've got a smartphone in your pocket and a little extra space in your luggage, you can get paid to come ride in Ecuador thanks to our partners at Shappi.com. Here is the deal:
What Is Shappi And How Does It Work?
Put simply, Shappi is an app that allows anyone traveling into Ecuador from the US to make money by transporting items in their luggage, and no, we aren't talking about smuggling contraband through customs.
Shappi is a service you sign up for, either as a buyer or as a traveler. If you're reading this, you'll be looking to sign up as a traveler, so we'll break that down for you here.
Basically, the Shappi app pairs people like you (who are planning to travel into Ecuador) with people currently living in the country who need goods brought in from the States. We're talking general eCommerce stuff here, all of which is ordered directly from established big-name websites like Amazon, Walmart, Nike, and Best Buy.
These products are ordered by buyers through eCommerce sites, then delivered directly to your home address (or whatever address you register as a "traveler"). You choose how much or how little you're willing and able to carry based on the amount of space available in your luggage, then bring the items into Ecuador with you on your travel date. Once the packages are handed off, Shappi sends you anywhere from $200 to $1000 depending on what you bring. Simple as that. You get paid to travel.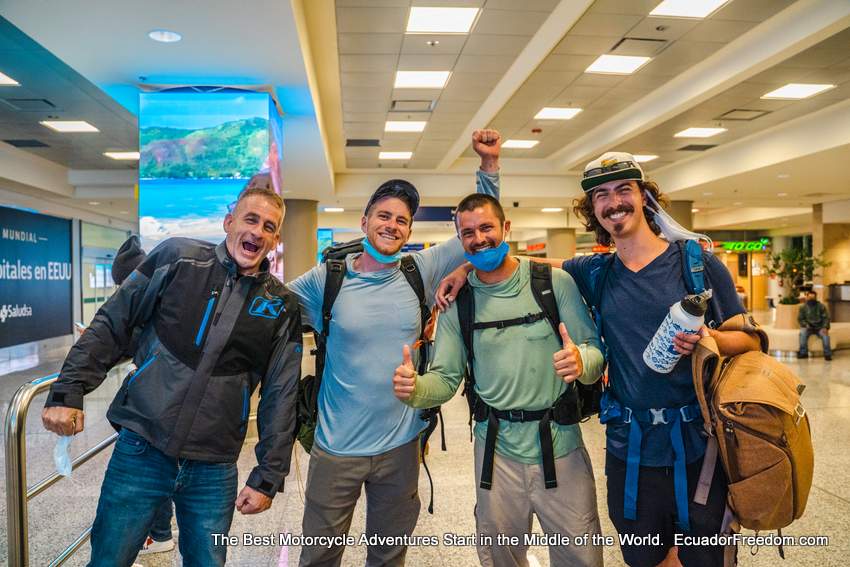 Why is Shappi Paying So Much Money for this Stuff?
Getting paid several hundred dollars in exchange for a few square feet of space in your luggage might seem like a wild concept, but people living down here are happy to pay it compared to the alternative. See, here in Ecuador, the majority of the taxes paid by citizens are collected from two sources: sales taxes and import taxes. Unfortunately, this means that many everyday items like cell phones, laptops, sneakers, and (most importantly) motorcycle gear often costs two to three times what you'd expect to pay in the states.
For this reason, it's actually a common cultural practice for Ecuadorian citizens to ask a friend or family member traveling into the US to pick up a few items for them while they're stateside. Of course the downside to that approach is (a) having to wait until someone you know leaves the country and (b) hoping they've got enough room left over in their luggage for your stuff. This often translates to waiting weeks (if not months) to upgrade a laptop or cellphone, get that hot new pair of Nikes, or stock up on common heath supplies like vitamins and supplements.
Paying someone to "rent" a portion of their luggage, even at the cost of several hundred dollars, is still cheaper than going to a mall in Ecuador and buying certain products at market price (and that's assuming they can be found locally in the first place).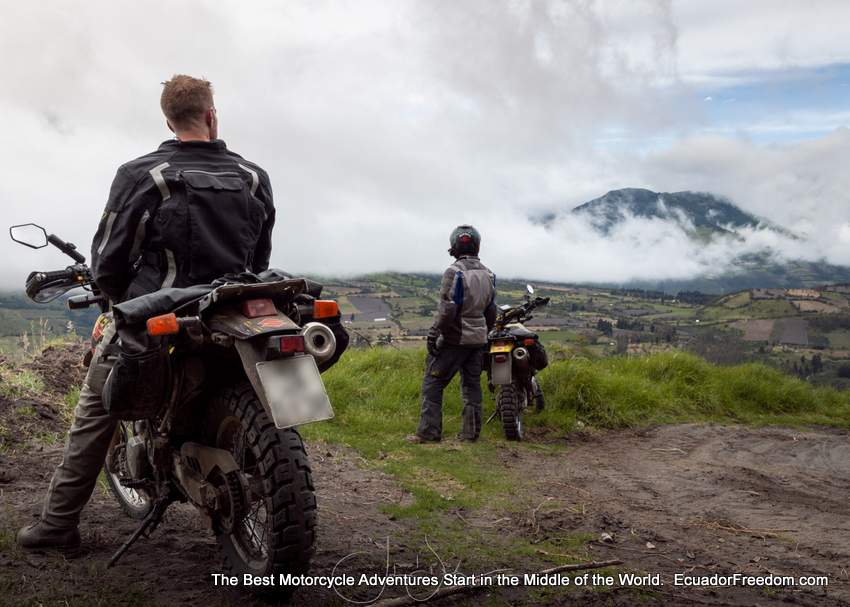 How Much Can You Expect To Get Paid To Travel Using Shappi?
According to Shappi founder and CEO Karla Valdivieso, your typical Shappi user makes between $200 and $400 per trip by simply using the extra luggage space they've got available. When we sat down to talk with her recently, Karla told us she's seen people make as much as $1,000 on a single trip, although we imagine that takes some careful planning and an awfully large suitcase.
Karla tells us that it all comes down to what's in demand and the amount of space you have to share, but most travelers can make a minimum of $200 per trip. The most common items she sees are shoes, vitamins, and electronics like phones, laptops, and smaller Alexa-enabled devices. Ultimately it's up to you what products you choose to deliver and how many deliveries you take on, but your only limits are your carrying capacity and local regulations.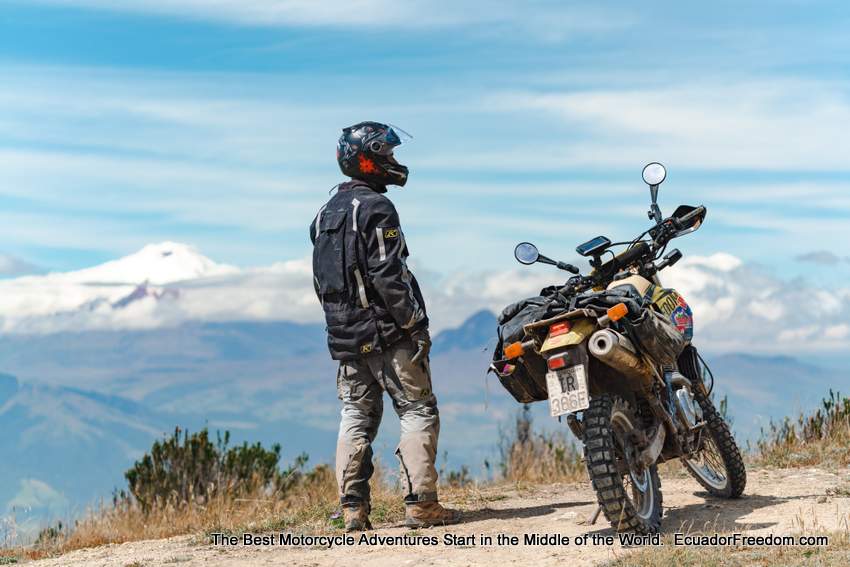 How and Why Ecuador Freedom Partnered With Shappi
Technically the Shappi app is open for anyone to download and use, but it's a particularly sweet (and lucrative) deal for Ecuador Freedom motorcycle tour customers. Let us explain:
For your average Shappi "traveler" user, getting paid to travel via Shappi involves three steps: Receiving the goods at your home, packing them into your luggage, and then delivering them to buyers once you arrive in Ecuador. Sometimes those deliveries occur at agreed-upon meetup locations, other times they go straight to the buyer's home. Either way, you've got some extra running around to do while you're visiting.
For Ecuador Freedom customers, however, the deliveries aren't your problem: You just drop your orders off at our office when you arrive, and proceed straight to enjoying your motorcycle vacation. The team at Shappi comes by and picks up these deliveries from our office, and handles all the last-mile logistics themselves. That means on tours like our Guided Offroad Excursion, Ecuador Freedom Bike Rental customers can effortlessly offset much of the cost of the motorcycle adventure by taking advantage of the Shappi app.

Conclusion: Why Shappi is Great for Motorcyclists from the USA
For many of us, carrying something through customs for a stranger seems a little foreign, but it's been part of Ecuadorian culture for decades. If there's any doubt in your mind about the ambiguity of the practice, you need look no further than the Shappi app itself: Since its launch in 2019, the app's popularity has exploded and there are now more than 100,000 people on the platform.
Every Shappi user is verified through the app (both buyers and sellers), every purchase is protected, and every payment is guaranteed upon delivery. As far as customs go, Shappi won't allow you to transport anything not permitted by Ecuadorian regulations, so there's no concern about accidentally transporting goods into the country that aren't allowed. The app is already a smart product, but combined with our unique drop-off arrangement with Shappi, it's an absolute win-win for our customers.
If you've already booked a trip with us, or are planning one this year, we strongly recommend giving the Shappi app a look. If nothing else, it's a great way to get paid to travel and throw some extra cash into your vacation fund. Whether you choose to spend that money on food, booze, entertainment, motorcycle gear, or all of the above is up to you, but if you're already planning on checking a bag… Why not check a big one?
Other Blog Articles You'll Dig...