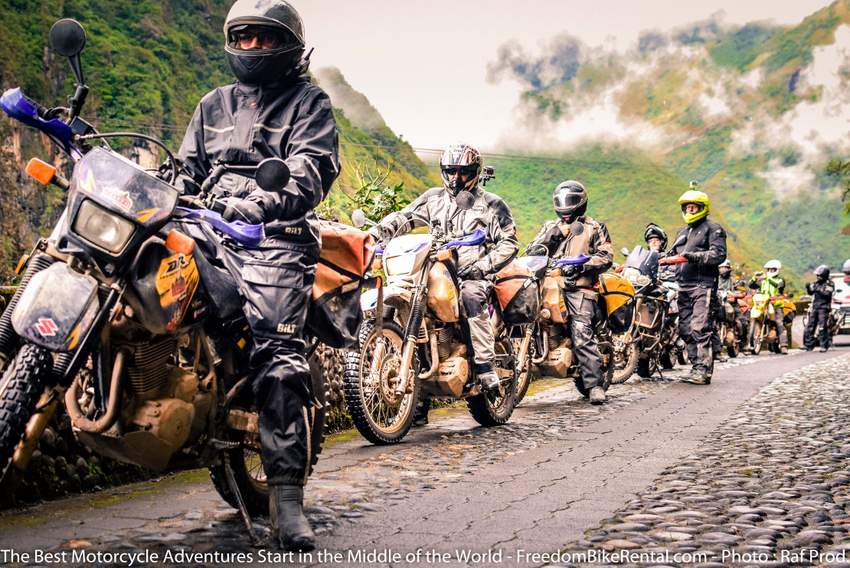 Know The Difference: Guided Motorcycle Tours v. Adventure Motorcycle Tours
At what point does a guided motorcycle tour become an adventure? Chances are if you asked 100 people their opinion on the matter, you'd get 100 different answers. As a tried-and-true adventure motorcycle tour outfit with a few million miles under our belts, we decided it was time to weigh in on the topic.
Do adventure tours require ADV bikes? Do they have to go off-road? What's the honest difference between a typical guided motorcycle tour and a proper adventure tour? Below we'll answer some of your most frequently asked questions about the world's most rewarding travel experience.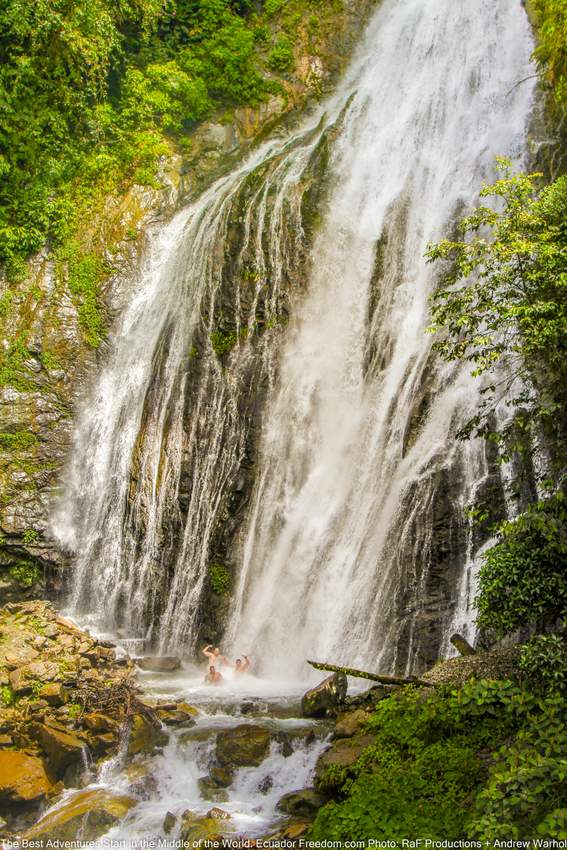 Is Every Guided Motorcycle Tour An Adventure?
This is a common question we get from new customers, and it's a fair question to ask. Ultimately, it depends on (a) who you're booking your tour with and (b) what the itinerary looks like.
A good example would be some of the more popular guided motorcycle tours other outfits offer in places like the German Alps or historical "Route 66" in the United States. Tours like these are scenic and enjoyable in their own right, but they aren't adventure tours. So what's the difference between tours like this and the adventure motorcycle tours we offer at Freedom Ecuador?
To put it simply, those tours are cut and dry, rigidly scheduled, and about as close to "zero risk" as you can get on two wheels. Sure, they're an experience, but compared to something like our Guided Inca Royal Roads tour or the High Andes, Deep Amazon tour, they're not exactly adventurous.
An adventure motorcycle tour should be thrilling, if not a little risky. That whole "no risk, no reward" thing you hear all the time? You better believe it applies to epic trips like these. Whether your route is 99% paved or 100% dirt, we work all the thrills and excitement a rider could want into every tour, and intentionally leave room in your schedule for additional exploration and unique experiences both on and off the bike..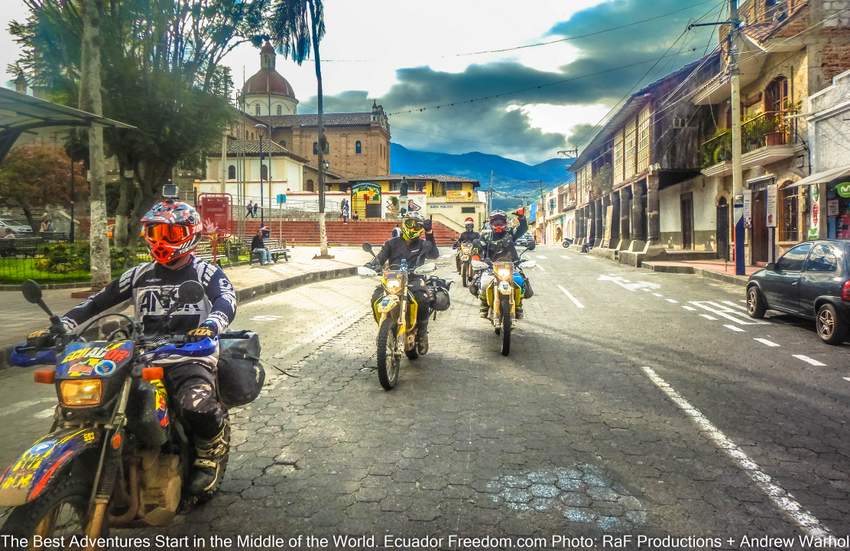 Do Adventure Motorcycle Tours Require An "Adventure" Bike?
That's gonna be an emphatic "No" from us.
Whether or not you're on an actual "adventure motorcycle" has little (if anything) to do with it. Granted, we're big fans of ADV bikes around here (we've just added some of the year's most enticing models including the Husqvarna Norden 901, Aprilia Tuareg 660, and Moto Guzzi V85TT to our rental fleet), but it's not the bike that makes the adventure.
If you disagree on that point, take a moment and imagine attempting our Dirt Deluxe guided tour on a shiny new Honda Goldwing (and no, that's not an actual experience we offer or recommend). If the idea of tackling dirt roads with steep 30% grades on an 800-pound touring bike doesn't get your blood pressure up, we don't know what will. Thrilling? Yep. Risky? You bet. A little crazy? Absolutely.
You might not be on an adventure bike, but you're damn sure going on an adventure. So would it still count as an adventure motorcycle tour? You better believe it.
And while we don't keep Honda's venerable 1,833cc "recliner on wheels" in our rental fleet, we don't limit your options to adventure motorcycles either. We've got everything from technical off-road beasts like the Aprilia Tuareg 660 to beginner-friendly dual-sports like the Yamaha XT250 here at your disposal, and they're all 100% adventure-ready.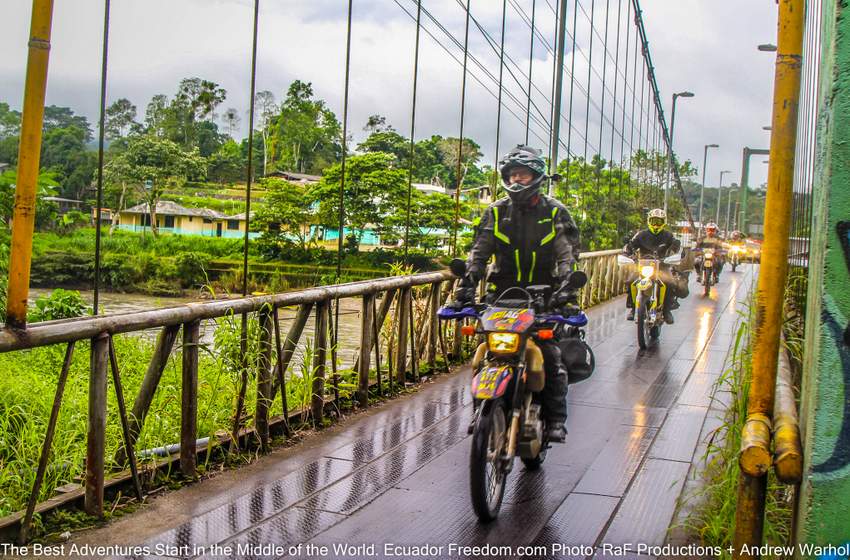 Do All Adventure Motorcycle Tours Include Off-Road Riding?
The short answer here is no, but it's also not as cut-and-dry as a simple yes or no answer.
Personally, we love an adventure motorcycle tour to get a little dirty at some point, but on tours like our 12-day guided Introduction To Ecuador excursion, you'll get all the adventure you can stand without ever really leaving the pavement. You'll carve twisties in deep river canyons, gain untold thousands of feet in elevation through the Andes mountains, meet local artisans and craftsmen… And that's all just in the first few days of the trip.
With that being said, after years of guiding tours in this region ourselves, we've found that some of the most authentic and immersive experiences in the country can only be reached long after the pavement ends. So while off-pavement riding presents us with an added challenge as riders, it carries with it unique awards that may be unattainable by other means. So no… adventure motorcycle tours don't have to include off-road sections, but it certainly adds to the experience.self.
Final Thoughts On Adventure Motorcycle Tours V. Guided Motorcycle Tours
Well there you have it. Believe it or not, any bike can be an adventure bike, but it takes a special kind of tour to truly earn the adventure title. No two experiences out here are quite the same, but we've found a few common themes run through any proper adventure motorcycle tour.
The first (and arguably the most important), is that an adventure motorcycle tour should take you outside of your comfort zone to some degree. Whether that's immersing yourself in an utterly foreign culture, taking chances on challenging roads, or daring to press on when the pavement ends, an adventure tour should feel like exactly that: An adventure.
The second is freedom, plain and simple. Take a look at our itineraries, and you'll see what we mean.
We work hard to include time to explore into every tour we offer. We want you to have time to stop and truly experience the places we go and the people we meet along the way. On extended tours like our Backroads Of Ecuador adventure, you'll notice we even work rest days into the schedule, giving you a chance to get out and experience the area as you see fit. Whether that's spending the day relaxing on a local beach, exploring the town on foot, or hopping right back on the bike to get your fill of backcountry roads, you're free to go and get the most out of your trip.
Here at Ecuador Freedom Bike Rental, adventure motorcycle tours are the only kind of tours we offer. If you truly want to know the difference, you'll just have to get out here and experience it for yourself.
Comments...
Loading comment...
The comment will be refreshed after

00:00

.