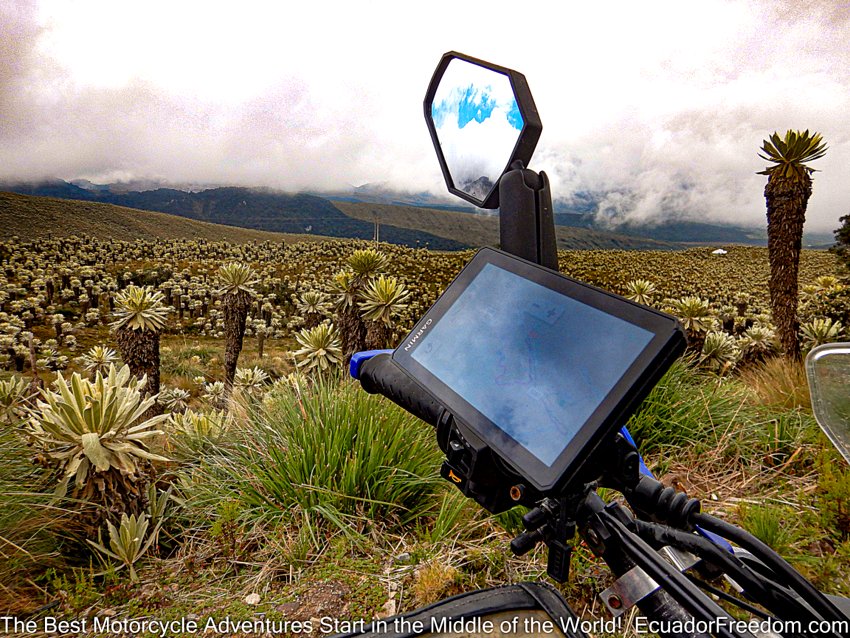 Preparing for a Self-Guided Motorcycle Tour: The Essentials
Embarking on a self-guided motorcycle tour is an exciting and immersive way to explore the world. Self-guided motorcycle tours are increasingly popular since they combine the best of the two worlds: on the one hand, you get a carefully planned route and itinerary of the trip, pre-booked accommodations, an adventure motorcycle rental, and a list of highlights along the way. On the other hand, you're free to select your own tour dates, ride at your own pace, and enjoy the freedom of moderating the daily mileage and the stops any way you like.
Whether you prefer to ride solo or hope to plan a motorcycle adventure with your riding buddies, a self-guided motorcycle tour is a great option.
Planning is Crucial
When it comes to experiencing thrilling motorcycle adventures, planning is crucial. True adventurers understand that being spontaneous can only get you so far, while a well-thought-out journey can lead you to the greatest roads, the most breathtaking sights and leave you ready to overcome any unexpected challenges. Self-guided tours are the best option for those who desire the perfect blend of freedom and preparedness. Only by relying on the best resources - an experienced motorcycle tour operator that truly understands the essence of the country you're about to explore - can you fully indulge in unforgettable two-wheeled escapades.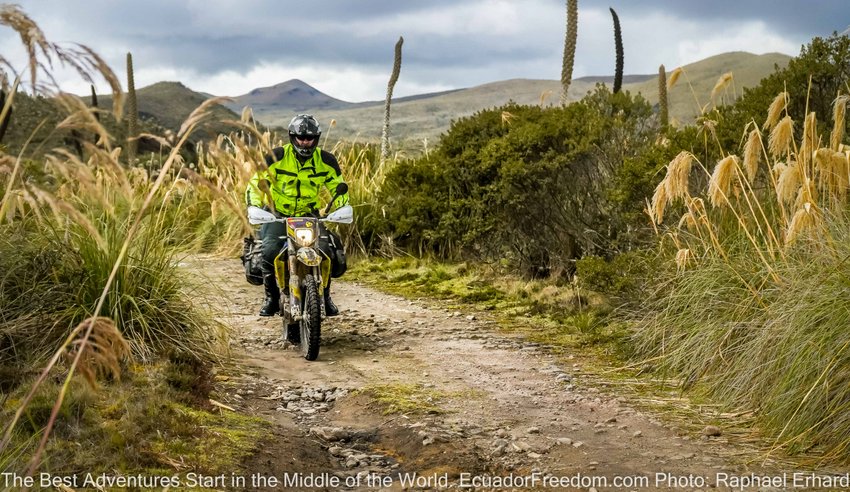 At Ecuador Freedom Bike Rental, we take pride in our self-guided tours built upon our extensive experience guiding motorcycle tours on these routes since 2009. Over the years, we have traversed these same routes countless times, constantly learning and uncovering hidden gems along the way. It is this wealth of knowledge that we pass on to our riders through our meticulously crafted self-guided tour packages.
We provide daily maps and GPS navigation systems with pre-programmed routes for each day, ensuring you never lose your way. Along with that, we also arrange for a pre-booked hotel to aim for each night so you have a comfortable place to rest and recharge for the next day's exploration. In hotels and lodges in remote areas, we include dinner. In hotels in towns with many restaurant options, you'll have your choice of where to dine. Breakfast is included every day.
We understand that true adventure lies not only in the scenery but also in experiencing Ecuador's unique culture and gastronomy. That is why our tours allow plenty of time to indulge in different cultural and gastronomical stops along the way. Whether sampling local delicacies or meeting local artisans and craftspeople, our self-guided tours offer the flexibility to create the perfect balance between riding and exploration.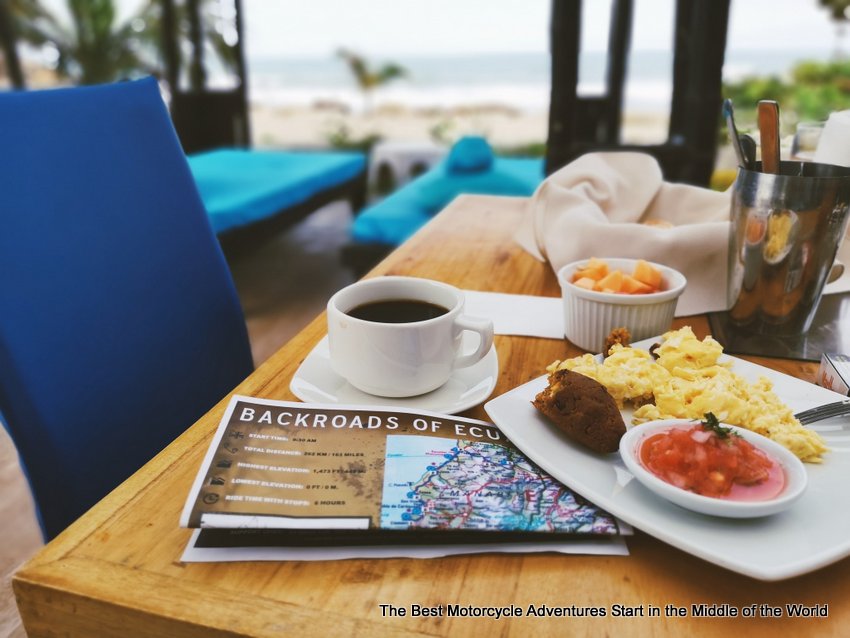 We provide you with a fully-equipped adventure motorcycle or 4x4 to ensure you make the most of your journey. You will also receive a "Road Book" that contains thorough, day-to-day information about the local highlights, history, and the aforementioned hidden gems that are not commonly known. Armed with this invaluable resource, you have the freedom to tailor each day's ride according to your preferences and interests.
We are by far the country's most experienced and largest motorcycle and 4x4 tour operator. This means that when you choose our self-guided tours, you can rely on our unwavering support throughout your journey. We go above and beyond to ensure your safety and convenience by utilizing state-of-the-art onboard tracking systems that allow our back-office staff to monitor your progress each day. With this technology, we are able to offer real-time assistance, including re-routing options and notifying the hotels if you are running behind schedule. As an additional measure, we also provide you with a local prepaid cell phone, so help is always just a phone call away whenever you need it. Rest assured; your adventure will be both exhilarating and worry-free with our dedicated team by your side.
However, even though self-guided tours are well-planned and just about ideal for "fly-and-ride" adventures requiring minimal research and prep, there are a few things to consider before hitting the road. While a self-guided motorcycle tour offers a certain amount of certainty and security, it's handy to have a basic understanding of how they work and how to prepare for your independent adventure.

Maps and Navigation
Here at Ecuador Freedom, we offer no less than fourteen self-guided motorcycle tour options. All of them include a carefully curated itinerary, a pre-planned route, a road book detailing the highlights of each day, and pre-booked hotels and activities to make sure you're in for an unforgettable experience.
Before you hit the roads of Ecuador, we want to make sure you are well-prepared and knowledgeable about the rules of the road and the customs you can expect while riding in our beautiful country. That's why we provide a comprehensive pre-ride briefing to enhance the information provided on the daily route sheets. During this briefing, our experienced team will go over the written and unwritten rules of the road, ensuring that you clearly understand what to expect and how to stay safe.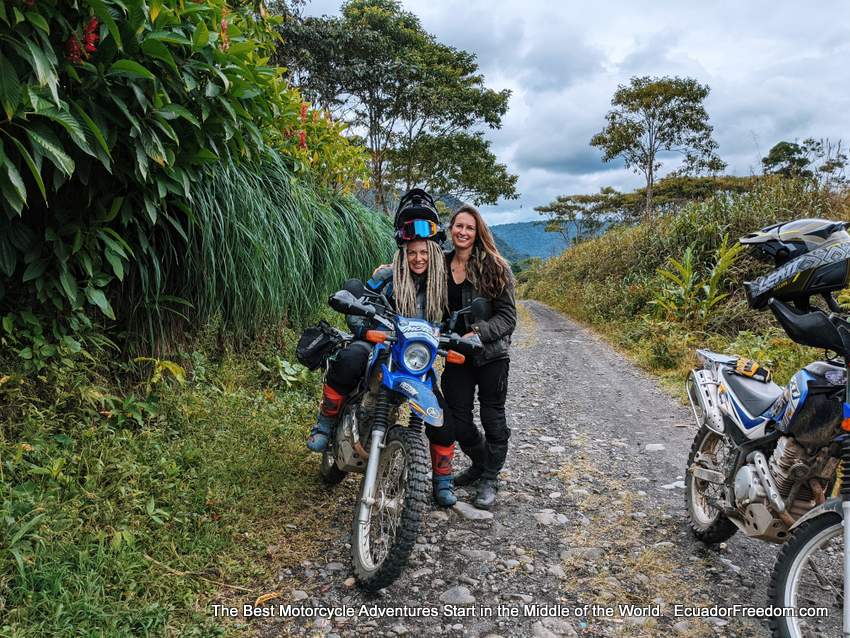 In addition to the pre-ride briefing, we take the time to carefully review the route with you. Our dedicated staff will sit down and walk you through every detail of the route you will be embarking on. They will highlight the must-see attractions, give you tips on where to stop for fuel, meals, and breaks, and answer any questions you may have. Doing this ensures you are fully prepared and confident in the route ahead, leaving no room for confusion or surprises.
However, you'll still need to figure out navigation as you ride. At Ecuador Freedom, however, we prefer Garmin Zumo navigation units instead of mounting phones to the handlebars for several reasons.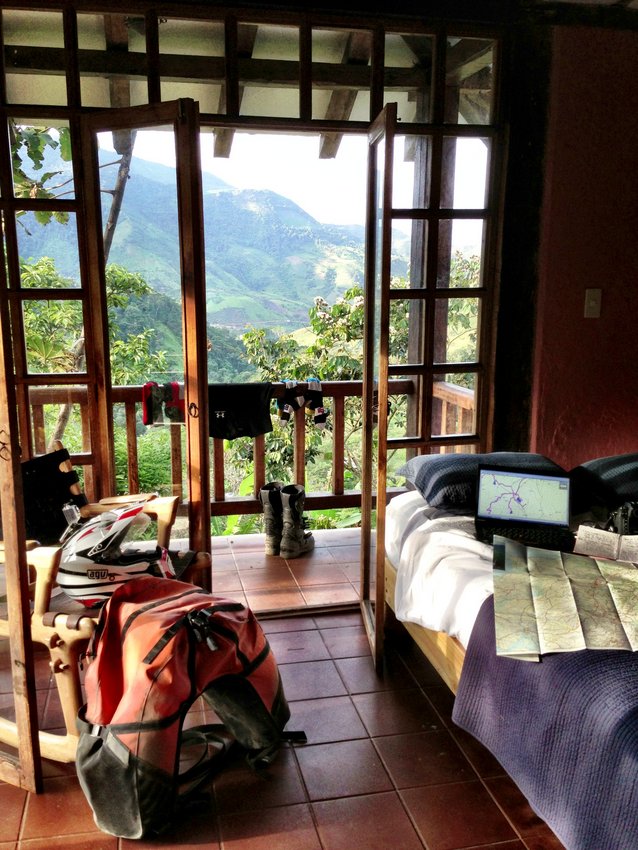 We take pride in providing the best-equipped and best-prepared self-guided tours for motorcycle enthusiasts, and investing in dedicated Garmin Zumo XT GPS navigation systems is just another way we ensure a safe and unforgettable experience. These motorcycle GPS units are specifically designed with the motorcyclist in mind, featuring a user interface that can be easily operated with motorcycle gloves. This not only enhances safety,, but also allows our riders to navigate with ease and keep their focus where it should be - on the road ahead.
After years of travel and exploration, we decided on the Garmin Zumo XT as the ideal solution for sharing our expertly created routes. It provides accurate directions and comprehensive data with a simple and dependable design. It is worth noting that Garmin does not provide maps of Ecuador, so we have developed our coding skills to enable us to craft highly accurate maps of Ecuador through the Open Street Map platform ourselves. This way, we can make sure that the maps we use are correct for the routes you will be taking and can quickly rectify any errors. We have the most complete and accurate GPS maps of Ecuador.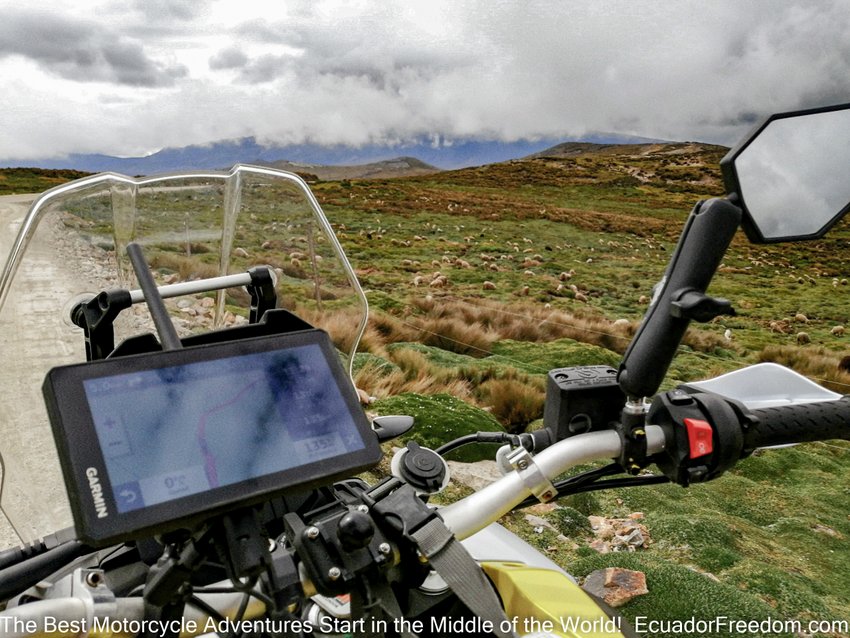 While some may consider using cell phones for navigation, we firmly believe it is a risk not worth taking. Not only does it expose your phone to potential damage, but there are also countless variables that can interfere with the navigation experience. Varying base maps, processors, and other uncontrollable factors can lead to unreliable directions and unnecessary frustrations. By opting for the Garmin Zumo XT, we eliminate these uncertainties and provide our riders with a dependable and predictable navigation tool they can fully rely on.
In addition to its excellent features, the Garmin Zumo XT also integrates with the Garmin "Group Ride Radio" accessory. This add on device is particularly beneficial when you ride a self-guided tour with a group of friends. With this technology, riders can easily track the location of their friends right on the GPS map and communicate through long-range VHS radio communication, which outperforms regular Bluetooth-based communicator systems. This greatly reduces the chances of getting separated from the group and enhances the overall riding experience. If you're riding with a group, simply request us to install the Garmin Group Ride radio system (for a small extra fee), and you'll be ready to hit the road together.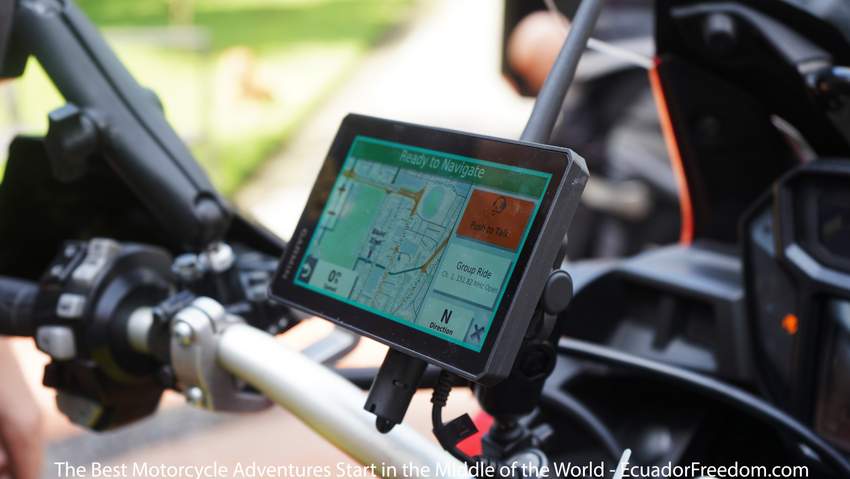 To make the most of the Garmin Zumo XT's capabilities, we recommend downloading and installing both the Garmin "Drive" and the Garmin "Tread" applications on your smartphone before embarking on your self-guided tour. These applications offer maximum functionality and enhance the overall navigation experience. You'll have access to advanced features and be fully equipped to make the most of your journey.
For those taking a solo trip, we understand the concerns of riding alone, but with the Garmin Zumo XT, you can rest assured that you're never completely alone on the road. The incident detection feature of this GPS unit ensures that we are immediately notified via SMS in case of an accident. This allows us to respond swiftly and ensure you receive the help and support you need.
While these GPS units are incredibly user-friendly and we pre-program each day's route for you, if you haven't used a Garmin Zumo before, it's best to familiarize yourself with it before you start your adventure. The operating manual is available online. We will give you a lesson on operating the GPS before you head out on the road.
Equally, knowing how to read a map will be just as beneficial: although there's a very slim chance of getting lost on a self-guided motorcycle tour here in Ecuador, knowing how to read maps gives you an additional tool for understanding the area you're traveling and the scope of your route and will help you to find alternate routes in case of a landslide or road closure along the way. We will provide you with a map of the country but you might also want to get yourself one of the recommended maps and guidebooks to Ecuador before your trip.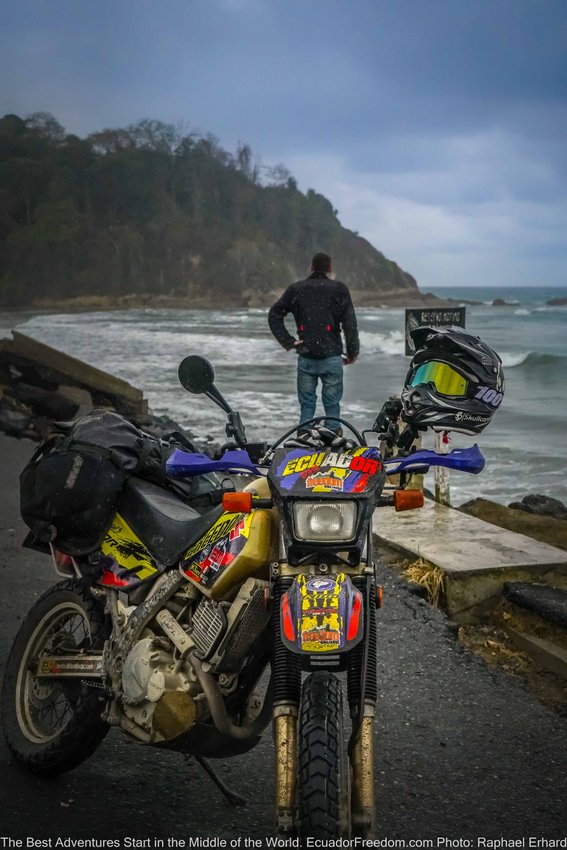 Basic Motorcycle Maintenance
Needless to say, all our adventure motorcycle rentals are in top shape and road (as well as off-road) – ready. Still, the unexpected can happen when you're out there riding – getting a flat tire, for example, can occur along the way, especially if you venture off the road.
Sometimes, it's simple things like forgetting to turn your fuel petcock to "ON" if you've turned it off, failing to check your tire pressure or a dead battery; in other words, small issues can happen when you're out there riding, and it's best to have some basic bike maintenance knowledge. Knowing how to push start a bike or how to adjust a clutch are good skills to have, no matter where you ride.
We equip all our riders with an extensive toolkit and a tire repair set (including spare tubes if needed) to make sure minor issues can be easily solved roadside.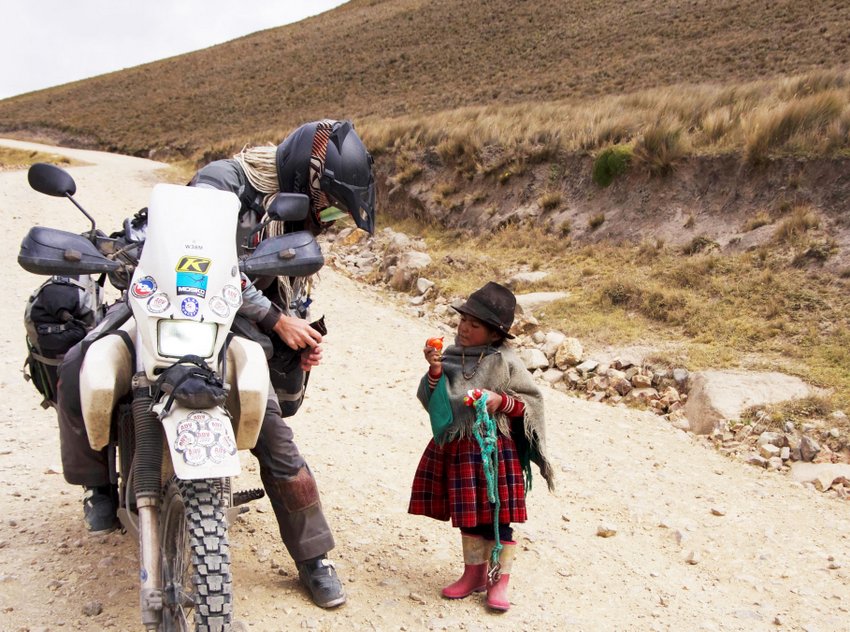 Packing Smart - and for a Purpose
Whether you choose hard luggage or our favorite, Mosko Moto panniers and saddlebags, keep in mind that packing smart and small is always best. A change of clothes and walking shoes, your toiletries, your electronics, and your rain gear is just about all you'll need for a ten-day to two-week self-guided motorcycle tour. We'll provide you with a local cell phone and a first aid kit as well. There's no need to overthink packing and carry too much: if you forget anything, say, charging cable or an extra pair of socks, you can buy those items along the way. We'll provide you with a detailed packing list specific to the self-guided tour you are riding once you have booked.
Besides, packing small means you'll have less overall weight – and more space to participate in our "Ride for a Purpose" program in association with Pack for a Purpose.
During our self-guided motorcycle tours, you can engage with the communities you'll be passing through. By leaving a little space in your panniers, you can make a huge difference in the lives of Ecuadorian school children in remote areas. Consider bringing educational supplies like books, deflated soccer balls, or art materials that will be distributed to these children during your journey.
Your impact on their lives will be immeasurable, leaving a lasting impression even after you've returned home. Visit our Ride for a Purpose page for more details on what to pack.

Safety and Peace of Mind
Ecuador is one of the safest countries in South America, and when you opt for one of our self-guided motorcycle tours, you'll be equipped with a local prepaid cell phone and the ability to reach us 24/7 in case any issues arise or if you need assistance. However, we recommend riders also carry a Garmin InReach or similar device, especially if you're going on an off-road adventure. We also rent InReach devices for those who aren't ready to invest in a unit of their own. Equally, it's best to let your friends or family know where you're going and that there may be a day or two when the internet connection could be a little slow for video calling. Finally, don't forget to purchase solid travel insurance that doesn't exclude motorcycle riding in their small print.
Even the most experienced riders can face unforeseen mishaps on the road. That's why having travel insurance is paramount when embarking on a self-guided motorcycle tour in a developing country. Not only does it provide financial protection in case of accidents or injuries, but it also covers emergency medical expenses and even repatriation, ensuring peace of mind throughout the entire journey. Additionally, travel insurance safeguards against potential cancellations or interruptions, offering reassurance when facing unpredictable weather conditions (at home or in Ecuador) or other unforeseen events that could disrupt or cancel your trip.

Culture and Language
Before you set off on your adventure, do a little research about your destination. Learning a little about the local ways of life goes a long way – locals always appreciate travelers respecting their culture, while knowing a few basic phrases in Spanish will always elicit a warm welcome and smiles from Ecuadorians.
Start by learning greetings like "Buenos días" (good morning), "Buenas tardes" (good afternoon), and "Buenas noches" (good evening/night). Ecuadorians appreciate when visitors make an effort to communicate in their language. Additionally, a phrase like "¿Cómo está usted?" (How are you?) will allow you to engage in friendly conversations and show respect towards locals. Cultural etiquette is equally crucial during your visit. Ecuadorians are known for their politeness and friendliness, so it is important to reciprocate this kindness. Always greet people with a smile and take the time to acknowledge their presence. A little gesture can go a long way in fostering positive connections with the locals. Acknowledging people by saying "por favor" (please) and "permiso" (excuse me) will further display your respect. Cultural awareness is equally important; in Ecuador, it is customary to address people by their formal titles such as "Señor" or "Señora," unless instructed otherwise. Whether you are conversing with locals, trying local delicacies, or simply exploring this stunning country, remember to embrace Ecuadorian culture by expressing genuine gratitude and demonstrating a friendly and polite attitude.
To fully immerse yourself in the local culture, it's a good idea to not only familiarize yourself with common greetings but also have an offline Spanish translator app readily available on your phone. This invaluable tool will enable you to confidently communicate with locals, even in areas with limited cellular or internet connectivity. With the added assurance of being able to understand and be understood, you'll feel empowered to freely engage with the community and truly make the most of your travel experience.

Planning Your Miles
Although each of our self-guided motorcycle tour options includes a carefully planned route for each day, it's important to evaluate your own riding skills and pace. To avoid riding in the dark or getting stranded on an Andean backroad if you've left too late, make sure you start your riding days relatively early, don't linger at lunch stops for hours, and pace yourself to avoid fatigue.
If you feel that the daily mileage is too much, let us know and we'll suggest an alternative route; if, on the other hand, you arrive at your destination early, we're always happy to recommend things to do and see before dinner. In other words, a self-guided motorcycle tour does require a little self-reliance and planning to make sure you have the best experience possible.
Ready for your own fly-and-ride adventure in Ecuador? Browse our self-guided motorcycle options and book a trip of a lifetime now:
Other Blog Articles You'll Dig...